Houston Rockets Salary Cap Update: 2019 Offseason Pre-Draft Edition
Having come up just short to the Warriors again, Daryl Morey must find creative ways to improve the Rockets this offseason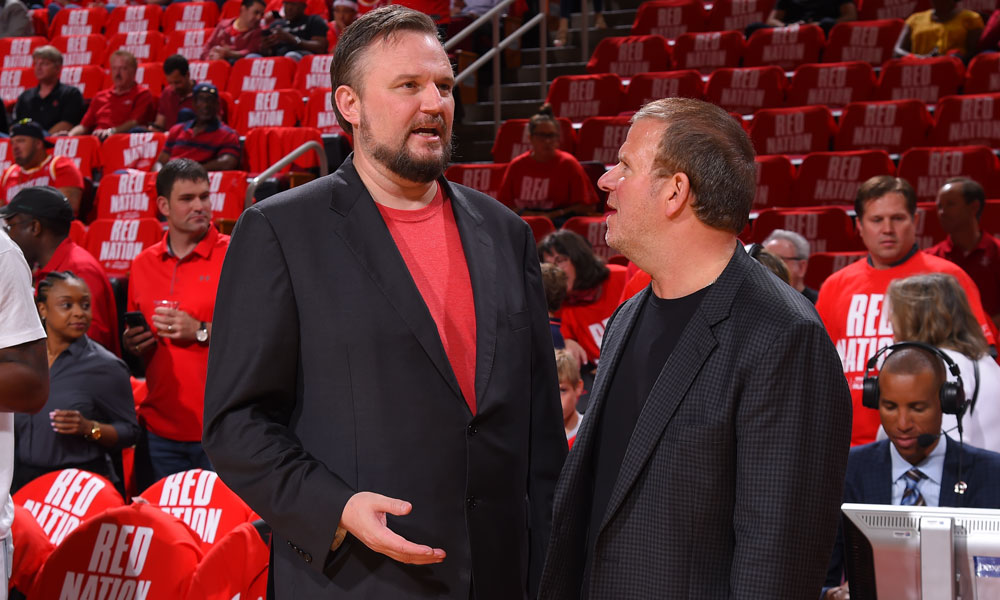 Another season of title contention. Another playoff series loss to the Golden State Warriors, one of the greatest basketball teams of all time.
After an incredibly rocky start (11-14 record), the Houston Rockets played at a top-notch level for most of the 2018-19 season. Unfortunately, the hole they dug for themselves was a tad too steep to get a top-2 playoff seeding, leading to a second round matchup against the Warriors rather than the return trip to the Western Conference Finals that the Rockets – and most of their fans – had been expecting. With their season now over, GM Daryl Morey and the Rockets must look to the offseason for ways to improve their roster and keep their title contention window open.
Player Salary, Exceptions and Available Cap Room
The Houston Rockets currently have the following player salary commitments, cap holds and salary cap exceptions available for the 2019-20 season (assuming that the league's current projection of a $109 million salary cap is accurate):
Player salary commitments: Chris Paul ($38.5 million), James Harden ($38.15 million*), Clint Capela ($14.9 million), Eric Gordon ($14.1 million), PJ Tucker ($8.35 million), Nene Hilario ($3.83 million – player option), Isaiah Hartenstein ($1.42 million, 50% guaranteed until July 15), Gary Clark ($1.42 million, partial guarantee unclear), Chris Chiozza ($1.42 million, non-guaranteed), Michael Frazier ($1.42 million, non-guaranteed), and a dead cap hit for Troy Williams ($122,741 – get used to this one being on the books). (*Harden's starting salary under his new Designated Veteran Player Extension [DVPE] will be 35% of the actual 2019-20 salary cap figure.)
Cap holds: Iman Shumpert ($16.52 million – Rockets hold full Bird rights), Danuel House (restricted free agent; $1.88 million [assuming a qualifying offer is made] – Rockets have a right of first refusal but only hold Non-Bird rights), Gerald Green ($1.62 million – Rockets hold Early Bird rights), Austin Rivers ($1.62 million – Rockets have only Non-Bird rights), Kenneth Faried ($1.62 million – Rockets have only Non-Bird rights), Vincent Edwards (potential restricted free agent; about $1.47 million – coming off a two-way contract), and Trevon Duval (about $1.47 million – coming off a two-way contract).
Other Salary Cap Exceptions: If Houston operates over the salary cap this summer (extremely likely), the Rockets will have access to the Mid-Level Exception (MLE), either the Non-Taxpayer variety ($9.25 million, the use of which would impose a hard cap at the "apron" level – currently projected at about $138.5 million) or the Taxpayer variety ($5.71 million). Although it would also impose a hard cap at the apron level, Houston could possibly use the Bi-Annual Exception ($3.62 million), since they did not use it last summer. In the unlikely event that the Rockets use cap room this summer, they could instead have the Room Exception of $4.76 million at their disposal. Assuming they operate over the salary cap, the Rockets will have a staggering nine traded player exceptions (TPEs) left over from earlier trades, although none of them is very large (their largest TPE is $3.62 million).
Given their salary commitments, the Rockets are pretty much hopelessly over the cap and will likely be paying the luxury tax for the 2019-20 season.
Preliminary Internal Decisions
Ahead of the NBA Draft and the subsequent free agent season, Morey and his staff will need to address some internal matters.
Despite his disappointing playoff performance, Houston will probably still extend a qualifying offer to House in order to make him a restricted free agent and to give the Rockets the ability to match (some) offers from other teams. More on that below.
The Rockets can make Edwards – coming off a two-way contract – a restricted free agent by extending him another two-way contract for next year (with $50,000 guaranteed) as a qualifying offer.
It is unclear whether Houston can do the same with Duval. A two-way player must be on a team's NBA roster for at least 15 days in order for the team to be able to extend the player a qualifying offer (and make him a restricted free agent). Odds are, Duval will be an unrestricted free agent this summer.
An Extension for Gordon?
In a recent interview, Rockets owner Tilman Fertitta mentioned that he would like to try to extend Gordon's contract this summer. Gordon (set to be an unrestricted free agent in 2020) was arguably the Rockets' second best player during the playoffs, so it is clear why the Rockets would want to keep him in the fold beyond next season.
The highest starting salary Houston could offer Gordon in an extension is about $16.9 million, with a four-year extension topping out at around $76.6 million in total salary. Gordon turns 31 next season, so there is a chance he would agree to an extension if it added enough years of guaranteed salary.
If a proposed extension was in connection with an extend-and-trade scenario, however, the Rockets would be limited to offering him a starting salary of less than $14.8 million, making such a scenario less likely. Gordon is probably one of the Rockets' most attractive trade assets right now, so it remains to be seen whether the team looks to move its talented third guard for help at another position.
Quiet Draft Night Expected
The Rockets will enter the 2019 NBA Draft without any picks, having traded away their first rounder (26th overall) to dump Brandon Knight's contract and having long ago dealt their second rounder (55th overall) in the totally-worth-it move to acquire Pablo Prigioni in 2015. Unlike in prior years, Houston will not have much cash available to buy draft picks, having already spent all but about $565,000 on other trades this past season.
While a trade for a draft pick is still possible, the most likely scenario has the Rockets sitting out the draft, instead looking to sign at least one of the top undrafted players, as they did with Clark last year.
If Houston somehow pulls off a big draft night trade in which more salary is acquired than is sent out, it would not likely cause them to pay any luxury tax. That would only happen if the trade involves a substantial trade bonus. Of course, a trade could be agreed to in principle, with the actual consummation of that trade not going through until following the July Moratorium.
Internal Free Agent Decisions
Houston will have some decisions to make with their own free agents heading into July, including how to prioritize which free agents to bring back.
Austin Rivers: Rivers did a good job as the Rockets' fourth guard this season, providing some high-energy on-ball defense and some timely (albeit inconsistent) scoring off the bench. While Rivers agreed to a prorated vet minimum contract with Houston after being bought out of a large contract, he is unlikely to accept another minimum salary for next season. With only Non-Bird rights, the Rockets may need to use most or all of the Taxpayer MLE to bring him back … assuming even that is enough. The maximum salary Houston could pay Rivers next season using Non-Bird rights will be about $2.6 million. Could a two-year, $5.34 million Non-Bird deal (with a player option for Year 2) be enough to entice him to stay? Probably not.
Danuel House Jr.: House's free agency will be one of the more interesting situations in the league to monitor. After refusing a three-year vet minimum deal from the Rockets (followed by a leverage-motivated stay in the G-League), House hopes that the flashes he showed as a key contributor for Houston during the middle part of the season will translate into a more lucrative contract this summer. Many teams may be scared off a little if House is made a restricted free agent, especially if the Rockets do not spend their MLE at the outset of free agency. However, since the Rockets only have Non-Bird rights to House, the Taxpayer MLE will likely be the most Houston could pay him, so an offer sheet in excess of that amount would be pretty much impossible to match. The maximum salary Houston could pay House next season using Non-Bird rights will be just over $2 million, with a total contract value maxing out at four years, $8.65 million. That's better than a three-year vet minimum deal. House's value could fluctuate wildly, as teams are in desperate need of wings with size and shooting ability. All it takes is one team to price House out of the Rockets' range, restricted status be damned.
Kenneth Faried: After an initial burst onto the scene with the Rockets, Faried's production tapered off, and he eventually found himself outside the playoff rotation. A capable pick-and-roll finisher and a very good rebounder, Faried never seemed to master the Rockets' defensive schemes. Never known as a top-notch defender, Faried became virtually unplayable against the Warriors. Still, he is a capable regular season player who could fill a role in Houston next season. The most Houston could pay Faried next season using Non-Bird rights will be about $2.8 million. While Faried may look for a bigger payday elsewhere, a return to Houston on a vet minimum deal (or via Non-Bird rights) could be a possibility.
Iman Shumpert: Shumpert (to whom the Rockets have full Bird rights) could be back next season as a defensive wing off the bench without Houston having to tap into its MLE, or he could serve a different function entirely. With the trade to acquire Shumpert last February, the Rockets gave up the last significant piece of non-core salary filler (Knight) to use in trades for next season and beyond, leading many to wonder how Houston could add to its core of Harden, Paul, Capela, Gordon and Tucker going forward. Coming off a contract that paid him over $11 million last season, Shumpert could potentially serve as that missing salary filler in a major trade. He could be signed-and-traded – along with other assets – to a team that is well enough below the luxury tax threshold in exchange for a high-salaried player. While sign-and-trade deals are extremely rare under the new CBA, this remains another avenue (however unlikely) for the Rockets to upgrade their roster.
Gerald Green: Until his disappointing playoff performance, Green's free agency was gearing up to be one of the more underrated storylines for Houston this summer. With his Early Bird rights now in tow, the Rockets were in position to potentially give Green a significant raise after he took what was probably a below-market deal to return to Houston last season for the vet minimum. However, at this point, given the Rockets' apparent focus on adding more defense to their bench, it is unlikely that Green (who turns 34 next season) will get an offer from Houston in excess of another minimum salary contract … if he gets an offer at all. A hometown cult hero, Green has been extremely popular with Rockets fans, but it may be time to move on.
Vincent Edwards: After investing $1.5 million to purchase the draft pick used to select Edwards (billed as a jack-of-all-trades combo forward), the Rockets are probably a little disappointed in Edwards's uninspiring performance in the G-League this past season. He was not awful, but he was not particularly good either. Still, the Rockets could possibly reward Edwards for his willingness to sign a two-way contract last season rather than taking the required tender of a non-guaranteed NBA contract. Also, as a second round pick, Edwards would count a little less for luxury tax purposes on an NBA minimum contract than a similarly situated undrafted player (such as Clark) will. Will that sliver of luxury tax savings – along with his potential as another bench forward – be enough for Edwards to find a place on the Rockets' 15-man roster? A lot will depend on other, more important roster moves.
Trevon Duval: As noted above, Duval will probably be an unrestricted free agent this summer. It is unlikely that Duval will return on an NBA contract with any meaningful guaranteed salary. He remains a possibility to return on a two-way contract, although it seems more likely that the Rockets will explore other options for that two-way roster spot.
Sergio Llull: No Salary Cap Update by this author would be complete without another check-in on Llull's situation. While not technically a free agent, Houston still holds his exclusive NBA rights. Rated in a recent poll of NBA general managers as the best (non-prospect) player in the world not playing in the NBA, Llull continues to be an intriguing option in the Rockets' long-term roster building plans. Morey continues to visit Llull to gauge his interest in (eventually) coming over to the NBA. But given the dearth of meaningful salary cap exceptions, and with a strong guard rotation currently in place, it is unlikely that Llull plays for the Houston Rockets in 2019-20. It is possible that Houston could use its MLE on Llull in the event that Gordon is traded, but Rockets fans should not be holding their breath on that scenario playing out. Llull's draft rights still have trade value, so there's a chance he could be moved this summer. If not, 2020 may be the year we finally see Llull in a Rockets (or other NBA team) jersey.
The Jimmy Butler Gambit
Houston tried hard early in the season to trade for Jimmy Butler before resigning themselves to their fallback option of avoiding the luxury tax. Now, with Butler nearing (potential) free agency, the Rockets could be poised to make another run at him.
While it would be extremely difficult (if not impossible) to sign Butler outright as a free agent, the Rockets could potentially trade for him if he picks up the $19.8 million player option on his contract for 2019-20, on the condition that Philadelphia 76ers trade him to the team of his choice.
Butler would likely be leaving a considerable sum of money on the table by opting in, as his max starting salary as a free agent would be around $32.7 million. He would need some assurances from whichever team trades for him that he would be adequately compensated in 2020. Houston (allegedly) has a proven track record of doing just that with Paul.
Would a package of Gordon, Nene (assuming he picks up his own player option) and a first round pick be enough to convince the 76ers to move Butler? Facing a potential financial crunch, Philly would welcome a strong shooting guard like Gordon on a value contract. It remains to be seen, however, just how highly the 76ers value Butler as part of their future.
Fortunately, the Rockets won't have to wait long for the Butler scenario to play out. Butler must exercise his player option by June 29, making a trade likely shortly (if not immediately) thereafter.
Outside Free Agents
Due to team salary constraints and the likely need to maximize overall flexibility, the only salary cap exception of any significance available to the Rockets this summer will probably be the Taxpayer MLE.
With an estimated maximum starting salary of $5.71 million and topping out at three years, just under $18 million, the Taxpayer MLE may not be able to compete with other offers the second-, third- or even fourth-tier free agents may get, especially since several teams expect to have significant cap room this summer. However, there may be some veterans willing to take less in order to contend for a title. Also, playing under coach Mike D'Antoni has been known to buoy a player's stock, which could be useful heading into 2020 free agency, when most of the league will have oodles of money to spend.
Other "MLE-caliber" free agents seeking a meaningful rotation role on a title contender might be willing to sign in Houston for the vet minimum, just as Luc Mbah a Moute, James Ennis and Carmelo Anthony were drawn to the Rockets in recent years.
I will leave it to others (or at least won't cover it here) as to which particular free agents the Rockets will pursue this summer.
The Taxman Cometh (for real this time)
Amazingly, Morey and the Rockets were able to duck the luxury tax this past season. And while it cost them some future assets, that tax avoidance strategy did not likely impact Houston, basketball-wise, this season. Meanwhile, now the earliest the Rockets would have to pay the dreaded "repeater tax" – something that Fertitta has openly said he wants to avoid – is the 2022-23 season, after Paul's massive contract has expired.
If Houston only brings back its core guys and fills out the roster with vet minimum signings, the Rockets' team salary should exceed the luxury tax threshold. Harden's DVPE alone will materially increase team salary. Throw in a couple of trades that add salary (including the possible use of their TPEs) along with a Taxpayer MLE signing and re-signing Shumpert to even a modest new deal, and the tax bill will increase substantially.
But after avoiding the tax this past season, expect Fertitta to cut his first luxury tax check after next season.
Conclusion
After once again falling short of beating the Warriors and achieving their championship goal, the Houston Rockets must go back to the drawing board and try to find ways to further improve their roster. That improvement could come via trade, free agency, internal improvement or all of the above. The Rockets will explore all avenues to improve and to make another title run next season.
Luxury tax be damned. Probably.
Jabari Smith steals show in Rockets preseason opener
The Rockets rookie is legit as we take a look at what else stood out in Houston's preseason rout of the Spurs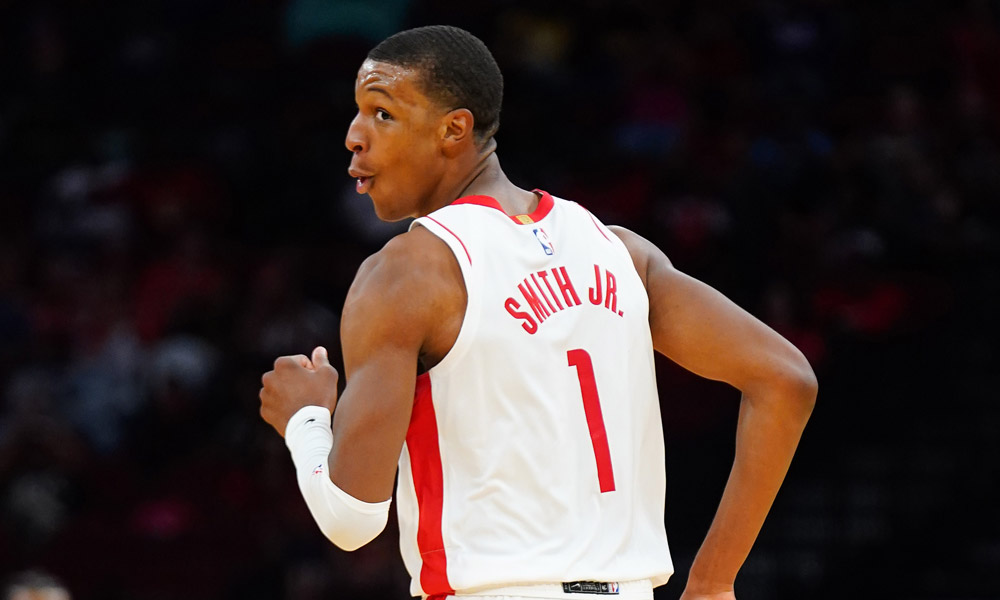 Finally, Rocketball is back — the Rockets destroyed the San Antonio Spurs 134-96 in the preseason opener Sunday night.
Granted, the Spurs look flat out terrible (the top contender for Wembanyama?) and may finish dead last (and it showed), but there were a number of things that played out in this game that should get Houston fans excited.
But before I get into that, I want to give a huge shout out to everyone who supported RocketsWatch Sunday night. We are watching and discussing Rockets games in realtime this season and the debut was overwhelming. There were over 700+ fans watching the game with Roosh Williams and I in what might be the largest online watch party ever for a Rockets game. The live reactions from the fans were priceless!
Let's talk about what stood out in this game:
Jabari is the real deal
Going into Sunday night's preseason opener for the Rockets, the biggest question on the minds of fans was simple — how will #3 overall pick Jabari Smith Jr. look in his first NBA action?
The answer is good. Really good.
Jabari threw down a dunk out of the gate and then locked in on high-energy defense on the other end and right away you knew — the Christian Wood Era was over. Jabari's impact was immediate on both ends of the floor. Smith finished with 21 points on 8-15 shooting, including a blistering 5-8 from deep, to go with eight rebounds in 24 minutes.
Jabari described himself as "a lot more loose" than he was at Summer League, when he struggled to knock down his shots.
"It was easy," said Jabari. "My teammates made it easy for me, finding me when I was open. The rest just came from knocking down shots, running the floor, trusting the offense and trusting my teammates."
What most impressed me was how quick of a trigger Jabari had on the catch-and-shoot. He would receive a pass out of the post or a cross-court pass in the corner and would instantly let it fly, shooting easily over his defender's reach. This trait stood out and was very Klay Thompson-esque. In the second half, Jabari hit a pull-up triple in transition (his fourth) that was very enticing, then absolutely slayed those of us in the RocketsWatch room when he took two long strides back from the free throw line to drain another triple.
At that point, it was official — the rookie was clowning the Spurs. I can't tell you how thrilled I am that the Rockets drafted Jabari. This man is going to fit like a glove and will be a ridiculous two-way weapon for the Rockets long term.
https://twitter.com/brhoops/status/1576753965730889729?s=20&t=X5YfCfDU5HwynBnvqoicSQ
Defense. They're actually playing it. It's true.
I don't need to repeat that the Rockets were dead last in defense last year, but… the Rockets were dead last in defense last year. Although, maybe I need to turn that frown upside down.
https://twitter.com/FraudeauxNBA/status/1576358215406989312?s=20&t=X5YfCfDU5HwynBnvqoicSQ
Sunday, however, was a different animal and you could tell immediately. The Rockets were hustling, moving quickly on rotations and closeouts.
"It's the defense, obviously, that we've been concentrating on," said Stephen Silas. "Our help was good tonight. Our multiple efforts were really good… I'm super encouraged by our intensity on the defensive end."
Jabari was a big part of that. He made some clear mistakes, sure — I'm not going to say he was perfect — but he seemed to set the tone. Still, it's not just Jabari — it's clear to me the mindset of this team is in stark contrast to what we've seen the past two seasons. Maybe it's the Jabari Effect or maybe Lionel Hollins is making his presence felt, but this does not look like the 2021-22 Rockets on this side of the ball.
Tari Eason is pretty much plug-and-play
I had my doubts that Tari Eason would get a ton of run in this game, but Silas played him early (note: Jae'Sean Tate sat this game out). Without having any clear plays run for him, Tari fought and scrapped for 21 points and 10 rebounds (six offensive!) in just 21 minutes. He hit 9-13 from the floor.
"My mentality never changes," said Eason. "I'm always going to be in the right spot, get after it defensively and be one of the hardest playing dudes on the court. I think that translates at any level and I'm just going to continue to do that."
He plays like his hair is on fire and has tremendous potential as a two-way demon. Throw him out there when things get stagnant and he's going to make things happen.
I've felt that the Rockets will likely bring Tari along slowly until they figure out what the long-term solution is for guys like KJ Martin, but Operation Patience isn't going to work if he keeps putting up lines like this. You can't keep him to the bench or send him to the G-League.
Is Bruno Fernando the backup center?
It sure seems that way. After news broke that the Rockets had signed Fernando to a four-year, nearly $11 million deal, Bruno was the first big off the bench, subbing in for Alperen Sengun.
I'll be honest — this really surprised me. I expected that Usman Garuba would have the clear inside track to the spot. Fernando also seemed like a good bet to be on a two-way contract, but now with this new deal, Fernando is going to be on the 15-man roster and barring a trade, someone has to be cut (Boban? Favors?) that isn't expected to be.
But Fernando, who sources say has been terrific in camp, showed why he got that contract, finishing 3-3 from the field and was a +18 in just 11 minutes. He was very effective on rolls, capping a pair of alleyoop passes from Kevin Porter Jr. I would be lying if I said I saw this coming, but it's a welcome development.
Rotation Notes
It's only one preseason game, but we still can draw a lot from how Silas sees the rotation.
Bruno looking like a good bet for the backup center role was not the only surprise. KJ Martin and Daishen Nix, along with Bruno, were the first subs of the night. That indicates what we expected, that Nix is in the lead for the backup PG spot over TyTy Washington, who I would guess will run the show with the RGV Vipers early on. I like TyTy as the better bet for this spot long term, but right now the job appears to be Nix's to lose.
But KJ is a little surprising, given he reportedly wanted out this past offseason with the Rockets slated to bring in a couple bigger prospects (Jabari and Tari) at his position.
Garrison Mathews played only five minutes. The prediction many have made that Silas would play him 15+ minutes this year is not looking so hot.