The Rockets sacrifice their future to get Russell Westbrook
We got our fireworks show.
The Rockets pulled off a blockbuster move Thursday night by sending Chris Paul and a ton of draft pick considerations to the Oklahoma City Thunder for the long-hated Russell Westbrook. Shockingly, the Rockets gave up first-round picks in 2024 and 2026 (each top 4-protected) and pick swap rights in 2021 and 2025.
I'm in complete shock. The desire to get Westbrook. The price paid. All of it.
Before I can talk about some possible positives, let me put this out there.
I've never cared for Russell Westbrook. I think it started for me in 2012 when he unnecessarily spazzed out on Goran Dragic in a game in OKC. I proposed to my kids that our dog should be named "Russell Westbrook sucks" and their only objection was the name was too long.
But to be clear, my feelings on this trade have nothing to do with love and hate. There are plenty of players in my lifetime that were hated by Houston fans and went on to become beloved Rockets. Dikembe Mutombo, Charles Barkley, Chris Paul and Austin Rivers immediately come to mind. So I can promise you this — Houston, myself included, will embrace Westbrook. Once he puts on the newly-designed red and black, he'll become part of Clutch City.
Having said that — this looks like a horrible trade, a large mistake by a Rockets organization that seemed desperate for no known reason. I've seen the logic in every move or trade Daryl Morey has made but not this time. Even when his machinations haven't panned out, they were always sound decisions that balanced reward and risk. This is his worst move. The risk is enormous.
I'd rather have Chris Paul than Russell Westbrook. For some reason, people started looking at Paul only for his contract and not for the player he is. He's aging but he's incredibly smart, makes the right reads, can play off the ball as a shooter and defends. If the roles were reversed and the Rockets traded Westbrook for that collection of picks and Paul (with a year less on his contract than Westbrook), I'd be singing the team's praises for finding a better fit and scooping up a haul of assets that could be flipped for more weapons this year.
If the Rockets win a championship in the next few years — and I certainly hope they do — then feel free to bring this up as a cold take and mock me to your heart's content, but right now I want to know who put a gun to Daryl's head. Was it Tilman, Harden or both? Trading picks in 2024 and 2026, are you serious? Those are the years that Harden and Westbrook are not under contract. Throw in a couple pick swaps for good measure? The cost here was tremendous and they willingly paid it for a player that might have been a negative value contract. Think about this — by the time the Rockets finish paying off this trade, Russ will be in Beijing or the Big3.
Yes, the Rockets got a bunch of star power and media attention with the move, but Westbrook, while incredibly athletic and explosive, is a very poor shooter… and he doesn't know it. Imagine if Corey Brewer thought he was Steph Curry and you've got Russell Westbrook in a nutshell from three-point range. He has shot under 30% from deep in four of the last five seasons. Given the volume of shots he takes, he might very well be the worst shooter ever.
If he's not a good shooter, then at least he'll balance it out with strong defense, right? Well, the thing about that is… that's not happening either. There's potential for more since Westbrook is bigger, longer and a top athlete, but that has been said about him for years. He has not turned that into being a plus defender because his on-court intelligence is lacking. He has skated by for years on his elite athleticism.
It's like the Rockets decided to zig rather than zag. They more or less pioneered the push for 3-and-D players yet some intern thought he'd be innovative by piping up in a meeting with "Hey, what if we get a guy who does neither 3 nor D?" — and they bought it. Please fire that dude immediately.
In terms of shooting, defense and hoops IQ, three key components of Rocketball, the Houston Rockets got worse today by swapping out Paul for Westbrook and I don't think that's debatable. Paul's game should age much better than Westbrook's. Once that step is gone for Russ, his game is done. The Rockets are banking almost $180 million that he won't lose it in the next four years.
The Rockets must reinvent themselves
OK, so I've gotten that out of my system. There are negatives, clearly. That doesn't mean other areas won't improve. There are some reasons to be optimistic.
What the Rockets gained was a quicker first step and explosive ability to attack the basket. They got a better rebounder, an energizer bunny for the full 48. He is a force of nature that is brutally tough to defend and the Rockets now have two of those. You won't ever complain about Westbrook's lack of effort… in fact, you'll likely wish he did less.
Having Westbrook attack the basket, where he's incredibly efficient, adds a new wrinkle to the Rockets offense. The team also should get out and run more and that's a good thing. Westbrook, while out of control at times, can go 94 feet in a hiccup and that's been lacking on this Rockets team. They work too hard for their baskets in halfcourt sets. Some easy transition points should be a boost.
Furthermore, I'll give you this — maybe, just maybe, Chris Paul's career was about to fall off a cliff and the Rockets knew it. Paul had a rough season last year but my opinion is he will bounce back. Time will tell. In Westbrook (30 years old), the Rockets got a player four years younger.
Rebounding has been a sore spot for the Rockets and Westbrook, who famously has averaged a triple double the past three seasons, should help there, but it's not like you add a point guard to fix those woes. He'll help but won't solve the dilemma.
The Rockets now have a shooting guard who should be a point guard in Harden and a point guard who should be a shooting guard (but can't shoot) in Westbrook. I think Westbrook takes the reins because I don't see how he plays off the ball. He should have better shooters around him than he's had in years so there's some promise of more there.
Can the Rockets change Westbrook and make him a more efficient player? Offensively I'm not so sure, but defensively they may find a way. The Rockets put Harden in the post more on defense to maximize his strengths as a defender. Perhaps something similar could be done with Russ.
The matchups between the Rockets and Clippers? Oh, they're about to get legendary. Russ vs. Patrick Beverley. Russ vs. Paul George, who bailed on OKC. Bev, LouWill and Montrezl against their old squad. Austin Rivers knows where the tunnel is — there are going to be some battles between these two.
The Rockets also still have first round picks from 2020 to 2023, so they could conceivably make another move.
Conclusion
Let's see what else the Rockets do. There is a chance they made this move, giving up what they did, knowing that it would attract more. But the bottom line: This is championship or bust.
You've gone all in and you must win, no ifs, ands or buts.
The Rockets traded future assets they had no business giving up to bring in a player that, in their mind, extends their championship window. I have faith that Daryl Morey can keep the Rockets in playoff contention even after the James Harden era, but I no longer have faith that he'll even be here in 2024, much less 2026, under this ownership. We don't know yet what went on behind the scenes, but fairly or unfairly, it does make owner governor Tilman Fertitta seem impatient and reactionary with this trade.
It's mainly a strike against Harden, who now has two failed superstar experiments under his belt in Houston. It's no secret that Harden runs the show here, just as Westbrook did in OKC. He hand-picked Paul as his teammate and now he's done the same with Russ. If this doesn't work, it may be time to blow the whole thing up and recover as many picks as possible.
But that's premature. It's up to these two MVPs to make this pairing work and they've earned the right to try. They're not two-way demons like the pairs each Los Angeles team sports, but they can be unstoppable offensively. The Rockets now must overhaul their system to maximize their strengths because nothing less than hanging a banner is going to make it worth the price they paid.
Three predictions for an important Rockets offseason
The 2023 offseason is critical for the Houston Rockets and here's what we think will happen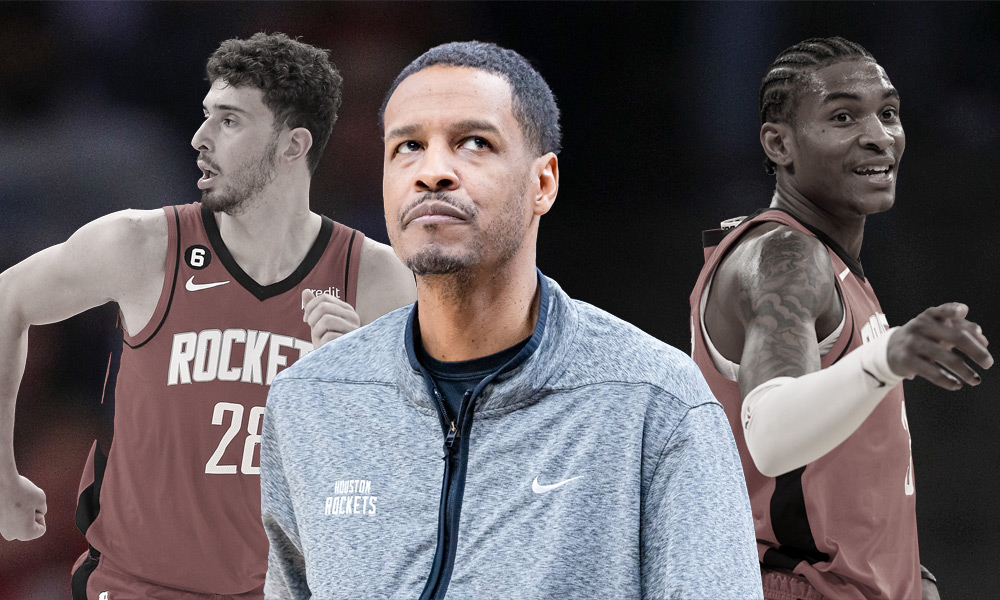 We have almost arrived to the oasis.
For over two years, the "2023 Offseason" has been circled on the calendar as the turning point, the time when the Houston Rockets will switch gears and make winning a priority. With potentially $60 million in cap room and a top draft pick coming, this is the moment of truth that Rafael Stone and the Rockets front office pitched to the Fertittas when the rebuild began.
Does that mean the Rockets are going to magically start winning next season? Not necessarily. But it does mean we won't see Daishen Nix run the point for 36 minutes in the name of player development. They want to win.
It's very tough to know what will happen this offseason, given the unknown variables. The Rockets could land a top-two pick, which would bring them Victor Wembanyama or Scoot Henderson, radically boosting their future. James Harden could opt to return, which also significantly boosts their near-term prospects.
But regardless of whether or not luck presents a "lifeboat" (Harden, Wemby, Scoot), here are some things I believe will happen.
Also, if you have been joining us in RocketsWatch all season, first of all, thank you! We greatly appreciate all the fan support this season. But if you've stuck around through a tough season, you know that none of this will come as a surprise. I have been talking about these predictions since January.
1. Rockets, Stephen Silas Will Part Ways
Stephen Silas is going to be let go this offseason.
The original plan was for Silas to coach this season and start the next, getting a shot once the Rockets were making winning their top priority. But the bar was low this season and he still fell short. There were several times where the team needed a stronger hand and it wasn't there. The roster wasn't built to win, but there is no argument to be made that coaching did anything to enhance the situation.
It's important to point out that Silas got a raw deal, coming to Houston under different circumstances expecting to coach a veteran team. But this is the hand that was dealt and the Rockets have to play it. Silas may be a fine coach, but he's not the right coach for this team and that's all that matters at this stage.
Ownership was ready to move on by midseason, but a variety of factors have led to him finishing the year. But this is going to be it. They sorely need fresh eyes and a different voice.
Confidence Level: 100%
2. The Kevin Porter Jr. Starting Point Guard Experiment Will End
The Rockets got Kevin Porter Jr. for free from the Cleveland Cavaliers in 2021, but he's been anything but since.
Houston paid nearly $100 million to John Wall to stay at home so they could groom KPJ as their future point guard. They also signed Porter Jr to a team-friendly four-year deal despite the fact that a much more team-friendly restricted free agency was on deck.
Porter Jr. has gotten better and more comfortable at the lead guard spot in two-plus seasons, which could bode well for his future here, but it's not near enough. He lacks ability to make advanced reads, which is one of the reasons the Rockets are dead last in corner three-point attempts. His tendency is to isolate, which is his strength, and that can create a lot of selfish basketball. In essence, the Rockets have been starting a pair of shooting guards.
The Rockets love them some KPJ, particularly Stone, so I'm not saying he's done here. He could thrive in an alternate role, if he embraces it. But the Rockets want to make a leap next season, the first year they are on the hook to Oklahoma City for their first-round pick from the costly Russell Westbrook trade. You're probably not going to make a bigger jump than by improving the on-court leader spot.
Confidence Level: 80%
3. Alperen Şengün Will Be Shopped
You either believe Alperen Sengun is the next Nikola Jokic or he's a defensive liability that is too much trouble to build around. There doesn't seem to be much in between.
Sengun is incredibly gifted offensively and is only 20 years old, so it's very early. This is also the biggest offseason of his young career, where he won't be preparing for EuroBasket and can specifically train for the NBA.
There is no evidence at all they are looking to trade him. I'm very much going rogue with this prediction. But consider:
1. Internally he has been viewed as possibly the worst pick-and-roll defensive big in the league.
2. They started Bruno Fernando over him to open the season.
3. They rarely run the offense through him ("ŞenHub").
4. The Rockets are not well-positioned with future draft picks to trade and likely need to move a good young player if they're looking at any significant deals.
5. They believe bringing in a center is a high priority (though that could be as a backup to Sengun).
To be clear, I'm not predicting Sengun will be dumped but rather we will hear his name floated in rumors. A lot could change — a new coach could see Alpi as key to the future, for example — but right now, given all the factors listed above, I would be surprised if Sengun is the centerpiece of this rebuild. I think he's more likely the trade piece.
https://twitter.com/RocketsWatch/status/1627944952498950147?s=20
Confidence Level: 60%