The Rockets sacrifice their future to get Russell Westbrook
We got our fireworks show.
The Rockets pulled off a blockbuster move Thursday night by sending Chris Paul and a ton of draft pick considerations to the Oklahoma City Thunder for the long-hated Russell Westbrook. Shockingly, the Rockets gave up first-round picks in 2024 and 2026 (each top 4-protected) and pick swap rights in 2021 and 2025.
I'm in complete shock. The desire to get Westbrook. The price paid. All of it.
Before I can talk about some possible positives, let me put this out there.
I've never cared for Russell Westbrook. I think it started for me in 2012 when he unnecessarily spazzed out on Goran Dragic in a game in OKC. I proposed to my kids that our dog should be named "Russell Westbrook sucks" and their only objection was the name was too long.
But to be clear, my feelings on this trade have nothing to do with love and hate. There are plenty of players in my lifetime that were hated by Houston fans and went on to become beloved Rockets. Dikembe Mutombo, Charles Barkley, Chris Paul and Austin Rivers immediately come to mind. So I can promise you this — Houston, myself included, will embrace Westbrook. Once he puts on the newly-designed red and black, he'll become part of Clutch City.
Having said that — this looks like a horrible trade, a large mistake by a Rockets organization that seemed desperate for no known reason. I've seen the logic in every move or trade Daryl Morey has made but not this time. Even when his machinations haven't panned out, they were always sound decisions that balanced reward and risk. This is his worst move. The risk is enormous.
I'd rather have Chris Paul than Russell Westbrook. For some reason, people started looking at Paul only for his contract and not for the player he is. He's aging but he's incredibly smart, makes the right reads, can play off the ball as a shooter and defends. If the roles were reversed and the Rockets traded Westbrook for that collection of picks and Paul (with a year less on his contract than Westbrook), I'd be singing the team's praises for finding a better fit and scooping up a haul of assets that could be flipped for more weapons this year.
If the Rockets win a championship in the next few years — and I certainly hope they do — then feel free to bring this up as a cold take and mock me to your heart's content, but right now I want to know who put a gun to Daryl's head. Was it Tilman, Harden or both? Trading picks in 2024 and 2026, are you serious? Those are the years that Harden and Westbrook are not under contract. Throw in a couple pick swaps for good measure? The cost here was tremendous and they willingly paid it for a player that might have been a negative value contract. Think about this — by the time the Rockets finish paying off this trade, Russ will be in Beijing or the Big3.
Yes, the Rockets got a bunch of star power and media attention with the move, but Westbrook, while incredibly athletic and explosive, is a very poor shooter… and he doesn't know it. Imagine if Corey Brewer thought he was Steph Curry and you've got Russell Westbrook in a nutshell from three-point range. He has shot under 30% from deep in four of the last five seasons. Given the volume of shots he takes, he might very well be the worst shooter ever.
If he's not a good shooter, then at least he'll balance it out with strong defense, right? Well, the thing about that is… that's not happening either. There's potential for more since Westbrook is bigger, longer and a top athlete, but that has been said about him for years. He has not turned that into being a plus defender because his on-court intelligence is lacking. He has skated by for years on his elite athleticism.
It's like the Rockets decided to zig rather than zag. They more or less pioneered the push for 3-and-D players yet some intern thought he'd be innovative by piping up in a meeting with "Hey, what if we get a guy who does neither 3 nor D?" — and they bought it. Please fire that dude immediately.
In terms of shooting, defense and hoops IQ, three key components of Rocketball, the Houston Rockets got worse today by swapping out Paul for Westbrook and I don't think that's debatable. Paul's game should age much better than Westbrook's. Once that step is gone for Russ, his game is done. The Rockets are banking almost $180 million that he won't lose it in the next four years.
The Rockets must reinvent themselves
OK, so I've gotten that out of my system. There are negatives, clearly. That doesn't mean other areas won't improve. There are some reasons to be optimistic.
What the Rockets gained was a quicker first step and explosive ability to attack the basket. They got a better rebounder, an energizer bunny for the full 48. He is a force of nature that is brutally tough to defend and the Rockets now have two of those. You won't ever complain about Westbrook's lack of effort… in fact, you'll likely wish he did less.
Having Westbrook attack the basket, where he's incredibly efficient, adds a new wrinkle to the Rockets offense. The team also should get out and run more and that's a good thing. Westbrook, while out of control at times, can go 94 feet in a hiccup and that's been lacking on this Rockets team. They work too hard for their baskets in halfcourt sets. Some easy transition points should be a boost.
Furthermore, I'll give you this — maybe, just maybe, Chris Paul's career was about to fall off a cliff and the Rockets knew it. Paul had a rough season last year but my opinion is he will bounce back. Time will tell. In Westbrook (30 years old), the Rockets got a player four years younger.
Rebounding has been a sore spot for the Rockets and Westbrook, who famously has averaged a triple double the past three seasons, should help there, but it's not like you add a point guard to fix those woes. He'll help but won't solve the dilemma.
The Rockets now have a shooting guard who should be a point guard in Harden and a point guard who should be a shooting guard (but can't shoot) in Westbrook. I think Westbrook takes the reins because I don't see how he plays off the ball. He should have better shooters around him than he's had in years so there's some promise of more there.
Can the Rockets change Westbrook and make him a more efficient player? Offensively I'm not so sure, but defensively they may find a way. The Rockets put Harden in the post more on defense to maximize his strengths as a defender. Perhaps something similar could be done with Russ.
The matchups between the Rockets and Clippers? Oh, they're about to get legendary. Russ vs. Patrick Beverley. Russ vs. Paul George, who bailed on OKC. Bev, LouWill and Montrezl against their old squad. Austin Rivers knows where the tunnel is — there are going to be some battles between these two.
The Rockets also still have first round picks from 2020 to 2023, so they could conceivably make another move.
Conclusion
Let's see what else the Rockets do. There is a chance they made this move, giving up what they did, knowing that it would attract more. But the bottom line: This is championship or bust.
You've gone all in and you must win, no ifs, ands or buts.
The Rockets traded future assets they had no business giving up to bring in a player that, in their mind, extends their championship window. I have faith that Daryl Morey can keep the Rockets in playoff contention even after the James Harden era, but I no longer have faith that he'll even be here in 2024, much less 2026, under this ownership. We don't know yet what went on behind the scenes, but fairly or unfairly, it does make owner governor Tilman Fertitta seem impatient and reactionary with this trade.
It's mainly a strike against Harden, who now has two failed superstar experiments under his belt in Houston. It's no secret that Harden runs the show here, just as Westbrook did in OKC. He hand-picked Paul as his teammate and now he's done the same with Russ. If this doesn't work, it may be time to blow the whole thing up and recover as many picks as possible.
But that's premature. It's up to these two MVPs to make this pairing work and they've earned the right to try. They're not two-way demons like the pairs each Los Angeles team sports, but they can be unstoppable offensively. The Rockets now must overhaul their system to maximize their strengths because nothing less than hanging a banner is going to make it worth the price they paid.
Heavy investment in Kevin Porter Jr raises serious questions about Rockets front office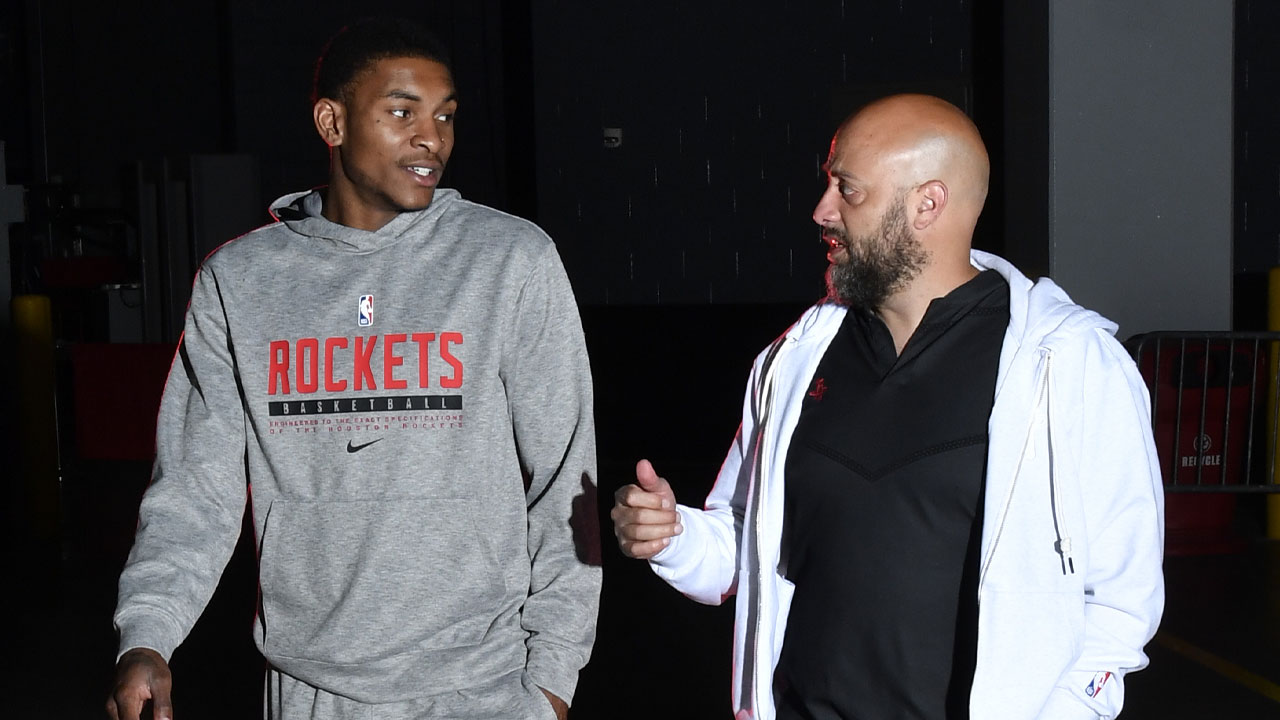 Soon-to-be-ex Rockets guard Kevin Porter Jr was arrested last week for allegedly assaulting his girlfriend, resulting in a fractured neck vertebra and a deep gash above her right eye after an attack at a hotel in New York. He allegedly woke her up by punching her repeatedly, strangled her and did not stop hitting her until she ran out of the hotel room screaming for help and covered in blood.
"This is a serious domestic violence case," said assistant Manhattan district attorney Mirah Curzer.
First and foremost, I wish the victim healing. I don't know what to say about the nightmare she went through. She and her family will forever be impacted. As for KPJ, if this is true, he doesn't belong on the Rockets or in the NBA at all. He belongs in jail.
Secondly, this can't be overlooked and just swept under the rug: Why did the Houston Rockets bank on and invest so heavily in this guy?
Kevin Porter Jr. being accused of crimes of this severity should not be shocking – at all. Before he even came to the Rockets, he had a long list of serious problems. He was suspended multiple times in high school. In 2019, he had a "conduct issue" significant enough that USC suspended the 5-star recruit indefinitely. He fell to the end of the first round of the 2019 NBA Draft because of his behavior liability. He was accused of punching a woman in the face in Cleveland. He also had a gun and marijuana charge later dismissed after getting into a car crash. He went into a tirade and got into a nasty confrontation with both the Cleveland coach and GM, resulting in the Cavs severing ties immediately and dumping him to the Rockets for nothing.
You could make the argument that initially giving Porter Jr. a second chance in Houston was praiseworthy, but the Rockets experienced KPJ's anger management and immaturity issues firsthand on several occasions.
Former Rocket Austin Rivers said this week that this isn't the first, second or even seventh issue with Porter Jr. and that Rockets "higher-ups" confided in him that they had no idea how to handle him.
"I remember talking to guys in the Houston Rockets organization, higher-ups, [and] they were having issues then," said Rivers. "They were like, 'We don't know what to do with him.' And that's when he just got there from Cleveland!"
Porter Jr. was routinely a nightmare for Rockets coaches to deal with. On several occasions, he confronted and cussed out members of the coaching staff, saying they didn't have the "credentials", per source, a reference to the fact that him playing heavy minutes at point guard was a decision they did not control.
Once at a night out, Porter Jr. had a disagreement with a DJ over music choice and he snapped, smashing the DJ's laptop to the floor. He needed to be restrained and removed. Rockets personnel and several of Porter's teammates witnessed the incident.
Curzer also dropped a bombshell at the arraignment in saying that Porter Jr. has a history of abusing his girlfriend, who he had only been dating since early last year, his second season with the Rockets. Curzer specifically cited an incident in which KPJ allegedly rammed his car into hers.
There were dozens of maturity issues visible on the court to anyone paying attention. He refused to check out of games. He got into an argument on the bench with assistant Lionel Hollins. On numerous occasions, he would visibly shut down when he wasn't passed the ball. I invite you to watch this video from a game against Memphis on March 20, 2022. Just listen to the Grizzlies broadcasters, particularly starting at the 1:40 mark, talk about what they are witnessing here:


Privately, people around the league would say they were baffled by the Rockets continued fascination with Porter Jr. Nobody could understand it.
That fascination starts with Rockets general manager Rafael Stone, who by every account over the last two years was the driving force behind the investment in Porter Jr. It has been no secret. Trading for him in January 2021 was seen by some with the team as his "Harden acquisition", code for a signature move that makes an executive's career, much in the way landing James Harden did for Daryl Morey in 2012.
For example, former Rockets head coach Stephen Silas never considered Porter Jr. to be a point guard, per sources — playing him there was a Stone mandate because the GM believed that is where his future lied.
John Wall also told us as much publicly when he explained the phone call he got from Silas about coming off the bench. He said Silas told him "This is what the GM wants," adding again that Silas said, "Man, you don't deserve that. You should be the starter. This is just what they want to do." Wall was upset because he believed KPJ should have to earn the spot.
"I have a hard time finding anybody outside of the Rockets front office that believes that Kevin Porter Jr. is a starting point guard in the NBA," said ESPN reporter Tim MacMahon in December.
There were plenty of warning signs about KPJ to the public too.
After Porter Jr. got into a heated argument in which KPJ "physically shoved" Rockets assistant coach John Lucas and quit on the team in the middle of a game against Denver in January of 2022, leaving the arena at halftime, Sports Illustrated's Chris Mannix famously wrote that the Rockets should "Cut Porter Jr. Waive him. Release him. Whatever. Eat what's left of the $1.8 million he's owed this season and the $3.2 million he's got next and move on." It became a source of mockery for Porter Jr's fans, a line they would bring up after each game he hit a few threes or handed out some assists.
In February of this year, ESPN's Jonathan Givony, one of the most connected reporters in the league, flat out warned us that he was hearing awful things about the Rockets culture and locker room. He was blunt in what the Rockets needed to do — waive Kevin Porter Jr. outright and bring in a new coach and GM.
"Just cut him. That's it," said Givony of Porter Jr. "And you're sending a signal to the league that we're going to do things differently from here on out."
"When you talk to people around the NBA about Houston, you just don't hear good things about their culture, about that locker room. You talk to people that are on that team, and they are like, 'We are a mess'," said Givony. "Do people want to work with this organization? But you can change that fairly quickly if you come in, get rid of the bad apples and you change the coaching staff, and all of a sudden, you're Houston. It's the third-biggest city in America. There's a history here of you actually being good."
Porter came to the Rockets for "free" (in exchange for a top-55 protected second-round pick, which was designed not to convey), but he proved far from it as the Rockets continued to pour investment into him. Over the last 2-3 seasons, no Rockets player got more developmental capital than Porter Jr. – not Jalen Green, not Alperen Sengun, not Jabari Smith Jr. The Fertittas paid John Wall $85+ million over two years to sit at home so the team could groom Porter Jr. to be their future point guard.
Then they doubled down. With restricted free agency on the horizon and a seemingly non-existent market for KPJ's services, the Rockets gave Porter Jr. an extension a year sooner – a contract that was presented as a four-year, $82.5 million deal. The deal was more team-friendly than that, putting team options in it after years 1 and 3. Going from the potential disaster that was initially reported to a deal they could escape after one season felt like a "win", but the biggest question was why they wanted him long-term at all. The unprecedented nature of a contract that size with that kind of club control clearly showed the Rockets knew there was unique and significant risk here.
After KPJ signed the extension, The Athletic's Kelly Iko summarized the Rockets view of Porter Jr. – "As has been [their] stance for months, the Rockets have maintained the notion that Porter is a priority and is considered a huge part of their core, along with Green and Jabari Smith Jr."
The Rockets actions to kick off the 2022-23 season showed exactly that – that he was a priority. They benched Sengun to start the season, in large part to give KPJ a "lob threat" and defender in the starting lineup. They gave him the superstar "Harden Locker". They introduced him last in the starting lineups. They treated him as the star and empowered him to be the self-proclaimed "Head Honcho" of Clutch City.
But the extension proved unwise and foolish. Porter Jr. never even made it to the first year of it. With over $80 million on the line, he snapped again. The Rockets signed him to one of the team-friendliest deals ever and still managed to both overcommit and overpay as Stone now scrambles to attach real assets to it to get another team to take it off his books.
Is it fair to question the judgment of the Rockets front office? Absolutely and without question. Whether you look at their ability to value character, evaluate risk, scout basketball, build culture, manage assets or allocate development resources, they failed at every level here. Why didn't they act sooner? Why did they double down? Why didn't they hold him accountable? Why did everybody in the league see it but them?
"We value the player and the person that [Kevin Porter Jr.] is becoming and are eager to invest in him and his journey," said Stone after rewarding him with the extension less than a year ago.
The question you have to ask yourself now is, with all they knew and witnessed about Porter Jr. both on and off the court — why were they eager at all?