Yao Ming is done for the year
The 2010-11 season is over for Yao Ming. That was confirmed on Friday as team physician Dr. Walter Lowe and general manager Daryl Morey met with the media.
The 2010-11 season is over for Yao Ming.
That was confirmed on Friday as team physician Dr. Walter Lowe and general manager Daryl Morey met with the media.
"I think this is a season-ending injury," said Dr. Lowe. "Is this something where I would say 'Hey, you got no chance of playing again'? No, absolutely not."

Dr. Lowe said the injury is on the inside part of the ankle and he felt surgery to fix it was the "smartest course of action." He felt it would be 4-6 months for the fracture to heal after surgery, then likely 3-4 months of rehab where Yao can slowly increase the weight on his ankle. However, it would not be a restructuring, saying that this fracture is not displaced and still anatomically located.
Still, there was no rush on a decision.
"There's plenty of time to get all the bright minds of foot and ankle in the country together and look at it, talk to Yao and come up with a course of treatment that his doctors, he and I agree with," said Lowe.
Lowe said the fracture "manifested itself" between two MRIs, but did not believe there was an incident or second injury that caused the fracture. He felt the injury in Washington was the event that led to the fracture.
Morey said it was too soon to know where they go from here with Yao.
"I think until we learn more, we still see Yao Ming as a potential future part of the team," said Morey. "We need to continue to talk to the doctors and see where that goes. Obviously, Yao Ming is an All-Star center. You look throughout the league and there's not many of them. So if it looks like there's a good prognosis here, and we're still learning how good that prognosis will be, then for sure we're going to look at Yao Ming past this season."
Morey said that lot of the circumstances around this injury give the Rockets a good chance to be granted an injury exception from the league, but the team has not finalized a course of action or talked to the league about that as of yet.
Morey kept expectations in check.
"There's no Yao Ming store you can go to get another one with his abilities," said Morey, who stressed how unique Yao is. "It's definitely a setback that we don't have him this season."
The Rockets GM conceded that Yao's return this year was a key part of the Rockets chance of being a contender this year, but he wasn't giving up on the team.
"We felt like this season, where we could make this a special season, was Yao Ming comes back, people step up on our team, maybe there's a move that's made, and we felt like we could really make some noise this season," said Morey. "We still feel like we're a team that can make the playoffs this season. We feel like we're fighting with maybe four to five other teams for maybe the seventh, eighth seeds this season. I know our guys in the locker room aren't writing this season off. I know I'm not. I know Coach Adelman isn't. We still think this can be a great season."
Jabari Smith steals show in Rockets preseason opener
The Rockets rookie is legit as we take a look at what else stood out in Houston's preseason rout of the Spurs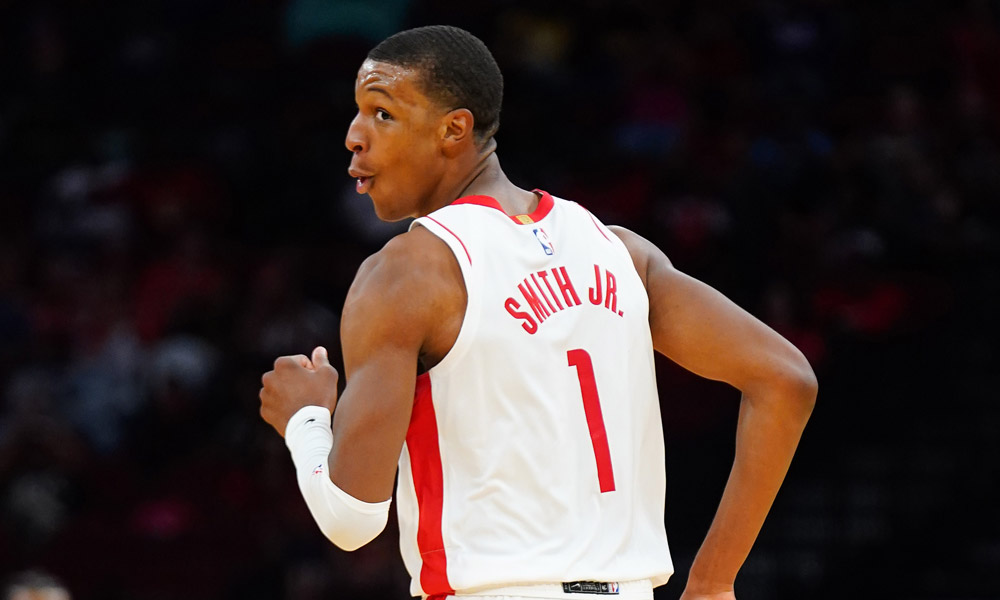 Finally, Rocketball is back — the Rockets destroyed the San Antonio Spurs 134-96 in the preseason opener Sunday night.
Granted, the Spurs look flat out terrible (the top contender for Wembanyama?) and may finish dead last (and it showed), but there were a number of things that played out in this game that should get Houston fans excited.
But before I get into that, I want to give a huge shout out to everyone who supported RocketsWatch Sunday night. We are watching and discussing Rockets games in realtime this season and the debut was overwhelming. There were over 700+ fans watching the game with Roosh Williams and I in what might be the largest online watch party ever for a Rockets game. The live reactions from the fans were priceless!
Let's talk about what stood out in this game:
Jabari is the real deal
Going into Sunday night's preseason opener for the Rockets, the biggest question on the minds of fans was simple — how will #3 overall pick Jabari Smith Jr. look in his first NBA action?
The answer is good. Really good.
Jabari threw down a dunk out of the gate and then locked in on high-energy defense on the other end and right away you knew — the Christian Wood Era was over. Jabari's impact was immediate on both ends of the floor. Smith finished with 21 points on 8-15 shooting, including a blistering 5-8 from deep, to go with eight rebounds in 24 minutes.
Jabari described himself as "a lot more loose" than he was at Summer League, when he struggled to knock down his shots.
"It was easy," said Jabari. "My teammates made it easy for me, finding me when I was open. The rest just came from knocking down shots, running the floor, trusting the offense and trusting my teammates."
What most impressed me was how quick of a trigger Jabari had on the catch-and-shoot. He would receive a pass out of the post or a cross-court pass in the corner and would instantly let it fly, shooting easily over his defender's reach. This trait stood out and was very Klay Thompson-esque. In the second half, Jabari hit a pull-up triple in transition (his fourth) that was very enticing, then absolutely slayed those of us in the RocketsWatch room when he took two long strides back from the free throw line to drain another triple.
At that point, it was official — the rookie was clowning the Spurs. I can't tell you how thrilled I am that the Rockets drafted Jabari. This man is going to fit like a glove and will be a ridiculous two-way weapon for the Rockets long term.
Jabari Smith Jr. Went OFF in his preseason debut 😈 @jabarismithjr
– 21 points
– 8 rebounds
– 5-8 3PT pic.twitter.com/GS70scinn5

— B/R Hoops (@brhoops) October 3, 2022
Defense. They're actually playing it. It's true.
I don't need to repeat that the Rockets were dead last in defense last year, but… the Rockets were dead last in defense last year. Although, maybe I need to turn that frown upside down.
https://twitter.com/FraudeauxNBA/status/1576358215406989312?s=20&t=X5YfCfDU5HwynBnvqoicSQ
Sunday, however, was a different animal and you could tell immediately. The Rockets were hustling, moving quickly on rotations and closeouts.
"It's the defense, obviously, that we've been concentrating on," said Stephen Silas. "Our help was good tonight. Our multiple efforts were really good… I'm super encouraged by our intensity on the defensive end."
Jabari was a big part of that. He made some clear mistakes, sure — I'm not going to say he was perfect — but he seemed to set the tone. Still, it's not just Jabari — it's clear to me the mindset of this team is in stark contrast to what we've seen the past two seasons. Maybe it's the Jabari Effect or maybe Lionel Hollins is making his presence felt, but this does not look like the 2021-22 Rockets on this side of the ball.
Tari Eason is pretty much plug-and-play
I had my doubts that Tari Eason would get a ton of run in this game, but Silas played him early (note: Jae'Sean Tate sat this game out). Without having any clear plays run for him, Tari fought and scrapped for 21 points and 10 rebounds (six offensive!) in just 21 minutes. He hit 9-13 from the floor.
"My mentality never changes," said Eason. "I'm always going to be in the right spot, get after it defensively and be one of the hardest playing dudes on the court. I think that translates at any level and I'm just going to continue to do that."
He plays like his hair is on fire and has tremendous potential as a two-way demon. Throw him out there when things get stagnant and he's going to make things happen.
I've felt that the Rockets will likely bring Tari along slowly until they figure out what the long-term solution is for guys like KJ Martin, but Operation Patience isn't going to work if he keeps putting up lines like this. You can't keep him to the bench or send him to the G-League.
Is Bruno Fernando the backup center?
It sure seems that way. After news broke that the Rockets had signed Fernando to a four-year, nearly $11 million deal, Bruno was the first big off the bench, subbing in for Alperen Sengun.
I'll be honest — this really surprised me. I expected that Usman Garuba would have the clear inside track to the spot. Fernando also seemed like a good bet to be on a two-way contract, but now with this new deal, Fernando is going to be on the 15-man roster and barring a trade, someone has to be cut (Boban? Favors?) that isn't expected to be.
But Fernando, who sources say has been terrific in camp, showed why he got that contract, finishing 3-3 from the field and was a +18 in just 11 minutes. He was very effective on rolls, capping a pair of alleyoop passes from Kevin Porter Jr. I would be lying if I said I saw this coming, but it's a welcome development.
Rotation Notes
It's only one preseason game, but we still can draw a lot from how Silas sees the rotation.
Bruno looking like a good bet for the backup center role was not the only surprise. KJ Martin and Daishen Nix, along with Bruno, were the first subs of the night. That indicates what we expected, that Nix is in the lead for the backup PG spot over TyTy Washington, who I would guess will run the show with the RGV Vipers early on. I like TyTy as the better bet for this spot long term, but right now the job appears to be Nix's to lose.
But KJ is a little surprising, given he reportedly wanted out this past offseason with the Rockets slated to bring in a couple bigger prospects (Jabari and Tari) at his position.
Garrison Mathews played only five minutes. The prediction many have made that Silas would play him 15+ minutes this year is not looking so hot.