A Rockets Trade Scenario with every Lottery Team
Taking a look at draft trade possibilities for the Houston Rockets as they hope to move up from the 17th pick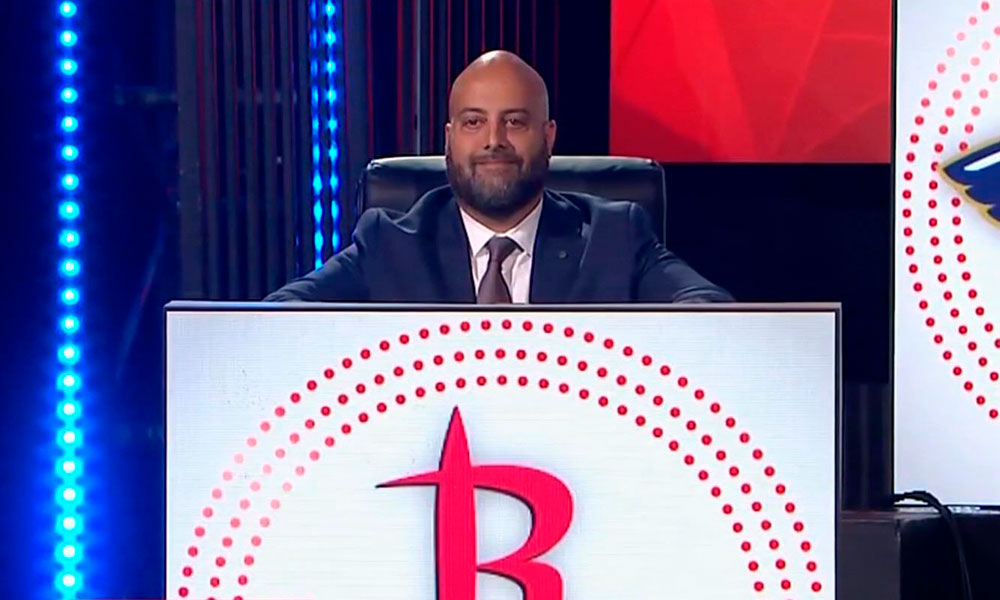 The 2022 NBA Draft is less than a month away and the Rockets, holding picks #3 and #17, are likely burning up the phone lines to understand their trade options.
Houston is likely fine to take whichever big man out of Jabari Smith Jr., Chet Holmgren and Paolo Banchero falls, with Banchero getting all the buzz currently as the clear third of the group. But on the other hand, Rockets GM Rafael Stone likes to keep all options option, even with top picks. The Rockets also may need to move up from #17 to get into the top 14 picks if they hope to get one of the better defensive wings in this draft.
So let's dabble in speculation and look at how the Rockets could conceivably talk trade with any team in the lottery.
#1. Orlando
The Orlando Magic likely feel no need to move from the number one pick. They don't really have a true franchise foundation piece and will clearly go with who they think is the best player available. The number one pick allows them to take a chance on Jabari or Chet as that guy, but… if they feel it's Banchero that impacts their team the most, could they afford a trade down?
Orlando gets: Pick #3, Pick #17
Houston gets: Pick #1
The #17 pick is probably not enough to leapfrog OKC. A move like this only works if Orlando is fine drafting the guy they know will be at #3, but OKC at #2 is notoriously tight-lipped. The Magic made a similar move in 1993, dealing the number one pick (Chris Webber) to Golden State for the #3 pick (Penny Hardaway) and multiple firsts. Boston also made a similar deal for Jayson Tatum in the 2017 NBA Draft.
The Rockets could also include the 2023 Milwaukee pick to tempt Orlando, but I'm not sure that's something the Rockets should extend right now.
Targets at #1: Jabari Smith, Chet Holmgren
#2. Oklahoma City
Nobody knows what OKC is going to do, but we do know that OKC GM Sam Presti loves Victor Wembanyama, who is the clear prize of the 2023 NBA Draft. If Presti really wants to be the edgy GM, could he trade down to #3, get his "outside the box" pick still and scoop up another unprotected swing at the 2023 Draft to add to his arsenal?
OKC gets: Pick #3, 2023 Milwaukee first-round pick (unprotected)
Houston gets: Pick #2
This would only make sense for the Rockets if they truly liked one of the top two bigs over the third and the risk of OKC trading to 4 or 5 existed. If the Rockets are content with any of the three, they can stand pat and OKC can dance all they like.
Targets at #2: Jabari Smith, Chet Holmgren
#3. Houston
Both Houston and the Rockets look pretty similar, but let's take a crack at it:
Houston gets: John Wall, #3 Pick
Rockets get: Alperen Sengun, Josh Christopher, Christian Wood, Eric Gordon, Pick #17
Houston gives up some young talent but picks up a top pick. The Rockets get off Wall's deal while adding great depth. Both teams look pretty good after this one. Win-win.
Targets at #3: Paolo Banchero
#4. Sacramento
The Sacramento Kings being treated to lottery luck for the fourth pick of the draft was an unfortunate casualty to the Rockets trade-up pursuit. Kings owner Vivek Ranadivé is tired of Sacramento's playoff drought and there is said to be pressure on GM Monte McNair, a former Rockets exec and colleague of Stone. So the Kings were always likely to trade their pick for veteran help, but the fourth pick is likely out of range for what Houston can offer. The Kings also don't have the ideal salary pieces to make it work. But let's throw something out there:
Sacramento gets: Christian Wood, Alperen Sengun, pick #17
Houston gets: Richaun Holmes' contract (signed until 2025), Mo Harkless, Pick #4
The Kings need to win now but even given that, I don't think this is enough to pry that pick away since there is star potential here. But if Houston takes Banchero at #3 as the last big on the board, it might make sense to trade Sengun. Do Sengun and Domantas Sabonis, two similar players, work together? For the Rockets, the chance to pair one of the bigs and Jaden Ivey with Jalen Green is incredibly tempting — it may not be much of a possibility, but the Rockets should exhaust every avenue to add a second blue-chipper in this draft.
If the Rockets don't have the goods to get something like this done, I think they should be looking at Sacramento's 2023 first-round pick instead. McNair could employ a common tactic used by GMs when they're "going for it" — sell their future first like it's a lottery pick but plan on making the playoffs. The Pelicans did this very thing at last year's deadline in acquiring CJ McCollum. The Rockets could seek that pick as a bet against the Kings, who are, after all, the Kings.
Targets at #4: Jaden Ivey, Shaedon Sharpe
#5. Detroit
I'll just say that there is almost zero trade-up potential here with the Pistons, so I'll throw out a Rockets trade-down scenario that may work for both parties:
Detroit gets: Pick #3
Houston gets: Pick #5, 2023 Detroit first-round pick swap rights with either Houston OR Milwaukee's 2023 first
For bigs, there is a definite drop after pick three in this draft so going from pick #5 to #3 is a significant move up, hence the price. The Pistons would have to love Paolo Banchero or whichever big was left on the board at #3 to make this deal. Cade Cunningham has stated before that he's very high on Paolo and likely sees a lot of himself in the Duke forward. For the Rockets, it may not make sense to let go of a Wonka ticket, but if they could get a potential star in Ivey and a chance to swap Milwaukee's first with Detroit's (if 1-18) next year, that's something you have to have a long meeting about.
Targets at #5: Jaden Ivey, Shaedon Sharpe
#6. Indiana
There's no doubt the Indiana Pacers were one of the biggest losers on lottery night, falling to #6. You rarely see them in a rebuild, and even now, the clear team direction is hard to peg. Before the Tyrese Haliburton deal fell into Indiana's laps, the Rockets and Pacers had an agreed-upon deal sending John Wall to Indiana, a source confirms. The Pacers pulled out at the last minute. Could the Rockets and Pacers make another deal? To be brutally honest, they're a terrible match for the Rockets.
Indiana gets: Alperen Sengun, Josh Christopher, Pick #17
Houston gets: Goga Bitadze, Pick #6
Trading Sengun, Christopher and a solid first would have to be extremely worth it and I'm not sure this spot in the draft is. Murray may be there but if you draft Banchero, is that the best pick? If Sharpe is available and the Rockets see tremendous upside, it could be worth the price. I personally love Dyson Daniels but you'd have to be really enamored with him to make this kind of deal.
Targets at #6: Shaedon Sharpe, Keegan Murray, Dyson Daniels
#7. Portland
The Blazers are an almost ideal trade partner for the Rockets. As long as they plan to "win now" in an effort to appease star guard Damian Lillard, Portland is seeking veteran pieces. They are easily the most flexible team as far as taking back salary as they have cap space, Eric Bledsoe's $19.4M contract (that is only guaranteed for $3.9M) and a $21M trade exception. The problem is the Blazers only have a couple of pieces in place and a finite amount of assets they can use — their cap space, the #7 pick and a top-4 protected pick from Milwaukee in 2025.
Portland gets: Christian Wood, Jae'Sean Tate, pick #17
Houston gets: Eric Bledsoe, pick #7
Eric Gordon makes a lot of sense for the Blazers but his salary ($19.6M) eats up some of that precious cap so we'll keep him out of this particular deal. Ideally, Portland would get good players on cheap deals. But there is real potential for a match here so let's take another crack at this pick in a different way, using Gordon instead of Wood:
Portland gets: Alperen Sengun, Eric Gordon, Jae'Sean Tate
Houston gets: Eric Bledsoe, pick #7, 2025 Milwaukee pick (top-4 protected)
If the Rockets are taking Paolo Banchero at #3, eventually acquiring a top defensive center could be a priority. That's not to say Banchero-Sengun can't work together, but the odds aren't in their favor if part of the goal is to build a top defense. Portland, on the other hand, gets the best of both worlds — a win-now piece in Gordon to put next to Lillard and a young prospect in Sengun that allows them to hedge the bet and build with Anfernee Simons.
This pick is just about perfect for the Rockets in being able to acquire a very good Tier 2 player in this draft. If Houston is out of the running for pick #7, I would pursue the 2025 Milwaukee pick by itself, which fits the criteria for the type of pick Stone seeks.
Targets at #7: Keegan Murray, Dyson Daniels, AJ Griffin, Jalen Duren
#8. New Orleans
Given their immediate team direction, the Pelicans make a ton of sense for a Houston deal. Unfortunately, they don't quite have the ideal salary pieces or immediate need at positions the Rockets can offer. It might take the Rockets absorbing a bad contract:
New Orleans gets: Christian Wood, Jae'Sean Tate, pick #17
Houston gets: Devonte' Graham, pick #8
Graham is a disappointment and is eating up $12M a season until 2024 (partially guaranteed for $2.8M in 2025). The Rockets would take that off their hands, hurting some of their own plans for maximum 2023 cap space, to move up to this spot.
Targets at #8: Dyson Daniels, AJ Griffin, Jalen Duren
#9. San Antonio
San Antonio is far from a good fit for a trade with Houston. The Spurs aren't in a true rebuild — or, at least, they don't know it yet — but they're definitely retooling and have three first-round picks (#9, #20, #25) in this year's draft. But let's give it a shot:
San Antonio gets: Jae'Sean Tate, KJ Martin, pick #17
Houston gets: Jock Landale, pick #9
Tate fits into a Gregg Popovich-coached team like a glove and KJ Martin is a prospect with good upside. But can the Spurs add three first-round picks (17, 20, 25) and a third-year player in Tate? I don't see that. The Rockets lose a lot at small forward but are able to consolidate for a roster spot and draft a defensive wing at #9.
Targets at #9: AJ Griffin, Jalen Duren, Bennedict Mathurin, Jeremy Sochan
#10. Washington
The Washington Wizards are such a blah franchise right now and they need future pieces, but at the same time, they have (likely) Bradley Beal and Kristaps Porzingis. There's not exactly a long-term plan here. Still, this is a difficult match from a salary and assets standpoint. I'm going to go with the old reliable:
Washington gets: Pick #17, 2023 Milwaukee first-round pick (unprotected)
Houston gets: Pick #10
Similar to how the Rockets acquired a pick in 2021 to get Alperen Sengun, offering two firsts for the one, they could trade Milwaukee's pick next year in the hopes of moving up. I see this only as an option if a specific target falls here and the Rockets know he's going to the Knicks at #11.
Targets at #10: Jalen Duren, Bennedict Mathurin, Jeremy Sochan, Tari Eason
#11. New York
The Knicks need to score on this pick, but coach Tom Thibodeau also values defense and isn't the type to wait around for a rookie to mature. While the Knicks prefer to move up, this option might be one to fall back on:
New York gets: Jae'Sean Tate, David Nwaba, pick #17
Houston gets: Kemba Walker, pick #11
A deal like this could be viable if the Knicks' favorites are off the board and they prefer to move down for a TyTy Washington-type prospect. Thibs picks up a valuable defensive role player and a vet who specializes in defense while unloading Kemba. The Rockets don't mind paying Walker's $9M deal since he'll come off the books by 2023.
Targets at #11: Jeremy Sochan, Tari Eason
#12. Oklahoma City
This would be tough to pull off. Even though the Rockets made a trade with OKC at last year's draft for Sengun, these two teams are very similar and the Thunder want to do exactly what Houston is pursuing: Consolidate and move up.
Oklahoma City gets: Pick #17, 2023 Milwaukee pick (unprotected)
Houston gets: Pick #12, Pick #34
Even though pick 12 would put the Rockets in what I feel is a sweet spot in this draft, this is a hefty price to pay to move up five spots — so I think another pick to balance it would be required. At #34, the Rockets might be able to get a backup center or a stash candidate. OKC has four picks in the top 34, so Presti unloads one and gets another long shot at Wemby.
Targets at #12: Tari Eason, Jeremy Sochan, Ousmane Dieng
#13. Charlotte
Charlotte might be the very best fit for a Rockets trade. While their pressing need is a defensive big, it's been speculated that Christian Wood could be a good fit for LaMelo Ball. If both Jalen Duren and Mark Williams are off the board, I could see Charlotte being open to trades here:
Charlotte gets: Christian Wood, Pick #17
Houston gets: PJ Washington, Pick #13
There appears to be a drop-off in talent around the 12-14 range and it's quite possible that someone slated to go 6-8 falls as far as this range.
Targets at #13: Tari Eason, Jeremy Sochan, Ousmane Dieng
#14. Cleveland
Cleveland dropped the ball with the Rockets last season when they opted for Caris LeVert over Eric Gordon, a decision that backfired pretty badly. Moving up from 17 to 14 isn't as attractive for the Rockets, but it may still be necessary if nothing else comes to fruition:
Cleveland gets: Jae'Sean Tate, David Nwaba, Pick #17
Houston gets: Cedi Osman, Pick #14, 2023 Cleveland second-round pick
This isn't much of a move up to part with Tate and I'm not looking to just dump him, but with Charlotte and Atlanta choosing in between 14 and 17, this could be the difference between a defensive wing like Tari Eason and a lesser prospect. Sengun has called Turkish players his "big brothers in the NBA" so it couldn't hurt to have a little slice of home on the roster in Osman.
Targets at #14: Looking for whoever has slipped from the top 12
Jabari Smith steals show in Rockets preseason opener
The Rockets rookie is legit as we take a look at what else stood out in Houston's preseason rout of the Spurs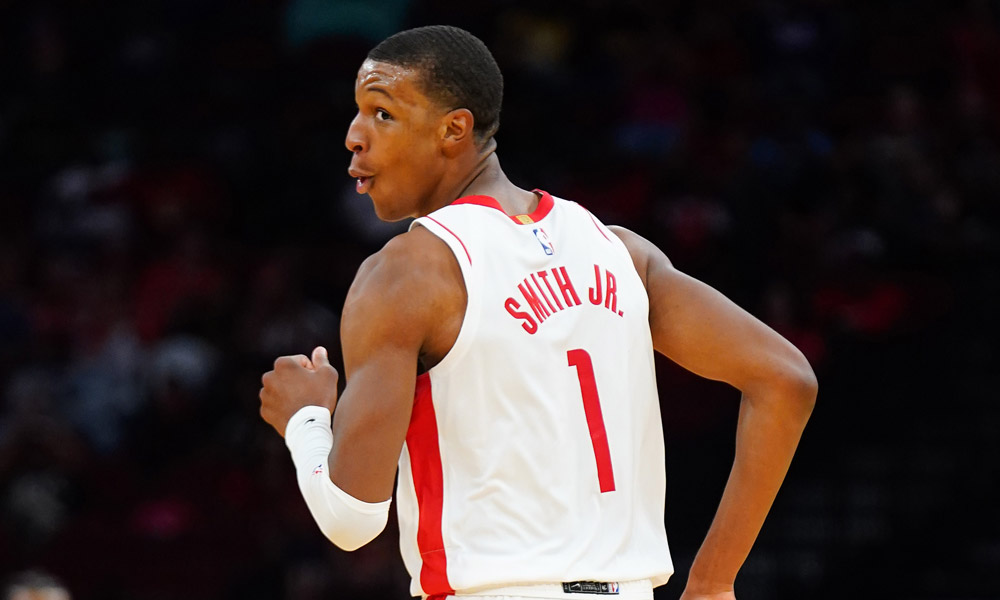 Finally, Rocketball is back — the Rockets destroyed the San Antonio Spurs 134-96 in the preseason opener Sunday night.
Granted, the Spurs look flat out terrible (the top contender for Wembanyama?) and may finish dead last (and it showed), but there were a number of things that played out in this game that should get Houston fans excited.
But before I get into that, I want to give a huge shout out to everyone who supported RocketsWatch Sunday night. We are watching and discussing Rockets games in realtime this season and the debut was overwhelming. There were over 700+ fans watching the game with Roosh Williams and I in what might be the largest online watch party ever for a Rockets game. The live reactions from the fans were priceless!
Let's talk about what stood out in this game:
Jabari is the real deal
Going into Sunday night's preseason opener for the Rockets, the biggest question on the minds of fans was simple — how will #3 overall pick Jabari Smith Jr. look in his first NBA action?
The answer is good. Really good.
Jabari threw down a dunk out of the gate and then locked in on high-energy defense on the other end and right away you knew — the Christian Wood Era was over. Jabari's impact was immediate on both ends of the floor. Smith finished with 21 points on 8-15 shooting, including a blistering 5-8 from deep, to go with eight rebounds in 24 minutes.
Jabari described himself as "a lot more loose" than he was at Summer League, when he struggled to knock down his shots.
"It was easy," said Jabari. "My teammates made it easy for me, finding me when I was open. The rest just came from knocking down shots, running the floor, trusting the offense and trusting my teammates."
What most impressed me was how quick of a trigger Jabari had on the catch-and-shoot. He would receive a pass out of the post or a cross-court pass in the corner and would instantly let it fly, shooting easily over his defender's reach. This trait stood out and was very Klay Thompson-esque. In the second half, Jabari hit a pull-up triple in transition (his fourth) that was very enticing, then absolutely slayed those of us in the RocketsWatch room when he took two long strides back from the free throw line to drain another triple.
At that point, it was official — the rookie was clowning the Spurs. I can't tell you how thrilled I am that the Rockets drafted Jabari. This man is going to fit like a glove and will be a ridiculous two-way weapon for the Rockets long term.
https://twitter.com/brhoops/status/1576753965730889729?s=20&t=X5YfCfDU5HwynBnvqoicSQ
Defense. They're actually playing it. It's true.
I don't need to repeat that the Rockets were dead last in defense last year, but… the Rockets were dead last in defense last year. Although, maybe I need to turn that frown upside down.
https://twitter.com/FraudeauxNBA/status/1576358215406989312?s=20&t=X5YfCfDU5HwynBnvqoicSQ
Sunday, however, was a different animal and you could tell immediately. The Rockets were hustling, moving quickly on rotations and closeouts.
"It's the defense, obviously, that we've been concentrating on," said Stephen Silas. "Our help was good tonight. Our multiple efforts were really good… I'm super encouraged by our intensity on the defensive end."
Jabari was a big part of that. He made some clear mistakes, sure — I'm not going to say he was perfect — but he seemed to set the tone. Still, it's not just Jabari — it's clear to me the mindset of this team is in stark contrast to what we've seen the past two seasons. Maybe it's the Jabari Effect or maybe Lionel Hollins is making his presence felt, but this does not look like the 2021-22 Rockets on this side of the ball.
Tari Eason is pretty much plug-and-play
I had my doubts that Tari Eason would get a ton of run in this game, but Silas played him early (note: Jae'Sean Tate sat this game out). Without having any clear plays run for him, Tari fought and scrapped for 21 points and 10 rebounds (six offensive!) in just 21 minutes. He hit 9-13 from the floor.
"My mentality never changes," said Eason. "I'm always going to be in the right spot, get after it defensively and be one of the hardest playing dudes on the court. I think that translates at any level and I'm just going to continue to do that."
He plays like his hair is on fire and has tremendous potential as a two-way demon. Throw him out there when things get stagnant and he's going to make things happen.
I've felt that the Rockets will likely bring Tari along slowly until they figure out what the long-term solution is for guys like KJ Martin, but Operation Patience isn't going to work if he keeps putting up lines like this. You can't keep him to the bench or send him to the G-League.
Is Bruno Fernando the backup center?
It sure seems that way. After news broke that the Rockets had signed Fernando to a four-year, nearly $11 million deal, Bruno was the first big off the bench, subbing in for Alperen Sengun.
I'll be honest — this really surprised me. I expected that Usman Garuba would have the clear inside track to the spot. Fernando also seemed like a good bet to be on a two-way contract, but now with this new deal, Fernando is going to be on the 15-man roster and barring a trade, someone has to be cut (Boban? Favors?) that isn't expected to be.
But Fernando, who sources say has been terrific in camp, showed why he got that contract, finishing 3-3 from the field and was a +18 in just 11 minutes. He was very effective on rolls, capping a pair of alleyoop passes from Kevin Porter Jr. I would be lying if I said I saw this coming, but it's a welcome development.
Rotation Notes
It's only one preseason game, but we still can draw a lot from how Silas sees the rotation.
Bruno looking like a good bet for the backup center role was not the only surprise. KJ Martin and Daishen Nix, along with Bruno, were the first subs of the night. That indicates what we expected, that Nix is in the lead for the backup PG spot over TyTy Washington, who I would guess will run the show with the RGV Vipers early on. I like TyTy as the better bet for this spot long term, but right now the job appears to be Nix's to lose.
But KJ is a little surprising, given he reportedly wanted out this past offseason with the Rockets slated to bring in a couple bigger prospects (Jabari and Tari) at his position.
Garrison Mathews played only five minutes. The prediction many have made that Silas would play him 15+ minutes this year is not looking so hot.