A Rockets Trade Scenario with every Lottery Team
Taking a look at draft trade possibilities for the Houston Rockets as they hope to move up from the 17th pick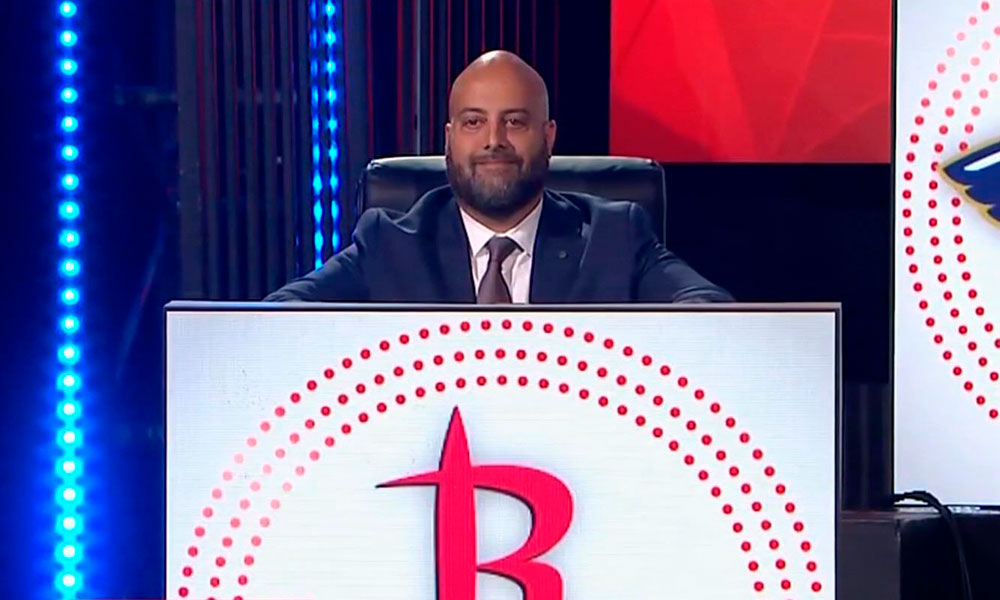 The 2022 NBA Draft is less than a month away and the Rockets, holding picks #3 and #17, are likely burning up the phone lines to understand their trade options.
Houston is likely fine to take whichever big man out of Jabari Smith Jr., Chet Holmgren and Paolo Banchero falls, with Banchero getting all the buzz currently as the clear third of the group. But on the other hand, Rockets GM Rafael Stone likes to keep all options option, even with top picks. The Rockets also may need to move up from #17 to get into the top 14 picks if they hope to get one of the better defensive wings in this draft.
So let's dabble in speculation and look at how the Rockets could conceivably talk trade with any team in the lottery.
#1. Orlando
The Orlando Magic likely feel no need to move from the number one pick. They don't really have a true franchise foundation piece and will clearly go with who they think is the best player available. The number one pick allows them to take a chance on Jabari or Chet as that guy, but… if they feel it's Banchero that impacts their team the most, could they afford a trade down?
Orlando gets: Pick #3, Pick #17
Houston gets: Pick #1
The #17 pick is probably not enough to leapfrog OKC. A move like this only works if Orlando is fine drafting the guy they know will be at #3, but OKC at #2 is notoriously tight-lipped. The Magic made a similar move in 1993, dealing the number one pick (Chris Webber) to Golden State for the #3 pick (Penny Hardaway) and multiple firsts. Boston also made a similar deal for Jayson Tatum in the 2017 NBA Draft.
The Rockets could also include the 2023 Milwaukee pick to tempt Orlando, but I'm not sure that's something the Rockets should extend right now.
Targets at #1: Jabari Smith, Chet Holmgren
#2. Oklahoma City
Nobody knows what OKC is going to do, but we do know that OKC GM Sam Presti loves Victor Wembanyama, who is the clear prize of the 2023 NBA Draft. If Presti really wants to be the edgy GM, could he trade down to #3, get his "outside the box" pick still and scoop up another unprotected swing at the 2023 Draft to add to his arsenal?
OKC gets: Pick #3, 2023 Milwaukee first-round pick (unprotected)
Houston gets: Pick #2
This would only make sense for the Rockets if they truly liked one of the top two bigs over the third and the risk of OKC trading to 4 or 5 existed. If the Rockets are content with any of the three, they can stand pat and OKC can dance all they like.
Targets at #2: Jabari Smith, Chet Holmgren
#3. Houston
Both Houston and the Rockets look pretty similar, but let's take a crack at it:
Houston gets: John Wall, #3 Pick
Rockets get: Alperen Sengun, Josh Christopher, Christian Wood, Eric Gordon, Pick #17
Houston gives up some young talent but picks up a top pick. The Rockets get off Wall's deal while adding great depth. Both teams look pretty good after this one. Win-win.
Targets at #3: Paolo Banchero
#4. Sacramento
The Sacramento Kings being treated to lottery luck for the fourth pick of the draft was an unfortunate casualty to the Rockets trade-up pursuit. Kings owner Vivek Ranadivé is tired of Sacramento's playoff drought and there is said to be pressure on GM Monte McNair, a former Rockets exec and colleague of Stone. So the Kings were always likely to trade their pick for veteran help, but the fourth pick is likely out of range for what Houston can offer. The Kings also don't have the ideal salary pieces to make it work. But let's throw something out there:
Sacramento gets: Christian Wood, Alperen Sengun, pick #17
Houston gets: Richaun Holmes' contract (signed until 2025), Mo Harkless, Pick #4
The Kings need to win now but even given that, I don't think this is enough to pry that pick away since there is star potential here. But if Houston takes Banchero at #3 as the last big on the board, it might make sense to trade Sengun. Do Sengun and Domantas Sabonis, two similar players, work together? For the Rockets, the chance to pair one of the bigs and Jaden Ivey with Jalen Green is incredibly tempting — it may not be much of a possibility, but the Rockets should exhaust every avenue to add a second blue-chipper in this draft.
If the Rockets don't have the goods to get something like this done, I think they should be looking at Sacramento's 2023 first-round pick instead. McNair could employ a common tactic used by GMs when they're "going for it" — sell their future first like it's a lottery pick but plan on making the playoffs. The Pelicans did this very thing at last year's deadline in acquiring CJ McCollum. The Rockets could seek that pick as a bet against the Kings, who are, after all, the Kings.
Targets at #4: Jaden Ivey, Shaedon Sharpe
#5. Detroit
I'll just say that there is almost zero trade-up potential here with the Pistons, so I'll throw out a Rockets trade-down scenario that may work for both parties:
Detroit gets: Pick #3
Houston gets: Pick #5, 2023 Detroit first-round pick swap rights with either Houston OR Milwaukee's 2023 first
For bigs, there is a definite drop after pick three in this draft so going from pick #5 to #3 is a significant move up, hence the price. The Pistons would have to love Paolo Banchero or whichever big was left on the board at #3 to make this deal. Cade Cunningham has stated before that he's very high on Paolo and likely sees a lot of himself in the Duke forward. For the Rockets, it may not make sense to let go of a Wonka ticket, but if they could get a potential star in Ivey and a chance to swap Milwaukee's first with Detroit's (if 1-18) next year, that's something you have to have a long meeting about.
Targets at #5: Jaden Ivey, Shaedon Sharpe
#6. Indiana
There's no doubt the Indiana Pacers were one of the biggest losers on lottery night, falling to #6. You rarely see them in a rebuild, and even now, the clear team direction is hard to peg. Before the Tyrese Haliburton deal fell into Indiana's laps, the Rockets and Pacers had an agreed-upon deal sending John Wall to Indiana, a source confirms. The Pacers pulled out at the last minute. Could the Rockets and Pacers make another deal? To be brutally honest, they're a terrible match for the Rockets.
Indiana gets: Alperen Sengun, Josh Christopher, Pick #17
Houston gets: Goga Bitadze, Pick #6
Trading Sengun, Christopher and a solid first would have to be extremely worth it and I'm not sure this spot in the draft is. Murray may be there but if you draft Banchero, is that the best pick? If Sharpe is available and the Rockets see tremendous upside, it could be worth the price. I personally love Dyson Daniels but you'd have to be really enamored with him to make this kind of deal.
Targets at #6: Shaedon Sharpe, Keegan Murray, Dyson Daniels
#7. Portland
The Blazers are an almost ideal trade partner for the Rockets. As long as they plan to "win now" in an effort to appease star guard Damian Lillard, Portland is seeking veteran pieces. They are easily the most flexible team as far as taking back salary as they have cap space, Eric Bledsoe's $19.4M contract (that is only guaranteed for $3.9M) and a $21M trade exception. The problem is the Blazers only have a couple of pieces in place and a finite amount of assets they can use — their cap space, the #7 pick and a top-4 protected pick from Milwaukee in 2025.
Portland gets: Christian Wood, Jae'Sean Tate, pick #17
Houston gets: Eric Bledsoe, pick #7
Eric Gordon makes a lot of sense for the Blazers but his salary ($19.6M) eats up some of that precious cap so we'll keep him out of this particular deal. Ideally, Portland would get good players on cheap deals. But there is real potential for a match here so let's take another crack at this pick in a different way, using Gordon instead of Wood:
Portland gets: Alperen Sengun, Eric Gordon, Jae'Sean Tate
Houston gets: Eric Bledsoe, pick #7, 2025 Milwaukee pick (top-4 protected)
If the Rockets are taking Paolo Banchero at #3, eventually acquiring a top defensive center could be a priority. That's not to say Banchero-Sengun can't work together, but the odds aren't in their favor if part of the goal is to build a top defense. Portland, on the other hand, gets the best of both worlds — a win-now piece in Gordon to put next to Lillard and a young prospect in Sengun that allows them to hedge the bet and build with Anfernee Simons.
This pick is just about perfect for the Rockets in being able to acquire a very good Tier 2 player in this draft. If Houston is out of the running for pick #7, I would pursue the 2025 Milwaukee pick by itself, which fits the criteria for the type of pick Stone seeks.
Targets at #7: Keegan Murray, Dyson Daniels, AJ Griffin, Jalen Duren
#8. New Orleans
Given their immediate team direction, the Pelicans make a ton of sense for a Houston deal. Unfortunately, they don't quite have the ideal salary pieces or immediate need at positions the Rockets can offer. It might take the Rockets absorbing a bad contract:
New Orleans gets: Christian Wood, Jae'Sean Tate, pick #17
Houston gets: Devonte' Graham, pick #8
Graham is a disappointment and is eating up $12M a season until 2024 (partially guaranteed for $2.8M in 2025). The Rockets would take that off their hands, hurting some of their own plans for maximum 2023 cap space, to move up to this spot.
Targets at #8: Dyson Daniels, AJ Griffin, Jalen Duren
#9. San Antonio
San Antonio is far from a good fit for a trade with Houston. The Spurs aren't in a true rebuild — or, at least, they don't know it yet — but they're definitely retooling and have three first-round picks (#9, #20, #25) in this year's draft. But let's give it a shot:
San Antonio gets: Jae'Sean Tate, KJ Martin, pick #17
Houston gets: Jock Landale, pick #9
Tate fits into a Gregg Popovich-coached team like a glove and KJ Martin is a prospect with good upside. But can the Spurs add three first-round picks (17, 20, 25) and a third-year player in Tate? I don't see that. The Rockets lose a lot at small forward but are able to consolidate for a roster spot and draft a defensive wing at #9.
Targets at #9: AJ Griffin, Jalen Duren, Bennedict Mathurin, Jeremy Sochan
#10. Washington
The Washington Wizards are such a blah franchise right now and they need future pieces, but at the same time, they have (likely) Bradley Beal and Kristaps Porzingis. There's not exactly a long-term plan here. Still, this is a difficult match from a salary and assets standpoint. I'm going to go with the old reliable:
Washington gets: Pick #17, 2023 Milwaukee first-round pick (unprotected)
Houston gets: Pick #10
Similar to how the Rockets acquired a pick in 2021 to get Alperen Sengun, offering two firsts for the one, they could trade Milwaukee's pick next year in the hopes of moving up. I see this only as an option if a specific target falls here and the Rockets know he's going to the Knicks at #11.
Targets at #10: Jalen Duren, Bennedict Mathurin, Jeremy Sochan, Tari Eason
#11. New York
The Knicks need to score on this pick, but coach Tom Thibodeau also values defense and isn't the type to wait around for a rookie to mature. While the Knicks prefer to move up, this option might be one to fall back on:
New York gets: Jae'Sean Tate, David Nwaba, pick #17
Houston gets: Kemba Walker, pick #11
A deal like this could be viable if the Knicks' favorites are off the board and they prefer to move down for a TyTy Washington-type prospect. Thibs picks up a valuable defensive role player and a vet who specializes in defense while unloading Kemba. The Rockets don't mind paying Walker's $9M deal since he'll come off the books by 2023.
Targets at #11: Jeremy Sochan, Tari Eason
#12. Oklahoma City
This would be tough to pull off. Even though the Rockets made a trade with OKC at last year's draft for Sengun, these two teams are very similar and the Thunder want to do exactly what Houston is pursuing: Consolidate and move up.
Oklahoma City gets: Pick #17, 2023 Milwaukee pick (unprotected)
Houston gets: Pick #12, Pick #34
Even though pick 12 would put the Rockets in what I feel is a sweet spot in this draft, this is a hefty price to pay to move up five spots — so I think another pick to balance it would be required. At #34, the Rockets might be able to get a backup center or a stash candidate. OKC has four picks in the top 34, so Presti unloads one and gets another long shot at Wemby.
Targets at #12: Tari Eason, Jeremy Sochan, Ousmane Dieng
#13. Charlotte
Charlotte might be the very best fit for a Rockets trade. While their pressing need is a defensive big, it's been speculated that Christian Wood could be a good fit for LaMelo Ball. If both Jalen Duren and Mark Williams are off the board, I could see Charlotte being open to trades here:
Charlotte gets: Christian Wood, Pick #17
Houston gets: PJ Washington, Pick #13
There appears to be a drop-off in talent around the 12-14 range and it's quite possible that someone slated to go 6-8 falls as far as this range.
Targets at #13: Tari Eason, Jeremy Sochan, Ousmane Dieng
#14. Cleveland
Cleveland dropped the ball with the Rockets last season when they opted for Caris LeVert over Eric Gordon, a decision that backfired pretty badly. Moving up from 17 to 14 isn't as attractive for the Rockets, but it may still be necessary if nothing else comes to fruition:
Cleveland gets: Jae'Sean Tate, David Nwaba, Pick #17
Houston gets: Cedi Osman, Pick #14, 2023 Cleveland second-round pick
This isn't much of a move up to part with Tate and I'm not looking to just dump him, but with Charlotte and Atlanta choosing in between 14 and 17, this could be the difference between a defensive wing like Tari Eason and a lesser prospect. Sengun has called Turkish players his "big brothers in the NBA" so it couldn't hurt to have a little slice of home on the roster in Osman.
Targets at #14: Looking for whoever has slipped from the top 12
Heavy investment in Kevin Porter Jr raises serious questions about Rockets front office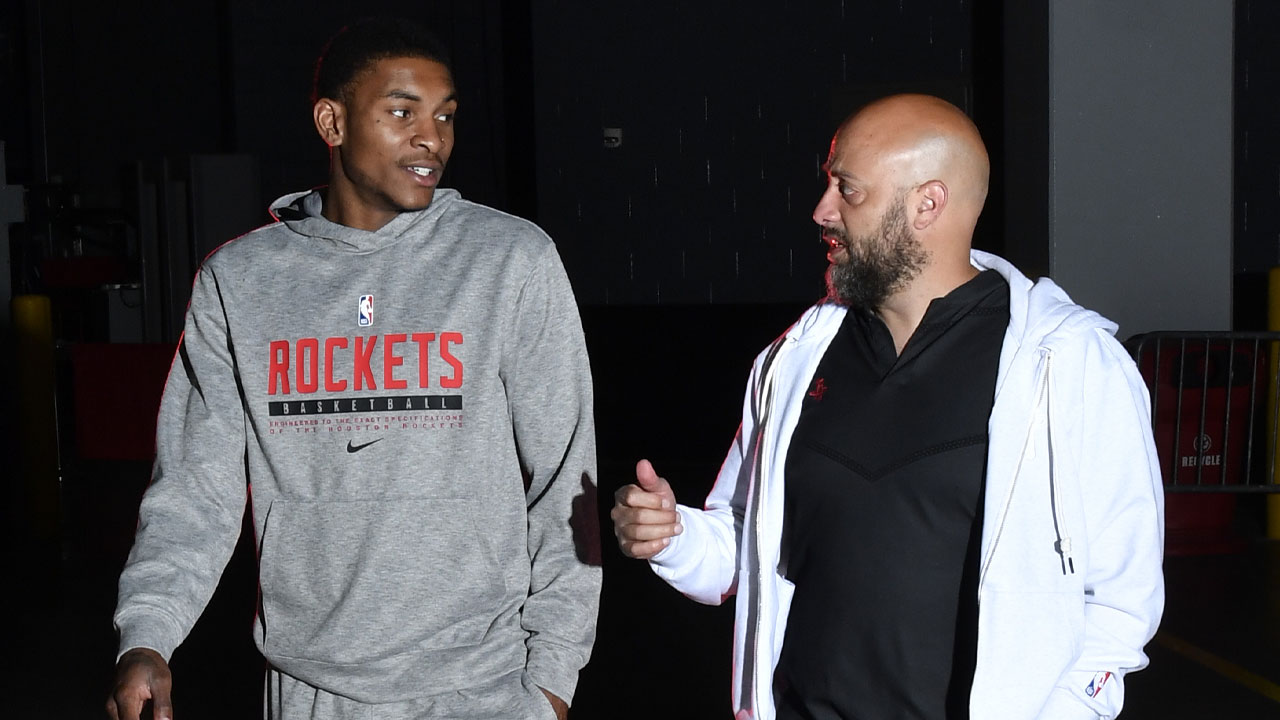 Soon-to-be-ex Rockets guard Kevin Porter Jr was arrested last week for allegedly assaulting his girlfriend, resulting in a fractured neck vertebra and a deep gash above her right eye after an attack at a hotel in New York. He allegedly woke her up by punching her repeatedly, strangled her and did not stop hitting her until she ran out of the hotel room screaming for help and covered in blood.
"This is a serious domestic violence case," said assistant Manhattan district attorney Mirah Curzer.
First and foremost, I wish the victim healing. I don't know what to say about the nightmare she went through. She and her family will forever be impacted. As for KPJ, if this is true, he doesn't belong on the Rockets or in the NBA at all. He belongs in jail.
Secondly, this can't be overlooked and just swept under the rug: Why did the Houston Rockets bank on and invest so heavily in this guy?
Kevin Porter Jr. being accused of crimes of this severity should not be shocking – at all. Before he even came to the Rockets, he had a long list of serious problems. He was suspended multiple times in high school. In 2019, he had a "conduct issue" significant enough that USC suspended the 5-star recruit indefinitely. He fell to the end of the first round of the 2019 NBA Draft because of his behavior liability. He was accused of punching a woman in the face in Cleveland. He also had a gun and marijuana charge later dismissed after getting into a car crash. He went into a tirade and got into a nasty confrontation with both the Cleveland coach and GM, resulting in the Cavs severing ties immediately and dumping him to the Rockets for nothing.
You could make the argument that initially giving Porter Jr. a second chance in Houston was praiseworthy, but the Rockets experienced KPJ's anger management and immaturity issues firsthand on several occasions.
Former Rocket Austin Rivers said this week that this isn't the first, second or even seventh issue with Porter Jr. and that Rockets "higher-ups" confided in him that they had no idea how to handle him.
"I remember talking to guys in the Houston Rockets organization, higher-ups, [and] they were having issues then," said Rivers. "They were like, 'We don't know what to do with him.' And that's when he just got there from Cleveland!"
Porter Jr. was routinely a nightmare for Rockets coaches to deal with. On several occasions, he confronted and cussed out members of the coaching staff, saying they didn't have the "credentials", per source, a reference to the fact that him playing heavy minutes at point guard was a decision they did not control.
Once at a night out, Porter Jr. had a disagreement with a DJ over music choice and he snapped, smashing the DJ's laptop to the floor. He needed to be restrained and removed. Rockets personnel and several of Porter's teammates witnessed the incident.
Curzer also dropped a bombshell at the arraignment in saying that Porter Jr. has a history of abusing his girlfriend, who he had only been dating since early last year, his second season with the Rockets. Curzer specifically cited an incident in which KPJ allegedly rammed his car into hers.
There were dozens of maturity issues visible on the court to anyone paying attention. He refused to check out of games. He got into an argument on the bench with assistant Lionel Hollins. On numerous occasions, he would visibly shut down when he wasn't passed the ball. I invite you to watch this video from a game against Memphis on March 20, 2022. Just listen to the Grizzlies broadcasters, particularly starting at the 1:40 mark, talk about what they are witnessing here:


Privately, people around the league would say they were baffled by the Rockets continued fascination with Porter Jr. Nobody could understand it.
That fascination starts with Rockets general manager Rafael Stone, who by every account over the last two years was the driving force behind the investment in Porter Jr. It has been no secret. Trading for him in January 2021 was seen by some with the team as his "Harden acquisition", code for a signature move that makes an executive's career, much in the way landing James Harden did for Daryl Morey in 2012.
For example, former Rockets head coach Stephen Silas never considered Porter Jr. to be a point guard, per sources — playing him there was a Stone mandate because the GM believed that is where his future lied.
John Wall also told us as much publicly when he explained the phone call he got from Silas about coming off the bench. He said Silas told him "This is what the GM wants," adding again that Silas said, "Man, you don't deserve that. You should be the starter. This is just what they want to do." Wall was upset because he believed KPJ should have to earn the spot.
"I have a hard time finding anybody outside of the Rockets front office that believes that Kevin Porter Jr. is a starting point guard in the NBA," said ESPN reporter Tim MacMahon in December.
There were plenty of warning signs about KPJ to the public too.
After Porter Jr. got into a heated argument in which KPJ "physically shoved" Rockets assistant coach John Lucas and quit on the team in the middle of a game against Denver in January of 2022, leaving the arena at halftime, Sports Illustrated's Chris Mannix famously wrote that the Rockets should "Cut Porter Jr. Waive him. Release him. Whatever. Eat what's left of the $1.8 million he's owed this season and the $3.2 million he's got next and move on." It became a source of mockery for Porter Jr's fans, a line they would bring up after each game he hit a few threes or handed out some assists.
In February of this year, ESPN's Jonathan Givony, one of the most connected reporters in the league, flat out warned us that he was hearing awful things about the Rockets culture and locker room. He was blunt in what the Rockets needed to do — waive Kevin Porter Jr. outright and bring in a new coach and GM.
"Just cut him. That's it," said Givony of Porter Jr. "And you're sending a signal to the league that we're going to do things differently from here on out."
"When you talk to people around the NBA about Houston, you just don't hear good things about their culture, about that locker room. You talk to people that are on that team, and they are like, 'We are a mess'," said Givony. "Do people want to work with this organization? But you can change that fairly quickly if you come in, get rid of the bad apples and you change the coaching staff, and all of a sudden, you're Houston. It's the third-biggest city in America. There's a history here of you actually being good."
Porter came to the Rockets for "free" (in exchange for a top-55 protected second-round pick, which was designed not to convey), but he proved far from it as the Rockets continued to pour investment into him. Over the last 2-3 seasons, no Rockets player got more developmental capital than Porter Jr. – not Jalen Green, not Alperen Sengun, not Jabari Smith Jr. The Fertittas paid John Wall $85+ million over two years to sit at home so the team could groom Porter Jr. to be their future point guard.
Then they doubled down. With restricted free agency on the horizon and a seemingly non-existent market for KPJ's services, the Rockets gave Porter Jr. an extension a year sooner – a contract that was presented as a four-year, $82.5 million deal. The deal was more team-friendly than that, putting team options in it after years 1 and 3. Going from the potential disaster that was initially reported to a deal they could escape after one season felt like a "win", but the biggest question was why they wanted him long-term at all. The unprecedented nature of a contract that size with that kind of club control clearly showed the Rockets knew there was unique and significant risk here.
After KPJ signed the extension, The Athletic's Kelly Iko summarized the Rockets view of Porter Jr. – "As has been [their] stance for months, the Rockets have maintained the notion that Porter is a priority and is considered a huge part of their core, along with Green and Jabari Smith Jr."
The Rockets actions to kick off the 2022-23 season showed exactly that – that he was a priority. They benched Sengun to start the season, in large part to give KPJ a "lob threat" and defender in the starting lineup. They gave him the superstar "Harden Locker". They introduced him last in the starting lineups. They treated him as the star and empowered him to be the self-proclaimed "Head Honcho" of Clutch City.
But the extension proved unwise and foolish. Porter Jr. never even made it to the first year of it. With over $80 million on the line, he snapped again. The Rockets signed him to one of the team-friendliest deals ever and still managed to both overcommit and overpay as Stone now scrambles to attach real assets to it to get another team to take it off his books.
Is it fair to question the judgment of the Rockets front office? Absolutely and without question. Whether you look at their ability to value character, evaluate risk, scout basketball, build culture, manage assets or allocate development resources, they failed at every level here. Why didn't they act sooner? Why did they double down? Why didn't they hold him accountable? Why did everybody in the league see it but them?
"We value the player and the person that [Kevin Porter Jr.] is becoming and are eager to invest in him and his journey," said Stone after rewarding him with the extension less than a year ago.
The question you have to ask yourself now is, with all they knew and witnessed about Porter Jr. both on and off the court — why were they eager at all?