Houston Rockets Prospects Power Rankings – Volume 1
The Rockets are loaded with young prospects so let's take a look at how they rank in order of importance to this team's future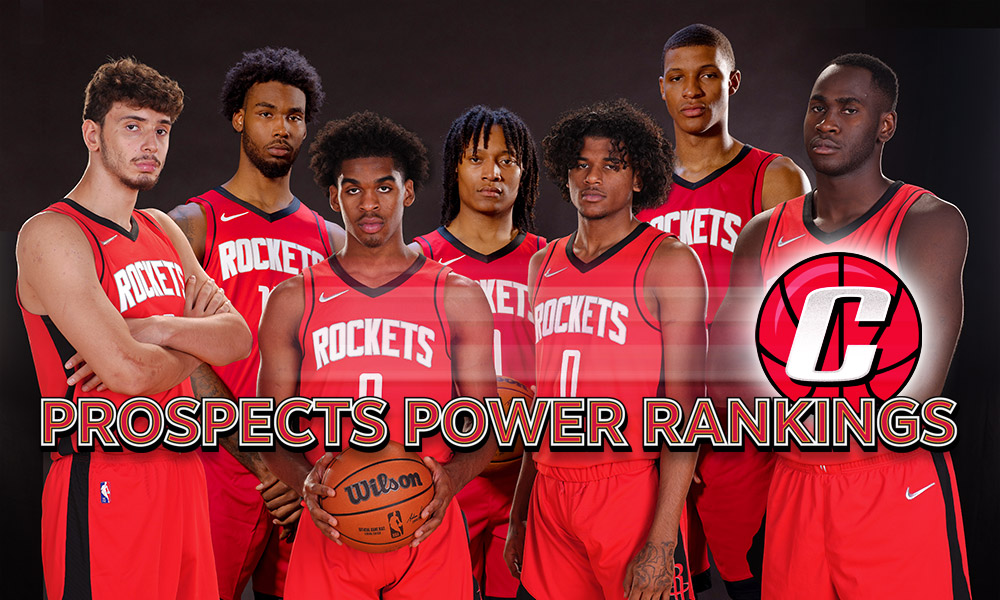 It's hard to believe, but Houston Rockets training camp opens later this month and the 2022-23 NBA season is right around the corner. Like a highly-anticipated second season of a popular show, the Rockets present a surprisingly-large amount of storylines that could go in a number of directions.
The reason for that is simple: Houston, after using seven first-round picks in the last two drafts, is stocked with young talent. The upside, however, varies for each one. Here's how I currently rank the Rocketss most valuable prospects for the future heading into camp.
12. Bruno Fernando
We don't talk about Bruno.
11. Daishen Nix
I like Nix. I love what he's doing in the G-League. I think he's a solid point guard who is built like a tank. He has reshaped his body and clearly he's putting in the work. He hit 30-76 (39.5%) from three in the G-League last year, which is a big improvement over his G-League Ignite season before the draft. But hitting less than 60% from the stripe for a guy who makes a living off of creating contact and getting to the line is a big issue. He's got to make the leap from G-League dominator to Big-League contributor.
10. Usman Garuba
Garuba is capable of moving up the rankings quickly — if he's healthy. The problem is he rarely was his rookie season, even missing Summer League in July. He's representing Spain in EuroBasket, coming off the bench in a limited but important role. Garuba is smart and energetic, but I need his defense to shine, not just be solid. He will have every opportunity in camp to earn the backup center role. I admit I'm a little lower on him now than I was after the 2021 draft (where he was likely my favorite of the four picks, relative to position) but I still hold out hope he can be a valuable role player.
9. KJ Martin
We really don't know what KJ Martin thinks, but we do know his father, former NBA star Kenyon Martin, wants his son out of Houston. In a way, I don't blame him. Since the 2022 Draft, the writing is on the wall that his role could be reduced as the season goes on. Martin is a great cutter, unbelievable athlete and an improving shooter. His game is limited, however, and he will need to be playing off of great players to carve out a role as an energy athlete. Does that make him a trade candidate? Let's see what the future holds here but my feeling is he won't be a Rocket beyond this coming season.
8. TyTy Washington
My hunch is that Washington ends up playing heavy minutes in the G-League. With KPJ starting and Nix in line ahead of TyTy for the backup role, meaningful minutes early in his rookie season are likely only to be found in the Valley. But I love what TyTy brings to the table — outside of consistent rim pressure, he can do a little bit of everything and has a good feel for the game. I expect him to be the backup, if not higher, by 2023-24. If he does go to RGV, we'll be watching those games.
7. Josh Christopher
I try not to ever let Summer League performance impact my outlook on a prospect too much, but I confess I did just that with Jaygup. I thought he played very selfishly in Vegas when focusing on setting up his teammates would have gone a long way. He's a tough dude with a legit NBA body for his position and has a scoring mentality. However, for a guy who drew Jrue Holiday projections from Rockets GM Rafael Stone, Christopher's defense was fairly terrible in his rookie season. He's got to get a better understanding of how to defend in schemes off the ball. He's young and that part is fairly normal — that should come with time.
6. Jae'Sean Tate
I'm not sure the 26-year old Tate falls under the "prospect" category, but this is only his third season in the NBA and both the front office and coaching staff love him. Tate brings intangibles and is a valuable role player on just about any team. Can he develop a consistent three-point shot? He's 31% from distance and that's not going to consistently draw a defense and create space out there on the floor. This is a big thing holding him back. Given that he's undersized, he has to improve there to unlock the next step.
5. Kevin Porter Jr.
This is the single most important season of KPJ's career. I know it's cliché but it's very true in this case. We already know Porter Jr. is one of the better isolation scorers in the league and is tough for any one player to stop. We also know he showed improvement off the ball last season, hitting over 48% of his catch-and-shoot three-point attempts. But for me, success for Scoot this season in Houston won't hinge on his scoring ability but rather how he, as the starting point, gets the Jalens and the Jabaris and the Senguns involved and puts them in positions to succeed. With a contract extension (if not signed before the season) hanging in the balance, I can't overstate how important this season is for him.
4. Alperen Sengun
Sengun's so happy and so are we watching him play. The man is an old-school human highlight reel. He might be the funnest player to watch on this team and his passing just wows you on a consistent basis. With Christian Wood gone, the starting center position is all Alperen's. It's up to Stephen Silas to leverage his unique skills on offense and allow him to conduct the show in a secondary role at times. My big concern with Sengun — and it's admittedly large — continues to be his defense. It's not a lack of will but simply a lack of athleticism and measurables that really hold him back. He needs to improve there to separate himself as a true starting center rather than an offensive spark off the bench, but the offensive upside here is really high.
3. Tari Eason
Eason checks nearly every single box for me. He's built like Kawhi with a strong frame, huge hands and a long wingspan. There's tremendous potential here as a defender, but he's also a two-way player: He can create, he has shown improvement shooting the ball and he gets to the line. There's no liability on either end of the floor, which is why I rank him this high. The only real question is his understanding of the game. If he takes to learning schemes, understanding sets on both ends and playing within the structure of an offense, the ceiling is much higher than just a role player here.
2. Jabari Smith Jr.
Jabari struggled making shots in Summer League and, surprise, surprise — that's all some needed to project him as a disappointment. Let them run with that. This is a 19-year old who might end up being 6-foot-11, can shoot lights out and plays the game with a rare passion on both ends of the floor. While "The Locksmith" is earning that nickname, his defensive impact seems to be felt way beyond just a single assignment. Finding his way offensively will take time, however. I could go on and on about how high I am on Jabari — give me every share you're selling. In my book, he and Jalen Green are the only locked-in core pieces in Houston at the present moment.
1. Jalen Green
Green already has an elite skill. His first step and electrifying athleticism will make it almost impossible for defenders to hang with him. In theory, he can get his shot off anytime he wants. If it becomes truly efficient? Look out. We could seriously be talking about a generational scorer here. Where he has to improve is, however, is everywhere else: Defense (both on and off the ball), handles, strength, physicality, playmaking. If his work ethic is the real deal, and it appeared to be in his rookie season, he will improve in those areas. Franchise cornerstone potential.
Heavy investment in Kevin Porter Jr raises serious questions about Rockets front office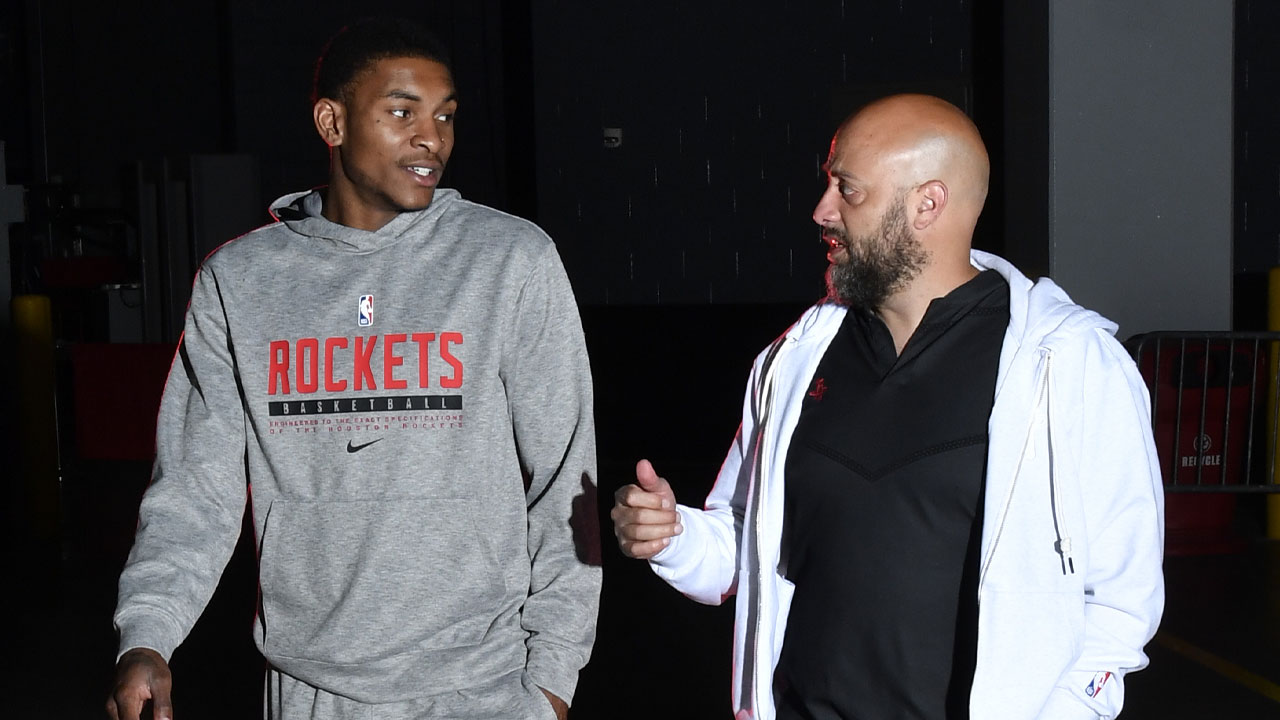 Soon-to-be-ex Rockets guard Kevin Porter Jr was arrested last week for allegedly assaulting his girlfriend, resulting in a fractured neck vertebra and a deep gash above her right eye after an attack at a hotel in New York. He allegedly woke her up by punching her repeatedly, strangled her and did not stop hitting her until she ran out of the hotel room screaming for help and covered in blood.
"This is a serious domestic violence case," said assistant Manhattan district attorney Mirah Curzer.
First and foremost, I wish the victim healing. I don't know what to say about the nightmare she went through. She and her family will forever be impacted. As for KPJ, if this is true, he doesn't belong on the Rockets or in the NBA at all. He belongs in jail.
Secondly, this can't be overlooked and just swept under the rug: Why did the Houston Rockets bank on and invest so heavily in this guy?
Kevin Porter Jr. being accused of crimes of this severity should not be shocking – at all. Before he even came to the Rockets, he had a long list of serious problems. He was suspended multiple times in high school. In 2019, he had a "conduct issue" significant enough that USC suspended the 5-star recruit indefinitely. He fell to the end of the first round of the 2019 NBA Draft because of his behavior liability. He was accused of punching a woman in the face in Cleveland. He also had a gun and marijuana charge later dismissed after getting into a car crash. He went into a tirade and got into a nasty confrontation with both the Cleveland coach and GM, resulting in the Cavs severing ties immediately and dumping him to the Rockets for nothing.
You could make the argument that initially giving Porter Jr. a second chance in Houston was praiseworthy, but the Rockets experienced KPJ's anger management and immaturity issues firsthand on several occasions.
Former Rocket Austin Rivers said this week that this isn't the first, second or even seventh issue with Porter Jr. and that Rockets "higher-ups" confided in him that they had no idea how to handle him.
"I remember talking to guys in the Houston Rockets organization, higher-ups, [and] they were having issues then," said Rivers. "They were like, 'We don't know what to do with him.' And that's when he just got there from Cleveland!"
Porter Jr. was routinely a nightmare for Rockets coaches to deal with. On several occasions, he confronted and cussed out members of the coaching staff, saying they didn't have the "credentials", per source, a reference to the fact that him playing heavy minutes at point guard was a decision they did not control.
Once at a night out, Porter Jr. had a disagreement with a DJ over music choice and he snapped, smashing the DJ's laptop to the floor. He needed to be restrained and removed. Rockets personnel and several of Porter's teammates witnessed the incident.
Curzer also dropped a bombshell at the arraignment in saying that Porter Jr. has a history of abusing his girlfriend, who he had only been dating since early last year, his second season with the Rockets. Curzer specifically cited an incident in which KPJ allegedly rammed his car into hers.
There were dozens of maturity issues visible on the court to anyone paying attention. He refused to check out of games. He got into an argument on the bench with assistant Lionel Hollins. On numerous occasions, he would visibly shut down when he wasn't passed the ball. I invite you to watch this video from a game against Memphis on March 20, 2022. Just listen to the Grizzlies broadcasters, particularly starting at the 1:40 mark, talk about what they are witnessing here:


Privately, people around the league would say they were baffled by the Rockets continued fascination with Porter Jr. Nobody could understand it.
That fascination starts with Rockets general manager Rafael Stone, who by every account over the last two years was the driving force behind the investment in Porter Jr. It has been no secret. Trading for him in January 2021 was seen by some with the team as his "Harden acquisition", code for a signature move that makes an executive's career, much in the way landing James Harden did for Daryl Morey in 2012.
For example, former Rockets head coach Stephen Silas never considered Porter Jr. to be a point guard, per sources — playing him there was a Stone mandate because the GM believed that is where his future lied.
John Wall also told us as much publicly when he explained the phone call he got from Silas about coming off the bench. He said Silas told him "This is what the GM wants," adding again that Silas said, "Man, you don't deserve that. You should be the starter. This is just what they want to do." Wall was upset because he believed KPJ should have to earn the spot.
"I have a hard time finding anybody outside of the Rockets front office that believes that Kevin Porter Jr. is a starting point guard in the NBA," said ESPN reporter Tim MacMahon in December.
There were plenty of warning signs about KPJ to the public too.
After Porter Jr. got into a heated argument in which KPJ "physically shoved" Rockets assistant coach John Lucas and quit on the team in the middle of a game against Denver in January of 2022, leaving the arena at halftime, Sports Illustrated's Chris Mannix famously wrote that the Rockets should "Cut Porter Jr. Waive him. Release him. Whatever. Eat what's left of the $1.8 million he's owed this season and the $3.2 million he's got next and move on." It became a source of mockery for Porter Jr's fans, a line they would bring up after each game he hit a few threes or handed out some assists.
In February of this year, ESPN's Jonathan Givony, one of the most connected reporters in the league, flat out warned us that he was hearing awful things about the Rockets culture and locker room. He was blunt in what the Rockets needed to do — waive Kevin Porter Jr. outright and bring in a new coach and GM.
"Just cut him. That's it," said Givony of Porter Jr. "And you're sending a signal to the league that we're going to do things differently from here on out."
"When you talk to people around the NBA about Houston, you just don't hear good things about their culture, about that locker room. You talk to people that are on that team, and they are like, 'We are a mess'," said Givony. "Do people want to work with this organization? But you can change that fairly quickly if you come in, get rid of the bad apples and you change the coaching staff, and all of a sudden, you're Houston. It's the third-biggest city in America. There's a history here of you actually being good."
Porter came to the Rockets for "free" (in exchange for a top-55 protected second-round pick, which was designed not to convey), but he proved far from it as the Rockets continued to pour investment into him. Over the last 2-3 seasons, no Rockets player got more developmental capital than Porter Jr. – not Jalen Green, not Alperen Sengun, not Jabari Smith Jr. The Fertittas paid John Wall $85+ million over two years to sit at home so the team could groom Porter Jr. to be their future point guard.
Then they doubled down. With restricted free agency on the horizon and a seemingly non-existent market for KPJ's services, the Rockets gave Porter Jr. an extension a year sooner – a contract that was presented as a four-year, $82.5 million deal. The deal was more team-friendly than that, putting team options in it after years 1 and 3. Going from the potential disaster that was initially reported to a deal they could escape after one season felt like a "win", but the biggest question was why they wanted him long-term at all. The unprecedented nature of a contract that size with that kind of club control clearly showed the Rockets knew there was unique and significant risk here.
After KPJ signed the extension, The Athletic's Kelly Iko summarized the Rockets view of Porter Jr. – "As has been [their] stance for months, the Rockets have maintained the notion that Porter is a priority and is considered a huge part of their core, along with Green and Jabari Smith Jr."
The Rockets actions to kick off the 2022-23 season showed exactly that – that he was a priority. They benched Sengun to start the season, in large part to give KPJ a "lob threat" and defender in the starting lineup. They gave him the superstar "Harden Locker". They introduced him last in the starting lineups. They treated him as the star and empowered him to be the self-proclaimed "Head Honcho" of Clutch City.
But the extension proved unwise and foolish. Porter Jr. never even made it to the first year of it. With over $80 million on the line, he snapped again. The Rockets signed him to one of the team-friendliest deals ever and still managed to both overcommit and overpay as Stone now scrambles to attach real assets to it to get another team to take it off his books.
Is it fair to question the judgment of the Rockets front office? Absolutely and without question. Whether you look at their ability to value character, evaluate risk, scout basketball, build culture, manage assets or allocate development resources, they failed at every level here. Why didn't they act sooner? Why did they double down? Why didn't they hold him accountable? Why did everybody in the league see it but them?
"We value the player and the person that [Kevin Porter Jr.] is becoming and are eager to invest in him and his journey," said Stone after rewarding him with the extension less than a year ago.
The question you have to ask yourself now is, with all they knew and witnessed about Porter Jr. both on and off the court — why were they eager at all?