Lucky Seven: 7 Draft Targets for the Rockets
It's deja vu. Again. The Rockets are picking 14th in the NBA Draft. Again. They are trying to trade up in the draft. Again. The Rockets are a complex equation right now and we don't have a single fixed value to work with. We don't know their direction with absolute certainty (and frankly, they may not yet either). Anything can change. Trade Courtney Lee and you could use a two-guard. Ship out Luis Scola or Patrick Patterson and true fours come into view.
It's deja vu. Again. The Rockets are picking 14th in the NBA Draft. Again. They are trying to trade up in the draft. Again.
The Rockets are a complex equation right now and we don't have a single fixed value to work with. We don't know their direction with absolute certainty (and frankly, they may not yet either). Anything can change. Trade Courtney Lee and you could use a two-guard. Ship out Luis Scola or Patrick Patterson and true fours come into view.
But we do know they're trying to trade up. One source said the Rockets feel better about their chances to move up this year than any previous draft under Morey's helm. So with so much uncertainty about where Houston is picking, here are seven prospects, projected to go anywhere from top 3 to the mid teens, that I think could be have an impact playing with the current Rockets squad.
Enes Kanter
6′ 11″, 260 lbs, Turkey
I understand Enes Kanter has bust potential. He has hardly played in two years and for a 19-year old prospect, that's significant. But this kid has good size, very good hands, range extending out to 18+ feet and he isn't afraid to bang inside. I view him as a bigger version of Scola. Defensively he's challenged so he's not the shotblocker the Rockets could really use, but if he's truly 19, he could eventually become a fantastic post scorer and rebounder. My hunch is any pursuit of the 2nd pick would be to get Kanter.
Jonas Valanciunas
6′ 11″, 240 lbs, Lithuania
Measuring at 7 feet tall with an over 7-foot-4 wingspan, Jonas Valanciunas (pronounced YO-nahs vah-lahn-CHEW-nahs) looks to be more the prototypical center than does Kanter. The developing Lithuanian has some bulk to add so he's not NBA ready, and even if he was ready he wouldn't be coming over next season due to buyout/contract issues, but in a Houston trade-up scenario, this could be a great draft-and-stash pick by the Rockets. You get your future center and you leave the short-term window open for a Yao Ming comeback.
Bismack Biyombo
6′ 9″, 240 lbs, Congo
If you strapped Jordan Hill to a Captain America Super Soldier machine, he would emerge as Bismack Biyombo. There are plenty of question marks about Biyombo — his true age and lack of offensive skills being the biggest — but his physical gifts are not in doubt. He exploded onto the scene after his eye-opening performance at the Nike Hoops Summit (12 points, 11 boards, 10 blocks). It will take some time (foul trouble will be a concern), but he has the potential to be the rim-protector the Rockets need. This is the pick that really interests me.
Kawhi Leonard
6′ 7″, 225 lbs, San Diego State
A big man is the Rockets' most pressing need, but an athletic, defensive-minded small forward would certainly fill a gap in Houston. Kawhi Leonard has very long arms (7-foot-3 wingspan), cartoonishly big hands and a constantly running motor, which help make him strong on the defensive end. I absolutely have concerns about his offense and limited range (just 29.1% from distance as a sophomore last year), but he doesn't turn 20 until later this month. The Rockets would have an athletic, defense-minded three-four combo in Leonard-Patterson for the future.
Chris Singleton
6′ 9″, 230 lbs, Florida State
Chris Singleton may actually check out better than Leonard as far as measurables go. He has legit size, coming in at 6-foot-9 with a 7-foot-1 wingspan, and a 37″ vertical jump. Like Leonard he has some growing to do as an offensive player and that may keep him from being a starter, but I think this guy has a chance to be a lockdown defender in this league, a player you can eventually throw out there against hot scoring guards, wings and some fours. That's something the Rockets have lacked since losing Ron Artest and Shane Battier.
Nikola Vucevic
7′ 0″, 260 lbs, USC
For the last several weeks I've been hoping the Rockets could snag Nikola Vucevic at #23, but that no longer looks likely. Vucevic is not a high flyer so he won't be going all DeAndre Jordan on you anytime soon, but the USC product averaged 17.1 points and 10.3 boards as a junior, showing nice range for a big man (34.9% from distance). Like Yao Ming, both of Vucevic's parents were basketball players — his father, Borislav Vucevic, played professionally in Europe for 24 years.
Donatas Motiejunas
7′ 0″, 220 lbs, Lithuania
I'm almost scared off by Donatas Motiejunas. Reportedly lacks passion for the game. Poor rebounder. Weak defender. But here's a guy standing a legit seven feet with terrific offensive skills and he's starting to add some bulk. He's excellent from distance (nearly 43% last year in the Italian League), underrated as a passer and he's only 20. I'm not doing cartwheels if this is the pick at 14, but would love to see him in Houston at the cost of 23 or somewhere inbetween via trade.
>> Comments
Three predictions for an important Rockets offseason
The 2023 offseason is critical for the Houston Rockets and here's what we think will happen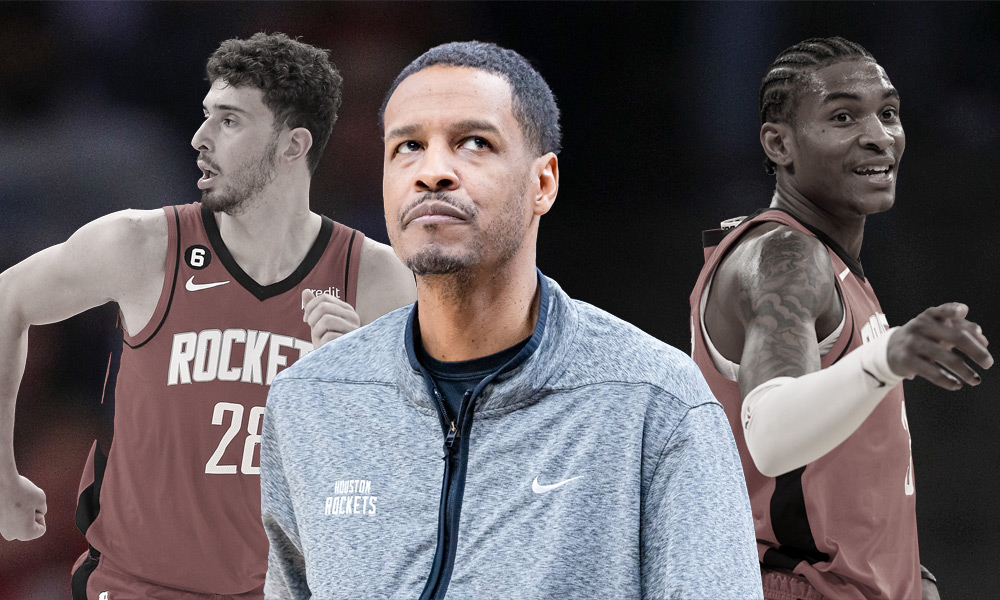 We have almost arrived to the oasis.
For over two years, the "2023 Offseason" has been circled on the calendar as the turning point, the time when the Houston Rockets will switch gears and make winning a priority. With potentially $60 million in cap room and a top draft pick coming, this is the moment of truth that Rafael Stone and the Rockets front office pitched to the Fertittas when the rebuild began.
Does that mean the Rockets are going to magically start winning next season? Not necessarily. But it does mean we won't see Daishen Nix run the point for 36 minutes in the name of player development. They want to win.
It's very tough to know what will happen this offseason, given the unknown variables. The Rockets could land a top-two pick, which would bring them Victor Wembanyama or Scoot Henderson, radically boosting their future. James Harden could opt to return, which also significantly boosts their near-term prospects.
But regardless of whether or not luck presents a "lifeboat" (Harden, Wemby, Scoot), here are some things I believe will happen.
Also, if you have been joining us in RocketsWatch all season, first of all, thank you! We greatly appreciate all the fan support this season. But if you've stuck around through a tough season, you know that none of this will come as a surprise. I have been talking about these predictions since January.
1. Rockets, Stephen Silas Will Part Ways
Stephen Silas is going to be let go this offseason.
The original plan was for Silas to coach this season and start the next, getting a shot once the Rockets were making winning their top priority. But the bar was low this season and he still fell short. There were several times where the team needed a stronger hand and it wasn't there. The roster wasn't built to win, but there is no argument to be made that coaching did anything to enhance the situation.
It's important to point out that Silas got a raw deal, coming to Houston under different circumstances expecting to coach a veteran team. But this is the hand that was dealt and the Rockets have to play it. Silas may be a fine coach, but he's not the right coach for this team and that's all that matters at this stage.
Ownership was ready to move on by midseason, but a variety of factors have led to him finishing the year. But this is going to be it. They sorely need fresh eyes and a different voice.
Confidence Level: 100%
2. The Kevin Porter Jr. Starting Point Guard Experiment Will End
The Rockets got Kevin Porter Jr. for free from the Cleveland Cavaliers in 2021, but he's been anything but since.
Houston paid nearly $100 million to John Wall to stay at home so they could groom KPJ as their future point guard. They also signed Porter Jr to a team-friendly four-year deal despite the fact that a much more team-friendly restricted free agency was on deck.
Porter Jr. has gotten better and more comfortable at the lead guard spot in two-plus seasons, which could bode well for his future here, but it's not near enough. He lacks ability to make advanced reads, which is one of the reasons the Rockets are dead last in corner three-point attempts. His tendency is to isolate, which is his strength, and that can create a lot of selfish basketball. In essence, the Rockets have been starting a pair of shooting guards.
The Rockets love them some KPJ, particularly Stone, so I'm not saying he's done here. He could thrive in an alternate role, if he embraces it. But the Rockets want to make a leap next season, the first year they are on the hook to Oklahoma City for their first-round pick from the costly Russell Westbrook trade. You're probably not going to make a bigger jump than by improving the on-court leader spot.
Confidence Level: 80%
3. Alperen Şengün Will Be Shopped
You either believe Alperen Sengun is the next Nikola Jokic or he's a defensive liability that is too much trouble to build around. There doesn't seem to be much in between.
Sengun is incredibly gifted offensively and is only 20 years old, so it's very early. This is also the biggest offseason of his young career, where he won't be preparing for EuroBasket and can specifically train for the NBA.
There is no evidence at all they are looking to trade him. I'm very much going rogue with this prediction. But consider:
1. Internally he has been viewed as possibly the worst pick-and-roll defensive big in the league.
2. They started Bruno Fernando over him to open the season.
3. They rarely run the offense through him ("ŞenHub").
4. The Rockets are not well-positioned with future draft picks to trade and likely need to move a good young player if they're looking at any significant deals.
5. They believe bringing in a center is a high priority (though that could be as a backup to Sengun).
To be clear, I'm not predicting Sengun will be dumped but rather we will hear his name floated in rumors. A lot could change — a new coach could see Alpi as key to the future, for example — but right now, given all the factors listed above, I would be surprised if Sengun is the centerpiece of this rebuild. I think he's more likely the trade piece.
https://twitter.com/RocketsWatch/status/1627944952498950147?s=20
Confidence Level: 60%