Morey Q&A: Expect Asik to remain a Rocket throughout contract
Full recap of Daryl Morey's Q&A with Rockets season ticket holders where he discussed Asik and Motiejunas trade talk, Parsons's contract and more.
It may or may not be the team's private view, but the Rockets are now saying publicly that backup center Omer Asik will remain with the team for the duration of his contract (ending in 2015).
In a Q&A session with Houston season-ticket holders before Friday night's 88-87 home loss to the Memphis Grizzlies, general manager Daryl Morey told the audience that Asik will likely remain a Rocket throughout his entire contract.
"We pushed to trade Omer in December," said Morey. "We felt we had to make a fair and aggressive effort to do that. Obviously, he'd prefer to be a starter.
"At this point, Omer is very likely going to be here until the end of his contract at the end of next season, not this season. The window to trade him was [in December], and teams weren't aggressive enough to get him, so we're excited about him being a part of our future."
Morey's comments were available courtesy of Twitter user @MiggysWorld35, who was present at the Q&A discussion. Here's a rundown of some of his other responses:
Morey feels comfortable with the Rockets facing any Western Conference team in a seven-game playoff series except for the Oklahoma City Thunder.
"We feel like we're better than we've shown. It's exciting to be 29-15 (now 29-16) and feel like there's more there.
"We feel like when we're healthy and get everyone clicking, that'll get us very close to getting where we want to be. We're not quite there. We still feel like a healthy Oklahoma City is a little better.
"But I think any other team in the West, we feel like we can beat in a seven-game series. We can beat Oklahoma City, too, but we wouldn't be favored."
Morey believes Chandler Parsons, who will become a free agent in either July 2014 or July 2015, "is going to make a lot of money".
"With Chandler, we have an interesting decision. At the end of this year, we can turn down his option. People wonder why, because it's so cheap, but then he'd be a restricted free agent. Or he can go through his fourth year and be an unrestricted free agent. There are advantages to each, so it's something we'll continue to talk about.
"He's going to make a lot of money on his next contract. We don't know how much. But we're committed to keeping him."
The Rockets will look into hiring Shane Battier in a management role once Battier retires from basketball.
"Of the players we've had, Shane Battier is a guy I felt could be a great head coach. He's so smart though, he's told me maybe he doesn't want to do it because it's too much work. He hasn't decided what he wants to do later, but he might be interested in personnel, and that's something we would be interested in talking to him about."
"I take some sort of pride that you could argue that Royce White is the worst first-round pick ever. He's the only one that never played a minute in the NBA that wasn't just a foreign guy staying in Europe. It just shows we swing for the fence," Morey quipped.
The Rockets are receiving "lots of calls" about Donatas Motiejunas, who asked to be traded in search of more playing time. However, the Rockets prefer to keep him.
"Teams are opportunistic. Any player that other teams like and think is good and that's not playing, generally that's who you get calls on. We've gotten a lot of calls on Donatas because he's a mobile 7-footer with offensive skill. He's not a perfect player, but because he wasn't playing, teams are like 'Maybe we can get him on the cheap'.
"We believe in him. I expect him to be here. The reality is, it's very hard to get a 7-footer who can play as well as him on a $1 million contract."
Morey "won't be shy" about making a trade at this year's February deadline. It could be a move that helps the team now, but he's also open to ones that greatly help the future.
"The reality is, the more you prescribe what you're going to do at the deadline, the worse off you are.
"If you say you've got to go with X, if other teams sense you're locked into a player or a particular direction, they take advantage of that. We're very opportunistic. We didn't know James Harden was going to be available. We just knew we wanted to build up the right sets so that when the next star acts, we're ready to pounce.
"We're valuing now and this season much higher than we have in the past. We feel like, while maybe not the favorite, we have a legit chance to win the title this year. So if an opportunity presents itself to get a lot better this year, we'll do it. We'll give up some future for now.
"That said, we do feel like we have a long run with this group. But you never know how long. It's a balancing act. You're always judging future vs. now, and what we're optimizing on is the probability of us to win the title over a 3-to-4 year window. We're trying to maximize that.
"We'll push down the future if it pushes up today high enough. If we can push up the future dramatically, we'd even push down today a little bit."
"Classically, we don't [have enough experience]. Pat Beverley is coming into his first full season, Jeremy is basically in his second as a starter.
Teams aren't going to give away better players than the ones we have. The Celtics won the title with a first-year starting point guard [Rajon Rondo in 2007-08]. It's definitely possible to do it.
But we lack experience everywhere. We're by far the least-experienced team that's thinking about winning a title."
(In a separate question on recent Rondo-to-Houston trade speculation, Morey declined comment.)
Head coach Kevin McHale was quite upset by the recent thigh bruise that sidelined Terrence Jones for two games.
"The other day, when Terrence wasn't playing, I thought Coach McHale's dog had been shot by the look on his face. Because Terrence has really been saving us. We're excited to have him back."
Three predictions for an important Rockets offseason
The 2023 offseason is critical for the Houston Rockets and here's what we think will happen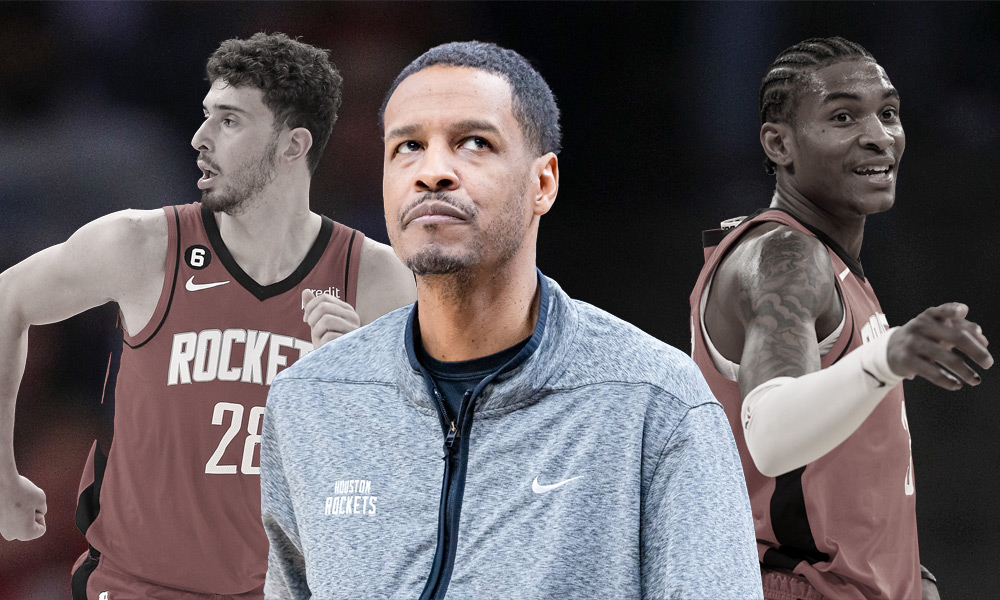 We have almost arrived to the oasis.
For over two years, the "2023 Offseason" has been circled on the calendar as the turning point, the time when the Houston Rockets will switch gears and make winning a priority. With potentially $60 million in cap room and a top draft pick coming, this is the moment of truth that Rafael Stone and the Rockets front office pitched to the Fertittas when the rebuild began.
Does that mean the Rockets are going to magically start winning next season? Not necessarily. But it does mean we won't see Daishen Nix run the point for 36 minutes in the name of player development. They want to win.
It's very tough to know what will happen this offseason, given the unknown variables. The Rockets could land a top-two pick, which would bring them Victor Wembanyama or Scoot Henderson, radically boosting their future. James Harden could opt to return, which also significantly boosts their near-term prospects.
But regardless of whether or not luck presents a "lifeboat" (Harden, Wemby, Scoot), here are some things I believe will happen.
Also, if you have been joining us in RocketsWatch all season, first of all, thank you! We greatly appreciate all the fan support this season. But if you've stuck around through a tough season, you know that none of this will come as a surprise. I have been talking about these predictions since January.
1. Rockets, Stephen Silas Will Part Ways
Stephen Silas is going to be let go this offseason.
The original plan was for Silas to coach this season and start the next, getting a shot once the Rockets were making winning their top priority. But the bar was low this season and he still fell short. There were several times where the team needed a stronger hand and it wasn't there. The roster wasn't built to win, but there is no argument to be made that coaching did anything to enhance the situation.
It's important to point out that Silas got a raw deal, coming to Houston under different circumstances expecting to coach a veteran team. But this is the hand that was dealt and the Rockets have to play it. Silas may be a fine coach, but he's not the right coach for this team and that's all that matters at this stage.
Ownership was ready to move on by midseason, but a variety of factors have led to him finishing the year. But this is going to be it. They sorely need fresh eyes and a different voice.
Confidence Level: 100%
2. The Kevin Porter Jr. Starting Point Guard Experiment Will End
The Rockets got Kevin Porter Jr. for free from the Cleveland Cavaliers in 2021, but he's been anything but since.
Houston paid nearly $100 million to John Wall to stay at home so they could groom KPJ as their future point guard. They also signed Porter Jr to a team-friendly four-year deal despite the fact that a much more team-friendly restricted free agency was on deck.
Porter Jr. has gotten better and more comfortable at the lead guard spot in two-plus seasons, which could bode well for his future here, but it's not near enough. He lacks ability to make advanced reads, which is one of the reasons the Rockets are dead last in corner three-point attempts. His tendency is to isolate, which is his strength, and that can create a lot of selfish basketball. In essence, the Rockets have been starting a pair of shooting guards.
The Rockets love them some KPJ, particularly Stone, so I'm not saying he's done here. He could thrive in an alternate role, if he embraces it. But the Rockets want to make a leap next season, the first year they are on the hook to Oklahoma City for their first-round pick from the costly Russell Westbrook trade. You're probably not going to make a bigger jump than by improving the on-court leader spot.
Confidence Level: 80%
3. Alperen Şengün Will Be Shopped
You either believe Alperen Sengun is the next Nikola Jokic or he's a defensive liability that is too much trouble to build around. There doesn't seem to be much in between.
Sengun is incredibly gifted offensively and is only 20 years old, so it's very early. This is also the biggest offseason of his young career, where he won't be preparing for EuroBasket and can specifically train for the NBA.
There is no evidence at all they are looking to trade him. I'm very much going rogue with this prediction. But consider:
1. Internally he has been viewed as possibly the worst pick-and-roll defensive big in the league.
2. They started Bruno Fernando over him to open the season.
3. They rarely run the offense through him ("ŞenHub").
4. The Rockets are not well-positioned with future draft picks to trade and likely need to move a good young player if they're looking at any significant deals.
5. They believe bringing in a center is a high priority (though that could be as a backup to Sengun).
To be clear, I'm not predicting Sengun will be dumped but rather we will hear his name floated in rumors. A lot could change — a new coach could see Alpi as key to the future, for example — but right now, given all the factors listed above, I would be surprised if Sengun is the centerpiece of this rebuild. I think he's more likely the trade piece.
https://twitter.com/RocketsWatch/status/1627944952498950147?s=20
Confidence Level: 60%