Houston Rockets Salary Cap Update
After an offseason that didn't go quite as planned for the Rockets, David Weiner takes a look at the team's new cap reality.
What a difference a week makes.
After being within hours of acquiring Chris Bosh and creating a top-flight title contender for the next few seasons, the Houston Rockets lost Bosh to a five-year, full max deal to stay in Miami, then elected not to match the three-year, $46 million offer sheet that Chandler Parsons signed with the Dallas Mavericks.
While it is obvious why Bosh elected to stay in Miami (he and his family love it there, and it was a LOT more money), it is less obvious to many why the Rockets allowed Parsons to take his Buffalo Jeans up I-45 to shop for tight-fitting T-shirts with Mark Cuban for the next two to three years.
The tough choice on Parsons made by Rockets owner Leslie Alexander and GM Daryl Morey was rooted in the belief that a team with Dwight Howard, James Harden and Parsons (on his new deal) — without the benefit of another star-caliber player on the roster — was less likely to win an NBA championship than a team with Howard, Harden and the flexibility to add another star and/or to fill out the roster with a superior supporting cast.
So, it's time to once again take a look at the team's current salary cap situation and where the Rockets can go from here.
Player Salary, Exceptions and Available Cap Room
(Salaries and contract information courtesy of ShamSports.com and some good old-fashioned guessing.)
The Houston Rockets currently have the following player salary commitments, cap holds and salary cap exceptions available for the 2014-15 season:
Player salary commitments:
Dwight Howard ($21.44 million), James Harden ($14.73 million), Trevor Ariza ($8.58 million), Alonzo Gee ($3 million, non-guaranteed), Terrence Jones ($1.62 million), Donatas Motiejunas ($1.48 million), Scotty Hopson ($1.45 million, non-guaranteed), Josh Powell ($1,310,286, non-guaranteed), Joey Dorsey ($948,163), Patrick Beverley ($915,243, non-guaranteed), Jeff Adrien ($915,243), Ish Smith ($915,243), Isaiah Canaan ($816,482), Robert Covington ($816,482, partially guaranteed for $150,000), and Troy Daniels ($816,482).  Second round pick Nick Johnson does not count against the cap until he actually signs a contract.
Cap holds:
Jordan Hamilton ($2.1 million), recent first round pick Clint Capela ($991,000), and Francisco Garcia ($915,243).
Exceptions:
(1) a trade exception from the Jeremy Lin trade that allows Houston to absorb one or more contracts totaling not more than $8.47 million (and which CANNOT be combined with other salaries for matching purposes in trades);
(2) the Non-Taxpayer Mid-level Exception (MLE), which allows them to sign one or more players to contracts with starting salaries totaling $5.305 million for up to four years in length; and
(3) the Biannual Exception (BAE), which allows Houston to sign one or more players to contracts with starting salaries totaling $2.077 million for up to two years in length.
To Be or Not To Be (Over the Cap)
By not matching the offer sheet on Parsons, Houston has the flexibility either to create some cap room or to operate above the cap.
To create cap room, the Rockets would need to waive the above-mentioned exceptions and some of the non-guaranteed player salaries and also to renounce some of its cap holds (or, in the case of Capela, to get an agreement in writing from him that he will not play in the NBA next season).  If the Rockets waived/renounced to the maximum extent possible (while still keeping Beverley) without making any trades, they could create up to around $9.23 million in cap room.
However, given the dearth of remaining free agents worthy of such a salary (Phoenix PG Eric Bledsoe and Detroit PF Greg Monroe — both restricted free agents — either would not take such a low salary or would have such an offer quickly matched by their incumbent teams) and the ability to exceed the cap with the exceptions and cap holds, it is much more favorable to the Rockets at this point to operate over the cap.
The recently announced signing of Dorsey, Adrien and Smith is an indication that Houston does not intend to use its cap room any time soon.  As veteran's minimum signings, the Rockets could have used all of their available cap room and then exceeded the cap to sign each of them.  Instead, they signed all three, cutting the team's maximum available cap room by $1.26 million.
Therefore, expect to the see Houston operating over the cap . . . unless the right trade or free agent opportunity presents itself that can only be accomplished by using the cap room the Rockets could create.
Trade Tools
Because the Rockets do not have quite enough cap room available to simply trade for most star players, look for Houston to take advantage of its other tools to make trades while operating over the cap, taking advantage of the league's salary-matching rules.
Non-Guaranteed Salaries:
Between Gee, Hopson, Powell and Covington, the Rockets have enough non-guaranteed salaries to take back nearly $10 million in incoming salary.  That is before even factoring in additional (guaranteed) salaries, such as those of Jones, Motiejunas or Canaan.
However, because they were acquired in trade while Houston was over the cap, the Rockets are unable to aggregate the salaries of Gee or Hopson with other player salaries for two months, essentially until mid-September.  It is quite possible that trades could be lined up between now and September using Gee and Hopson; but they could not be consummated until September.  (Also, as recent free agent signings, none of Ariza, Dorsey, Adrien, Smith or Daniels can be traded until December 15.)
As the Rockets hunt for more salary to match for a star player in trade, they could even make trades in multiple stages, where a first trade is made in September using Gee and Hopson, with the resulting larger salary received in that trade later aggregated with still more salary in November or December for an even larger contract.
The Lin Trade Exception:
The Lin trade exception not only allows the Rockets to acquire their primary target — with players such as Goran Dragic ($7.5 million) and Ersan Ilyasova ($7.9 million) fitting perfectly into it –it could also be used as a supplemental piece to a larger trade.  A team that otherwise might not trade its player for the draft picks, players and non-guaranteed salary that Houston was otherwise offering might be more willing to make a trade if they could also unload an additional contract or two into the Lin trade exception.  Expect the Rockets to use that trade exception as a selling point in their search for a star player.
Bird Rights:
Another overlooked trade tool for the Rockets:  the Bird rights of Hamilton and Garcia.
Because the Nuggets declined their team option on Hamilton prior to trading him to Houston, the Rockets are limited to offering Hamilton the same $2.1 million starting salary he would have been eligible for had that option been picked up.  (The Lakers re-signed Jordan Hill a couple of years ago under similar circumstances after the Rockets declined to pick up his option.)
Garcia, however, is not bound by such restrictions.  Hypothetically, the Rockets could pay Garcia a max salary in a sign-and-trade arrangement.  Such a sign-and-trade is further complicated by Garcia's (what used to be called) Base Year Compensation (BYC) status, which basically means that Garcia is getting more than a 20% raise without his team using cap room to sign him.  Due to Garcia's BYC status, only 50% of his new salary would count as outgoing salary for salary-matching purposes.  Still, if the Rockets come up shy by a few million dollars in matching salaries in a huge trade, Garcia could be lined up for a Keith Bogans-style huge payday for the courtesy of facilitating a match.
Conclusion
Look, I'm not going to sugarcoat it for you.  Missing out on a Bosh-Parsons combination to add to the Harden-Howard core was a big hit to the Rockets' title hopes.  But they are not damaged nearly as badly as most believe.
Morey has gone on record as saying that the Rockets would be a better team by the start of the 2015 NBA Playoffs than they were in the 2014 NBA Playoffs.  With the numerous salary cap tools at his disposal, it is entirely possible — if not outright probable — that Morey's prediction can become a reality.
Jabari Smith steals show in Rockets preseason opener
The Rockets rookie is legit as we take a look at what else stood out in Houston's preseason rout of the Spurs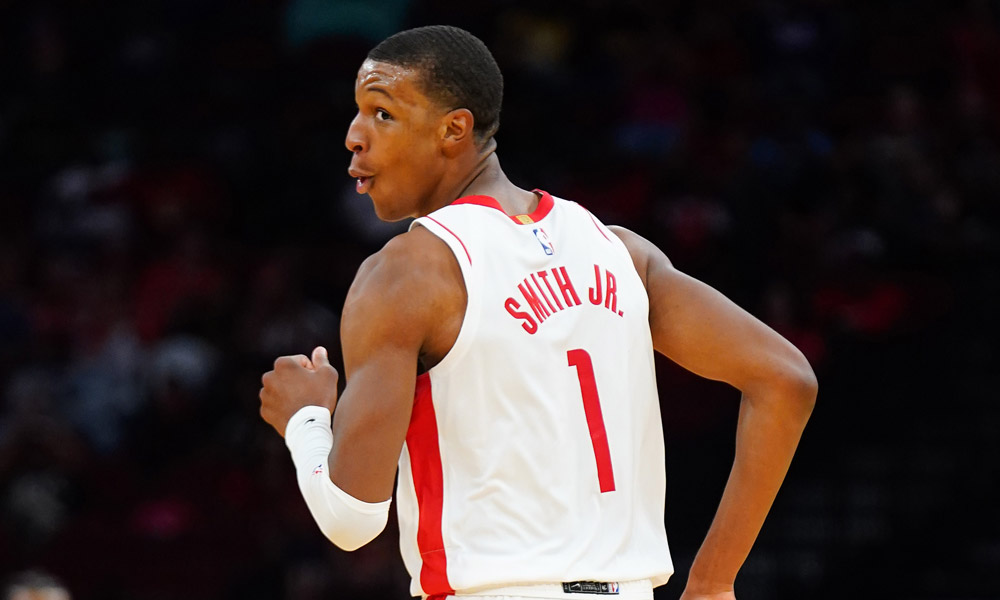 Finally, Rocketball is back — the Rockets destroyed the San Antonio Spurs 134-96 in the preseason opener Sunday night.
Granted, the Spurs look flat out terrible (the top contender for Wembanyama?) and may finish dead last (and it showed), but there were a number of things that played out in this game that should get Houston fans excited.
But before I get into that, I want to give a huge shout out to everyone who supported RocketsWatch Sunday night. We are watching and discussing Rockets games in realtime this season and the debut was overwhelming. There were over 700+ fans watching the game with Roosh Williams and I in what might be the largest online watch party ever for a Rockets game. The live reactions from the fans were priceless!
Let's talk about what stood out in this game:
Jabari is the real deal
Going into Sunday night's preseason opener for the Rockets, the biggest question on the minds of fans was simple — how will #3 overall pick Jabari Smith Jr. look in his first NBA action?
The answer is good. Really good.
Jabari threw down a dunk out of the gate and then locked in on high-energy defense on the other end and right away you knew — the Christian Wood Era was over. Jabari's impact was immediate on both ends of the floor. Smith finished with 21 points on 8-15 shooting, including a blistering 5-8 from deep, to go with eight rebounds in 24 minutes.
Jabari described himself as "a lot more loose" than he was at Summer League, when he struggled to knock down his shots.
"It was easy," said Jabari. "My teammates made it easy for me, finding me when I was open. The rest just came from knocking down shots, running the floor, trusting the offense and trusting my teammates."
What most impressed me was how quick of a trigger Jabari had on the catch-and-shoot. He would receive a pass out of the post or a cross-court pass in the corner and would instantly let it fly, shooting easily over his defender's reach. This trait stood out and was very Klay Thompson-esque. In the second half, Jabari hit a pull-up triple in transition (his fourth) that was very enticing, then absolutely slayed those of us in the RocketsWatch room when he took two long strides back from the free throw line to drain another triple.
At that point, it was official — the rookie was clowning the Spurs. I can't tell you how thrilled I am that the Rockets drafted Jabari. This man is going to fit like a glove and will be a ridiculous two-way weapon for the Rockets long term.
https://twitter.com/brhoops/status/1576753965730889729?s=20&t=X5YfCfDU5HwynBnvqoicSQ
Defense. They're actually playing it. It's true.
I don't need to repeat that the Rockets were dead last in defense last year, but… the Rockets were dead last in defense last year. Although, maybe I need to turn that frown upside down.
https://twitter.com/FraudeauxNBA/status/1576358215406989312?s=20&t=X5YfCfDU5HwynBnvqoicSQ
Sunday, however, was a different animal and you could tell immediately. The Rockets were hustling, moving quickly on rotations and closeouts.
"It's the defense, obviously, that we've been concentrating on," said Stephen Silas. "Our help was good tonight. Our multiple efforts were really good… I'm super encouraged by our intensity on the defensive end."
Jabari was a big part of that. He made some clear mistakes, sure — I'm not going to say he was perfect — but he seemed to set the tone. Still, it's not just Jabari — it's clear to me the mindset of this team is in stark contrast to what we've seen the past two seasons. Maybe it's the Jabari Effect or maybe Lionel Hollins is making his presence felt, but this does not look like the 2021-22 Rockets on this side of the ball.
Tari Eason is pretty much plug-and-play
I had my doubts that Tari Eason would get a ton of run in this game, but Silas played him early (note: Jae'Sean Tate sat this game out). Without having any clear plays run for him, Tari fought and scrapped for 21 points and 10 rebounds (six offensive!) in just 21 minutes. He hit 9-13 from the floor.
"My mentality never changes," said Eason. "I'm always going to be in the right spot, get after it defensively and be one of the hardest playing dudes on the court. I think that translates at any level and I'm just going to continue to do that."
He plays like his hair is on fire and has tremendous potential as a two-way demon. Throw him out there when things get stagnant and he's going to make things happen.
I've felt that the Rockets will likely bring Tari along slowly until they figure out what the long-term solution is for guys like KJ Martin, but Operation Patience isn't going to work if he keeps putting up lines like this. You can't keep him to the bench or send him to the G-League.
Is Bruno Fernando the backup center?
It sure seems that way. After news broke that the Rockets had signed Fernando to a four-year, nearly $11 million deal, Bruno was the first big off the bench, subbing in for Alperen Sengun.
I'll be honest — this really surprised me. I expected that Usman Garuba would have the clear inside track to the spot. Fernando also seemed like a good bet to be on a two-way contract, but now with this new deal, Fernando is going to be on the 15-man roster and barring a trade, someone has to be cut (Boban? Favors?) that isn't expected to be.
But Fernando, who sources say has been terrific in camp, showed why he got that contract, finishing 3-3 from the field and was a +18 in just 11 minutes. He was very effective on rolls, capping a pair of alleyoop passes from Kevin Porter Jr. I would be lying if I said I saw this coming, but it's a welcome development.
Rotation Notes
It's only one preseason game, but we still can draw a lot from how Silas sees the rotation.
Bruno looking like a good bet for the backup center role was not the only surprise. KJ Martin and Daishen Nix, along with Bruno, were the first subs of the night. That indicates what we expected, that Nix is in the lead for the backup PG spot over TyTy Washington, who I would guess will run the show with the RGV Vipers early on. I like TyTy as the better bet for this spot long term, but right now the job appears to be Nix's to lose.
But KJ is a little surprising, given he reportedly wanted out this past offseason with the Rockets slated to bring in a couple bigger prospects (Jabari and Tari) at his position.
Garrison Mathews played only five minutes. The prediction many have made that Silas would play him 15+ minutes this year is not looking so hot.