Houston Rockets Salary Cap Update: 2016 Offseason Pre-Draft Edition
After a disappointing 2015-16 campaign, the Rockets are poised to have significant cap room this summer. David Weiner breaks down their cap situation as they move into the offseason.
One year ago at this time, the Houston Rockets were battling through the Western Conference on their way to a conference finals series against Golden State.
Man, how things can change in one year.
Last summer, the Rockets had grand designs of building a championship-contending roster much better than the team that had just lost to the Warriors, who were clearly better than Houston. They were going to get back a (presumably) healthy Donatas Motiejunas. They re-signed both Patrick Beverley (a key piece missing from their playoff run) and Corey Brewer (an integral part of that playoff run). The Rockets even had a potential sign-and-trade deal lined up to acquire free agent LaMarcus Aldridge from Portland, but Aldridge ultimately chose to sign with San Antonio.
Fast forward about a year, and the Rockets look like a team in turmoil. Head coach Kevin McHale was fired just eleven games into his three-year contract extension. His replacement, interim coach J.B. Bickerstaff, did not fare much better, "leading" the team to a mediocre 37-34 record. James Harden and Dwight Howard could not get along and never truly meshed on the court. Brewer and Terrence Jones had utterly disappointing seasons. Motiejunas's back injury lingered longer than expected, hampering his development. Even a February trade deadline deal of Motiejunas for a first round pick was voided after Motiejunas "failed" his physical in Detroit. As for the Rockets' own first round pick, … more on that below.
The 2015-16 Houston Rockets season may go down as among the most disappointing, aggravating and just plain awful seasons in Houston sports history. For us diehard Rockets fans, this season felt like a long series of gut-punches. While getting a lone playoff victory over Golden State was nice and all, many felt that Houston's elimination from the playoffs (4-1) was like a mercy killing.
With the season now ended, it's time to once again take a look at the team's salary cap situation and where the Rockets can go from here.
Player Salary, Exceptions and Available Cap Room
The Houston Rockets currently have the following player salary commitments, cap holds and salary cap exceptions available for the 2016-17 season:
Player salary commitments: Howard ($23.28 million – player option), Harden ($16.78 million), Trevor Ariza ($7.81 million), Brewer ($7.61 million), Beverley ($6.0 million), K.J. McDaniels ($3.33 million), Sam Dekker ($1.72 million), Clint Capela ($1.30 million), Montrezl Harrell ($1.05 million), Michael Beasley ($1.40 million – non-guaranteed), and Andrew Goudelock ($1.02 million, non-guaranteed).
Cap holds: Jones ($6.22 million – Rockets hold full Bird rights), Motiejunas ($5.72 million – Rockets hold full Bird rights), Jason Terry ($980,431 – Rockets hold full Bird rights), and Josh Smith ($980,431 – Rockets have only Non-Bird rights).
Other Salary Cap Exceptions: If Houston operates over the salary cap this summer (an unlikely scenario but at least possible if Howard opts in to his contract), the Rockets will have access to the Mid-Level Exception (MLE), either the Non-Taxpayer variety ($5.628 million, the use of which would impose a hard cap at the "apron" level – currently projected at $112 million) or the Taxpayer variety ($3.477 million), as well as to the Bi-Annual Exception ($2.203 million). In the much more likely event that the Rockets use their available cap room this summer, they could instead have the Room Exception of $2.898 million at their disposal.
Given these salary commitments and exceptions, and based on the currently projected 2016-17 salary cap of $92.0 million, the most cap room the Rockets could create (barring trades … yeah, I know) is about $44.22 million. This assumes that Howard opts out of his contract and would involve renouncing rights to all free agents and waiving Beasley and Goudelock. If Howard opts in, that figure drops precipitously to $21.49 million. However, expect Howard to opt out and for the Rockets to hold onto Beasley and at least attempt to hold onto Motiejunas. So, adding their salaries/cap holds, that cap room figure comes out to about $38.19 million. Regardless, expect the Rockets to explore trades that could open up additional room.
So… What Happens Next?
As the Rockets prepare for the NBA Draft and the subsequent free agent season, there will be some internal maneuvering for GM Daryl Morey and his staff to do.
Most immediately, the Rockets need to hire a new head coach. With several prominent names still in contention (among them, Jeff Van Gundy, Frank Vogel and David Blatt), Houston is casting a wide net in their coaching search. This approach should benefit the franchise in gaining as much outside knowledge as it can while also establishing favorable long-term relationships around the basketball world. There is some thought that the Rockets might hold off signing a new head coach until after free agency begins, in order to allow a marquee free agent like Kevin Durant to join with Harden in hand-picking his own coach. But the likelier scenario is that the Rockets – perhaps with some input from Harden – hire "their guy" without putting that decision squarely in the hands of its prospective star players.
Houston will need to decide whether to extend qualifying offers to Motiejunas ($4.43 million, more than he'd otherwise receive based on his prior salary due to meeting the "starter criteria" of starting 82 games over the course of the past two seasons) and to Jones ($3.53 million) in order to make them both restricted free agents and to give the Rockets the ability to match any offers from other teams. More on those decisions below.
In preparation for the eventuality that their pursuit of big name free agents to fill all of their cap room doesn't play out as hoped for, the Rockets may also once again explore the possibility of bringing over one or more of its "draft rights held" players from overseas, led by everyone's favorite tease, 2009 second round pick Sergio Llull. Houston's courtship of the now 28-year old Llull (a 6-3 combo guard who has developed into one of the top guards in Europe) fell apart last summer, and Llull ended up signing a long-term contract extension with Real Madrid. However, reports are that the extension actually lowered Llull's NBA buyout, thus far one of the biggest impediments to his NBA debut. After years of flirtation, most Rockets fans won't be holding their breath for a Llull signing. But in a summer where free agent deals will hit astounding levels, having exclusive NBA rights to a player of Llull's caliber may be helpful, either to sign him outright or as a trade asset.
Another international prospect who might help next season is Alessandro Gentile, a 6-7 scoring wing taken with a 2014 second rounder purchased by Houston. But with Ariza, Brewer, McDaniels and Dekker all under contract for next season, it is hard to see a role for Gentile without one or more trades clearing the Rockets' glut at small forward.
Draft Day Maneuvering
The Rockets will enter the 2016 NBA Draft armed with the 37th and 43rd picks, about $2.96 million in remaining cash to spend before July 1, as well as an assortment of young players, draft rights and future picks to trade. However, unlike in years past, the prospects for a significant draft night trade – something that the Rockets are known to actively seek – will be fairly low.
Because Houston remains subject to a hard cap through June 30, the Rockets cannot exceed the 2015-16 "apron" level as a result of any draft night trade. With the Rockets a mere $242,000 or so shy of the apron, unless a trade involves Houston dumping salary, most trades will be prohibited. Of course, a trade could be agreed to in principle, with the actual consummation of that trade not going through until following the July Moratorium.
Houston will be without its own first round pick (15th overall), which was sent to Denver in the Ty Lawson trade. The protections on that pick were unique in that the top-14 protected first rounder in 2016 immediately converted to a 2017 second round pick if the Rockets missed the playoffs, rather than the more common carryover of owing a future first round pick (a restriction that often has lingering negative effects on a team's ability to trade future draft picks). So while the Rockets could have kept a pick in the 12-14 range had they missed the playoffs in the last week of the season (owing only Portland's second rounder next season), they instead convey their pick and move on.
As for the draft slots Houston currently holds, the Rockets could go in a number of directions. They could elect to use both picks on players to add to their roster for next season, as second round picks count $0 against the cap until signed, and there is expected to be a lot of roster turnover this summer anyway. They could instead use one (or both) of those picks on an international draft prospect, as this year's draft is expected to have one of the deepest international crops in recent memory. The Rockets could also look to move up in the draft – something they often try to do – although don't expect a package of #37 and #43 to move them too far up the draft board (last year, Minnesota traded the 31st and 36th picks to move up to pick #24).
Also, don't be surprised to see Rockets owner Leslie Alexander once again allow Morey to spend his remaining cash allotment this season on an additional second round pick to stash overseas (as the team has done in recent years with Furkan Aldemir and Gentile). With several teams holding multiple picks in this year's draft (led by Boston, with an astounding eight picks), the odds of multiple second round picks switching hands on draft night is fairly high.
Internal Free Agent Decisions
The Rockets have several key decisions to make regarding their own free agents that could impact what they do in free agency.
Dwight Howard: The first domino that must fall for the Rockets to execute any big summer plans is Dwight's decision of whether or not to opt out of his contract. His $23.28 million player option year is likely more than he will get on an annual basis as a free agent. But Howard will turn 31 years old in December and will likely want to lock in a longer-term deal before his skills decline much further. There is also the possibility that at least one team (among the many expected to be flush with cap room and have no one else to spend it on) will offer Howard a huge contract paying him as much as $25-30 million per season. However, don't expect the Rockets to be one of those teams. While the door cannot be completely closed to the possibility of Howard's return to Houston on a more reasonable multi-year deal, it is becoming increasingly more evident that if (or when) Dwight opts out of his contract, he will be moving on to another team.
Terrence Jones: Few players did more to hurt their free agent stock than Jones this past season. Once thought by many to be lining up for a huge contract (Zach Lowe wondered whether Jones could possibly get offers in the $15 million per year range!), Jones suffered through a disappointing season filled with poor defensive focus and more strange injuries. He ended the season as the fifth power forward on the depth chart. Although Jones will have a cap hold this summer of $6.22 million, the Rockets will need to extend him a one-year, $3.53 million qualifying offer in order to make him a restricted free agent. The extension of such a qualifying offer once looked like a no-brainer but is now seriously in question. It will be a surprise at this point if Jones is a Rocket next season.
Donatas Motiejunas: Motiejunas represents a very interesting case for the Rockets. At 7-0 with both post skills and three-point range (a combination held by only a handful of NBA players), D-Mo will undoubtedly have his share of suitors in free agency. But his back injury has turned out to be a more serious red flag than many anticipated. Detroit – once thought to be the Rockets' biggest competitor for Motiejunas this summer – voided its trade for D-Mo after its doctors expressed reservations about the long-term prognosis for that back. Motiejunas came away from that experience with a resentment for Detroit, so there may not be a future for that relationship. Although D-Mo will have a cap hold this summer of $5.72 million, the Rockets will need to extend him a one-year, $4.43 million qualifying offer in order to make him a restricted free agent. Expect the Rockets to extend that qualifying offer and to hope they can execute other moves in free agency before having to worry about matching an offer sheet for him.
Jason Terry: Despite some purported interest in a coaching gig, Terry recently expressed a desire to play another year or two before retiring. As one of the few stable veteran voices for the Rockets last season, it is scary to consider how awful Houston's locker room would have been without him. And while his production on the court wasn't too far from that of the prior season (his shooting percentages dipped a little and his defense was once again atrocious), it may be time for the Rockets to part ways with the venerable Terry.
Josh Smith: After spurning the Rockets (and their larger contract offer) for a veteran's minimum deal with the Clippers, it was all downhill for Smith. The Clippers ended up paying Houston to take Smith off their hands. A solid defender and gifted passer, Smith still showed enough to get a couple of chances in the Rockets' lackluster power forward rotation. But with several power forwards under contract for next season, don't expect to see Smith back.
Michael Beasley: Beasley was one of the few pleasant surprises for the Rockets this past season. After an MVP season in China, Beasley came in and immediately became Houston's second-best offensive weapon. He fulfilled his role as a bench chucker, pouring in several long two-point shots that only Harden seemed permitted to take, as those two were likely the only two players on the roster capable of shooting a high enough percentage of them to make that shot worthwhile. Beasley has a non-guaranteed salary of $1.40 million for next year (which becomes guaranteed if he is not waived by August 1). Especially since Beasley could easily get an MLE-sized deal (or more) in free agency, expect Houston to hold on to him, either as an offensive weapon off the bench next season or as a trade chip this summer.
Andrew Goudelock: Goudelock was brought in to replace Ty Lawson and Marcus Thornton as a backcourt scorer off the bench. However, as a late-season addition, Bickerstaff never showed enough trust in Goudelock to play him over Terry. His situation became even more odd during the playoffs, when Bickerstaff elected to make Jones (a fifth power forward) active over Goudelock (a third point guard and just the fourth "true" guard on the Rockets' roster) for Games 2, 3 and 4 against a Golden State team with plenty of backcourt depth. With Bickerstaff out, it is possible that Morey likes Goudelock enough to keep him around for next season on a $1.02 million non-guaranteed deal (which becomes guaranteed if he is not waived by August 1). But if the Rockets need the extra $472,000 or so in additional cap room that can be created by waiving Goudelock, they probably won't lose too much sleep over waiving him. If no one claims him off waivers, the Rockets can still re-sign him to a vet minimum deal.
#Pursuit of Outside Free Agents
At the center of the Rockets' plans to return to NBA prominence is the pursuit of one or (more likely) two star free agents.
The headliner of the 2016 crop of free agents is Durant. (With Lebron James most likely staying put in Cleveland, we'll exclude him from this group for all intents and purposes.) Durant's free agency has been talked about for years, with rumors of his possible interest in playing with Harden in Houston circulating as long ago as 2013. While it is a long shot that Durant will actually elect to sign with the Rockets, his talent is prodigious enough that pursuing him as Plan A is still worth it.
Another free agent who could be high on the Rockets' wish list is Al Horford. Capable of playing power forward or center, Horford would be a suitable replacement for Howard. Horford's combination of long-range shooting (he can hit long two-point shots at a clip high enough to get them in the Rockets' offense) and all-around good defense make him an intriguing possibility.
As nine-year veterans, Durant and Horford will each be eligible for a max starting salary worth a little over $25 million (with an actual max figure to be determined during the July Moratorium). One complication to signing either to a long-term contract is that each becomes entitled to a much higher starting salary in 2017, when they become ten-year veterans assigned a larger percentage of the salary cap as their max salary. While Horford may take the long-term security of a deal this summer, many believe Durant will seek a two-year deal (with a player option on Year 2) similar to the deals Lebron has signed with Cleveland each of the last two summers in order to cash in next summer.
A slightly more "affordable" Howard replacement (as in a starting salary of closer to $20 million) could be Hassan Whiteside. A talented center who squandered the first several years of his professional career underachieving compared to his tremendous natural talent, there is some concern that Whiteside will revert to his old ways once he secures a lucrative long-term deal. But as a premier rim protector, Whiteside could be worth the gamble.
Paying Kevin Durant
Most expect Durant to re-sign with Oklahoma City this summer. With Russell Westbrook and Serge Ibaka, the Thunder provide Durant with a competitive enough roster to justify his staying put. But re-signing with Oklahoma City does not necessarily guarantee Durant the most long-term salary.
The jump in the salary cap (and, by extension, the max salary) this summer means that any team with enough cap room can offer Durant a starting salary equal to what the Thunder can offer. And with another huge jump in the cap expected next summer, a team like the Rockets could conceivably use newly available cap room to re-sign Durant next summer to a long-term deal as lucrative as anything Oklahoma City could give him.
Conclusion
After a miserable season, the Rockets must now turn their attention to repairing their roster – as well as their basketball culture – via the draft, trades and free agency. Morey and [whoever the next head coach is] will need to come up with a variety of alternative plans to return the Rockets to respectability, let alone title contention. It remains to be seen whether Plan A (where Durant comes to save the franchise), Plan [X] (another rebuild) or any plan in between ends up being the path they take.
Jabari Smith steals show in Rockets preseason opener
The Rockets rookie is legit as we take a look at what else stood out in Houston's preseason rout of the Spurs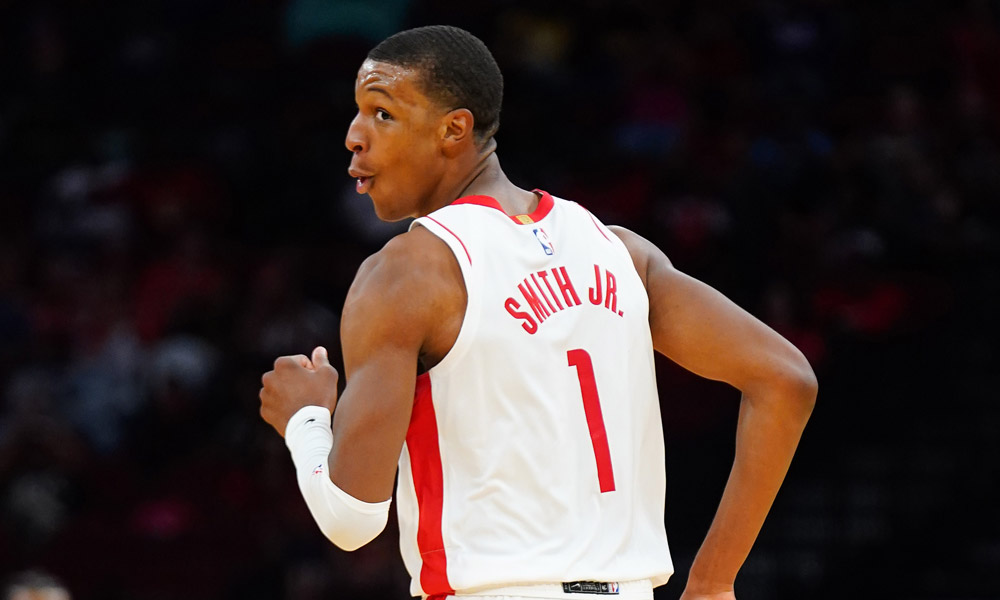 Finally, Rocketball is back — the Rockets destroyed the San Antonio Spurs 134-96 in the preseason opener Sunday night.
Granted, the Spurs look flat out terrible (the top contender for Wembanyama?) and may finish dead last (and it showed), but there were a number of things that played out in this game that should get Houston fans excited.
But before I get into that, I want to give a huge shout out to everyone who supported RocketsWatch Sunday night. We are watching and discussing Rockets games in realtime this season and the debut was overwhelming. There were over 700+ fans watching the game with Roosh Williams and I in what might be the largest online watch party ever for a Rockets game. The live reactions from the fans were priceless!
Let's talk about what stood out in this game:
Jabari is the real deal
Going into Sunday night's preseason opener for the Rockets, the biggest question on the minds of fans was simple — how will #3 overall pick Jabari Smith Jr. look in his first NBA action?
The answer is good. Really good.
Jabari threw down a dunk out of the gate and then locked in on high-energy defense on the other end and right away you knew — the Christian Wood Era was over. Jabari's impact was immediate on both ends of the floor. Smith finished with 21 points on 8-15 shooting, including a blistering 5-8 from deep, to go with eight rebounds in 24 minutes.
Jabari described himself as "a lot more loose" than he was at Summer League, when he struggled to knock down his shots.
"It was easy," said Jabari. "My teammates made it easy for me, finding me when I was open. The rest just came from knocking down shots, running the floor, trusting the offense and trusting my teammates."
What most impressed me was how quick of a trigger Jabari had on the catch-and-shoot. He would receive a pass out of the post or a cross-court pass in the corner and would instantly let it fly, shooting easily over his defender's reach. This trait stood out and was very Klay Thompson-esque. In the second half, Jabari hit a pull-up triple in transition (his fourth) that was very enticing, then absolutely slayed those of us in the RocketsWatch room when he took two long strides back from the free throw line to drain another triple.
At that point, it was official — the rookie was clowning the Spurs. I can't tell you how thrilled I am that the Rockets drafted Jabari. This man is going to fit like a glove and will be a ridiculous two-way weapon for the Rockets long term.
https://twitter.com/brhoops/status/1576753965730889729?s=20&t=X5YfCfDU5HwynBnvqoicSQ
Defense. They're actually playing it. It's true.
I don't need to repeat that the Rockets were dead last in defense last year, but… the Rockets were dead last in defense last year. Although, maybe I need to turn that frown upside down.
https://twitter.com/FraudeauxNBA/status/1576358215406989312?s=20&t=X5YfCfDU5HwynBnvqoicSQ
Sunday, however, was a different animal and you could tell immediately. The Rockets were hustling, moving quickly on rotations and closeouts.
"It's the defense, obviously, that we've been concentrating on," said Stephen Silas. "Our help was good tonight. Our multiple efforts were really good… I'm super encouraged by our intensity on the defensive end."
Jabari was a big part of that. He made some clear mistakes, sure — I'm not going to say he was perfect — but he seemed to set the tone. Still, it's not just Jabari — it's clear to me the mindset of this team is in stark contrast to what we've seen the past two seasons. Maybe it's the Jabari Effect or maybe Lionel Hollins is making his presence felt, but this does not look like the 2021-22 Rockets on this side of the ball.
Tari Eason is pretty much plug-and-play
I had my doubts that Tari Eason would get a ton of run in this game, but Silas played him early (note: Jae'Sean Tate sat this game out). Without having any clear plays run for him, Tari fought and scrapped for 21 points and 10 rebounds (six offensive!) in just 21 minutes. He hit 9-13 from the floor.
"My mentality never changes," said Eason. "I'm always going to be in the right spot, get after it defensively and be one of the hardest playing dudes on the court. I think that translates at any level and I'm just going to continue to do that."
He plays like his hair is on fire and has tremendous potential as a two-way demon. Throw him out there when things get stagnant and he's going to make things happen.
I've felt that the Rockets will likely bring Tari along slowly until they figure out what the long-term solution is for guys like KJ Martin, but Operation Patience isn't going to work if he keeps putting up lines like this. You can't keep him to the bench or send him to the G-League.
Is Bruno Fernando the backup center?
It sure seems that way. After news broke that the Rockets had signed Fernando to a four-year, nearly $11 million deal, Bruno was the first big off the bench, subbing in for Alperen Sengun.
I'll be honest — this really surprised me. I expected that Usman Garuba would have the clear inside track to the spot. Fernando also seemed like a good bet to be on a two-way contract, but now with this new deal, Fernando is going to be on the 15-man roster and barring a trade, someone has to be cut (Boban? Favors?) that isn't expected to be.
But Fernando, who sources say has been terrific in camp, showed why he got that contract, finishing 3-3 from the field and was a +18 in just 11 minutes. He was very effective on rolls, capping a pair of alleyoop passes from Kevin Porter Jr. I would be lying if I said I saw this coming, but it's a welcome development.
Rotation Notes
It's only one preseason game, but we still can draw a lot from how Silas sees the rotation.
Bruno looking like a good bet for the backup center role was not the only surprise. KJ Martin and Daishen Nix, along with Bruno, were the first subs of the night. That indicates what we expected, that Nix is in the lead for the backup PG spot over TyTy Washington, who I would guess will run the show with the RGV Vipers early on. I like TyTy as the better bet for this spot long term, but right now the job appears to be Nix's to lose.
But KJ is a little surprising, given he reportedly wanted out this past offseason with the Rockets slated to bring in a couple bigger prospects (Jabari and Tari) at his position.
Garrison Mathews played only five minutes. The prediction many have made that Silas would play him 15+ minutes this year is not looking so hot.