Houston Rockets Salary Cap Update: 2018 Offseason Pre-Draft Edition
The complete breakdown of the Houston Rockets' cap situation this summer — from how to acquire LeBron to the luxury tax bill that awaits.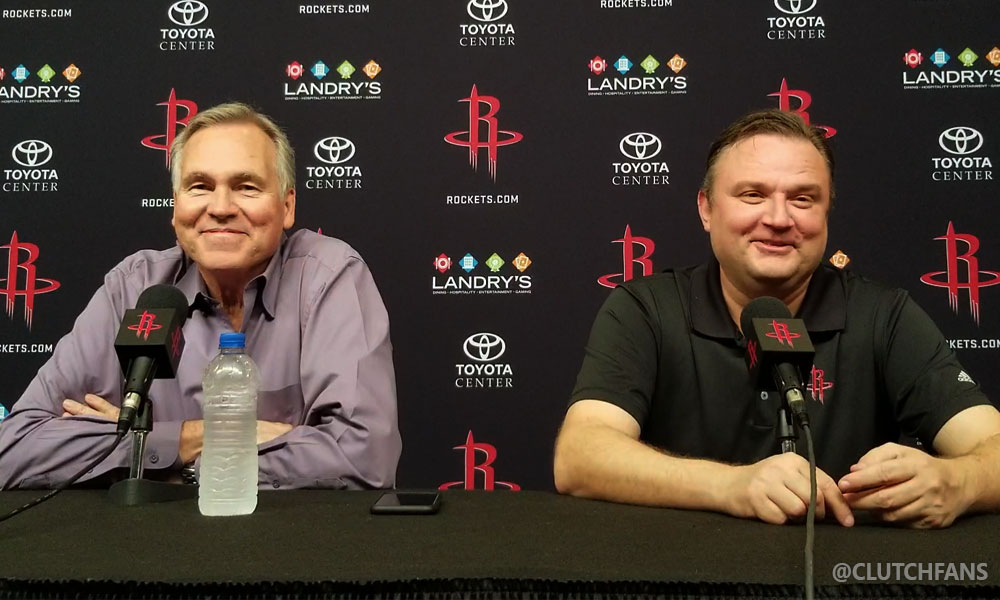 So close.  SOOOO close!!!
The Houston Rockets finished their 2017-18 season with the league's best regular season record and were one half of basketball (and a few made wide open 3-pointers) away from a Western Conference title and, quite likely, an NBA Championship.  But with their season now over, the Rockets must look to the offseason for ways to maintain (and hopefully to improve) one of the greatest rosters in franchise history.
Player Salary, Exceptions and Available Cap Room
The Houston Rockets currently have the following player salary commitments, cap holds and salary cap exceptions available for the 2018-19 season (assuming that the league's current projection of a $101 million salary cap is accurate):
Player salary commitments: James Harden ($30.42 million), Ryan Anderson ($20.42 million), Eric Gordon ($13.5 million), PJ Tucker ($7.97 million), Nene Hilario ($3.65 million), Chinanu Onuaku ($1.54 million), Zhou Qi ($1.38 million, non-guaranteed), Aaron Jackson (team option for $1.38 million, non-guaranteed), Troy Williams ($122,741 dead cap hit – get used to this one), and RJ Hunter ($0 for cap purposes, as he is on a two-way contract).
Cap holds: Chris Paul ($35.35 million – Rockets hold full Bird rights), Trevor Ariza ($14.1 million – Rockets hold full Bird rights), Clint Capela (restricted free agent; $7 million – Rockets hold full Bird rights and a right of first refusal), Tarik Black ($3.95 million – Rockets have only Non-Bird rights), Luc Mbah a Moute ($1.5 million – Rockets have only Non-Bird rights), Gerald Green ($1.5 million – Rockets have only Non-Bird rights), Joe Johnson ($1.5 million – Rockets have only Non-Bird rights), and Markel Brown (potential restricted free agent; about $830,000 – coming off a two-way contract).
Other Salary Cap Exceptions: If Houston operates over the salary cap this summer (very likely given the cap holds of free agents the team would like to bring back), the Rockets will have access to the Mid-Level Exception (MLE), either the Non-Taxpayer variety ($8.57 million, the use of which would impose a hard cap at the "apron" level – currently projected at about $129 million) or the Taxpayer variety ($5.29 million).  Houston will not be able to use the Bi-Annual Exception ($3.35 million), since they used it last summer on Black. In the unlikely event that the Rockets use cap room this summer, they could instead have the Room Exception of $4.41 million at their disposal.
Given their salary commitments, and based on current cap projections, the most cap room the Rockets could create (barring trades … yeah, I know) is about $18.38 million. This assumes that Houston renounces its rights to all free agents, doesn't pick up its option on Jackson and waives Zhou. But since Paul and (likely) Capela are each worth at least that much as a free agent, it is unlikely that the Rockets operate below the cap without some extraordinary salary dump trades.  And no, dumping Anderson's contract alone will not create meaningful cap room on a Rockets team that still features Paul and Capela.
Some Internal Accounting
As the Rockets prepare for the NBA Draft and the subsequent free agent season, there will be some internal maneuvering for GM Daryl Morey and his staff to do.
Houston will take less than 0.00001 seconds to extend a qualifying offer to Capela ($4.75 million, more than he'd otherwise receive based on his prior salary, due to meeting the "starter criteria" over the past two seasons) in order to make him a restricted free agent and to give the Rockets the ability to match any offers from other teams. More on that below.  Extending the qualifying offer does not lower Capela's cap hold.
The Rockets will also likely exercise their team option on Jackson (who is not trade-eligible until July 11 due to when he was signed), especially since his 2018-19 salary is non-guaranteed.  While the 2017 CBA has changed the rules regarding how much non-guaranteed contracts can count for salary matching purposes, Houston and Jackson can always elect to amend his contract in order to guarantee his salary, in whole or in part, to the extent necessary to make a trade work.
The Rockets can make Brown – coming off a two-way contract – a restricted free agent by extending him another two-way contract for next year (with $50,000 guaranteed) as a qualifying offer. It is unlikely that the Rockets would match any offer of an NBA contract for Brown.
Draft Day Maneuvering… Or Not
The Rockets will enter the 2018 NBA Draft armed with the 46th pick (from Miami, acquired in a draft night trade with Memphis last year), the full $5.1 million of their maximum cash allotment for 2017-18 to spend before July 1, as well as an assortment of players, draft rights and future picks to trade. However, the prospects for a significant draft night trade – something that the Rockets typically seek out – are pretty low.
Because Houston remains subject to a hard cap through June 30, the Rockets cannot exceed the 2017-18 "apron" level as a result of any draft night trade. That said, with the Rockets a good $7 million shy of the apron (and $1 million below the luxury tax threshold), the hard cap shouldn't be a major impediment to a draft night trade. Houston might have some concerns about a draft night trade causing them to have to pay luxury tax, but that would only happen if the trade involves a substantial trade bonus. Of course, a trade could be agreed to in principle, with the actual consummation of that trade not going through until following the July Moratorium. More on that below.
Houston will be without its own first round pick (30th overall), which was sent to the Los Angeles Clippers in the big trade for Paul last summer. They are also without their second round pick (the 60th and final pick of the draft), which was sent to the Philadelphia 76ers in a trade for Shawn Long's non-guaranteed contract (one of many such trades the Rockets made last June in an attempt to exploit a loophole in the new CBA, which grandfathered in the ability to use pre-existing non-guaranteed contracts as salary filler in trades). The Rockets currently possess all of their own future first round picks (starting in 2019) and all of their own second rounders (starting in 2020).
As for the draft pick Houston does hold, the Rockets could go in a number of directions. They could elect to use the pick on a player to add to their 15-man roster for next season.  However, this is a veteran team in "win-now" mode, so adding rookies to the 15-man roster may not be ideal. Also, last year's second round pick, Isaiah Hartenstein, agreed to play last season for the Rio Grande Valley Vipers on a G-League contract (for far less than he could have made playing in Europe), so it is possible that Hartenstein may be given a shot at one of those 15 roster spots. They could instead use that pick on an international draft prospect to stash overseas for a year or two. Perhaps the Rockets decide to select a player who has agreed before the draft to sign a two-way contract for next season (a tactic employed by several teams last year), even if that player is not the best talent available at 46. The Rockets could also look to move up in the draft – something they often try to do – although don't expect them to move up very far.
Although Houston still has $5.1 million in cash to spend in trades, don't expect Rockets owner Tilman Fertitta to open his pocketbook significantly on draft night.  As was the case last year, that cash may be earmarked for a possible series of big trades in late June.  Houston might use a portion of that cash to dump a small salary like Onuaku's, although the team may prefer to keep his salary on the books until all major trade scenarios – some of which may require his salary as filler – are exhausted. More likely, Fertitta may just hold onto that cash, given the massive luxury tax bill that awaits him after next season.
Internal Free Agent Decisions
Perhaps more so than in any other offseason in recent memory, the decisions relating to Houston's own free agents will have far and away the largest impact on the Rockets' offseason.
Chris Paul: When Paul chose to exercise his $24.6 million player option last summer in order to facilitate his move to the Rockets, he turned down the chance to make as much as four years, $149 million as a free agent (or possibly as much as five years, $201 million with the Clippers). There were likely several teams out there willing to give Paul such a contract. The Rockets and Paul may have had an "understanding" that he would be made whole the following summer. The question is, what would that mean? Is Houston going to offer Paul a max contract that would pay him $158 million over four years (or $205 million over five years)? Was the enticement of championship contention – not to mention no state income taxes – enough to get Paul to lower his long-term asking price? Another complicating factor here is that Paul is still the President of the National Basketball Players Association, so he may not want to set a "bad example" by give the Rockets any sort of discount. This one is going to be very interesting and could impact other moves the Rockets make over the next several years.
Clint Capela: Few players did more to improve their free agent stock than Capela this past season. At the start of the season, he was a promising young big who might get a decent contract but would probably be a victim of an over-saturated free agent center market. But now, after a great regular season and an even better playoff run, Capela might just be the top free agent center on the market. As a restricted free agent, the Rockets will have the right to match any offer for Capela. Capela could command an offer sheet as large as four years, over $108 million. While that is a rather steep price to pay, Capela is an ideal center for the Rockets' system on both ends, and there is no way to replace him with a comparable player if they do not match. While few teams will have the cap room available to offer Capela a huge deal, two teams to watch out for are the Phoenix Suns and the Dallas Mavericks. Here's hoping the Suns and Mavs each select centers in the top 5 picks of the upcoming draft (which features several terrific center prospects like DeAndre Ayton and Mo Bamba), making it less prudent for them to sign yet another young center to a max (or near-max) long-term deal. Another option is for the Rockets and Capela to work out a long-term deal before July 1, thereby avoiding the risks of restricted free agency for both parties.
Trevor Ariza: Ariza is the glue that has held the Houston Rockets together for the past four seasons. He has been the quintessential "3-and-D" guy, typically guarding the opponent's best perimeter player or mobile big. Every NBA team needs a player like Ariza. The Rockets will be tested this summer on the value they place on a soon-to-be 33-year-old small forward whose defensive skills have been slowly diminishing. Ariza also happens to be very close friends with both Harden and Paul, so there are relationship issues in play here as well. Ariza's value on the open market is uncertain. Given his age and the scarcity of teams with the cap room to spend on role players (even really good ones), it is not clear whether Ariza could command much more than the Non-Taxpayer MLE elsewhere, though he might be able to get more (annually) on a shorter-term deal. Plus, as with Capela, the Rockets' inability to adequately replace Ariza if he leaves may force the Rockets to overpay him.
Luc Mbah a Moute: Mbah a Moute was an absolute steal in free agency last summer for Houston, who landed him for the veteran's minimum salary. Unfortunately for the Rockets, they only have Non-Bird rights to him, meaning that the most they can offer Luc (without using cap room or another salary cap exception) is 120% of the veteran's minimum salary for next season. The estimated veteran's minimum salary next season for a player with ten or more seasons of experience is about $2.37 million, so 120% of that would be about $2.85 million. But given his performance this past season (ill-timed shoulder injury aside), Luc might command well in excess of that in free agency. The Rockets might need to throw most or all of the Taxpayer MLE at Luc in order to keep him. Houston will be hoping to convince Mbah a Moute to take less to remain a valuable piece of a contender.
Gerald Green: Green was one of the feel-good stories of the entire 2017-18 NBA season. Mere days away from retiring after "sitting on a couch" for several weeks (I'm guessing he did other stuff, but they only seem to report about his couch-related activities), Green went quickly from emergency wing depth to rotation player and eventually to invaluable seventh man in the Western Conference Finals. A proud Houston native (as evidenced by his pre-game attire and his fantastic hairdos), Green was one of the fan favorites this season. As with Mbah a Moute, the Rockets only have Non-Bird rights to Green. However, given his issues with defensive consistency (something that has plagued him his entire career), it is unlikely that Green will have the same market that Mbah a Moute will in free agency. While the Rockets will likely try to bring Green back, they may balk at offering more than the veteran's minimum. (On the subject of offering veteran's minimum deals, Houston will be hesitant to offer two-year deals, since the league will pick up the amount above the two-year vet minimum salary – estimated at $1.5 million – on one-year deals only. That difference paid by the league is also excluded for salary cap and luxury tax purposes, so the relative value of a one-year deal is greatly magnified when facing an enormous tax bill.)
Joe Johnson: Johnson was added late in the regular season after being bought out of the last year of his prior contract. Expected to provide valuable bench scoring, Johnson was rather disappointing in his stint with the Rockets. "Iso Joe" was simply too slow to effectively run the switch-everything defense that propelled Houston to the Western Conference Finals. Just like with both Mbah a Moute and Green, the Rockets only have Non-Bird rights for Johnson. If he is brought back at all, it is unlikely he will be offered more than a one-year veteran's minimum deal.
Tarik Black: Black had a disappointing season in Houston. There were flashes of the defensive fundamentals that had allowed him to stick in the NBA, but Black was far too foul-prone whenever he got extended minutes. Between his overall performance and Houston's glut of backup centers on the roster, it is unlikely Black will be on the Rockets next season. However, that doesn't necessarily mean that the Rockets will not re-sign him. While Houston only has Non-Bird rights to Black, his decent-sized prior salary make him an intriguing sign-and-trade candidate if the Rockets need salary filler in trades. Black could be re-signed to a three-year deal (only the first year of which must be guaranteed) starting as high as $3.95 million. That could be the difference in accomplishing a major blockbuster trade.
Markel Brown: As noted above, it is unlikely that Brown will return on an NBA contract. He remains a possibility to return on a two-way contract, although it seems more likely that the Rockets will explore other options for that two-way roster spot.
Sergio Llull: You had to know I'd drop a Llull reference at some point during this thing, didn't you?! While not technically a free agent (since the Rockets hold his exclusive NBA rights), Llull – a 6-3 combo guard and the 2017 EuroLeague MVP – remains an intriguing internal option in the Rockets' long-term roster building plans. Llull's team (Real Madrid) just won yet another EuroLeague title recently, and he has nothing left to prove playing in the world's second best basketball league. While it is highly doubtful Llull finally comes over to Houston this summer (there are neither the dollars nor playing time available on this particular roster to entice him to leave his personal paradise in Madrid, plus he's fresh off an ACL tear that cost him nearly the entire 2017-18 season), he remains an option in 2019 or, more likely, 2020. In the alternative, Llull's draft rights probably still have trade value – perhaps being worth about a high second rounder – and may need to be surrendered in one of the Rockets' bigger moves this summer.
#Pursuit of Outside "Free Agents"
In his end-of-season press conference the other day, Morey noted, "We're going to have the pick of the free agents out there, whether they be the high-end ones or whether they be the Luc Mbah a Moutes and Gerald Greens of this year." When pressed to explain how adding a high-end free agent would be possible in light of his declaration that the Rockets hoped to bring back all their own key free agents, Morey played coy and jokingly referenced "new math" that would make it happen.
Well, let's take a look at that new math.
With little (and most likely no) salary cap room available, and with any sign-and-trade of a free agent to Houston imposing a hard cap that would make it difficult to keep the team's core together, it seems that the most plausible way of adding a high-end "free agent" is for the Rockets to acquire that player via trade before he ever even becomes a free agent.
The Rockets and Chris Paul shocked the NBA world on June 28, 2017, when Paul surprisingly picked up his player option –avoiding free agency altogether – and accepted a trade to Houston.  This "opt-in-and-trade" avenue now seems much more obvious in hindsight. Let's take a quick look at a couple of high-end players who can either hit unrestricted free agency this summer or pick up the player option on their existing contract: LeBron James and Paul George.
Bring In the King
The Rockets would do just about anything to acquire The World's Greatest Basketball Player.
Even as he is playing in his eighth consecutive NBA Finals (and fourth consecutive Finals with the Cleveland Cavaliers), there is a very real concern in Cleveland that LeBron will leave the Cavs (again) this summer. If he picks Houston as his preferred destination, Morey and the Rockets will move mountains to try to make it happen. The last time LeBron left Cleveland (in 2010, when he embarrassed himself and the entire City of Cleveland on an ill-advised televised special), the Cavs nevertheless agreed to sign-and-trade him to Miami in order to salvage something from the loss of their star. The Rockets will be hoping the Cavs are similarly inclined this time around, especially after LeBron brought a championship to Cleveland during his latest stint with them. Interestingly, based on current cap projections, LeBron can actually make slightly more in 2018-19 by opting into the final year of his deal with the Cavs (at $35.61 million) than the largest starting salary he could get in free agency ($35.35 million).
Any trade for LeBron will need to include Anderson or Gordon, possibly both. (For those trying to add up salaries, the Rockets will need to send out at least $26,548,568 if they consummate a trade prior to July 1, or at least $28,406,375 if they make a trade after July 1.) If Anderson is not included, then any trade will need to include Gordon, Tucker and a whole bunch of smaller salaries. If Anderson is included, he (along with potentially significant assets) may need to be sent to a third team. Gordon could possibly headline the package going to the Cavs.
Further complicating matters is that Cleveland recently traded for George Hill and Jordan Clarkson – two guards with large 2018-19 salaries – making Gordon less enticing as a player asset. The Cavs team salary is so high that they'll be well over the salary cap even if LeBron walks for nothing; but they also will not want to pay a bunch of luxury tax for a LeBron-less team. The Rockets could possibly find yet another team to take on Gordon in exchange for (less expensive) assets that can be sent to Cleveland, but trades are much more likely to fall apart the more teams get added to the mix.
For those into pipedreams, there is a scenario in which the Rockets could trade Anderson, Nene and non-rotation players (possibly including a signed-and-traded Tarik Black) for LeBron, without having to give up any of Houston's key rotation pieces. But the amount of future draft assets it would take to pull off such a trade is nearly unfathomable. Without fathom.
Getting all the stars to align to bring LeBron to Houston will be an extremely difficult task, one that is not very likely (despite what the Vegas odds-makers may speculate).  But that won't stop the Rockets from trying like hell to make it happen.
A PG-13 Feature?
While not quite the caliber of superstar that LeBron is, George represents the ideal wing to play alongside Harden and Paul: a souped-up combination of Gordon's offense and Ariza's defense. He is also still only 28 years old.
An opt-in-and-trade for George would involve at least two fairly large obstacles. First, the option year on George's current deal pays him only $20.7 million, a far cry from the $30.3 million starting salary he could command as a free agent. Would George make the same sacrifice that Paul made last season in order to play on a legit contender (rather than with his hometown Los Angeles Lakers, who will certainly offer him the max)? Second, any trade for George would need to involve the cooperation of the Oklahoma City Thunder. The last time the Thunder and Rockets made a big trade, the Thunder didn't exactly come out of it smelling like roses. Will Sam Presti and company be willing to trade one of their top two players to a Western Conference rival?
A trade for George would almost certainly start with Gordon. His salary is close enough to George's that only a little filler (a couple of minimum guys) would be necessary to match salaries. If George is truly ready to bolt for the Lakers – which would leave OKC with nothing – perhaps the Thunder would view Gordon as an adequate consolation prize who can contribute to their ongoing quest to revive their Western Conference relevancy.
#Pursuit of Outside (Actual) Free Agents
The best signifier of whether Morey's free agency comments prove prescient will probably be how they use the Taxpayer MLE.
With an estimated maximum starting salary of $5.29 million and topping out at three years, just under $16.7 million, the Taxpayer MLE hardly represents the type of payday that most really good free agents covet. However, there are some veterans – many of whom have already gotten at least one big payday – who will take less in order to contend for a title.
The allure of a rotation spot on a title contender may also draw several potential "MLE-caliber" free agents to Houston as vet minimum signings, just as Mbah a Moute and (later) Johnson were drawn to the Rockets.
I will leave it to others (or at least won't cover it here) as to which particular (non-star) free agents the Rockets will seek out. Besides, this article is pretty damn long already! Maybe in the next article…
Luxury Tax Galore!
If Houston only brings back its core guys (Paul and Capela, in particular) – let alone adding more salary via trades or outside free agency – the Rockets' team salary is going to drastically increase. Fertitta will have to cut a massive check to the league office after next season (and likely beyond) in order for Houston to field a contending roster going forward.
The luxury tax – an attempt by the league to promote parity – is a punitive penalty imposed against teams whose payrolls exceed the salary cap by a certain amount. The luxury tax threshold for 2018-19 is currently estimated at $123 million. The luxury tax rate starts at 150% and escalates with each additional $5 million in team salary above the tax threshold.
Using an illustration employed by Clutch here, if Paul gets a max contract, Capela gets a max offer sheet that Houston matches, Ariza gets a deal starting at $10 million, Mbah a Moute gets the full Taxpayer MLE and the rest of the roster is filled out with vet minimum salaries, the Houston Rockets' team payroll could be as high as $285 million, including about $124 million in luxury tax! The highest marginal luxury tax rate for that roster would be 525%!
While this illustration is a bit extreme, it is quite likely that the Rockets will find themselves in a less-pronounced version of this situation. It is also why – absent a major trade that requires significant matching salary – Houston may look to dump Anderson's salary this summer, even if it costs the team some significant assets to do so. The Rockets may have to use most or all of their 2018-19 cash allotment (an estimated $5.2 million) as part of such a salary dump. That cash could instead be employed to a lesser extent to dump some smaller salaries (such an Onuaku's).
Another option for the Rockets is to waive Anderson and stretch his salary over several seasons, but this is a very unpalatable option and should be explored only as a last resort. If Anderson is waived and his salary stretched prior to September 1, his salary would be a dead cap hit of approximately $8.34 million . . . for each of the next five seasons. While such a move would save Fertitta a lot of money over the next two seasons, it could have extremely negative consequences for the team once this roster is ready to be turned over and cap room is needed. Even if Anderson agrees to a buyout, or even with the potential for setoff (if Anderson signs with another team in the next two years), that dead cap hit is unlikely to be reduced by much. It would be foolish to expect Anderson to give back much money in a buyout arrangement; and it would be surprising if he received a very lucrative contract from another team in a bad free agent market this summer.
Regardless of what the Rockets do next season to mitigate their luxury tax woes, they will likely need to do something before or during the 2019-20 season, when Harden's Designated Veteran Player Extension (signed last summer) finally kicks in. Next summer, Harden's salary will soar to $37.8 million, causing Houston's luxury tax bill to skyrocket (pun very much intended).
It could be worse, though. Fortunately, by avoiding the luxury tax in 2017-18, the Rockets would not be subject to the "repeater tax" (an additional 100% tax on top of each marginal luxury tax bracket) until the 2021-22 season at the earliest.
Conclusion
After a remarkable season in which the Houston Rockets fell just short of an NBA title, the task at hand for the franchise is clear: try to keep this core together while also seeking improvement via trades and free agency. Whether an improvement as drastic as a LeBron or George is realized, only time will tell. But even absent such an acquisition, there is room for improvement as the Rockets run it back for another championship gambit.
It's just going to cost Tilman Fertitta a heck of a lot of money to do so.
Heavy investment in Kevin Porter Jr raises serious questions about Rockets front office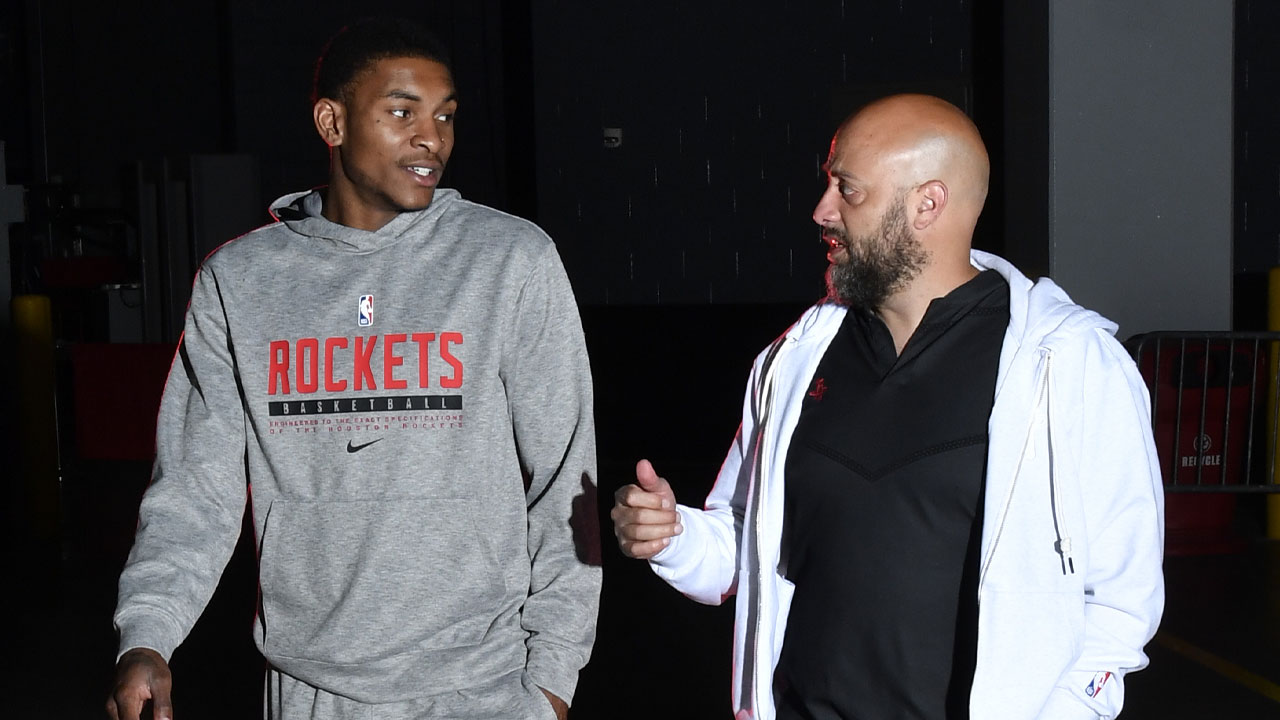 Soon-to-be-ex Rockets guard Kevin Porter Jr was arrested last week for allegedly assaulting his girlfriend, resulting in a fractured neck vertebra and a deep gash above her right eye after an attack at a hotel in New York. He allegedly woke her up by punching her repeatedly, strangled her and did not stop hitting her until she ran out of the hotel room screaming for help and covered in blood.
"This is a serious domestic violence case," said assistant Manhattan district attorney Mirah Curzer.
First and foremost, I wish the victim healing. I don't know what to say about the nightmare she went through. She and her family will forever be impacted. As for KPJ, if this is true, he doesn't belong on the Rockets or in the NBA at all. He belongs in jail.
Secondly, this can't be overlooked and just swept under the rug: Why did the Houston Rockets bank on and invest so heavily in this guy?
Kevin Porter Jr. being accused of crimes of this severity should not be shocking – at all. Before he even came to the Rockets, he had a long list of serious problems. He was suspended multiple times in high school. In 2019, he had a "conduct issue" significant enough that USC suspended the 5-star recruit indefinitely. He fell to the end of the first round of the 2019 NBA Draft because of his behavior liability. He was accused of punching a woman in the face in Cleveland. He also had a gun and marijuana charge later dismissed after getting into a car crash. He went into a tirade and got into a nasty confrontation with both the Cleveland coach and GM, resulting in the Cavs severing ties immediately and dumping him to the Rockets for nothing.
You could make the argument that initially giving Porter Jr. a second chance in Houston was praiseworthy, but the Rockets experienced KPJ's anger management and immaturity issues firsthand on several occasions.
Former Rocket Austin Rivers said this week that this isn't the first, second or even seventh issue with Porter Jr. and that Rockets "higher-ups" confided in him that they had no idea how to handle him.
"I remember talking to guys in the Houston Rockets organization, higher-ups, [and] they were having issues then," said Rivers. "They were like, 'We don't know what to do with him.' And that's when he just got there from Cleveland!"
Porter Jr. was routinely a nightmare for Rockets coaches to deal with. On several occasions, he confronted and cussed out members of the coaching staff, saying they didn't have the "credentials", per source, a reference to the fact that him playing heavy minutes at point guard was a decision they did not control.
Once at a night out, Porter Jr. had a disagreement with a DJ over music choice and he snapped, smashing the DJ's laptop to the floor. He needed to be restrained and removed. Rockets personnel and several of Porter's teammates witnessed the incident.
Curzer also dropped a bombshell at the arraignment in saying that Porter Jr. has a history of abusing his girlfriend, who he had only been dating since early last year, his second season with the Rockets. Curzer specifically cited an incident in which KPJ allegedly rammed his car into hers.
There were dozens of maturity issues visible on the court to anyone paying attention. He refused to check out of games. He got into an argument on the bench with assistant Lionel Hollins. On numerous occasions, he would visibly shut down when he wasn't passed the ball. I invite you to watch this video from a game against Memphis on March 20, 2022. Just listen to the Grizzlies broadcasters, particularly starting at the 1:40 mark, talk about what they are witnessing here:


Privately, people around the league would say they were baffled by the Rockets continued fascination with Porter Jr. Nobody could understand it.
That fascination starts with Rockets general manager Rafael Stone, who by every account over the last two years was the driving force behind the investment in Porter Jr. It has been no secret. Trading for him in January 2021 was seen by some with the team as his "Harden acquisition", code for a signature move that makes an executive's career, much in the way landing James Harden did for Daryl Morey in 2012.
For example, former Rockets head coach Stephen Silas never considered Porter Jr. to be a point guard, per sources — playing him there was a Stone mandate because the GM believed that is where his future lied.
John Wall also told us as much publicly when he explained the phone call he got from Silas about coming off the bench. He said Silas told him "This is what the GM wants," adding again that Silas said, "Man, you don't deserve that. You should be the starter. This is just what they want to do." Wall was upset because he believed KPJ should have to earn the spot.
"I have a hard time finding anybody outside of the Rockets front office that believes that Kevin Porter Jr. is a starting point guard in the NBA," said ESPN reporter Tim MacMahon in December.
There were plenty of warning signs about KPJ to the public too.
After Porter Jr. got into a heated argument in which KPJ "physically shoved" Rockets assistant coach John Lucas and quit on the team in the middle of a game against Denver in January of 2022, leaving the arena at halftime, Sports Illustrated's Chris Mannix famously wrote that the Rockets should "Cut Porter Jr. Waive him. Release him. Whatever. Eat what's left of the $1.8 million he's owed this season and the $3.2 million he's got next and move on." It became a source of mockery for Porter Jr's fans, a line they would bring up after each game he hit a few threes or handed out some assists.
In February of this year, ESPN's Jonathan Givony, one of the most connected reporters in the league, flat out warned us that he was hearing awful things about the Rockets culture and locker room. He was blunt in what the Rockets needed to do — waive Kevin Porter Jr. outright and bring in a new coach and GM.
"Just cut him. That's it," said Givony of Porter Jr. "And you're sending a signal to the league that we're going to do things differently from here on out."
"When you talk to people around the NBA about Houston, you just don't hear good things about their culture, about that locker room. You talk to people that are on that team, and they are like, 'We are a mess'," said Givony. "Do people want to work with this organization? But you can change that fairly quickly if you come in, get rid of the bad apples and you change the coaching staff, and all of a sudden, you're Houston. It's the third-biggest city in America. There's a history here of you actually being good."
Porter came to the Rockets for "free" (in exchange for a top-55 protected second-round pick, which was designed not to convey), but he proved far from it as the Rockets continued to pour investment into him. Over the last 2-3 seasons, no Rockets player got more developmental capital than Porter Jr. – not Jalen Green, not Alperen Sengun, not Jabari Smith Jr. The Fertittas paid John Wall $85+ million over two years to sit at home so the team could groom Porter Jr. to be their future point guard.
Then they doubled down. With restricted free agency on the horizon and a seemingly non-existent market for KPJ's services, the Rockets gave Porter Jr. an extension a year sooner – a contract that was presented as a four-year, $82.5 million deal. The deal was more team-friendly than that, putting team options in it after years 1 and 3. Going from the potential disaster that was initially reported to a deal they could escape after one season felt like a "win", but the biggest question was why they wanted him long-term at all. The unprecedented nature of a contract that size with that kind of club control clearly showed the Rockets knew there was unique and significant risk here.
After KPJ signed the extension, The Athletic's Kelly Iko summarized the Rockets view of Porter Jr. – "As has been [their] stance for months, the Rockets have maintained the notion that Porter is a priority and is considered a huge part of their core, along with Green and Jabari Smith Jr."
The Rockets actions to kick off the 2022-23 season showed exactly that – that he was a priority. They benched Sengun to start the season, in large part to give KPJ a "lob threat" and defender in the starting lineup. They gave him the superstar "Harden Locker". They introduced him last in the starting lineups. They treated him as the star and empowered him to be the self-proclaimed "Head Honcho" of Clutch City.
But the extension proved unwise and foolish. Porter Jr. never even made it to the first year of it. With over $80 million on the line, he snapped again. The Rockets signed him to one of the team-friendliest deals ever and still managed to both overcommit and overpay as Stone now scrambles to attach real assets to it to get another team to take it off his books.
Is it fair to question the judgment of the Rockets front office? Absolutely and without question. Whether you look at their ability to value character, evaluate risk, scout basketball, build culture, manage assets or allocate development resources, they failed at every level here. Why didn't they act sooner? Why did they double down? Why didn't they hold him accountable? Why did everybody in the league see it but them?
"We value the player and the person that [Kevin Porter Jr.] is becoming and are eager to invest in him and his journey," said Stone after rewarding him with the extension less than a year ago.
The question you have to ask yourself now is, with all they knew and witnessed about Porter Jr. both on and off the court — why were they eager at all?