Houston Rockets agree to five-year extension with Daryl Morey
Shortly after an online rumor was posted of team ownership cutting costs, the Rockets and their general manager agreed to a five-year extension.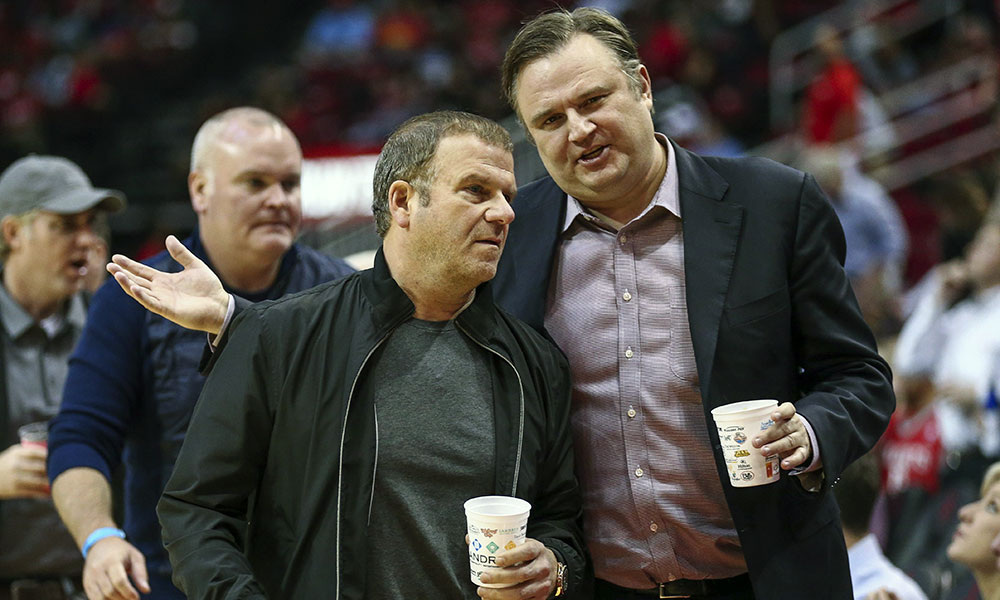 According to Jonathan Feigen of the Houston Chronicle, The Houston Rockets and general manager Daryl Morey have agreed to a five year extension.
The news came at a convenient time, with NBA Radio host Brian Geltzeiler tweeting out less than an hour earlier that Rockets owner Tilman Fertitta was "feverishly" cutting costs within the organization:
Hearing from league sources that Houston Rockets owner Tillman Fertitta is feverishly cutting costs in all facets of the Rockets operation. All departments have been instructed to drastically slash their budgets

— Brian Geltzeiler (@BGeltzNBA) March 13, 2019
That report was quickly disputed by ClutchFans owner Dave Hardisty. Citing two sources, Hardisty reported that the organization is denying Geltzeiler's report. Mr. Fertitta himself pushed back on the report in the most 2019 way possible…on twitter.
Your an absolute fraud. Show me one item or person that has been touched.

— Tilman Fertitta (@TilmanJFertitta) March 13, 2019
It seems unlikely that Daryl Morey would sign an extension with a team that wasn't willing to do what was necessary to be competitive. That is good news for Rockets fans who should feel reassured about the future of the franchise.
The 2018-19 season marks Daryl Morey's 12th year as the general manager of the Rockets after serving one season as an assistant under Carrol Dawson. Morey's time as GM can only be described as successful. Inheriting the reigns of an organization that had not been out of the first round of the playoffs in 10 years, the Rockets have made the Western Conference Finals twice in the last five seasons. The theme of Morey's time with the Rockets has been his constant effort to improve the roster while maintaining flexibility. This has driven the Rockets to be one of the most active teams in trades in the NBA, much to the delight of fans on twitter and ClutchFans!
Perhaps the most impressive part of Morey's time as GM has been his ability to keep the team competitive while transitioning between eras. Quickly after becoming the GM, Morey was forced to pivot when the Yao/McGrady era ended with injuries derailing the careers of his two superstars. While most teams go through extended rebuilds, Morey's Rockets quickly retooled the roster without losing. After three years of competitive, but ultimately unimpressive rosters, Morey made his career defining move by acquiring James Harden prior to the 2012-13 NBA season. Since then the Rockets have built two Western Conference Finals teams around James, once with Dwight Howard and another with Chris Paul.
Daryl Morey has built one of the most competitive teams in the NBA here in Houston. He has done so despite inheriting a team with limited cap room and draft assets and without ever tearing the team down to tank. He has faced criticism along the way, particularly of his preferred brand of basketball, but there can be no question that Moreyball has proven successful in the NBA. Today the Rockets organization has once again shown faith and commitment in one of the most innovative general managers in recent memory.
Three predictions for an important Rockets offseason
The 2023 offseason is critical for the Houston Rockets and here's what we think will happen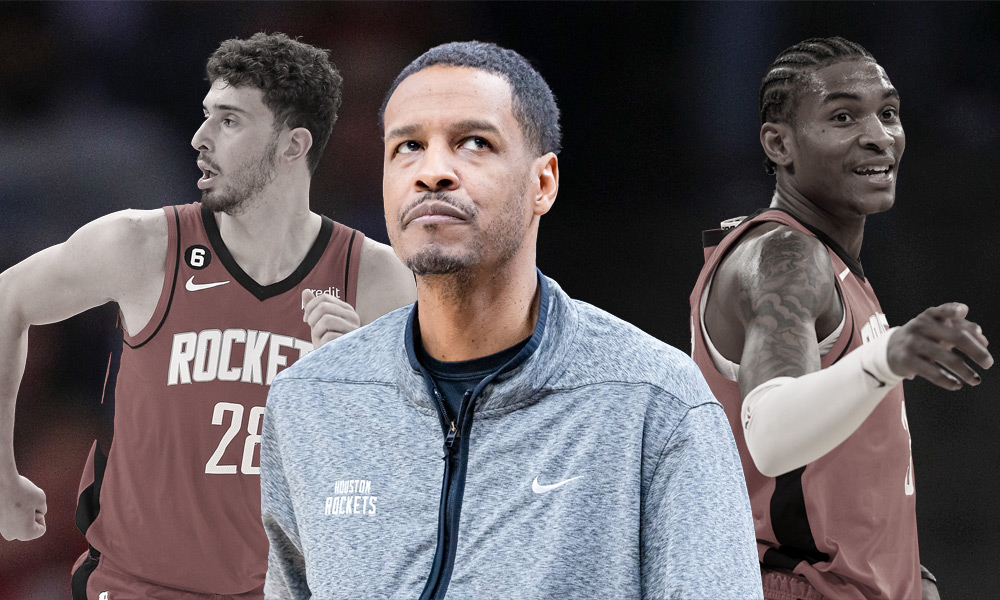 We have almost arrived to the oasis.
For over two years, the "2023 Offseason" has been circled on the calendar as the turning point, the time when the Houston Rockets will switch gears and make winning a priority. With potentially $60 million in cap room and a top draft pick coming, this is the moment of truth that Rafael Stone and the Rockets front office pitched to the Fertittas when the rebuild began.
Does that mean the Rockets are going to magically start winning next season? Not necessarily. But it does mean we won't see Daishen Nix run the point for 36 minutes in the name of player development. They want to win.
It's very tough to know what will happen this offseason, given the unknown variables. The Rockets could land a top-two pick, which would bring them Victor Wembanyama or Scoot Henderson, radically boosting their future. James Harden could opt to return, which also significantly boosts their near-term prospects.
But regardless of whether or not luck presents a "lifeboat" (Harden, Wemby, Scoot), here are some things I believe will happen.
Also, if you have been joining us in RocketsWatch all season, first of all, thank you! We greatly appreciate all the fan support this season. But if you've stuck around through a tough season, you know that none of this will come as a surprise. I have been talking about these predictions since January.
1. Rockets, Stephen Silas Will Part Ways
Stephen Silas is going to be let go this offseason.
The original plan was for Silas to coach this season and start the next, getting a shot once the Rockets were making winning their top priority. But the bar was low this season and he still fell short. There were several times where the team needed a stronger hand and it wasn't there. The roster wasn't built to win, but there is no argument to be made that coaching did anything to enhance the situation.
It's important to point out that Silas got a raw deal, coming to Houston under different circumstances expecting to coach a veteran team. But this is the hand that was dealt and the Rockets have to play it. Silas may be a fine coach, but he's not the right coach for this team and that's all that matters at this stage.
Ownership was ready to move on by midseason, but a variety of factors have led to him finishing the year. But this is going to be it. They sorely need fresh eyes and a different voice.
Confidence Level: 100%
2. The Kevin Porter Jr. Starting Point Guard Experiment Will End
The Rockets got Kevin Porter Jr. for free from the Cleveland Cavaliers in 2021, but he's been anything but since.
Houston paid nearly $100 million to John Wall to stay at home so they could groom KPJ as their future point guard. They also signed Porter Jr to a team-friendly four-year deal despite the fact that a much more team-friendly restricted free agency was on deck.
Porter Jr. has gotten better and more comfortable at the lead guard spot in two-plus seasons, which could bode well for his future here, but it's not near enough. He lacks ability to make advanced reads, which is one of the reasons the Rockets are dead last in corner three-point attempts. His tendency is to isolate, which is his strength, and that can create a lot of selfish basketball. In essence, the Rockets have been starting a pair of shooting guards.
The Rockets love them some KPJ, particularly Stone, so I'm not saying he's done here. He could thrive in an alternate role, if he embraces it. But the Rockets want to make a leap next season, the first year they are on the hook to Oklahoma City for their first-round pick from the costly Russell Westbrook trade. You're probably not going to make a bigger jump than by improving the on-court leader spot.
Confidence Level: 80%
3. Alperen Şengün Will Be Shopped
You either believe Alperen Sengun is the next Nikola Jokic or he's a defensive liability that is too much trouble to build around. There doesn't seem to be much in between.
Sengun is incredibly gifted offensively and is only 20 years old, so it's very early. This is also the biggest offseason of his young career, where he won't be preparing for EuroBasket and can specifically train for the NBA.
There is no evidence at all they are looking to trade him. I'm very much going rogue with this prediction. But consider:
1. Internally he has been viewed as possibly the worst pick-and-roll defensive big in the league.
2. They started Bruno Fernando over him to open the season.
3. They rarely run the offense through him ("ŞenHub").
4. The Rockets are not well-positioned with future draft picks to trade and likely need to move a good young player if they're looking at any significant deals.
5. They believe bringing in a center is a high priority (though that could be as a backup to Sengun).
To be clear, I'm not predicting Sengun will be dumped but rather we will hear his name floated in rumors. A lot could change — a new coach could see Alpi as key to the future, for example — but right now, given all the factors listed above, I would be surprised if Sengun is the centerpiece of this rebuild. I think he's more likely the trade piece.
https://twitter.com/RocketsWatch/status/1627944952498950147?s=20
Confidence Level: 60%