Houston Rockets Salary Cap Update: 2021 Post-Draft Edition
Breaking down the Houston Rockets complete salary cap situation as they finish the draft and head towards free agency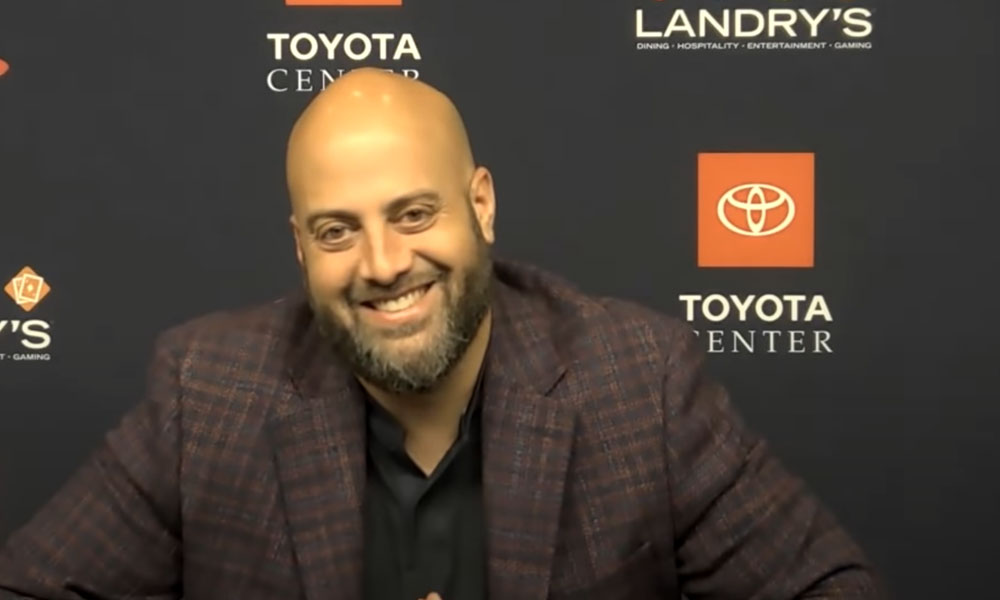 Well, … it's been a while.
Since my last Salary Cap Update, the Houston Rockets re-structured their team (and mortgaged part of their future) for Russell Westbrook and then – after a one-year failed experiment – blew it all up by trading Westbrook, P.J. Tucker and franchise cornerstone James Harden.
What was left was a hodgepodge of veterans and a few intriguing young players that stumbled to the league's worst record in 2020-21 (17-55). But with a little lottery luck, the Rockets dodged a potentially disastrous pick swap with the Oklahoma City Thunder and landed the #2 overall pick in the 2021 NBA Draft.
On Thursday night, Houston drafted Jalen Green (#2), Alperen Sengun (#16), Usman Garuba (#23) and Josh Christopher (#24). The whopping FOUR first round picks were largely the product of a series of trades negotiated by Rockets GM Rafael Stone and his front office.
So, with the draft now over, let's take a look at the Rockets' cap situation heading into free agency.
Player Salary, Exceptions and Available Cap Room
The Houston Rockets currently have the following player salary commitments, cap holds and salary cap exceptions available for the 2020-21 season (assuming that the league's current projection of a $112.4 million salary cap is accurate and that the rookies all get 120% of their rookie scale salaries):
Player salary commitments: John Wall ($44.3 million), Eric Gordon (18.2 million), Christian Wood ($13.7 million), Green ($9.0 million), D.J. Augustin ($7.0 million), Danuel House ($3.9 million), Sengun ($3.2 million), Garuba ($2.4 million), Christopher ($2.3 million), Kevin Porter, Jr. ($1.8 million), Khyri Thomas ($1.8 million, non-guaranteed), Jae'Sean Tate ($1.5 million, non-guaranteed), K.J. Martin ($1.5 million, expected to be guaranteed shortly after this publishes) and the long-since-waived Troy Williams ($122,741, like clockwork).
Cap holds: Kelly Olynyk ($18.9 million – Rockets hold full Bird rights), Dante Exum ($18.2 million – Rockets hold full Bird rights), D.J. Wilson (potential restricted free agent; $13.6 million – Rockets hold full Bird rights), Avery Bradley ($5.9 million team option; $11.2 million cap hold if option is not exercised – Rockets hold Early Bird rights), David Nwaba ($1.7 million – Rockets hold Early Bird rights), Sterling Brown ($1.7 million – Rockets only have Non-Bird rights), Armoni Brooks (potential restricted free agent; $1.5 million – coming off a two-way contract) and Anthony Lamb (potential restricted free agent – coming off a two-way contract).
Other Salary Cap Exceptions: If Houston operates over the salary cap this summer (extremely likely), the Rockets will have access to the Non-Taxpayer Mid-Level Exception (NT-MLE, expected to be around $9.5 million, the use of which would impose a hard cap at the "apron" level – currently projected at about $136.6 million). Although it would also impose a hard cap at the apron level, Houston could possibly use the Bi-Annual Exception (BAE, expected to be around $3.7 million), since they did not use it last summer. In the unlikely event that the Rockets use cap room this summer, they could instead have the Room Exception of around $4.9 million at their disposal. Assuming they operate over the salary cap, the Rockets will also have a few traded player exceptions (TPEs) left over from earlier trades, most notably for $8.2 million (from the Victor Oladipo trade) and $5.0 million (left over from the Harden trade).
Given their salary commitments, Bird rights to their free agents and additional cap exceptions available to them, the Rockets should operate over the cap for the 2021-22 season. Barring trades (or cheaping out on the rookie scale contracts), the Rockets could only create around $4 million in cap room in the alternative.
Preliminary Internal Decisions
Ahead of the NBA's free agent season, Stone and his team will need to address some internal matters.
Most immediately, Houston needs to decide whether to extend qualifying offers to its younger free agents. The largest qualifying offer would go to Wilson, but given the prohibitive amount ($6.4 million), it is unlikely they will give him one. They will still retain his Bird rights, however.
The Rockets can make each of Brooks and Lamb – coming off a two-way contract – a restricted free agent by extending him another two-way contract for next year (with $50,000 guaranteed) as a qualifying offer. Given their relative performances last season, it seems more likely that Brooks would receive a qualifying offer than Lamb.
The Rockets also need to decide whether to fully guarantee Martin's salary for the coming season. As noted above – and given his terrific play last season – this one is a no-brainer.
Lastly, the Rockets need to decide whether to exercise their team option on Bradley. Given his less-than-stellar play last season, that option will likely go unexercised.
Internal Free Agent Decisions
Houston will have some decisions to make with their own free agents heading into August, including how to prioritize which free agents to bring back.
Kelly Olynyk: Olynyk shocked most Rockets fans when he played at a near All-Star caliber level after arriving in the much-maligned Oladipo trade. He should be one of the more coveted free agent big men this summer. However, in today's NBA landscape, non-elite big men are not necessarily commanding top-dollar. If a playoff contender isn't offering Olynyk more than the NT-MLE, Houston may be able to retain him on a short-term (one- or two-year) deal at a premium. Figure something in the $12 million to $16 million range per season, possibly even more.
David Nwaba: In one of his final roster moves as Rockets GM, Daryl Morey (probably with input from Stone) signed a then-injured Nwaba to a two-year deal, likely envisioning the very scenario that the Rockets face now. Because he was signed to a two-year deal, Houston retains Early Bird rights to Nwaba and is able to offer him a multi-year deal in the $10 million per season range. While Nwaba played extremely well for the Rockets before injuries forced him to shut down his season, it is unlikely that he will command that much on the open market. Still, at least one smart GM of a playoff contender should make Nwaba a competitive offer this summer. And given the Rockets' recent glut of guards/wings, it appears less likely now that Houston will have room on the roster for Nwaba.
Sterling Brown: Brown ended up being a terrific value for the Rockets, playing on a one-year veteran's minimum deal. He shot the ball well from 3-point range and displayed some ballhandling and defensive skill. However, between the glut of guards on Houston's roster, the Rockets' lack of meaningful Bird rights and his obvious appeal to playoff teams as a nice bench addition, it seems likely that Brown will not return. Expect Brown to get offers in excess of the veteran's minimum.
Avery Bradley: Bradley never found his shooting touch in Houston after coming over in the Oladipo trade. It is highly unlikely his team option will be picked up or that the Rockets will make him a serious offer in free agency. He is expected to latch on with a contender, perhaps on a veteran's minimum deal or for the BAE.
D.J. Wilson: While not expected to receive a qualifying offer, Wilson did show some flashes of why the Milwaukee Bucks used a first-round pick on him four years ago. Depending on what other roster moves the Rockets make this summer, the door may be open for Wilson to return, albeit likely on a veteran's minimum deal.
Dante Exum: Much to this author's chagrin, Exum never played a minute for the Rockets after coming over as salary filler in the Harden trade. Once a highly-touted lottery pick, Exum has been ravaged by injuries in his career and relegated to being a defensive stopper on the perimeter rather than the star he was supposed to be. While he may still have enough intriguing skills to entice the Rockets to want him back, that prospect seems unlikely at this point.
Armoni Brooks and Anthony Lamb: As noted above, Brooks has a chance to receive a qualifying offer, while Lamb probably won't. Depending on their performance in summer league, one or both could receive a training camp invite in September. Their prospects remain cloudy.
Michael Frazier: Believe it or not, the Rockets still retain Frazier's free agent rights. Houston had to renounce all their other "old" free agent rights in order to complete the Tucker trade in a cap-favorable manner, but Frazier's cap hold was negligible and could be kept on the books. That said, don't expect him to make a triumphant return to Houston.
Issuf Sanon (a/k/a the Sergio Llull Memorial Draft Rights Held Spot): You didn't think this author would allow a Salary Cap Update to go by without a Llull reference, did you? While Llull's draft rights now sit with the New York Knicks, they received the draft rights to Sanon in that same trade. Admittedly, Sanon's game is fairly unremarkable, so his prospects of being a Houston Rocket are slim.
Outside Free Agents
Unlike in prior offseasons during the Harden Era, Houston is unlikely to be an attractive destination for many of the league's veteran free agents. With only the NT-MLE to offer, the Rockets won't be able to afford any of the top free agents, nor will they be able to compete with comparable offers from playoff contenders. Most likely, the best players to agree to sign in Houston would probably be on overpays, something that seems antithetical to the Rockets' current philosophy.
While it seemed likely a week ago that the Rockets would have at least one frontcourt opening to fill in free agency, the drafting of Sengun and Garuba – both of whom should receive frontcourt minutes next season along with Martin – and the fit of bringing back Olynyk (who is probably better than any outside free agent willing to sign in Houston this summer) now make it less likely that such a signing is needed. But for argument's sake, the Rockets could possibly have interest in a player like JaMychal Green if he can't come to terms with the Denver Nuggets on a new deal.
Like in recent years' past, it may be good practice for the Rockets to hold onto at least a portion of their NT-MLE in order to either play the buyout market or sign a young free agent to a multi-year deal (as they did with Thomas this past season).
This author will leave it to others (or at least won't cover it here) as to which particular free agents the Rockets will pursue this summer.
The Taxman Won't Cometh
With the trade of Harden also went any chance of Rockets owner Tilman Fertitta paying any luxury tax for the foreseeable future. Contrary to popular belief, this author is still convinced that Fertitta would have been willing to pay the tax had the Harden-Westbrook pairing been more successful in 2019-20. But alas, it was not and he did not.
Barring any trades or free agent signings, and assuming that Bradley's option is declined and the rookies get 120% of their rookie scale, the Houston Rockets should have around $25 million in room below the luxury tax threshold to spend next season. (Keep in mind, however, that the Rockets are still limited on what they can offer outside free agents in an outright signing to the NT-MLE amount.) But Houston already has 13 players on its roster, and with two-way players once again allowed to stay with their NBA teams all season, it is quite possible the Rockets will only carry 14 players on their 15-man roster for much of the season. If they re-sign Olynyk, that's 14 players.
One possible strategy for a team hoping to develop its young core with as many minutes as possible is to keep that 15th roster spot open for future trades, utilizing its TPEs to take on other teams' unwanted salary for the price of future draft picks.
While this article primarily focuses on the 2021 offseason, there is a chance that the Rockets could open up a massive amount of cap room in the summer of 2023, when Wall and Gordon come off the books. Hence, any dead money taken on in trades this summer should probably not extend beyond 2023. But 2023 plans are a topic for another article.
Conclusion
After blowing up a contender, the Houston Rockets now find themselves picking up the pieces. While they found a few pieces last season and just added up to four more (including Green, the biggest piece of all), there is still much work to do. Armed with cap exceptions, TPEs and a treasure trove of future picks, the Rockets should be able to further bolster their roster in the coming years to create another contender.
Until then, we wait.
Wait, and enjoy the ride.
Three predictions for an important Rockets offseason
The 2023 offseason is critical for the Houston Rockets and here's what we think will happen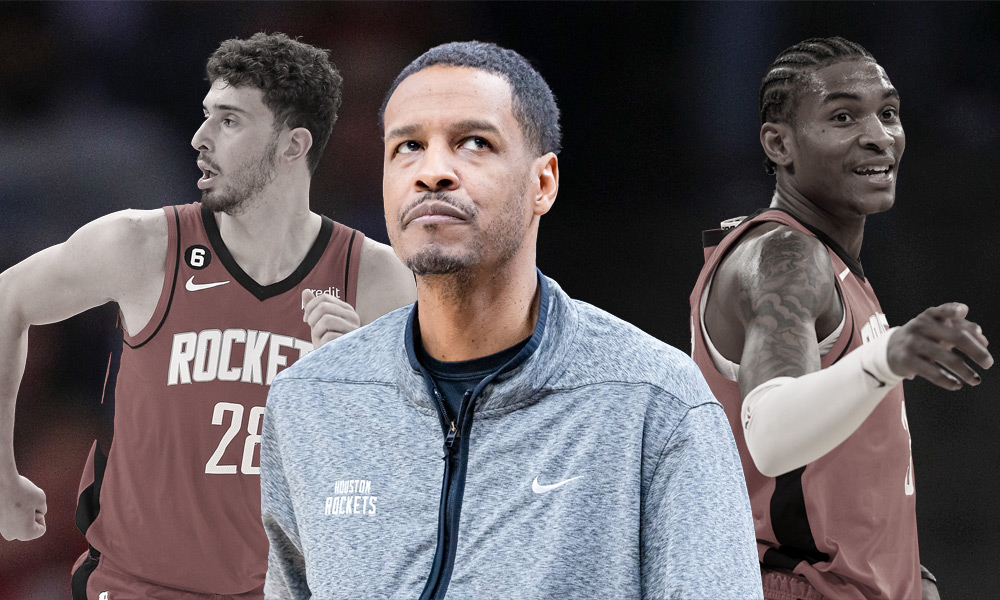 We have almost arrived to the oasis.
For over two years, the "2023 Offseason" has been circled on the calendar as the turning point, the time when the Houston Rockets will switch gears and make winning a priority. With potentially $60 million in cap room and a top draft pick coming, this is the moment of truth that Rafael Stone and the Rockets front office pitched to the Fertittas when the rebuild began.
Does that mean the Rockets are going to magically start winning next season? Not necessarily. But it does mean we won't see Daishen Nix run the point for 36 minutes in the name of player development. They want to win.
It's very tough to know what will happen this offseason, given the unknown variables. The Rockets could land a top-two pick, which would bring them Victor Wembanyama or Scoot Henderson, radically boosting their future. James Harden could opt to return, which also significantly boosts their near-term prospects.
But regardless of whether or not luck presents a "lifeboat" (Harden, Wemby, Scoot), here are some things I believe will happen.
Also, if you have been joining us in RocketsWatch all season, first of all, thank you! We greatly appreciate all the fan support this season. But if you've stuck around through a tough season, you know that none of this will come as a surprise. I have been talking about these predictions since January.
1. Rockets, Stephen Silas Will Part Ways
Stephen Silas is going to be let go this offseason.
The original plan was for Silas to coach this season and start the next, getting a shot once the Rockets were making winning their top priority. But the bar was low this season and he still fell short. There were several times where the team needed a stronger hand and it wasn't there. The roster wasn't built to win, but there is no argument to be made that coaching did anything to enhance the situation.
It's important to point out that Silas got a raw deal, coming to Houston under different circumstances expecting to coach a veteran team. But this is the hand that was dealt and the Rockets have to play it. Silas may be a fine coach, but he's not the right coach for this team and that's all that matters at this stage.
Ownership was ready to move on by midseason, but a variety of factors have led to him finishing the year. But this is going to be it. They sorely need fresh eyes and a different voice.
Confidence Level: 100%
2. The Kevin Porter Jr. Starting Point Guard Experiment Will End
The Rockets got Kevin Porter Jr. for free from the Cleveland Cavaliers in 2021, but he's been anything but since.
Houston paid nearly $100 million to John Wall to stay at home so they could groom KPJ as their future point guard. They also signed Porter Jr to a team-friendly four-year deal despite the fact that a much more team-friendly restricted free agency was on deck.
Porter Jr. has gotten better and more comfortable at the lead guard spot in two-plus seasons, which could bode well for his future here, but it's not near enough. He lacks ability to make advanced reads, which is one of the reasons the Rockets are dead last in corner three-point attempts. His tendency is to isolate, which is his strength, and that can create a lot of selfish basketball. In essence, the Rockets have been starting a pair of shooting guards.
The Rockets love them some KPJ, particularly Stone, so I'm not saying he's done here. He could thrive in an alternate role, if he embraces it. But the Rockets want to make a leap next season, the first year they are on the hook to Oklahoma City for their first-round pick from the costly Russell Westbrook trade. You're probably not going to make a bigger jump than by improving the on-court leader spot.
Confidence Level: 80%
3. Alperen Şengün Will Be Shopped
You either believe Alperen Sengun is the next Nikola Jokic or he's a defensive liability that is too much trouble to build around. There doesn't seem to be much in between.
Sengun is incredibly gifted offensively and is only 20 years old, so it's very early. This is also the biggest offseason of his young career, where he won't be preparing for EuroBasket and can specifically train for the NBA.
There is no evidence at all they are looking to trade him. I'm very much going rogue with this prediction. But consider:
1. Internally he has been viewed as possibly the worst pick-and-roll defensive big in the league.
2. They started Bruno Fernando over him to open the season.
3. They rarely run the offense through him ("ŞenHub").
4. The Rockets are not well-positioned with future draft picks to trade and likely need to move a good young player if they're looking at any significant deals.
5. They believe bringing in a center is a high priority (though that could be as a backup to Sengun).
To be clear, I'm not predicting Sengun will be dumped but rather we will hear his name floated in rumors. A lot could change — a new coach could see Alpi as key to the future, for example — but right now, given all the factors listed above, I would be surprised if Sengun is the centerpiece of this rebuild. I think he's more likely the trade piece.
https://twitter.com/RocketsWatch/status/1627944952498950147?s=20
Confidence Level: 60%