How Paolo Banchero would fit with the Houston Rockets
A look at how the Duke power forward would fit with Jalen Green and the Houston Rockets, now and in the future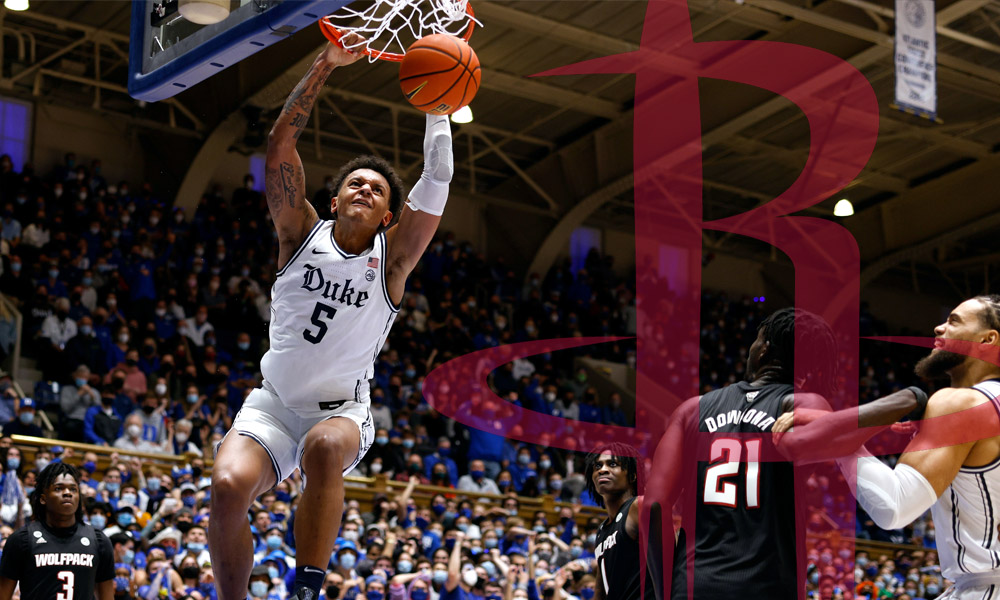 We are now less than a week away from the NBA Draft and this one will be a doozie for Houston as they now hold three first-round picks, #26, #17 and the highly-anticipated #3 pick.
While we can't say with 100% certainty who will be available at the third pick on June 23rd, the overwhelming buzz since the lottery results were announced has been that Auburn's Jabari Smith and Gonzaga's Chet Holmgren are considered the top two prospects, going in some order to Orlando with the #1 pick and OKC at #2.
That could change, but it doesn't look likely. That would leave Duke's Paolo Banchero on the board as the sure-fire pick for the Rockets at numero tres
If you've followed my comments on the forums or on Twitter, you know I'm much higher on Jabari and Chet for the Rockets than I am for Banchero, but I have to place some perspective on it: The Rockets will still be getting a top-tier talent with upside to be a special player if they stay at #3. Let's look at how this power forward would fit the current and future Rockets.
Strengths
Banchero's size is not exaggerated. While some prospects may say they're 6'10, 250 pounds, there's no rounding up in Banchero's case. He looks every bit of his listing.
He is the most polished offensive prospect in the draft, able to handle the ball very well for his size. He's not uncomfortable facing up the defender as far out as the three-point line, which is rare for a big. Any player remotely resembling a traditional four will have an issue defending Paolo's fluidity while guards and wings will find it challenging to defend his size and physicality.
He's got excellent footwork and a spin move that he uses on drives that reminds you of a Pascal Siakam. His arsenal of pullups and moves from mid-range to the basket reminds you of a Carmelo Anthony — bigger and not as quick, but with better vision.
For his size, Paolo has excellent passing skills. His assist percentage would be in the 95th percentile among NCAA players. He sees the floor really well and has plus court vision. There's potential there for high-level reads out of the high and low post. He could both initiate and finish a pick and roll, which is a rare advantage to have in a player, while also being very effective on short rolls.
This highlight at the 2:06 mark was one of the more impressive plays I saw this year from Paolo, showing both his ability to get to the basket and find his teammates.
Duke has been a home-away-from-home for many of the top one-and-done prospects in college basketball and they have a track record of not featuring some of their best players. Jayson Tatum and Brandon Ingram were both capable of more as Blue Devils. Tatum, in particular, made a significant impact right away as a rookie with Boston. While those players aren't ideal comps for Paolo, it does suggest he might be able to showcase more in the NBA than he did for Coach K.
Weaknesses
Paolo is not a great three-point shooter, hitting just 33.8% from deep, but he was strong from long range in the NCAA Tournament (10-19 3P in 5 games). He shot between 72-73% from the line, which is pretty good, and his shooting form looks clean so it's not a mechanics issue. It's very reasonable to project him to eventually be average in the three-point department, if not better than that.
Banchero's plus effectiveness in college was mainly 14-15 feet and in, where he took almost 63% of his shot attempts. Outside of 15 feet, he wasn't special.
Banchero is very crafty and smooth, but doesn't destroy you with burst or elite athleticism (there's no real weakness here, but it's not a major strength). He draws comparisons to a late-stage Blake Griffin, which is to say a very strong, big and versatile creator but not the elite athlete we saw in Griffin early on with the Clippers.
Paolo does almost nothing to move the needle defensively. He's a big body and not completely terrible on this end, but he's not a rim protector, a lockdown defender or particularly great on switches. He's prone to lapses in effort, which is a concern. He's not a plus defender by any stretch. In some games, including Duke's loss to North Carolina in the tournament, guards hunted him on switches, which is a tactic that has become very popular in the NBA (particularly in the playoffs). He can definitely hold his own defending the post and he's not bad stopping straight-line penetration. He also has shown the ability to communicate to his teammates defensively, but the lateral speed is not there to stay with guards and wings consistently and he relied heavily on a rim protector to cover for him (Mark Williams).
There are very fair questions about what exactly Paolo does for your team when the ball is not in his hands, and in a nutshell, that's the big reason he might be available at #3.
Comps
The best comp might be a 2020-21 Julius Randle as far as Paolo's scoring role as a point-power foward on a team. Two NBA execs told Michael Scotto of HoopsHype that they compare Paolo's upside to that season of Randle, when he put up 24-10-6, hit 41% from three and made the All-Star Game. Player for player, Randle is not a good comp — he's possibly stronger and quicker than Banchero and plays more brutish, but he would fall short of Paolo in height, smarts, craftiness and vision.
Detroit Pistons Blake Griffin, Juwan Howard and Jabari Parker also make some sense for their offensive versatility or ability to score as a four. On the offensive side of the ball, a comp of a Ben Simmons-like player who isn't afraid to shoot and has a three-point shot that has to at least be defended also has some merit.
Fit In Houston
Banchero would be a clear core piece in Houston and the Rockets would have to start looking at their foundation as "Paolo Banchero and Jalen Green", with the potential that Alperen Sengun and Kevin Porter Jr. could eventually be part of that. Clutch City would feature two gifted and marketable offensive players who potentially could get big baskets in crunch time while also selling tickets at the gate. When you consider where Houston was as a franchise 18 months ago — rudderless and without any top young talent — that's pretty incredible.
If the chemistry is there between Banchero and Green, there are several ways they could play off each other to be dangerous on the floor. While we're not talking about Kobe and Shaq, there's still potential there for them to be a superstar inside-out pairing. They're different players, but Anthony Edwards and Karl-Anthony Towns might be a closer model.
The Rockets have several players that are best operating with the ball in their hands, including Green, KPJ and Sengun. Does adding a fourth starter like that bring benefits or pose a problem?
The new starting frontcourt, Paolo and Sengun, would be a gifted 4-5 combo on the offensive end as both have solid hoops IQ, can create for others with their passing ability and can get you a bucket in the post or mid-range. Some of the passing and reads from these two could be a lot of fun to watch and there's room for growth.
But… the spacing of the floor would be a big issue, especially when you place a priority on clear driving lanes for guards like Green and KPJ to operate. And the defensive concerns would be, well, significant. Very significant. Neither of your two bigs would offer much rim protection, putting more pressure on your perimeter defense — and neither is particularly strong in that department, either.
If the Rockets take Paolo, Sengun is probably not the right fit long-term as the starting center. That's just the overwhelming likelihood. There would be no need to make any changes over the next year — after all, neither has reached their 20th birthday — but if this weakness proves to be glaring, it becomes mandatory to add a bigger center with defensive upside that backs up Sengun, or more likely, starts over him.
In my opinion, Banchero is the better prospect between the two. So if it comes down to eventual change, Sengun will likely be the target of an adjustment. And it won't be just Sengun. Drafting Paolo is going to put a few of the young players on the current roster under a microscope. Flanking Green and Banchero with strong defensive options at the three and the five is mandatory and I don't see much of that on the current roster (Usman Garuba may prove me wrong). Over the next year, I would like to see a more aggressive front office in moving young players for better fits.
Final Thoughts
There is almost no bust potential with Paolo — at a bare minimum, he should be a big presence and solid inside scorer in the NBA. He's my pick to win Rookie of the Year because he's the most NBA-ready and should produce out of the gate.
But it comes down to this: Does Paolo project to be an elite scorer in the league? I'm talking about a potent top 10-15 offensive force where defenses have to focus on stopping him? Perhaps even a primary facilitator? If so, the Rockets would be getting the guy who should go #1 in the Draft. Both Orlando and OKC would be silly to pass on him if the path for him to get there is clear. There is no argument there from me.
That may seem an unfair standard since the bar on offense is not as high for Jabari Smith and Chet Holmgren, but the brutal truth is it's not. Jabari and Chet potentially do so much more for your team to impact winning beyond scoring, including defense, spacing and playing off the ball. Banchero will improve in other areas, but it's unlikely he will do anything else at an elite level in the NBA. It's got to come from his scoring and facilitating. Just based on the role that he will play to maximize that skillset, you do not want just a "top 50" guy here. If you're going to give the ball to a player in a high-usage role who doesn't boost your defense, he can't be just a good scorer. He has to be elite at it in time if the ultimate goal is to be good enough to win a title.
But there is a possibility here, even if I haven't been the biggest believer in it, where Paolo could ultimately be that guy, a true superstar player, and perhaps the prospect who proves to be the best player in the draft. That's enticing.
In the end, however, the Rockets don't have their choice of the three prospects.
The Magic and Thunder will ultimately dictate which big is available to Houston at #3. If the Rockets passed on Jabari or Chet for Paolo, I'd be second-guessing, but taking him third with those two off the board is not something you can really be upset about, especially when the Rockets could have easily been picking 5th in this draft. There is a guarantee here to get a high-upside prospect, and that has the rebuild continuing on a great path.
Jabari Smith steals show in Rockets preseason opener
The Rockets rookie is legit as we take a look at what else stood out in Houston's preseason rout of the Spurs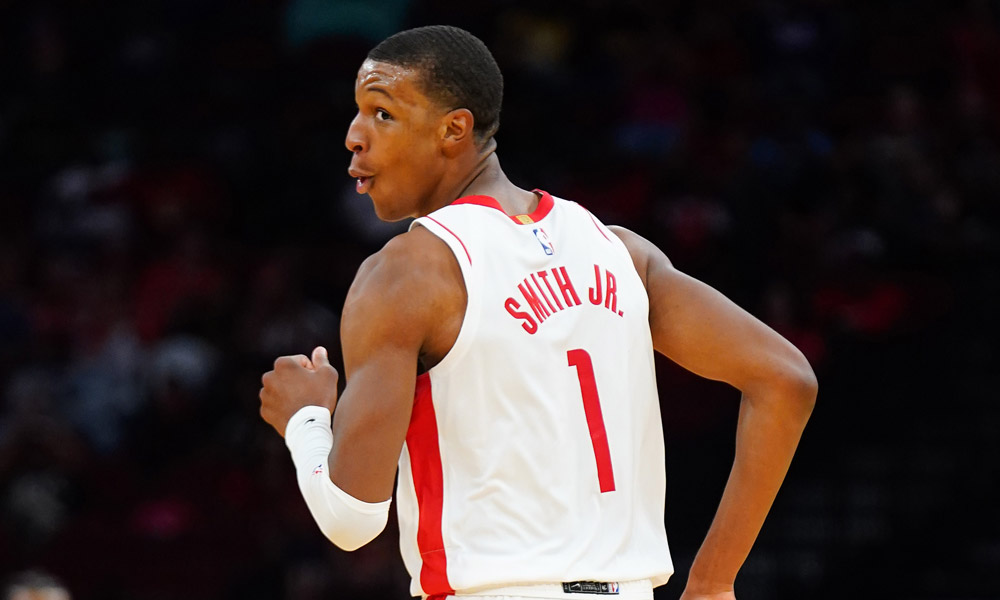 Finally, Rocketball is back — the Rockets destroyed the San Antonio Spurs 134-96 in the preseason opener Sunday night.
Granted, the Spurs look flat out terrible (the top contender for Wembanyama?) and may finish dead last (and it showed), but there were a number of things that played out in this game that should get Houston fans excited.
But before I get into that, I want to give a huge shout out to everyone who supported RocketsWatch Sunday night. We are watching and discussing Rockets games in realtime this season and the debut was overwhelming. There were over 700+ fans watching the game with Roosh Williams and I in what might be the largest online watch party ever for a Rockets game. The live reactions from the fans were priceless!
Let's talk about what stood out in this game:
Jabari is the real deal
Going into Sunday night's preseason opener for the Rockets, the biggest question on the minds of fans was simple — how will #3 overall pick Jabari Smith Jr. look in his first NBA action?
The answer is good. Really good.
Jabari threw down a dunk out of the gate and then locked in on high-energy defense on the other end and right away you knew — the Christian Wood Era was over. Jabari's impact was immediate on both ends of the floor. Smith finished with 21 points on 8-15 shooting, including a blistering 5-8 from deep, to go with eight rebounds in 24 minutes.
Jabari described himself as "a lot more loose" than he was at Summer League, when he struggled to knock down his shots.
"It was easy," said Jabari. "My teammates made it easy for me, finding me when I was open. The rest just came from knocking down shots, running the floor, trusting the offense and trusting my teammates."
What most impressed me was how quick of a trigger Jabari had on the catch-and-shoot. He would receive a pass out of the post or a cross-court pass in the corner and would instantly let it fly, shooting easily over his defender's reach. This trait stood out and was very Klay Thompson-esque. In the second half, Jabari hit a pull-up triple in transition (his fourth) that was very enticing, then absolutely slayed those of us in the RocketsWatch room when he took two long strides back from the free throw line to drain another triple.
At that point, it was official — the rookie was clowning the Spurs. I can't tell you how thrilled I am that the Rockets drafted Jabari. This man is going to fit like a glove and will be a ridiculous two-way weapon for the Rockets long term.
https://twitter.com/brhoops/status/1576753965730889729?s=20&t=X5YfCfDU5HwynBnvqoicSQ
Defense. They're actually playing it. It's true.
I don't need to repeat that the Rockets were dead last in defense last year, but… the Rockets were dead last in defense last year. Although, maybe I need to turn that frown upside down.
https://twitter.com/FraudeauxNBA/status/1576358215406989312?s=20&t=X5YfCfDU5HwynBnvqoicSQ
Sunday, however, was a different animal and you could tell immediately. The Rockets were hustling, moving quickly on rotations and closeouts.
"It's the defense, obviously, that we've been concentrating on," said Stephen Silas. "Our help was good tonight. Our multiple efforts were really good… I'm super encouraged by our intensity on the defensive end."
Jabari was a big part of that. He made some clear mistakes, sure — I'm not going to say he was perfect — but he seemed to set the tone. Still, it's not just Jabari — it's clear to me the mindset of this team is in stark contrast to what we've seen the past two seasons. Maybe it's the Jabari Effect or maybe Lionel Hollins is making his presence felt, but this does not look like the 2021-22 Rockets on this side of the ball.
Tari Eason is pretty much plug-and-play
I had my doubts that Tari Eason would get a ton of run in this game, but Silas played him early (note: Jae'Sean Tate sat this game out). Without having any clear plays run for him, Tari fought and scrapped for 21 points and 10 rebounds (six offensive!) in just 21 minutes. He hit 9-13 from the floor.
"My mentality never changes," said Eason. "I'm always going to be in the right spot, get after it defensively and be one of the hardest playing dudes on the court. I think that translates at any level and I'm just going to continue to do that."
He plays like his hair is on fire and has tremendous potential as a two-way demon. Throw him out there when things get stagnant and he's going to make things happen.
I've felt that the Rockets will likely bring Tari along slowly until they figure out what the long-term solution is for guys like KJ Martin, but Operation Patience isn't going to work if he keeps putting up lines like this. You can't keep him to the bench or send him to the G-League.
Is Bruno Fernando the backup center?
It sure seems that way. After news broke that the Rockets had signed Fernando to a four-year, nearly $11 million deal, Bruno was the first big off the bench, subbing in for Alperen Sengun.
I'll be honest — this really surprised me. I expected that Usman Garuba would have the clear inside track to the spot. Fernando also seemed like a good bet to be on a two-way contract, but now with this new deal, Fernando is going to be on the 15-man roster and barring a trade, someone has to be cut (Boban? Favors?) that isn't expected to be.
But Fernando, who sources say has been terrific in camp, showed why he got that contract, finishing 3-3 from the field and was a +18 in just 11 minutes. He was very effective on rolls, capping a pair of alleyoop passes from Kevin Porter Jr. I would be lying if I said I saw this coming, but it's a welcome development.
Rotation Notes
It's only one preseason game, but we still can draw a lot from how Silas sees the rotation.
Bruno looking like a good bet for the backup center role was not the only surprise. KJ Martin and Daishen Nix, along with Bruno, were the first subs of the night. That indicates what we expected, that Nix is in the lead for the backup PG spot over TyTy Washington, who I would guess will run the show with the RGV Vipers early on. I like TyTy as the better bet for this spot long term, but right now the job appears to be Nix's to lose.
But KJ is a little surprising, given he reportedly wanted out this past offseason with the Rockets slated to bring in a couple bigger prospects (Jabari and Tari) at his position.
Garrison Mathews played only five minutes. The prediction many have made that Silas would play him 15+ minutes this year is not looking so hot.