Rockets finally move on from Christian Wood
Houston has been trying to trade Christian Wood since the 2021 NBA Draft and at last got what they needed in return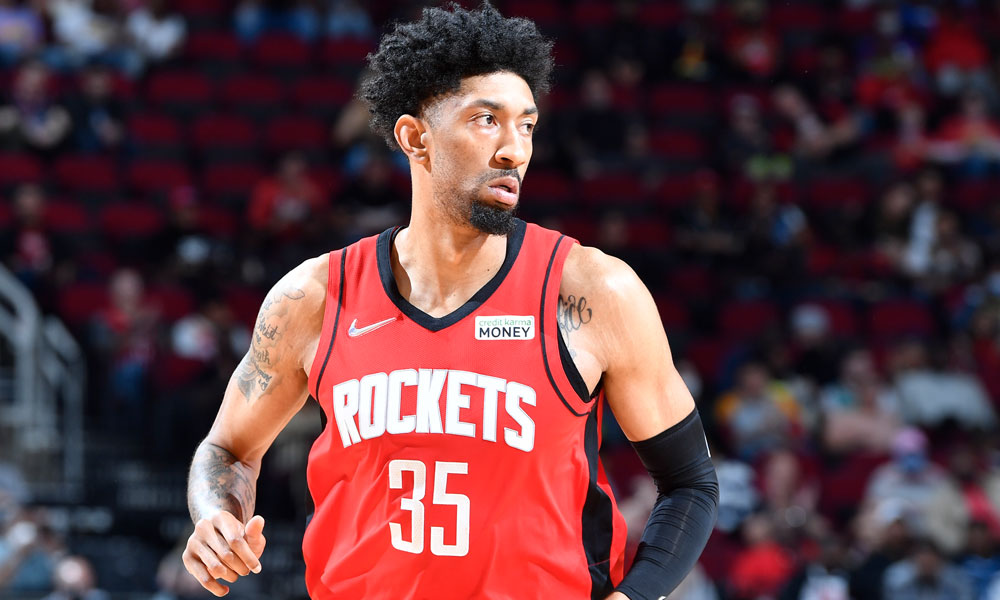 The Rockets ended their brief Christian Wood era.
Wednesday night, Houston unofficially traded Wood to the Dallas Mavericks for Boban Marjanovic, Trey Burke and former Rockets Sterling Brown and Marquese Chriss along with the #26 pick of the 2022 NBA Draft. The trade can't be made until after the Draft due to the Stepien Rule (Dallas owes their 2023 pick to New York and can't trade consecutive "future" picks).
All of the players that arrive in the deal have contracts that expire in 2023, so Houston's projected cap room a year from now remains unaffected. Likely all of them, except potentially Boban, will be bought out/waived.
For the Rockets, getting the 26th pick is what matters on the return, but the main point was to move on from Wood.
The Rockets have been trying to trade Wood since the 2021 NBA Draft and this was the first offer they've received in a year that included a first-round pick, a source told ClutchFans. Also, look for the Rockets to aggressively try to use #17 and #26 to move up OR to move out of the draft by trading one of those picks for a future pick.
Thoughts on the Trade
I was actually in the air, flying from California to Dallas, when news of the trade broke. So when we landed a few hours later, my phone completely blew up. My delayed reaction to sending Christian Wood elsewhere? It's about time.
Wood's lower market value is a combination of factors. The NBA market is not great for centers — most teams have one they're happy with and don't need a second one like this. Wood puts up good offensive numbers, but his defense was a big problem. He also wasn't the best influence in the locker room. He was prone to poutiness. He believes he's a star and his numbers are important to him, especially with a new contract on the line in 2023.
Getting the 26th pick, Houston's third first-round pick in this draft, seems an underwhelming return on paper based on what we perceived Wood's value might be (I initially expected it to be around pick #15), but yet it's absolutely worth it.
I'd rather have the 26th pick of the draft than Christian Wood. That's the honest truth. The Rockets get an asset that can be used for the future and we knew Wood was not part of that. They did not have to take back salary beyond 2023. Getting #26 feels like a free asset.
It has the potential to work out for Dallas but it's definitely good for Houston, so I don't have a problem with the trade.
Asset Management has to improve
While the trade is fine, I would like to see more from the Rockets as far as getting good value on their investments.  The department of Asset Management is where the Rockets really need to shine and they've missed on a few.
They traded for Victor Oladipo and then traded him for nothing of future value a few months later. They signed Daniel Theis to a four-year deal and then traded him for nothing of future value a few months later. They gave up the 16th pick of the 2020 NBA Draft in part to get Wood (and a heavily-protected first) and then traded him for very little of future value a few years later.
I love that the Rockets are going through a true rebuild and doing it the right way. Player development over winning is the mandate until 2023 and GM Rafael Stone has been doing a bang-up job leading it. He's about to navigate the rebuild to a point where they have two young potential stars as this team's core in Jalen Green and (likely) Paolo Banchero and that's what matters the most.
But until they are ready to place winning as the #1 priority, I would like to see the Rockets get a little better return on their rotation investments. At this stage, playing time is a commodity, either to develop players or showcase them. Flipping players that you don't see as part of your future for assets that could be used in the future is an important part of this process. This is the time to collect young players and picks to be in the very best position to shift gears and make win-now trades in the summer of 2023 because the Rockets are not as loaded with future picks as it may seem.
There's a perception that the #Rockets are loaded with draft assets, but after this draft, there's only a surplus of one first over the next 5 years:

2023 HOU
2023 MIL
2024 BKN
2025 HOU (OKC can swap if outside top-10, HOU can swap w/ BKN)
2026 BKN
2027 HOU (swap rights w/ BKN)

— ClutchFans (@clutchfans) April 25, 2022
In fairness, the Rockets are operating with a $50 million disadvantage for another year. John Wall is eating up their cap and there's really no good solution to that. How the Rockets manage assets may not be put to the real test until next offseason when they have cap room to operate with, but still, Wall's contract had no impact on these decisions.
So losing Christian Wood? That's a win. Getting the #26 pick? That too is a win. But when it comes to their investments, hopefully we see more doubles and triples instead of sacrifice flies.
Jabari Smith steals show in Rockets preseason opener
The Rockets rookie is legit as we take a look at what else stood out in Houston's preseason rout of the Spurs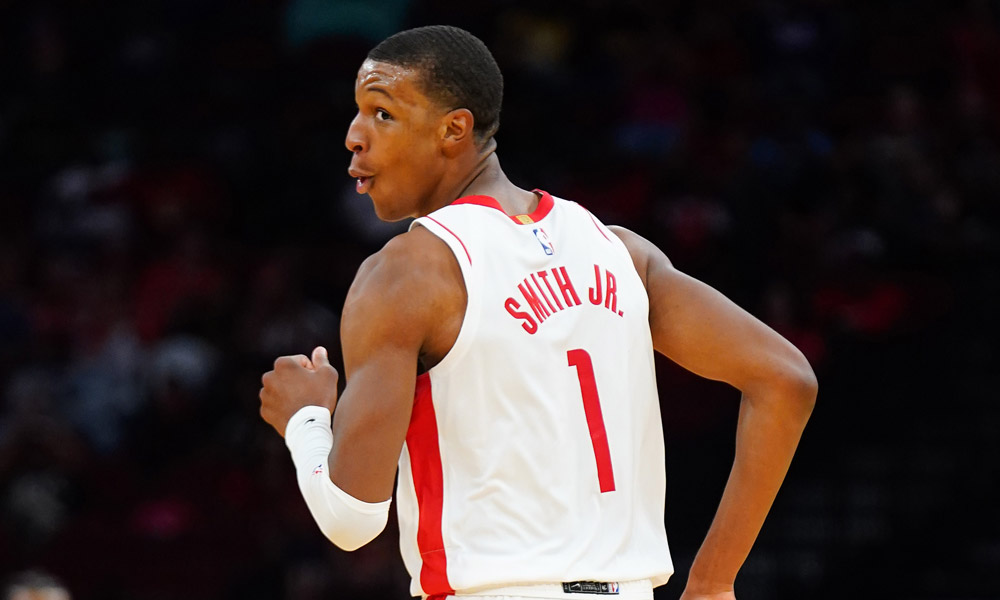 Finally, Rocketball is back — the Rockets destroyed the San Antonio Spurs 134-96 in the preseason opener Sunday night.
Granted, the Spurs look flat out terrible (the top contender for Wembanyama?) and may finish dead last (and it showed), but there were a number of things that played out in this game that should get Houston fans excited.
But before I get into that, I want to give a huge shout out to everyone who supported RocketsWatch Sunday night. We are watching and discussing Rockets games in realtime this season and the debut was overwhelming. There were over 700+ fans watching the game with Roosh Williams and I in what might be the largest online watch party ever for a Rockets game. The live reactions from the fans were priceless!
Let's talk about what stood out in this game:
Jabari is the real deal
Going into Sunday night's preseason opener for the Rockets, the biggest question on the minds of fans was simple — how will #3 overall pick Jabari Smith Jr. look in his first NBA action?
The answer is good. Really good.
Jabari threw down a dunk out of the gate and then locked in on high-energy defense on the other end and right away you knew — the Christian Wood Era was over. Jabari's impact was immediate on both ends of the floor. Smith finished with 21 points on 8-15 shooting, including a blistering 5-8 from deep, to go with eight rebounds in 24 minutes.
Jabari described himself as "a lot more loose" than he was at Summer League, when he struggled to knock down his shots.
"It was easy," said Jabari. "My teammates made it easy for me, finding me when I was open. The rest just came from knocking down shots, running the floor, trusting the offense and trusting my teammates."
What most impressed me was how quick of a trigger Jabari had on the catch-and-shoot. He would receive a pass out of the post or a cross-court pass in the corner and would instantly let it fly, shooting easily over his defender's reach. This trait stood out and was very Klay Thompson-esque. In the second half, Jabari hit a pull-up triple in transition (his fourth) that was very enticing, then absolutely slayed those of us in the RocketsWatch room when he took two long strides back from the free throw line to drain another triple.
At that point, it was official — the rookie was clowning the Spurs. I can't tell you how thrilled I am that the Rockets drafted Jabari. This man is going to fit like a glove and will be a ridiculous two-way weapon for the Rockets long term.
https://twitter.com/brhoops/status/1576753965730889729?s=20&t=X5YfCfDU5HwynBnvqoicSQ
Defense. They're actually playing it. It's true.
I don't need to repeat that the Rockets were dead last in defense last year, but… the Rockets were dead last in defense last year. Although, maybe I need to turn that frown upside down.
https://twitter.com/FraudeauxNBA/status/1576358215406989312?s=20&t=X5YfCfDU5HwynBnvqoicSQ
Sunday, however, was a different animal and you could tell immediately. The Rockets were hustling, moving quickly on rotations and closeouts.
"It's the defense, obviously, that we've been concentrating on," said Stephen Silas. "Our help was good tonight. Our multiple efforts were really good… I'm super encouraged by our intensity on the defensive end."
Jabari was a big part of that. He made some clear mistakes, sure — I'm not going to say he was perfect — but he seemed to set the tone. Still, it's not just Jabari — it's clear to me the mindset of this team is in stark contrast to what we've seen the past two seasons. Maybe it's the Jabari Effect or maybe Lionel Hollins is making his presence felt, but this does not look like the 2021-22 Rockets on this side of the ball.
Tari Eason is pretty much plug-and-play
I had my doubts that Tari Eason would get a ton of run in this game, but Silas played him early (note: Jae'Sean Tate sat this game out). Without having any clear plays run for him, Tari fought and scrapped for 21 points and 10 rebounds (six offensive!) in just 21 minutes. He hit 9-13 from the floor.
"My mentality never changes," said Eason. "I'm always going to be in the right spot, get after it defensively and be one of the hardest playing dudes on the court. I think that translates at any level and I'm just going to continue to do that."
He plays like his hair is on fire and has tremendous potential as a two-way demon. Throw him out there when things get stagnant and he's going to make things happen.
I've felt that the Rockets will likely bring Tari along slowly until they figure out what the long-term solution is for guys like KJ Martin, but Operation Patience isn't going to work if he keeps putting up lines like this. You can't keep him to the bench or send him to the G-League.
Is Bruno Fernando the backup center?
It sure seems that way. After news broke that the Rockets had signed Fernando to a four-year, nearly $11 million deal, Bruno was the first big off the bench, subbing in for Alperen Sengun.
I'll be honest — this really surprised me. I expected that Usman Garuba would have the clear inside track to the spot. Fernando also seemed like a good bet to be on a two-way contract, but now with this new deal, Fernando is going to be on the 15-man roster and barring a trade, someone has to be cut (Boban? Favors?) that isn't expected to be.
But Fernando, who sources say has been terrific in camp, showed why he got that contract, finishing 3-3 from the field and was a +18 in just 11 minutes. He was very effective on rolls, capping a pair of alleyoop passes from Kevin Porter Jr. I would be lying if I said I saw this coming, but it's a welcome development.
Rotation Notes
It's only one preseason game, but we still can draw a lot from how Silas sees the rotation.
Bruno looking like a good bet for the backup center role was not the only surprise. KJ Martin and Daishen Nix, along with Bruno, were the first subs of the night. That indicates what we expected, that Nix is in the lead for the backup PG spot over TyTy Washington, who I would guess will run the show with the RGV Vipers early on. I like TyTy as the better bet for this spot long term, but right now the job appears to be Nix's to lose.
But KJ is a little surprising, given he reportedly wanted out this past offseason with the Rockets slated to bring in a couple bigger prospects (Jabari and Tari) at his position.
Garrison Mathews played only five minutes. The prediction many have made that Silas would play him 15+ minutes this year is not looking so hot.