An NBA Nightmare: The James Harden-Dwight Howard Pick-and-Roll
Carl Fudge of the Sloan Sports Analytics Conference takes a closer look at the effectiveness of both James Harden and Dwight Howard in the pick-and-roll and why that combo might become the NBA's most lethal pairing.
In 2012-2013, the Houston Rockets emerged as one of the best offensive teams in the NBA, utilizing an uptempo style and a steady diet of pick-and-rolls, isolations and three-pointers to fuel their rise to a #3 ranking in points per shot (bested only by Oklahoma City and Miami).
One of the biggest drivers of Houston's success was the pick-and-roll. While the Rockets were quite good at it last year, they should be scary good at it next year with the insertion of a certain #12 into the lineup.
If basketball fans can recognize one offensive play, it's the pick-and-roll – a two man play involving a ball handler and a screener setting a pick for that ball handler. Teams run this play with such frequency that the NBA is often referred to as a "pick-and-roll league" and the Rockets in particular have become known as one of the better teams at executing it.

Houston's Pick-and-Roll
The Rockets went to the pick-and-roll nearly 1 out of every 4 times they were in a half court offense last season. Just how good was the Rockets' pick-and-roll? The short answer is it was very good. In fact, the Rockets were the 3rd best team in the league, generating 0.92 points every time they ran it (only the Knicks and Heat were better).
The long answer requires thinking of the play in terms of two outcomes: the ball handler coming off the pick and taking the shot himself, or the ball handler passing to the rolling screener and letting him finish the play instead. If the ball handler took the shot, the Rockets were the best team in the NBA, but on the roll part of the play they ranked only 10th.
Harden's Bread And Butter
By far the biggest driver of pick-and-roll success for the Rockets was star shooting guard James Harden. In fact, out of the 1,700 or so times the Rockets ran the play last year, Harden ended up deciding the outcome over 500 times. He averaged exactly one point per possession in these situations, the 5th best mark in the entire NBA, justifying his reputation as one of the very best pick-and-roll players in the league (even putting him above Chris Paul, who was #6).
As a true triple threat, Harden is an ideal pick-and-roll player and the coaching staff rightly trusts him to make a quality decision as to whether to shoot, pass or drive off the pick. Most often last year, Harden would look to score. He's capable of sinking both the three-point and mid range jumper at a decent clip as well as using the screen to set up his Euro-steppy drives to the bucket that often result in a layup or free throws.
As noted in this informative analysis by Bballbreakdown, the outcome of Harden's pick-and-rolls were most often dependent on where he was on the court; start on the left and he would like to drive all the way to the basket, start on the right wing and he would often step back into his three-point "J", the spot where he was most comfortable and successful.
As good as it was, if there was one criticism of the Rockets' offense last year it was that it lacked sophistication and became predictable. One memorable thread on Clutchfans even referred to it as a "gimmick offense" due to the reliance on cheap fast break points in addition to a limited offensive playbook.
I don't totally agree with that characterization as I believe that the Rockets played to their strengths and ran the offense that gave them the best chance of winning given the talent on the roster. It is fair to say though that if the Rockets emerge as one of the better teams in the West, they will need to generate more variety out of their offense to stay competitive against highly motivated and prepared defenses.
Part of the reason for the Rockets' predictability (and why they were only the 10th best team at scoring off the roll), was that as a roll man, Omer Asik was limited. While he could certainly set a mean screen, he was not as comfortable with the ball and ranked as only the 55th best pick-and-roll finisher, putting him among some of the worst front court starters in the NBA.
While Asik was not horrible and did get better over time – he still shot close to 60% – he lacks the footwork, hands and overall coordination to perform at an elite level in this part of the game. There is much to love about his skillset, but catching the ball on the run while avoiding the charge or travel and then finishing at the hoop is not a particular strength of his.
Enter Dwight Howard
With a unique combination of power, coordination and timing, Howard has consistently ranked among the best players in the league at finishing the pick-and-roll. In his "down year" last season, Howard was the 9th best roll man in the NBA, but in 2011-12 he was 2nd best and in 2010-11 he was #1. Last year Dwight averaged 1.29 points per pick-and-roll (30% better than Asik) on 79.6% FG%. To put this in perspective, this is significantly higher than the points per possession he scored on the post-ups he is said to favor (0.74) and even more points than he scored in transition (1.22).
Other than the rare occasions when Dwight got a wide open dunk, the pick-and-roll was his highest percentage scoring opportunity. If he doesn't realize this now, I'm sure GM Daryl Morey and his team of number crunchers will have hammered it home soon.
Howard is so dangerous off the pick-and-roll because of his explosiveness and ability to score in so many different ways, as our highlight reel here shows:
Perhaps Howard's favorite way to score is off the lob. As a 6'11" athlete with a 40" vertical jump, Dwight can go up two and a half feet above the rim to catch and dunk balls that few other players can even touch. While the Clippers have owned the term "Lob City" in recent seasons, there will be plenty of alley-oops in Clutch City too.
Dwight is also very skilled at catching the ball on the run, collecting the pocket pass and getting to the rim without traveling or charging – a skill that few big men can display as easily. Another pick-and-roll option he likes is to exploit the defensive misalignment and find deep position in the post, receiving the ball while sealing off his man and turning over one of his shoulders to put up the baby hook.
The other good news for Houston fans is that with Dwight as the screener, Harden should have even more space to operate, as opposing defenses focus on not giving up easy points to Howard. If opponents choose to double-team, there will be plenty of open three-point shots available on the perimeter for the likes of Jeremy Lin, Chandler Parsons, Francisco Garcia, Omri Casspi and Reggie Williams.
The early results are already good. Jeremy Lin spoke with Jason Friedman of Rockets.com about Howard after playing with him at an unofficial Rocket mini-camp in Los Angeles this week.
"He's just an athletic freak," said Lin. "Certain sets with him rolling down the paint toward the basket and using his athleticism, it's going to be really good for us. I think we can be really creative with the ways that we use him. He's just an animal when it comes to everything near the rim – he's thrown down numerous alley-oops already from James. He forces defenders to take an extra step or two to make sure he doesn't get the ball just because he's so explosive and so strong, and that gives us so much room to work. He's either getting a dunk or someone else is left wide-open."
While this all sounds fantastic in theory, Dwight's willingness to run the pick-and-roll was called into question last week by Steve Nash, who claimed in an ESPN radio interview that it "didn't seem like (Dwight) really wanted to do a pick-and-roll offense" while with the Lakers. Fortunately, Dwight seemed to dispel that notion in his interview with Stephen A. Smith, commenting, "The way [James Harden] plays throughout that pick-and-roll – who's going to stop that pick-and-roll?"
Good question, because while the Rockets were a dangerous pick-and-roll team with Harden and Asik, they could be downright lethal with Harden and Howard. With elite performers now on both sides of the play, I fully expect Houston to become the leading pick-and-roll team in the entire NBA next year.
Carl Fudge is a second year MBA at MIT Sloan where he is the content lead for the Sloan Sports Analytics Conference. He is a lifelong Rockets fan and has been posting on ClutchFans as GBRocket since 2003.
Three predictions for an important Rockets offseason
The 2023 offseason is critical for the Houston Rockets and here's what we think will happen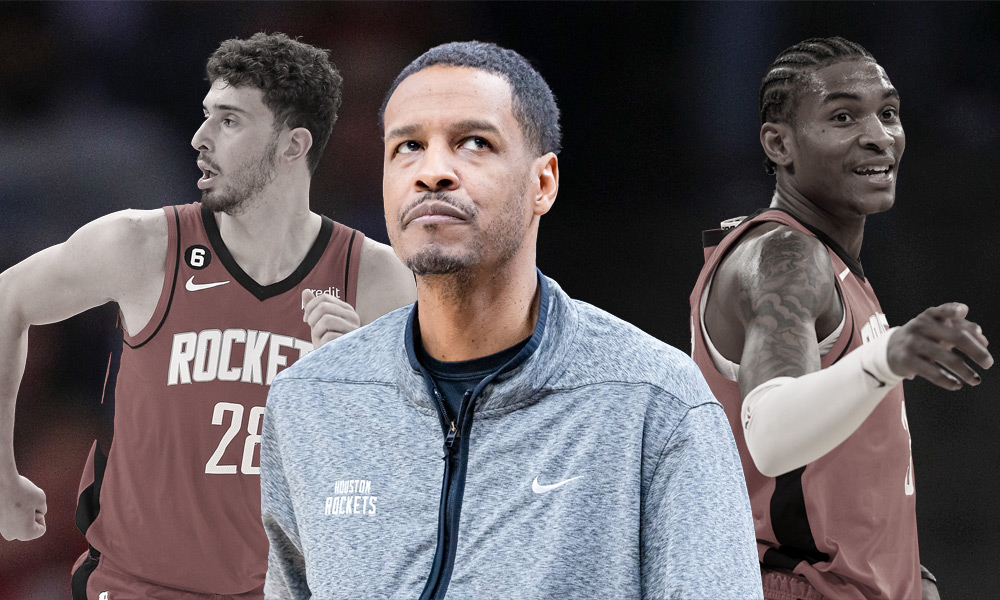 We have almost arrived to the oasis.
For over two years, the "2023 Offseason" has been circled on the calendar as the turning point, the time when the Houston Rockets will switch gears and make winning a priority. With potentially $60 million in cap room and a top draft pick coming, this is the moment of truth that Rafael Stone and the Rockets front office pitched to the Fertittas when the rebuild began.
Does that mean the Rockets are going to magically start winning next season? Not necessarily. But it does mean we won't see Daishen Nix run the point for 36 minutes in the name of player development. They want to win.
It's very tough to know what will happen this offseason, given the unknown variables. The Rockets could land a top-two pick, which would bring them Victor Wembanyama or Scoot Henderson, radically boosting their future. James Harden could opt to return, which also significantly boosts their near-term prospects.
But regardless of whether or not luck presents a "lifeboat" (Harden, Wemby, Scoot), here are some things I believe will happen.
Also, if you have been joining us in RocketsWatch all season, first of all, thank you! We greatly appreciate all the fan support this season. But if you've stuck around through a tough season, you know that none of this will come as a surprise. I have been talking about these predictions since January.
1. Rockets, Stephen Silas Will Part Ways
Stephen Silas is going to be let go this offseason.
The original plan was for Silas to coach this season and start the next, getting a shot once the Rockets were making winning their top priority. But the bar was low this season and he still fell short. There were several times where the team needed a stronger hand and it wasn't there. The roster wasn't built to win, but there is no argument to be made that coaching did anything to enhance the situation.
It's important to point out that Silas got a raw deal, coming to Houston under different circumstances expecting to coach a veteran team. But this is the hand that was dealt and the Rockets have to play it. Silas may be a fine coach, but he's not the right coach for this team and that's all that matters at this stage.
Ownership was ready to move on by midseason, but a variety of factors have led to him finishing the year. But this is going to be it. They sorely need fresh eyes and a different voice.
Confidence Level: 100%
2. The Kevin Porter Jr. Starting Point Guard Experiment Will End
The Rockets got Kevin Porter Jr. for free from the Cleveland Cavaliers in 2021, but he's been anything but since.
Houston paid nearly $100 million to John Wall to stay at home so they could groom KPJ as their future point guard. They also signed Porter Jr to a team-friendly four-year deal despite the fact that a much more team-friendly restricted free agency was on deck.
Porter Jr. has gotten better and more comfortable at the lead guard spot in two-plus seasons, which could bode well for his future here, but it's not near enough. He lacks ability to make advanced reads, which is one of the reasons the Rockets are dead last in corner three-point attempts. His tendency is to isolate, which is his strength, and that can create a lot of selfish basketball. In essence, the Rockets have been starting a pair of shooting guards.
The Rockets love them some KPJ, particularly Stone, so I'm not saying he's done here. He could thrive in an alternate role, if he embraces it. But the Rockets want to make a leap next season, the first year they are on the hook to Oklahoma City for their first-round pick from the costly Russell Westbrook trade. You're probably not going to make a bigger jump than by improving the on-court leader spot.
Confidence Level: 80%
3. Alperen Şengün Will Be Shopped
You either believe Alperen Sengun is the next Nikola Jokic or he's a defensive liability that is too much trouble to build around. There doesn't seem to be much in between.
Sengun is incredibly gifted offensively and is only 20 years old, so it's very early. This is also the biggest offseason of his young career, where he won't be preparing for EuroBasket and can specifically train for the NBA.
There is no evidence at all they are looking to trade him. I'm very much going rogue with this prediction. But consider:
1. Internally he has been viewed as possibly the worst pick-and-roll defensive big in the league.
2. They started Bruno Fernando over him to open the season.
3. They rarely run the offense through him ("ŞenHub").
4. The Rockets are not well-positioned with future draft picks to trade and likely need to move a good young player if they're looking at any significant deals.
5. They believe bringing in a center is a high priority (though that could be as a backup to Sengun).
To be clear, I'm not predicting Sengun will be dumped but rather we will hear his name floated in rumors. A lot could change — a new coach could see Alpi as key to the future, for example — but right now, given all the factors listed above, I would be surprised if Sengun is the centerpiece of this rebuild. I think he's more likely the trade piece.
https://twitter.com/RocketsWatch/status/1627944952498950147?s=20
Confidence Level: 60%