Rockets honored Dwight agreement with agent in letting Parsons out of his contract
The decision to let Chandler Parsons out of his bargain contract a year early was a mistake, but it was a decision made long ago by the Rockets.
The Houston Rockets made one — and only one — mistake this offseason, and it was a big one.
There's no shame in coming up short on Carmelo Anthony and Chris Bosh. The Rockets should be praised for consistently aiming high. I also don't think it was an error to decline to match the almost-max offer sheet that Chandler Parsons signed with Dallas. He's simply not worth that money.
Their mistake was letting Chandler out of his contract in the first place.
That's not hindsight talking. Remember, the Rockets could have simply picked up his 2014-15 option and had him on the roster at a mere $964,750. Knowing now what the Rockets knew then — that they had a significantly different value placed on Chandler than Chandler placed on himself — combined with the team's need to add a significant player before committing long-term to him, it becomes pretty clear that letting Parsons out of his contract a year early was not a good idea.
There were benefits to going the restricted free agency route, but they were nullified if the Rockets didn't make big salary moves before that. While the decision at the time seemed strange, we, as fans, were lulled into a false sense of security, thinking that one (or both) of these things was true: 1) The Rockets had a comfort level for adding someone of significance this offseason before re-signing Chandler, and 2) Chandler was fully on board with the plan (possibly even having a verbal agreement in place), willing to wait since the Rockets were doing him a solid by letting him out early.
Neither was true and it blew up in their face.
The problem is this — the Rockets were well aware of everything I just outlined in making their choice. They just had no choice. By letting Parsons out of his contract, the Rockets were simply honoring an agreement they made with his agent in 2013 when they signed Dwight Howard.
As I've been told, Howard's agent Dan Fegan did not want Dwight in Houston, preferring instead to steer him to another team. Reportedly, that team was Dallas as the agent has a relationship and comfort level with Mavericks owner Mark Cuban. Dwight preferred Houston. To seal the deal for the premier free agent, Fegan provided the Rockets a list of needs/demands to bring him here and one of them was to let Chandler Parsons, who also was represented by Fegan, out of his contract this summer rather than wait until 2015.
(It should be noted that though I have no idea what other items would be on that list, there were two "interesting" things that happened around that time — the Rockets hired Howard's former trainer with the Orlando Magic and they later added Dwight's brother to the Rio Grande Valley Vipers, though it was largely believed that he wasn't a good enough prospect to make that jump. See JR Smith-Chris Smith for how nepotism package deals can work.)
Parsons has since publicly denied that the decision by the Rockets had anything to do with Howard, but I've been told by multiple sources that it's true.
All kinds of smoke
Let's put the "sources" aside for a minute and just look at the circumstantial evidence.
It was well-known that the Rockets had a heavy interest in Dwight Howard and would be pursuing him as a free agent in the summer of 2013. The team tried to trade for him on multiple occasions over the previous 18 months. Just weeks before Howard became a free agent, Parsons fired his agent Mark Bartelstein to align himself with Fegan. That's a pretty big coincidence. It's a very good bet (if not outright safe to say) that Fegan leveraged that unique situation to land Parsons as a client, knowing he was likely the only agent in a position to get the Rockets to give up Chandler's bargain option and get him a big haul one year earlier.
By not picking up the team option on Chandler, the Rockets lost about $2 million in cap room in a summer in which pursuing max free agents was their highest priority. Teams routinely unload valuable first round picks for less cap room than that, yet the Rockets willingly sacrificed a valuable chunk to make Chandler a restricted free agent. The Rockets had to be working with Chandler and/or supremely confident in their chances to land a top free agent to do that, or… something else. Looking back, this was extremely illogical.
In the summer of 2013, Chandler Parsons suddenly became the greatest star free agent recruiter of all-time. According to Forbes magazine citing a source, Chandler was "relentless" in pursuing Dwight as he "called and texted [Dwight] every day" despite barely knowing him at the beginning of the pursuit. Does it make more sense that Chandler was doing this for the team, city and championship pursuit or because his own big payday was on the line? When you consider that Chandler knew that an $8-$15 million bonus and increased long-term security sooner hung in the balance on whether Dwight said yes to Houston, the Herculean effort may not have been quite as altruistic as we all thought.
News that the Rockets would decline the team option and make Chandler a restricted free agent leaked nearly a month before the deadline the Rockets had to make that decision. This may not seem excessive, but when you consider that the NBA Draft — the hotbed time of player movement throughout the league — was still to occur and could impact the decision, it seemed silly that the front office would be able to say it with certainty at that point. I've since talked to people who were told by Chandler himself during the 2013-14 season that the plan was to make him a restricted free agent. No mention of why, but he apparently knew even then that the team option was not going to be picked up.
In an interview with local sports radio 610am after deciding not to match Parsons' offer sheet with the Mavericks, Rockets GM Daryl Morey was asked if he had to do it all over again if he would let Chandler out of his deal. He closed his answer with something fairly cryptic, saying, "A lot goes into those decisions, way more than people might realize."
Just plain common sense. If the Rockets and Parsons weren't aligned on a figure and the team didn't view him as the third-best player on a championship team, it made no sense to sign him long-term until they had the core of their team set. Many say, "But it almost worked and they nearly had both Bosh and Parsons!" But play it all the way out. Had the Rockets not done this and signed Bosh with cap room, they'd still have Bosh and Parsons. Houston would have had their superstar trio and Parsons, as an unrestricted free agent in 2015, would have had to make a tough choice to walk away from that championship core. But more importantly, the Rockets could have traded him. Both the situations with Kevin Love (a lame duck contract that still fetched a big haul on the trade market) and Klay Thompson (young player who could have reeled in Love in return) are strong indicators that the 25-year old small forward's trade value, on a one-year, $1 million deal, would have been good.

Having said all this, no party involved thought Chandler was going to be leaving Houston. The Rockets wanted him back. Chandler wanted to be here and the Rockets consistently told him they would match any offer. That might explain some of why he was "offended" after the process. He expected to remain in Houston.

Will the Rockets be better off?

Overall, the Rockets lost a valuable trade asset at a minimum, but they could be better off with Trevor Ariza. As much as I liked Parsons, he was playing a position where you would traditionally like to have a good (if not lockdown) defender. That becomes even more of a need for this team given how the other position where you would generally see a wing stopper (shooting guard) is a major defensive concern for the Rockets. I think this will depend on who the Rockets are able to eventually acquire as their "third" guy. As a #3, I'd give the edge to Parsons. As a #4, I prefer Ariza.

While time will tell if they are better off on the court, the reasoning behind the offseason's biggest "blunder" is at least now explained. The Rockets weren't a team that made a late decision to take an ill-advised and costly risk. They were a team desperate to contend and land the big fish a year ago, and they did what it took to make that happen — even if they knew they might have to fall on their sword a year later.
Heavy investment in Kevin Porter Jr raises serious questions about Rockets front office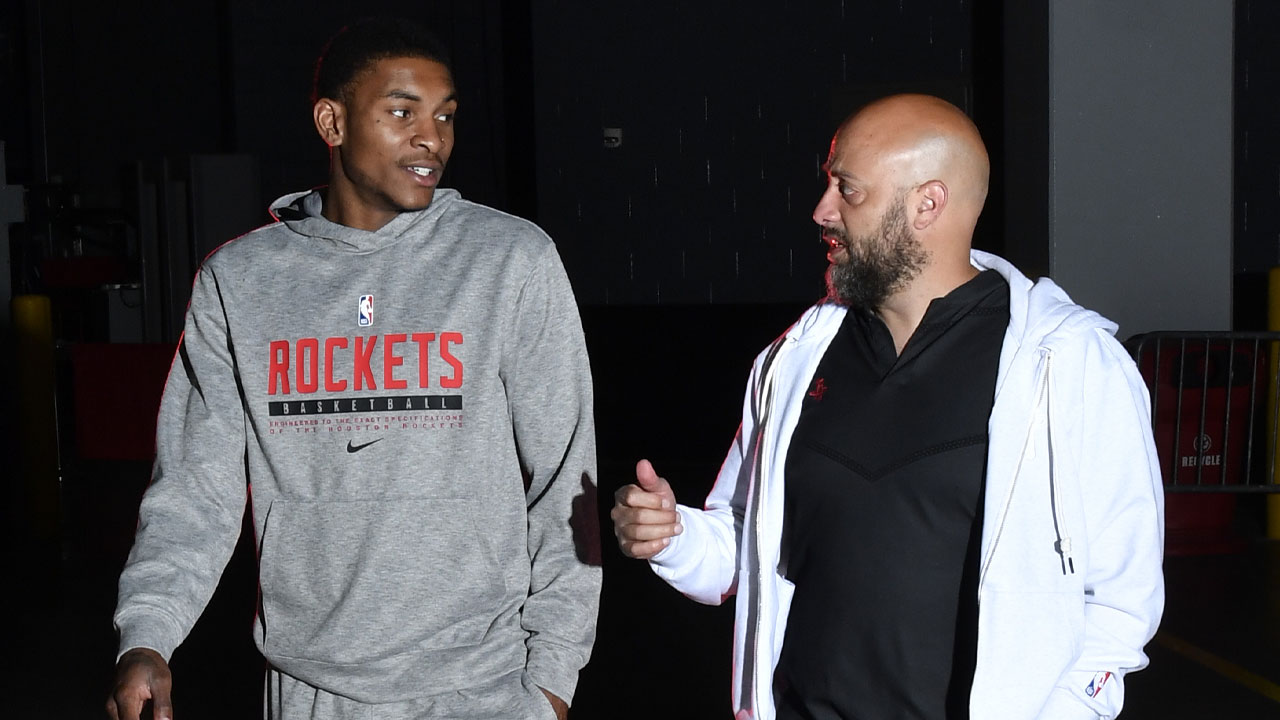 Soon-to-be-ex Rockets guard Kevin Porter Jr was arrested last week for allegedly assaulting his girlfriend, resulting in a fractured neck vertebra and a deep gash above her right eye after an attack at a hotel in New York. He allegedly woke her up by punching her repeatedly, strangled her and did not stop hitting her until she ran out of the hotel room screaming for help and covered in blood.
"This is a serious domestic violence case," said assistant Manhattan district attorney Mirah Curzer.
First and foremost, I wish the victim healing. I don't know what to say about the nightmare she went through. She and her family will forever be impacted. As for KPJ, if this is true, he doesn't belong on the Rockets or in the NBA at all. He belongs in jail.
Secondly, this can't be overlooked and just swept under the rug: Why did the Houston Rockets bank on and invest so heavily in this guy?
Kevin Porter Jr. being accused of crimes of this severity should not be shocking – at all. Before he even came to the Rockets, he had a long list of serious problems. He was suspended multiple times in high school. In 2019, he had a "conduct issue" significant enough that USC suspended the 5-star recruit indefinitely. He fell to the end of the first round of the 2019 NBA Draft because of his behavior liability. He was accused of punching a woman in the face in Cleveland. He also had a gun and marijuana charge later dismissed after getting into a car crash. He went into a tirade and got into a nasty confrontation with both the Cleveland coach and GM, resulting in the Cavs severing ties immediately and dumping him to the Rockets for nothing.
You could make the argument that initially giving Porter Jr. a second chance in Houston was praiseworthy, but the Rockets experienced KPJ's anger management and immaturity issues firsthand on several occasions.
Former Rocket Austin Rivers said this week that this isn't the first, second or even seventh issue with Porter Jr. and that Rockets "higher-ups" confided in him that they had no idea how to handle him.
"I remember talking to guys in the Houston Rockets organization, higher-ups, [and] they were having issues then," said Rivers. "They were like, 'We don't know what to do with him.' And that's when he just got there from Cleveland!"
Porter Jr. was routinely a nightmare for Rockets coaches to deal with. On several occasions, he confronted and cussed out members of the coaching staff, saying they didn't have the "credentials", per source, a reference to the fact that him playing heavy minutes at point guard was a decision they did not control.
Once at a night out, Porter Jr. had a disagreement with a DJ over music choice and he snapped, smashing the DJ's laptop to the floor. He needed to be restrained and removed. Rockets personnel and several of Porter's teammates witnessed the incident.
Curzer also dropped a bombshell at the arraignment in saying that Porter Jr. has a history of abusing his girlfriend, who he had only been dating since early last year, his second season with the Rockets. Curzer specifically cited an incident in which KPJ allegedly rammed his car into hers.
There were dozens of maturity issues visible on the court to anyone paying attention. He refused to check out of games. He got into an argument on the bench with assistant Lionel Hollins. On numerous occasions, he would visibly shut down when he wasn't passed the ball. I invite you to watch this video from a game against Memphis on March 20, 2022. Just listen to the Grizzlies broadcasters, particularly starting at the 1:40 mark, talk about what they are witnessing here:


Privately, people around the league would say they were baffled by the Rockets continued fascination with Porter Jr. Nobody could understand it.
That fascination starts with Rockets general manager Rafael Stone, who by every account over the last two years was the driving force behind the investment in Porter Jr. It has been no secret. Trading for him in January 2021 was seen by some with the team as his "Harden acquisition", code for a signature move that makes an executive's career, much in the way landing James Harden did for Daryl Morey in 2012.
For example, former Rockets head coach Stephen Silas never considered Porter Jr. to be a point guard, per sources — playing him there was a Stone mandate because the GM believed that is where his future lied.
John Wall also told us as much publicly when he explained the phone call he got from Silas about coming off the bench. He said Silas told him "This is what the GM wants," adding again that Silas said, "Man, you don't deserve that. You should be the starter. This is just what they want to do." Wall was upset because he believed KPJ should have to earn the spot.
"I have a hard time finding anybody outside of the Rockets front office that believes that Kevin Porter Jr. is a starting point guard in the NBA," said ESPN reporter Tim MacMahon in December.
There were plenty of warning signs about KPJ to the public too.
After Porter Jr. got into a heated argument in which KPJ "physically shoved" Rockets assistant coach John Lucas and quit on the team in the middle of a game against Denver in January of 2022, leaving the arena at halftime, Sports Illustrated's Chris Mannix famously wrote that the Rockets should "Cut Porter Jr. Waive him. Release him. Whatever. Eat what's left of the $1.8 million he's owed this season and the $3.2 million he's got next and move on." It became a source of mockery for Porter Jr's fans, a line they would bring up after each game he hit a few threes or handed out some assists.
In February of this year, ESPN's Jonathan Givony, one of the most connected reporters in the league, flat out warned us that he was hearing awful things about the Rockets culture and locker room. He was blunt in what the Rockets needed to do — waive Kevin Porter Jr. outright and bring in a new coach and GM.
"Just cut him. That's it," said Givony of Porter Jr. "And you're sending a signal to the league that we're going to do things differently from here on out."
"When you talk to people around the NBA about Houston, you just don't hear good things about their culture, about that locker room. You talk to people that are on that team, and they are like, 'We are a mess'," said Givony. "Do people want to work with this organization? But you can change that fairly quickly if you come in, get rid of the bad apples and you change the coaching staff, and all of a sudden, you're Houston. It's the third-biggest city in America. There's a history here of you actually being good."
Porter came to the Rockets for "free" (in exchange for a top-55 protected second-round pick, which was designed not to convey), but he proved far from it as the Rockets continued to pour investment into him. Over the last 2-3 seasons, no Rockets player got more developmental capital than Porter Jr. – not Jalen Green, not Alperen Sengun, not Jabari Smith Jr. The Fertittas paid John Wall $85+ million over two years to sit at home so the team could groom Porter Jr. to be their future point guard.
Then they doubled down. With restricted free agency on the horizon and a seemingly non-existent market for KPJ's services, the Rockets gave Porter Jr. an extension a year sooner – a contract that was presented as a four-year, $82.5 million deal. The deal was more team-friendly than that, putting team options in it after years 1 and 3. Going from the potential disaster that was initially reported to a deal they could escape after one season felt like a "win", but the biggest question was why they wanted him long-term at all. The unprecedented nature of a contract that size with that kind of club control clearly showed the Rockets knew there was unique and significant risk here.
After KPJ signed the extension, The Athletic's Kelly Iko summarized the Rockets view of Porter Jr. – "As has been [their] stance for months, the Rockets have maintained the notion that Porter is a priority and is considered a huge part of their core, along with Green and Jabari Smith Jr."
The Rockets actions to kick off the 2022-23 season showed exactly that – that he was a priority. They benched Sengun to start the season, in large part to give KPJ a "lob threat" and defender in the starting lineup. They gave him the superstar "Harden Locker". They introduced him last in the starting lineups. They treated him as the star and empowered him to be the self-proclaimed "Head Honcho" of Clutch City.
But the extension proved unwise and foolish. Porter Jr. never even made it to the first year of it. With over $80 million on the line, he snapped again. The Rockets signed him to one of the team-friendliest deals ever and still managed to both overcommit and overpay as Stone now scrambles to attach real assets to it to get another team to take it off his books.
Is it fair to question the judgment of the Rockets front office? Absolutely and without question. Whether you look at their ability to value character, evaluate risk, scout basketball, build culture, manage assets or allocate development resources, they failed at every level here. Why didn't they act sooner? Why did they double down? Why didn't they hold him accountable? Why did everybody in the league see it but them?
"We value the player and the person that [Kevin Porter Jr.] is becoming and are eager to invest in him and his journey," said Stone after rewarding him with the extension less than a year ago.
The question you have to ask yourself now is, with all they knew and witnessed about Porter Jr. both on and off the court — why were they eager at all?