Jeremy Lin's Big Test
Carl Fudge analyzes the strengths and weaknesses of Jeremy Lin and stresses the importance of the Rocket point guard getting out of the gate strong.
Houston Rocket training camps have been interesting times for Jeremy Lin. Cut from the team two years ago, the 25-year old point guard returned to Houston last season as a flashy free agent acquisition following his unprecedentedly "Linsane" performances in New York. Houston general manager Daryl Morey prized the resurgent Harvard grad away from the Knicks with an infamous poison pill contract as Lin looked set to install himself as Houston's point guard of the future, team leader and global icon that had been missing since Yao Ming retired.
How things have changed.
As training camp sets to kick off this weekend, Lin finds himself starting alongside All-Stars James Harden and Dwight Howard in a powerful lineup that has legitimate championship aspirations. While Lin was front and center of the team's marketing efforts last season, this year he has seemed a secondary figure, hardly being featured in the team's marketing campaigns and not called upon to help recruit Dwight. While Lin was the unquestioned choice as the team's starting point guard last season, legitimate questions exist about his role on the team this year. Make no mistake, this is a pivotal time in Jeremy Lin's career as a Rocket.

Just how good was Lin in 2012-2013?
No player in recent memory has sparked as much debate as the Rockets' #7. Given the amount of attention and analysis he has generated since his Linsanity days, it can be hard to understand the real story and – to borrow a phrase from Nate Silver – separate the signal from the noise.
Let's start with some of the things Lin did well.
2012-2013 was Jeremy Lin's first full season as a Houston Rocket and as a starting point guard. He started every single game of the regular season, logging the third highest amount of minutes on the roster and guiding the team to a winning record and playoff berth.
Lin's averages last year – 13.4 points, 3 rebounds and 6.1 assists – were solid but perhaps a bit underwhelming to fans who had hoped for Linsanity numbers and didn't factor in his lower usage rate on the Rockets (20.7%) compared to his time on the Knicks (28%). While some fans questioned Lin's performance, Morey clearly laid out why he was happy with his point guard's debut season during an interview on CBS Sports Radio 610 back in May, saying:
Jeremy had a great year. The only way to think about Jeremy maybe not having a great year would be to say he had to play the whole year like he did in New York. James and Omer generated the most wins for our team but Jeremy Lin was third and on a 45-win team to make the playoffs and be the starter, he had a great season.

He's the fifth-best pick and roll player in the league on nine pick and rolls a game. Overall, he really helped our offense, set up his teammates very well. On defense people focus a little bit too much on Tony Parker maybe did well against him, or some of these super fast guards, but the reality is those players do really well against everybody. On average, Jeremy had a very good defensive year, he's very good at 50-50 balls, he's very good at distributing the ball, and one of the top players in blocked shots and steals. So, overall, he had an extremely good year and we're nowhere near the playoffs without Jeremy Lin.
Morey's analysis, as always, is backed up by the numbers. Jeremy Lin was indeed the 5th best NBA pick-and-roll point guard in terms of points created for the roll man, setting up Rocket screeners nicely as they cut to the basket. This stat is even more impressive considering the somewhat limited offensive skillset of the recipient of most of those passes, Omer Asik. As I laid out in my last piece, the pick-and-roll is a fundamental part of the Rockets' offense, and with Dwight Howard now on the floor, Lin and the Rockets will only become more dangerous in this facet of the game.
Lin was a good distributor of the ball in other parts of the offense last season too, dishing out 497 total assists (15th best in the NBA) at 6.1 assists per game (20th best). The majority of Lin's assists led to dunks, close shots and three-pointers, showing both his ability to set teammates up for high quality shots that fit the game plan and his competence in running the fast break.
As a creator of his own offense, his performance dipped compared to his hot streak on the Knicks — Jeremy's points per possession in isolations went down from 1.02 to 0.68. However, one thing that stood out was his ability to draw fouls while in the act of shooting. He finished 12th among point guards in And1% (And1s/FGA), and 17th in free throw rate (FTA/FGA), putting him above the likes of Kyrie Irving in both categories.
Lin was effective defensively too, and is probably a bit underrated in that part of the game. While he seemed to struggle staying in front of some of the quicker guards, Lin still contributed 1.6 steals per game (11th best among PGs in the NBA), 0.35 blocks per game (also 11th best), and took 0.27 charges per game (12th best among PGs). When you combine the previous 3 stats into a jumbo defensive rating, Lin was the 9th best defensive PG in the NBA.
Three-point shooting, turnovers, mental toughness have been concerns
Despite Morey's faith in Lin, critics do have a point to make. While the Rockets' biggest positional disadvantage last year was power forward, the point guard position wasn't far behind. Compared to their opponents, the Rockets had a PER (Player Efficiency Rating) deficit of 2.1 every night at the point guard spot, scoring two less points, delivering one less assist and committing one more personal foul.
One thing that has rightly caused concern among Rockets fans is Lin's shooting percentages. The Rockets' uptempo offense is designed to create a lot of open three-point shots, especially from the wings; last year the team took 2,371 shots from beyond the arc and made 867, the second highest total in NBA history by a team in one season. Three-pointers will be even more key this year with Howard and Harden certain to attract their fair share of double teams, leading to open shots on the perimeter.
Last year Lin took 257 three-pointers – over 10% of the team's shots from that distance – and made 87 of them, good for a 33.9% average. That level of efficiency puts Lin outside the top 100 best three-point shooters in the league and well below the better three-point shooting point guards in the NBA, such as Jose Calderon (46.1%), Steve Nash (43.8%), Mario Chalmers (40.9%), Jarrett Jack (40.4%), and Irving (39.1%).
There's no disguising Lin's shooting numbers, but glimmers of light do exist. Lin shot about 5% higher from three-point land at home than he did away. His numbers from downtown (39.3%) in the final 34 games of the regular season were much better than his early season efficiency. And lastly, his most effective shots came from spot-ups, exactly the shots he'll see more of with Dwight on the floor. With more experience in the league's different arenas, less defensive attention on him and lots of offseason practice, it is fair to expect him to convert his treys this season at a much higher clip.
Turnovers were also a concern. His assist-to-turnover rate was a Jrue Holiday-esque 2.13, putting him outside the top 30 PGs in the league. Adding to that was his turnover ratio (% of possessions that resulted in a turnover), which at 13.3% was the fourth highest in the league. Lin's turnovers were caused more by bad passing (131) than by bad ball handling (89) and that number probably suffers a bit due to the fast pace the Rockets employ. With that said, Lin coughed up the ball as much in pick-and-roll situations (20.9% of these possessions led to a turnover) as he did in transition (21.1% of his transitions led to a turnover), suggesting a need for better decision making with the ball and playing more under control.
A final concern exists around Lin's mental makeup. By his own admission, he struggled with this facet of his game last year. Describing the challenges he faced last season as a Rocket and his mentality moving forward, Lin said:
"I'm just going out there to play and not worry about anything: about proving myself to anybody, or proving my worth, or trying to live up to a contract, or whatever. I'm just going to go out there and play completely free of all the expectations and all the noise, the pressure. With the signing of Dwight and the emergence of James, there's going to be a lot more spotlight, but for me it's just a matter of going in everyday and doing my best. I'm just going to play the way that got me here."
Will below average be good enough?
While there is no glaring hole in Lin's game, he also doesn't have an elite skill either. He's an above average passer and defender that runs the pick-and-roll well, but he's a below average shooter, ball handler and creator of his own offense. When you add it all up and stack him up against a league that's full of quality point guards, you get a player whose PER output (14.9) is below average for his position (16.2) and puts him just outside the league's top 30 playmakers. While the PER stat isn't loved by all, other advanced stats tell a similar story: he didn't make the top 15 of a recent WARP-based projection of the NBA's top point guards and he ranks 27th among point guards in both Value Added and Estimated Wins Added. Championship-winning teams do not have to be elite at every position, but with only two All-Stars, the Rockets need to squeeze every drop of performance out of their point guard spot if they are serious about contention.
What could happen if Lin has a slow start
Lin is the clear starter, but if he returns to his past struggles from the three-point line, commits too many turnovers or fails to gel with Dwight, it could lead to him being replaced in the starting lineup in favor of Patrick Beverley, who played well last year as Lin's backup. Though Beverley's minutes constitute a smaller sample size (710 minutes), the Rockets as a team posted a 98.8 Defensive Rating when he was on the floor (compared to 104.0 with Lin), a ranking that would be good enough to be third best defense in the league. To add to that, there was almost no dip offensively (106.4 Offensive Rating with Lin on the floor, 106.1 with Beverley).
While it is not plan "A", it is possible that the Rockets could be more dangerous with Lin on the bench than when he starts. In Asik and Lin, the Rockets could deploy two starting-quality players against other teams' second string lineups, a configuration that would allow Lin to be a #1 offensive option. Lin has played well in that role in the past with the Knicks in 2011-2012 and in bursts last year, with his breakout 38-point night coming against the Spurs when Harden was out with an injury.
The Rockets won't rush any decision. They understand the value of lineup stability and will want to collect a reasonable sample size of data to analyze both his and Beverley's play before deciding that a change is needed. Suggestions in the recent ESPN Insider piece that Coach McHale might change his lineup based on training camp and preseason were probably a bit aggressive. The theory I have heard from an NBA source is that the Rockets will give the new Dwight-led lineup 20 games to gel before making a move of this magnitude.
Of course, coming off the bench was not what Lin had in mind when he signed his $25M contract last year, but with Howard and Harden now in the fold, the bar of expectations has been raised and the need for the right fit has increased. If he takes a step forward and proves to have addressed some of his weaknesses, he can cement his role as the starting point guard on a contending team.
Now we see if he's ready for that new challenge, because for the scholarly Lin, the first 20 games of the 2013-2014 NBA season will be the biggest exam he has ever taken.
Carl Fudge is a second year MBA at MIT Sloan where he is the content lead for the Sloan Sports Analytics Conference. He is a lifelong Rockets fan and has been posting on ClutchFans as GBRocket since 2003.
Jabari Smith steals show in Rockets preseason opener
The Rockets rookie is legit as we take a look at what else stood out in Houston's preseason rout of the Spurs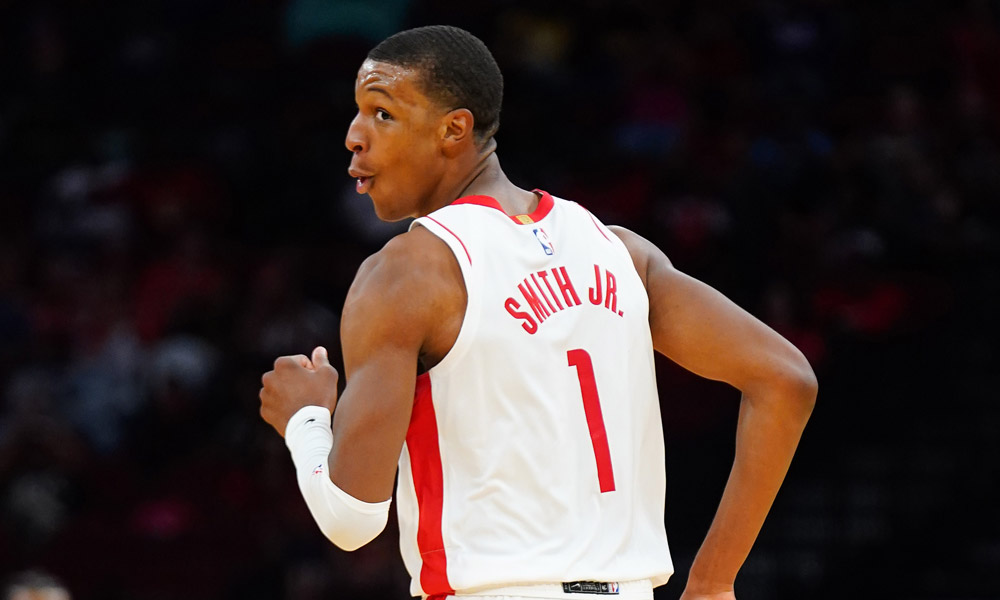 Finally, Rocketball is back — the Rockets destroyed the San Antonio Spurs 134-96 in the preseason opener Sunday night.
Granted, the Spurs look flat out terrible (the top contender for Wembanyama?) and may finish dead last (and it showed), but there were a number of things that played out in this game that should get Houston fans excited.
But before I get into that, I want to give a huge shout out to everyone who supported RocketsWatch Sunday night. We are watching and discussing Rockets games in realtime this season and the debut was overwhelming. There were over 700+ fans watching the game with Roosh Williams and I in what might be the largest online watch party ever for a Rockets game. The live reactions from the fans were priceless!
Let's talk about what stood out in this game:
Jabari is the real deal
Going into Sunday night's preseason opener for the Rockets, the biggest question on the minds of fans was simple — how will #3 overall pick Jabari Smith Jr. look in his first NBA action?
The answer is good. Really good.
Jabari threw down a dunk out of the gate and then locked in on high-energy defense on the other end and right away you knew — the Christian Wood Era was over. Jabari's impact was immediate on both ends of the floor. Smith finished with 21 points on 8-15 shooting, including a blistering 5-8 from deep, to go with eight rebounds in 24 minutes.
Jabari described himself as "a lot more loose" than he was at Summer League, when he struggled to knock down his shots.
"It was easy," said Jabari. "My teammates made it easy for me, finding me when I was open. The rest just came from knocking down shots, running the floor, trusting the offense and trusting my teammates."
What most impressed me was how quick of a trigger Jabari had on the catch-and-shoot. He would receive a pass out of the post or a cross-court pass in the corner and would instantly let it fly, shooting easily over his defender's reach. This trait stood out and was very Klay Thompson-esque. In the second half, Jabari hit a pull-up triple in transition (his fourth) that was very enticing, then absolutely slayed those of us in the RocketsWatch room when he took two long strides back from the free throw line to drain another triple.
At that point, it was official — the rookie was clowning the Spurs. I can't tell you how thrilled I am that the Rockets drafted Jabari. This man is going to fit like a glove and will be a ridiculous two-way weapon for the Rockets long term.
https://twitter.com/brhoops/status/1576753965730889729?s=20&t=X5YfCfDU5HwynBnvqoicSQ
Defense. They're actually playing it. It's true.
I don't need to repeat that the Rockets were dead last in defense last year, but… the Rockets were dead last in defense last year. Although, maybe I need to turn that frown upside down.
https://twitter.com/FraudeauxNBA/status/1576358215406989312?s=20&t=X5YfCfDU5HwynBnvqoicSQ
Sunday, however, was a different animal and you could tell immediately. The Rockets were hustling, moving quickly on rotations and closeouts.
"It's the defense, obviously, that we've been concentrating on," said Stephen Silas. "Our help was good tonight. Our multiple efforts were really good… I'm super encouraged by our intensity on the defensive end."
Jabari was a big part of that. He made some clear mistakes, sure — I'm not going to say he was perfect — but he seemed to set the tone. Still, it's not just Jabari — it's clear to me the mindset of this team is in stark contrast to what we've seen the past two seasons. Maybe it's the Jabari Effect or maybe Lionel Hollins is making his presence felt, but this does not look like the 2021-22 Rockets on this side of the ball.
Tari Eason is pretty much plug-and-play
I had my doubts that Tari Eason would get a ton of run in this game, but Silas played him early (note: Jae'Sean Tate sat this game out). Without having any clear plays run for him, Tari fought and scrapped for 21 points and 10 rebounds (six offensive!) in just 21 minutes. He hit 9-13 from the floor.
"My mentality never changes," said Eason. "I'm always going to be in the right spot, get after it defensively and be one of the hardest playing dudes on the court. I think that translates at any level and I'm just going to continue to do that."
He plays like his hair is on fire and has tremendous potential as a two-way demon. Throw him out there when things get stagnant and he's going to make things happen.
I've felt that the Rockets will likely bring Tari along slowly until they figure out what the long-term solution is for guys like KJ Martin, but Operation Patience isn't going to work if he keeps putting up lines like this. You can't keep him to the bench or send him to the G-League.
Is Bruno Fernando the backup center?
It sure seems that way. After news broke that the Rockets had signed Fernando to a four-year, nearly $11 million deal, Bruno was the first big off the bench, subbing in for Alperen Sengun.
I'll be honest — this really surprised me. I expected that Usman Garuba would have the clear inside track to the spot. Fernando also seemed like a good bet to be on a two-way contract, but now with this new deal, Fernando is going to be on the 15-man roster and barring a trade, someone has to be cut (Boban? Favors?) that isn't expected to be.
But Fernando, who sources say has been terrific in camp, showed why he got that contract, finishing 3-3 from the field and was a +18 in just 11 minutes. He was very effective on rolls, capping a pair of alleyoop passes from Kevin Porter Jr. I would be lying if I said I saw this coming, but it's a welcome development.
Rotation Notes
It's only one preseason game, but we still can draw a lot from how Silas sees the rotation.
Bruno looking like a good bet for the backup center role was not the only surprise. KJ Martin and Daishen Nix, along with Bruno, were the first subs of the night. That indicates what we expected, that Nix is in the lead for the backup PG spot over TyTy Washington, who I would guess will run the show with the RGV Vipers early on. I like TyTy as the better bet for this spot long term, but right now the job appears to be Nix's to lose.
But KJ is a little surprising, given he reportedly wanted out this past offseason with the Rockets slated to bring in a couple bigger prospects (Jabari and Tari) at his position.
Garrison Mathews played only five minutes. The prediction many have made that Silas would play him 15+ minutes this year is not looking so hot.