Will Carroll Q&A: Beverley's knee remains a "fairly major concern" for Rockets
Will Carroll, a national sportswriter specializing in injuries and treatment, joins us to discuss the status of Patrick Beverley's knee and his future.
Patrick Beverley may not be out of the woods yet when it comes to his troublesome right knee. After tearing the meniscus in late March and briefly reaggravating it in Game 1 of the playoffs vs. Portland, it remains a concern for both he and the Rockets as they map out his usage for the 2014-15 season.
With training camp approaching, the Rockets and Beverley are working together on a plan to manage and stabilize the knee and particularly the muscles surrounding it. Beverley, of course, opted against having any surgical procedure to correct the injury, instead returning to the court after just two weeks and playing an integral role in the team's playoff run.
Beverley's ability to avoid surgery was in contrast to many other high-profile athletes with meniscus tears, including Houston Texans rookie linebacker Jadeveon Clowney, who underwent surgery just this week and is expected to be out at least 4-to-6 weeks.
Will Carroll, lead writer of sports medicine at Bleacher Report and a long-established expert in the field of sports injuries, spoke to us and also joined the Red & Orange Report podcast to discuss how the Rockets may manage Beverley going forward. A transcript of our conversations is below:

Q: Ultimately, Pat ended up not choosing to go through with a surgical procedure. How much of a concern is this for Pat Beverley going forward?
A: It's a fairly major concern. I know Daryl Morey and the staff there have calculated the odds, and they've gone with a very aggressive rehab protocol. They think they can stabilize that knee otherwise.
In pulling part of the meniscus or even in a repair, it's not going to be exactly as it was. It's going to change the internal structure of the knee. So what you have to do, if you can't stabilize that portion, if you're not putting it back as close to 100% as you can, you have to stabilize around it. In any sort of situation with that, that's where you want to focus.
In early rehab, you want to work on those secondary stabilizers. If the muscles surrounding the knee are not only intact but strong, they can get that sense of where things are in space and when things are getting too taxed. If you've ever sprained your ankle, you felt it. You couldn't do much. Athletes tend to have a much better proprioceptive and spatial sense about them. It's part of their gift. So Beverley's going to have to work really hard, and I'm sure he has, all the way up to and through training camp to get those stabilizers. He's also going to have to not overtax himself to where his muscles are tired and cease to be the strong stabilizers that he's going to need to protect that knee.
So the medical staff is going to have to work with the analytics staff, which is going to have to work with their sport science staff, to put everything together. This is going to be an amazing puzzle of human performance to keep him as healthy as they possibly can.
If you think about it, he's going to have to do all the things he has to do athletically and within a team context on top of try to manage his own fatigue and manage his recovery and continue to do a rehab/prehab protocol throughout the entire season. In other words, Patrick Beverley's going to be spending a whole lot of time with the medical staff. We don't see that outside. That's one of those things. It's that invisible game of sports medicine and sports science and human performance that some people are putting hours and hours of their lives into. We don't reward them. Most people don't know who the athletic trainers and physical therapists are that get these athletes back on the field, but they're an incredibly important part of any team.
Q: In general, what is the risk profile of someone with an untreated meniscus tear? Without accounting for the specifics of a team or player's rehab plans, what are the general future problems that an NBA player playing with this injury might have?

A: It's certainly risky, but the doctors feel it's manageable, so I have to go with that. Mostly you see arthritis. It can get more serious where there's grinding and has to be cleaned out or even microfracture. Down the line, knee replacement is possible, but that's in the general population.
Q: Are the Rockets, as an organization, prepared for this?
A: I think where the Rockets might have an advantage is that they are a very data-driven team. They've been using the Skyview cameras, they've been using a lot of analytics, things like the Catapult system which tracks the players and their statistics such as heart rate and respiration, and I think with all that data, that's going to give them an advantage in figuring out what Beverley can and cannot do and how to manage that properly.
Q: I know both the team and Pat himself are going to be on top of this. One of our good sources at ClutchFans said earlier this summer that Pat was contemplating going to Germany and trying some of those treatments. I don't know that he actually did it — if he did, we never heard about it — but I know that he and the team are looking at contingencies. Would a minutes restriction help? If you play him 30-to-32 minutes per night instead of 38 minutes, is that something that may help him last longer?
A: Yeah, but that's oversimplifying it a little bit. I don't think that you're wrong. If this were two years ago, my answer would've been 'Yes, absolutely'. But again, with the amount of data that we have, the new data from the cameras, the sensors and the performance data we can get, things are changing. If you run him on an AlterG treadmill, which is one of those anti-gravity, air-pressure treadmills — I know Houston is one of the teams that has one — you're going to be able to figure out what he can do. What kind of sprints can he run? Because basketball isn't like running a 5K. You can go through a lot of information and work on a lot of things, and you can have him on court in practices and scrimmages and then figure this out.
So it would be simplistic, but not incorrect, to say that a minutes restriction could do that. But I think it's going to be more than a minutes restriction. How is he going to be out there? Is it better for him to be out there for 4 minutes and then a rest, or is it better for 10 minutes and then come back? How does his knee react to that?
There are so many factors that just a few years ago, we wouldn't have had access to. And now, because we have this emerging data, we're going to have a better sense for it. You're not wrong about a minutes restriction, but I think they're going to be able to come up with an exceptionally-individualized program that's going to make it better for him. Sensors and sensor data is one of the most exciting parts of sport science right now. And I think it's absolutely amazing how fast it's moving.
Q: Beverley is a free agent in July 2015. With the medical knowledge that teams have today, is there a chance that this lingering issue could impact his market value going forward?
A: Absolutely, but it should be a known quantity by then. It depends on where he goes. Some teams are better at managing things like this, and Houston's one of them.
Jabari Smith steals show in Rockets preseason opener
The Rockets rookie is legit as we take a look at what else stood out in Houston's preseason rout of the Spurs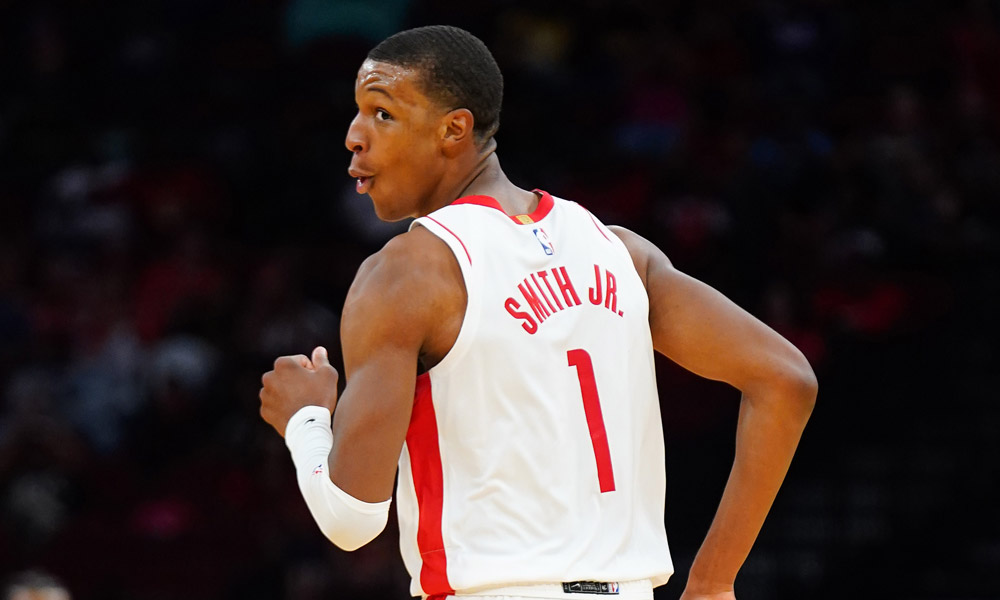 Finally, Rocketball is back — the Rockets destroyed the San Antonio Spurs 134-96 in the preseason opener Sunday night.
Granted, the Spurs look flat out terrible (the top contender for Wembanyama?) and may finish dead last (and it showed), but there were a number of things that played out in this game that should get Houston fans excited.
But before I get into that, I want to give a huge shout out to everyone who supported RocketsWatch Sunday night. We are watching and discussing Rockets games in realtime this season and the debut was overwhelming. There were over 700+ fans watching the game with Roosh Williams and I in what might be the largest online watch party ever for a Rockets game. The live reactions from the fans were priceless!
Let's talk about what stood out in this game:
Jabari is the real deal
Going into Sunday night's preseason opener for the Rockets, the biggest question on the minds of fans was simple — how will #3 overall pick Jabari Smith Jr. look in his first NBA action?
The answer is good. Really good.
Jabari threw down a dunk out of the gate and then locked in on high-energy defense on the other end and right away you knew — the Christian Wood Era was over. Jabari's impact was immediate on both ends of the floor. Smith finished with 21 points on 8-15 shooting, including a blistering 5-8 from deep, to go with eight rebounds in 24 minutes.
Jabari described himself as "a lot more loose" than he was at Summer League, when he struggled to knock down his shots.
"It was easy," said Jabari. "My teammates made it easy for me, finding me when I was open. The rest just came from knocking down shots, running the floor, trusting the offense and trusting my teammates."
What most impressed me was how quick of a trigger Jabari had on the catch-and-shoot. He would receive a pass out of the post or a cross-court pass in the corner and would instantly let it fly, shooting easily over his defender's reach. This trait stood out and was very Klay Thompson-esque. In the second half, Jabari hit a pull-up triple in transition (his fourth) that was very enticing, then absolutely slayed those of us in the RocketsWatch room when he took two long strides back from the free throw line to drain another triple.
At that point, it was official — the rookie was clowning the Spurs. I can't tell you how thrilled I am that the Rockets drafted Jabari. This man is going to fit like a glove and will be a ridiculous two-way weapon for the Rockets long term.
https://twitter.com/brhoops/status/1576753965730889729?s=20&t=X5YfCfDU5HwynBnvqoicSQ
Defense. They're actually playing it. It's true.
I don't need to repeat that the Rockets were dead last in defense last year, but… the Rockets were dead last in defense last year. Although, maybe I need to turn that frown upside down.
https://twitter.com/FraudeauxNBA/status/1576358215406989312?s=20&t=X5YfCfDU5HwynBnvqoicSQ
Sunday, however, was a different animal and you could tell immediately. The Rockets were hustling, moving quickly on rotations and closeouts.
"It's the defense, obviously, that we've been concentrating on," said Stephen Silas. "Our help was good tonight. Our multiple efforts were really good… I'm super encouraged by our intensity on the defensive end."
Jabari was a big part of that. He made some clear mistakes, sure — I'm not going to say he was perfect — but he seemed to set the tone. Still, it's not just Jabari — it's clear to me the mindset of this team is in stark contrast to what we've seen the past two seasons. Maybe it's the Jabari Effect or maybe Lionel Hollins is making his presence felt, but this does not look like the 2021-22 Rockets on this side of the ball.
Tari Eason is pretty much plug-and-play
I had my doubts that Tari Eason would get a ton of run in this game, but Silas played him early (note: Jae'Sean Tate sat this game out). Without having any clear plays run for him, Tari fought and scrapped for 21 points and 10 rebounds (six offensive!) in just 21 minutes. He hit 9-13 from the floor.
"My mentality never changes," said Eason. "I'm always going to be in the right spot, get after it defensively and be one of the hardest playing dudes on the court. I think that translates at any level and I'm just going to continue to do that."
He plays like his hair is on fire and has tremendous potential as a two-way demon. Throw him out there when things get stagnant and he's going to make things happen.
I've felt that the Rockets will likely bring Tari along slowly until they figure out what the long-term solution is for guys like KJ Martin, but Operation Patience isn't going to work if he keeps putting up lines like this. You can't keep him to the bench or send him to the G-League.
Is Bruno Fernando the backup center?
It sure seems that way. After news broke that the Rockets had signed Fernando to a four-year, nearly $11 million deal, Bruno was the first big off the bench, subbing in for Alperen Sengun.
I'll be honest — this really surprised me. I expected that Usman Garuba would have the clear inside track to the spot. Fernando also seemed like a good bet to be on a two-way contract, but now with this new deal, Fernando is going to be on the 15-man roster and barring a trade, someone has to be cut (Boban? Favors?) that isn't expected to be.
But Fernando, who sources say has been terrific in camp, showed why he got that contract, finishing 3-3 from the field and was a +18 in just 11 minutes. He was very effective on rolls, capping a pair of alleyoop passes from Kevin Porter Jr. I would be lying if I said I saw this coming, but it's a welcome development.
Rotation Notes
It's only one preseason game, but we still can draw a lot from how Silas sees the rotation.
Bruno looking like a good bet for the backup center role was not the only surprise. KJ Martin and Daishen Nix, along with Bruno, were the first subs of the night. That indicates what we expected, that Nix is in the lead for the backup PG spot over TyTy Washington, who I would guess will run the show with the RGV Vipers early on. I like TyTy as the better bet for this spot long term, but right now the job appears to be Nix's to lose.
But KJ is a little surprising, given he reportedly wanted out this past offseason with the Rockets slated to bring in a couple bigger prospects (Jabari and Tari) at his position.
Garrison Mathews played only five minutes. The prediction many have made that Silas would play him 15+ minutes this year is not looking so hot.