Asik, Howard Starting Together — What To Look For
Dwight Howard and Omer Asik will both start against the Dallas Mavericks. Here are some questions we hope Monday night helps to answer.
Omer Asik was set to make his preseason debut on Monday against the Dallas Mavericks, but it got a whole lot more interesting on Sunday when coach Kevin McHale announced that he will try starting Asik and Dwight Howard together that night.
This will be the fourth power forward starter that McHale has tried in five preseason games for the Rockets as Asik joins Donatas Motiejunas, Terrence Jones and Omri Casspi.
So now the science experiment gets really interesting as we get our first real look at two top 5 defensive centers playing together. I've been a big believer that this is not a sustainable lineup, that Asik and Howard on the floor at the same time is best suited for specific matchups or short bursts when the Rockets need elite paint protection.
It's no secret that Asik has not been happy since the Rockets acquired Howard. He was a huge positive last year, yet he lost his starting spot after a tremendous season and is likely to see less playing time. Starting Asik could go a long way towards finding a lot of court time for him.
If it's going to work, here are some of the questions we hope Monday night can help answer:

How does it impact the spacing?
So much of the Rockets' offensive success depends on spacing, and that's what makes the addition of Dwight so lethal. Unlike Asik last year, Dwight commands a double team in the post, which creates all kinds of possibilities. You can spread the floor with shooters around the arc from baseline to baseline and fire away, and that spacing creates lanes for guys who attack the basket like James Harden, Jeremy Lin and Parsons.
By starting two players with limited to no range, you invite the defensive frontcourt to stay low. Theoretically, that makes everything in Houston's offense more difficult, with the chief concern being how it impacts Harden's ability to penetrate. This isn't a completely foreign concept as the Rockets did play Asik and Greg Smith together at times last year, but this is the primary thing to observe Monday night.
Is Asik going to guard Dirk Nowitzki?
Samuel Dalembert should be a light snack for whichever Rocket center guards him, but it's more complicated when you're talking about an elite defensive center moving out to guard a four in today's NBA, and Dallas would seem to be one of the worst possible matchups as Dirk Nowitzki can stretch the floor like no other. Now Chandler Parsons has guarded Dirk before, but that would leave a small forward like a Shawn Marion or Jae Crowder for the second center.
So will Mavs coach Rick Carlisle quickly adjust, combating Houston's pivots by going small, and how effective will a "Smallball" lineup be against Houston's big interior?
Do the Rockets dominate the boards?
We're talking about the #1 (Howard) and #3 (Asik) rebounders per game last year joining forces. Now it's a different story when they're on the same team sharing the same rebounds, but theoretically the Rockets could own the glass, limiting opponents to one shot per possession and possibly creating more shots for the Rockets with offensive boards. If Houston can get out and run, this rebounding edge may be where the advantage is created by starting the two together.
Former Rockets coach Bill Fitch, who knows a thing or two about starting two top centers together, told us last week in the podcast that he thinks Asik-Howard together can be successful for stretches.
"I haven't run them baseline to baseline together," said Fitch. "But if they can get up and down the floor… I look for it to be a 10-20 minute success in any ballgame."
Heavy investment in Kevin Porter Jr raises serious questions about Rockets front office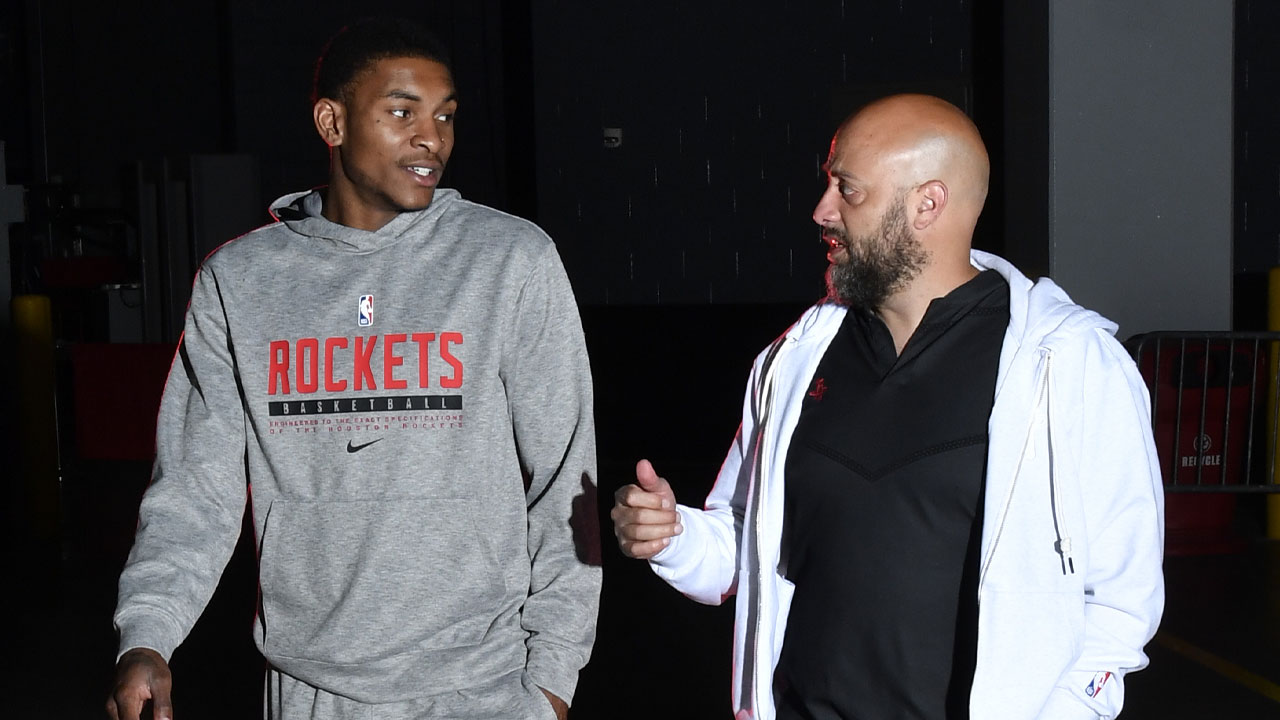 Soon-to-be-ex Rockets guard Kevin Porter Jr was arrested last week for allegedly assaulting his girlfriend, resulting in a fractured neck vertebra and a deep gash above her right eye after an attack at a hotel in New York. He allegedly woke her up by punching her repeatedly, strangled her and did not stop hitting her until she ran out of the hotel room screaming for help and covered in blood.
"This is a serious domestic violence case," said assistant Manhattan district attorney Mirah Curzer.
First and foremost, I wish the victim healing. I don't know what to say about the nightmare she went through. She and her family will forever be impacted. As for KPJ, if this is true, he doesn't belong on the Rockets or in the NBA at all. He belongs in jail.
Secondly, this can't be overlooked and just swept under the rug: Why did the Houston Rockets bank on and invest so heavily in this guy?
Kevin Porter Jr. being accused of crimes of this severity should not be shocking – at all. Before he even came to the Rockets, he had a long list of serious problems. He was suspended multiple times in high school. In 2019, he had a "conduct issue" significant enough that USC suspended the 5-star recruit indefinitely. He fell to the end of the first round of the 2019 NBA Draft because of his behavior liability. He was accused of punching a woman in the face in Cleveland. He also had a gun and marijuana charge later dismissed after getting into a car crash. He went into a tirade and got into a nasty confrontation with both the Cleveland coach and GM, resulting in the Cavs severing ties immediately and dumping him to the Rockets for nothing.
You could make the argument that initially giving Porter Jr. a second chance in Houston was praiseworthy, but the Rockets experienced KPJ's anger management and immaturity issues firsthand on several occasions.
Former Rocket Austin Rivers said this week that this isn't the first, second or even seventh issue with Porter Jr. and that Rockets "higher-ups" confided in him that they had no idea how to handle him.
"I remember talking to guys in the Houston Rockets organization, higher-ups, [and] they were having issues then," said Rivers. "They were like, 'We don't know what to do with him.' And that's when he just got there from Cleveland!"
Porter Jr. was routinely a nightmare for Rockets coaches to deal with. On several occasions, he confronted and cussed out members of the coaching staff, saying they didn't have the "credentials", per source, a reference to the fact that him playing heavy minutes at point guard was a decision they did not control.
Once at a night out, Porter Jr. had a disagreement with a DJ over music choice and he snapped, smashing the DJ's laptop to the floor. He needed to be restrained and removed. Rockets personnel and several of Porter's teammates witnessed the incident.
Curzer also dropped a bombshell at the arraignment in saying that Porter Jr. has a history of abusing his girlfriend, who he had only been dating since early last year, his second season with the Rockets. Curzer specifically cited an incident in which KPJ allegedly rammed his car into hers.
There were dozens of maturity issues visible on the court to anyone paying attention. He refused to check out of games. He got into an argument on the bench with assistant Lionel Hollins. On numerous occasions, he would visibly shut down when he wasn't passed the ball. I invite you to watch this video from a game against Memphis on March 20, 2022. Just listen to the Grizzlies broadcasters, particularly starting at the 1:40 mark, talk about what they are witnessing here:


Privately, people around the league would say they were baffled by the Rockets continued fascination with Porter Jr. Nobody could understand it.
That fascination starts with Rockets general manager Rafael Stone, who by every account over the last two years was the driving force behind the investment in Porter Jr. It has been no secret. Trading for him in January 2021 was seen by some with the team as his "Harden acquisition", code for a signature move that makes an executive's career, much in the way landing James Harden did for Daryl Morey in 2012.
For example, former Rockets head coach Stephen Silas never considered Porter Jr. to be a point guard, per sources — playing him there was a Stone mandate because the GM believed that is where his future lied.
John Wall also told us as much publicly when he explained the phone call he got from Silas about coming off the bench. He said Silas told him "This is what the GM wants," adding again that Silas said, "Man, you don't deserve that. You should be the starter. This is just what they want to do." Wall was upset because he believed KPJ should have to earn the spot.
"I have a hard time finding anybody outside of the Rockets front office that believes that Kevin Porter Jr. is a starting point guard in the NBA," said ESPN reporter Tim MacMahon in December.
There were plenty of warning signs about KPJ to the public too.
After Porter Jr. got into a heated argument in which KPJ "physically shoved" Rockets assistant coach John Lucas and quit on the team in the middle of a game against Denver in January of 2022, leaving the arena at halftime, Sports Illustrated's Chris Mannix famously wrote that the Rockets should "Cut Porter Jr. Waive him. Release him. Whatever. Eat what's left of the $1.8 million he's owed this season and the $3.2 million he's got next and move on." It became a source of mockery for Porter Jr's fans, a line they would bring up after each game he hit a few threes or handed out some assists.
In February of this year, ESPN's Jonathan Givony, one of the most connected reporters in the league, flat out warned us that he was hearing awful things about the Rockets culture and locker room. He was blunt in what the Rockets needed to do — waive Kevin Porter Jr. outright and bring in a new coach and GM.
"Just cut him. That's it," said Givony of Porter Jr. "And you're sending a signal to the league that we're going to do things differently from here on out."
"When you talk to people around the NBA about Houston, you just don't hear good things about their culture, about that locker room. You talk to people that are on that team, and they are like, 'We are a mess'," said Givony. "Do people want to work with this organization? But you can change that fairly quickly if you come in, get rid of the bad apples and you change the coaching staff, and all of a sudden, you're Houston. It's the third-biggest city in America. There's a history here of you actually being good."
Porter came to the Rockets for "free" (in exchange for a top-55 protected second-round pick, which was designed not to convey), but he proved far from it as the Rockets continued to pour investment into him. Over the last 2-3 seasons, no Rockets player got more developmental capital than Porter Jr. – not Jalen Green, not Alperen Sengun, not Jabari Smith Jr. The Fertittas paid John Wall $85+ million over two years to sit at home so the team could groom Porter Jr. to be their future point guard.
Then they doubled down. With restricted free agency on the horizon and a seemingly non-existent market for KPJ's services, the Rockets gave Porter Jr. an extension a year sooner – a contract that was presented as a four-year, $82.5 million deal. The deal was more team-friendly than that, putting team options in it after years 1 and 3. Going from the potential disaster that was initially reported to a deal they could escape after one season felt like a "win", but the biggest question was why they wanted him long-term at all. The unprecedented nature of a contract that size with that kind of club control clearly showed the Rockets knew there was unique and significant risk here.
After KPJ signed the extension, The Athletic's Kelly Iko summarized the Rockets view of Porter Jr. – "As has been [their] stance for months, the Rockets have maintained the notion that Porter is a priority and is considered a huge part of their core, along with Green and Jabari Smith Jr."
The Rockets actions to kick off the 2022-23 season showed exactly that – that he was a priority. They benched Sengun to start the season, in large part to give KPJ a "lob threat" and defender in the starting lineup. They gave him the superstar "Harden Locker". They introduced him last in the starting lineups. They treated him as the star and empowered him to be the self-proclaimed "Head Honcho" of Clutch City.
But the extension proved unwise and foolish. Porter Jr. never even made it to the first year of it. With over $80 million on the line, he snapped again. The Rockets signed him to one of the team-friendliest deals ever and still managed to both overcommit and overpay as Stone now scrambles to attach real assets to it to get another team to take it off his books.
Is it fair to question the judgment of the Rockets front office? Absolutely and without question. Whether you look at their ability to value character, evaluate risk, scout basketball, build culture, manage assets or allocate development resources, they failed at every level here. Why didn't they act sooner? Why did they double down? Why didn't they hold him accountable? Why did everybody in the league see it but them?
"We value the player and the person that [Kevin Porter Jr.] is becoming and are eager to invest in him and his journey," said Stone after rewarding him with the extension less than a year ago.
The question you have to ask yourself now is, with all they knew and witnessed about Porter Jr. both on and off the court — why were they eager at all?