A few questions for Courtney Lee
The Rockets were a bit banged up on Monday. Brad Miller and Chase Budinger are still out, but Shane Battier was sick and Kyle Lowry and Jermaine Taylor were battling through some knee pain.
The Rockets were a bit banged up on Monday. Brad Miller and Chase Budinger are still out, but Shane Battier was sick and Kyle Lowry and Jermaine Taylor were battling through some knee pain.
One guy who did practice was Courtney Lee, but given the injury theme of the day, he naturally had both feet in a bucket of ice after practice.
Lee said he felt his first couple of days as a Houston Rocket have been a "positive".

"Intense, fun, competing," said Lee. "We have a good group of guys. We're all out here competing. Our main objective is to win as a team and come together as a team so we can build that chemistry. That's where you develop that, early in training camp."
In my opinion, the biggest question for the Rockets this season is going to be "defense", and one of the big reasons the Rockets swapped Trevor Ariza for Lee is that the 6-foot-5 Western Kentucky product gives Houston a strong on-the-ball defensive option in the backcourt behind Kevin Martin.
"That's one thing that I pride myself on — defense," said Lee. "Coach Adelman stresses that. The team is all on board. They know defense is the key. I think I can fit in good with this team. We have a lot of guys that stress defense and are focused on it, so I think I'll be good."
As a rookie with Orlando, Lee shot 45.0% from the floor and over 40% from long range, but a trade to New Jersey saw his long range efficiency drop to under 34%.
Lee thinks, in Houston, a return to his rookie year numbers could be in the cards.
"The first team I was on, it was a playoff and championship-contending team. They played the right way. Stan [Van Gundy] did a good job of putting the offense in and everybody knew their roles and knew what we were trying to do. Last year, it was a rebuilding year for the Nets. It was a lot of guys trying to find their way in the league and coaches giving guys different roles to see what they can do, so it was a little bit different."
"But this year," added Lee. "I'm back on a team contending for a championship."
Three predictions for an important Rockets offseason
The 2023 offseason is critical for the Houston Rockets and here's what we think will happen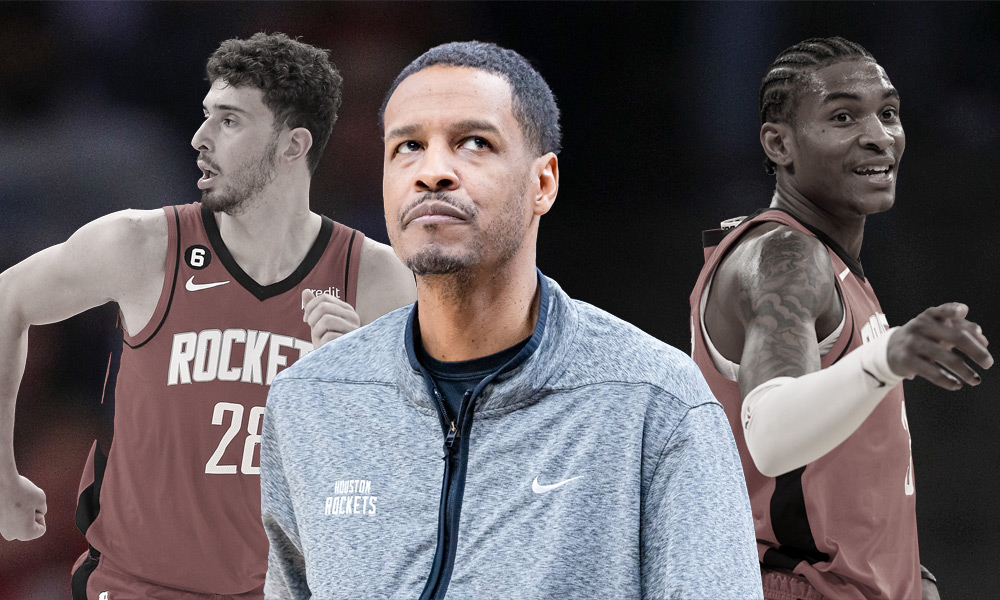 We have almost arrived to the oasis.
For over two years, the "2023 Offseason" has been circled on the calendar as the turning point, the time when the Houston Rockets will switch gears and make winning a priority. With potentially $60 million in cap room and a top draft pick coming, this is the moment of truth that Rafael Stone and the Rockets front office pitched to the Fertittas when the rebuild began.
Does that mean the Rockets are going to magically start winning next season? Not necessarily. But it does mean we won't see Daishen Nix run the point for 36 minutes in the name of player development. They want to win.
It's very tough to know what will happen this offseason, given the unknown variables. The Rockets could land a top-two pick, which would bring them Victor Wembanyama or Scoot Henderson, radically boosting their future. James Harden could opt to return, which also significantly boosts their near-term prospects.
But regardless of whether or not luck presents a "lifeboat" (Harden, Wemby, Scoot), here are some things I believe will happen.
Also, if you have been joining us in RocketsWatch all season, first of all, thank you! We greatly appreciate all the fan support this season. But if you've stuck around through a tough season, you know that none of this will come as a surprise. I have been talking about these predictions since January.
1. Rockets, Stephen Silas Will Part Ways
Stephen Silas is going to be let go this offseason.
The original plan was for Silas to coach this season and start the next, getting a shot once the Rockets were making winning their top priority. But the bar was low this season and he still fell short. There were several times where the team needed a stronger hand and it wasn't there. The roster wasn't built to win, but there is no argument to be made that coaching did anything to enhance the situation.
It's important to point out that Silas got a raw deal, coming to Houston under different circumstances expecting to coach a veteran team. But this is the hand that was dealt and the Rockets have to play it. Silas may be a fine coach, but he's not the right coach for this team and that's all that matters at this stage.
Ownership was ready to move on by midseason, but a variety of factors have led to him finishing the year. But this is going to be it. They sorely need fresh eyes and a different voice.
Confidence Level: 100%
2. The Kevin Porter Jr. Starting Point Guard Experiment Will End
The Rockets got Kevin Porter Jr. for free from the Cleveland Cavaliers in 2021, but he's been anything but since.
Houston paid nearly $100 million to John Wall to stay at home so they could groom KPJ as their future point guard. They also signed Porter Jr to a team-friendly four-year deal despite the fact that a much more team-friendly restricted free agency was on deck.
Porter Jr. has gotten better and more comfortable at the lead guard spot in two-plus seasons, which could bode well for his future here, but it's not near enough. He lacks ability to make advanced reads, which is one of the reasons the Rockets are dead last in corner three-point attempts. His tendency is to isolate, which is his strength, and that can create a lot of selfish basketball. In essence, the Rockets have been starting a pair of shooting guards.
The Rockets love them some KPJ, particularly Stone, so I'm not saying he's done here. He could thrive in an alternate role, if he embraces it. But the Rockets want to make a leap next season, the first year they are on the hook to Oklahoma City for their first-round pick from the costly Russell Westbrook trade. You're probably not going to make a bigger jump than by improving the on-court leader spot.
Confidence Level: 80%
3. Alperen Şengün Will Be Shopped
You either believe Alperen Sengun is the next Nikola Jokic or he's a defensive liability that is too much trouble to build around. There doesn't seem to be much in between.
Sengun is incredibly gifted offensively and is only 20 years old, so it's very early. This is also the biggest offseason of his young career, where he won't be preparing for EuroBasket and can specifically train for the NBA.
There is no evidence at all they are looking to trade him. I'm very much going rogue with this prediction. But consider:
1. Internally he has been viewed as possibly the worst pick-and-roll defensive big in the league.
2. They started Bruno Fernando over him to open the season.
3. They rarely run the offense through him ("ŞenHub").
4. The Rockets are not well-positioned with future draft picks to trade and likely need to move a good young player if they're looking at any significant deals.
5. They believe bringing in a center is a high priority (though that could be as a backup to Sengun).
To be clear, I'm not predicting Sengun will be dumped but rather we will hear his name floated in rumors. A lot could change — a new coach could see Alpi as key to the future, for example — but right now, given all the factors listed above, I would be surprised if Sengun is the centerpiece of this rebuild. I think he's more likely the trade piece.
https://twitter.com/RocketsWatch/status/1627944952498950147?s=20
Confidence Level: 60%