Loss to Spurs is one to build on
No matter how you slice it, there's a new harsh reality in Houston. "0-5, the only winless team left in the NBA."
No matter how you slice it, there's a new harsh reality in Houston.
"0-5, the only winless team left in the NBA."
That's what the sign hanging around the neck of the Houston Rockets reads after their ugly inability to close surfaced once again in a 124-121 overtime loss to the Spurs in San Antonio Saturday night.
And it gets worse. The Rockets lost Aaron Brooks, who scored 18 points in the first two periods, to what looked like a potentially severe ankle sprain (see: Video of the injury) when he launched a halfcourt bomb at the halftime buzzer and landed very awkwardly on Manu Ginobili's foot. X-rays were negative, but you can just about bank on the team's starting point wearing a suit for the next several games — and with their backup point, Kyle Lowry, battling back spasms, there's a quarterback crisis in Houston.
Yet, despite all the doom and gloom, the Rockets, for the first time since the opener in Los Angeles, showed me something.

Trailing by 14 late in the third quarter and looking a bit frazzled from the Brooks injury, the Rockets could have easily stamped the envelope and mailed this one in. Instead, they found some heart, taking off on an 18-2 blitz, including 14 straight points, to snag a lead and turn this yawner into must-see TV.
The key cogs in the lineup? Ish Smith, Courtney Lee, Shane Battier, Luis Scola and Chuck Hayes.
We can talk all day about the Rockets problems — perimeter defense, three-point shooting, inability to close. All accurate. But any fan who has watched this team up to this early point of the 2010-11 season knows that Rick Adelman and the Rockets have yet to find any winning roster combinations. Not a one. There's been nothing to count on. To Yao or not to Yao? Brad Miller or Jordan Hill? Is Kyle Lowry able to go? Can Chase Budinger hit a three? The Rockets haven't found anything that clicks yet and as a result, the team has looked like an oil-water mix of offensive players and defensive specialists.
That's why it was almost a relief to see this group mesh and put up some serious fight in the fourth.
A rookie stepped up. Ish Smith showed both why he went undrafted (4-16 shooting) and why the Rockets are looking to make other moves in order to keep him on the roster (7 assists). He had a chance to win the game in regulation but came up short on a 10-foot runner in the paint. He doesn't have the scoring ability of a Brooks, but by constantly trying to create for his teammates, he showed precisely what the team has lacked with Lowry out.
Lee may have cost the Rockets the game with his Nick Anderson impression with 16 seconds to go, bricking a pair of freebies that could have put Houston up 4. Instead, Ginobili (28 points) tied the game with a stepback 16-footer and to overtime we went.
But you can't dismiss Lee's contributions to get the Rockets in that position in the first place. He scored 9 points in the fourth frame, stepped up the defensive intensity and was aggressive in pushing the tempo. Trevor Ariza is getting a ton of attention in New Orleans given their undefeated start, but I still wouldn't want Trevor here as a big minute starter … and I'm still optimistic about what Lee will do.
Hayes was big as well, scoring 8 to go with 13 rebounds. Scola finished with 20 and 8 and is looking like the Rockets most reliable scorer in crunch time. Watch the play in the highlight clip above with 1:20 left in overtime — at a critical juncture in the game, Scola is just relentless in getting an offensive rebound and putting it back in.
Kevin Martin poured in 24 points in just 23 minutes before having to leave with an ankle injury (that didn't look too serious). He and Brooks combined for 26 in the first quarter alone and the Rockets shot lights out to post 34 points in the period, but the Spurs matched it with 34 of their own and you were presented with a textbook illustration of how much pressure there is on the Rockets to score big when their defense is this porous.
I liked what I saw from Jordan Hill tonight. Hill, getting the start in place of Yao Ming, had a couple of solid moments defensively against Tim Duncan (19 points, 11 boards, 3 blocks) and blocked a pair of shots. He's still developing as a player but he can't do that without time — happy to see him off the DNP-schneid.
On Deck
5 games in, we weren't supposed to be in a state where the only wins we can discuss are the moral victories. Sure, that should absolutely change here Sunday when they come back home to take on the Minnesota Timberwolves — if it doesn't, the ClutchFans panic level will hit code red — but 5 losses, all to Western Conference teams, has to put a damper on those contending hopes.
So right now, the Rockets have to change how they play. There's got to be significant progress or there will need to be roster changes, but above all else, Adelman needs to find roster combinations that work, and he gets several bonus points from me if he can do it with Yao Ming. Saturday in San Antonio, he may have inched closer to finding that.
Rockets are throwing an awesome House Party, but how long will it last?
Danuel House has all the love from Houston right now, but will he stay here beyond this season?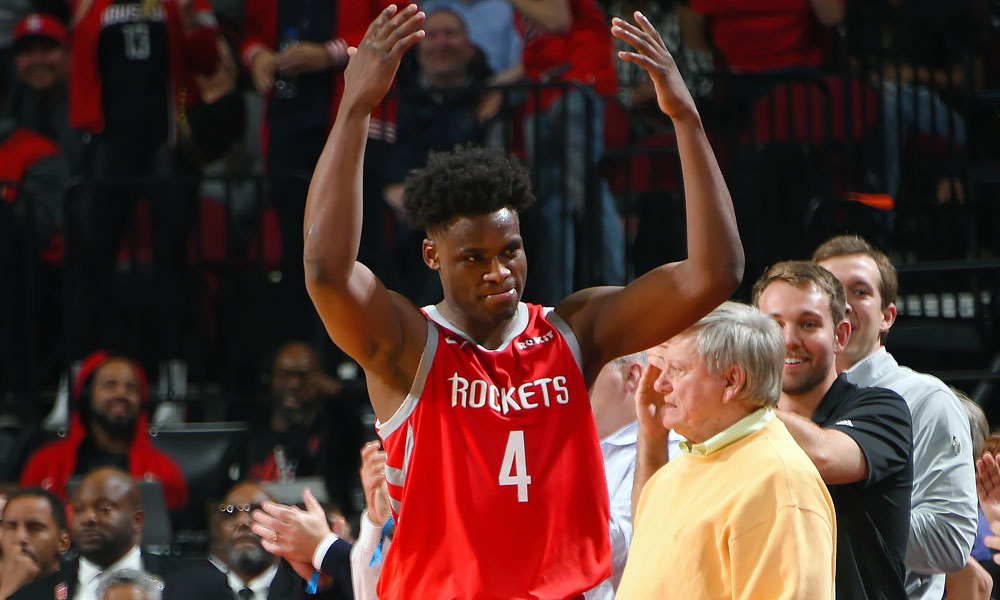 Danuel House Jr. made his return to the starting lineup for the Houston Rockets on Friday night and the results were everything he and the team could have hoped for.
The versatile forward played just over 35 minutes in the win over Phoenix, tying his career high with 18 points while going 6 for 11 from the floor 4 for 8 from three while throwing in 4 rebounds with an assist and a steal. He also had what ultimately proved to be a decisive play in the final minutes, preventing Josh Jackson from scoring after stealing the ball from James Harden.
Kelly Oubre pokes it away from Harden but Danuel House saves the day pic.twitter.com/Nux8EG3p3g

— Chris Montano (@gswchris) March 16, 2019
The Rocket announcers and fans all instantly reacted to the foul, believing it to be clean. While I myself was prepared to call it an awful foul call, House shared with Dave Hardisty after the game that he believed he made a little contact with Jackson on the follow-through and doesn't blame the refs at all for making that call. Block or no block, the play proved huge for the Rockets as Jackson would miss both free throws and essentially end the game.
Clutch and the media caught up with House following the game:
Danuel House Jr. (@DanuelHouseJr) after scoring 18 points in his return to the #Rockets. pic.twitter.com/0MJWCpuddo

— ClutchFans (@clutchfans) March 16, 2019
After the impressive performance, fans are once again abuzz about what House means for this year's team. Is he a starter? Will he come off the bench? Will he steal minutes from the thus-far-underperforming Iman Shumpert?
The Rockets will get answers to those questions over the final leg of the season as they head for the playoffs, but it seems pretty clear that House will play an important role in the Rockets title chase this season. His skill in shooting the three, combined with his ability to put the ball on the floor when his defender closes on him, is something sorely missing from this team. He demonstrated the combo repeatedly Friday night, attacking the rim and showing off his athleticism as Suns defenders tried to close him out on the three-point line.
Will they lose the House this summer?
Despite the excitement, you can't help but let your mind wander to the offseason. Regardless of what happens to end this year, the Rockets are going to be in an interesting spot financially. After winning his stare down with Rockets management, House was converted to a standard NBA contract for the remainder of this season that will allow him to become a Restricted Free Agent heading into the 2019-20 NBA season. Gauging the market for House is extremely difficult right now and could fluctuate with his performance from here on out, but this much is clear; keeping House for next season will be complicated.
By virtue of his restricted free agency, the Rockets will have the right to match offers for House this offseason, but it comes with a catch. With the Rockets set to be over the salary cap, they can only match contract offers up to the mid-level exception. As a likely tax payer team next season (more on that in the offseason) that number will further be reduced to the tax-payer version of the MLE. Any contract for House above his qualifying offer ($1.88M) or Non-Bird rights (just north of $2M) would require the Rockets to pay him using those MLE dollars.
David Weiner (a must follow for any Rockets fan!) does a great job of breaking these options down on twitter. Basically, the Rockets could offer House up to 4 years and around $8.65 million in total dollars without using the MLE. That gives the Rockets three options to retain House next season:

he plays on his qualifying offer ($1.88 million)

he signs for a Non-Bird contract ($2+ million)

he signs for all or a portion of the tax payer MLE ($5.6 million)

Assuming House plays well between now and the season's end (hopefully sometime in June) the first two options seem unlikely.
Complicating matters for the Rockets is that beyond House, they will likely need that tax payer MLE to have a shot at keeping Austin Rivers and Kenneth Faried, both significant additions following buyouts this season. If one or both would accept their one year Non-Bird offer for a modest salary increase next year, it would certainly makes things easier, but even then the MLE would be the only avenue the team would have for adding talent in free agency this offseason (aside from the minimum).
Despite a perceived snub picked up on by Bill Worrell and Clyde Drexler, House has said he hopes to remain with the Rockets and went so far as to say "I trust Daryl" in an interview with Jonathan Feigen. House's agent, Raymond Brothers, said that their priority was for House to remain with the Rockets in that same interview.
By converting House now instead of waiting until the end of the G-League season, the Rockets did ensure House earns $200k+ more than he would have otherwise, so perhaps that will create some goodwill heading into offseason negotiations. Still, with House and his agent so steadfast in their desire to hit RFA this season, you have to wonder if they have reason to feel confident that there is an offer out there already from another team.
It's not impossible to imagine plausible scenarios where everything works out for the Rockets, both during this season and in the offseason. Could one of House or Rivers take their Non-Bird right contracts with the other taking the MLE? Absolutely. No matter what happens between now and the end of this Rockets season, keeping Danuel House for the 2019-20 NBA season will be an interesting challenge. Rockets fans can only hope that the decision has to be made following a strong showing from House throughout a deep playoff run.
There's no question that the Rockets have title hopes once again this year and Danuel House, a player who went unclaimed on waivers twice this season, has managed to make himself an integral part of those hopes.