Outclassed: Short-handed Rockets no match for Mavericks
Are we alarmed yet? The Rockets couldn't stop Dirk Nowitzki or Caron Butler (or for that matter, J.J. Barea) and were run 101-91 in Dallas Monday night, falling to 5-12 on the season.
Are we alarmed yet?
The Rockets couldn't stop Dirk Nowitzki or Caron Butler (or for that matter, J.J. Barea) and were run 101-91 in Dallas Monday night, falling to 5-12 on the season.
Houston shot under 36% from the floor and watched the Mavs hit a hair under 50%. They fall to 1-8 on the year in games in which they score under 100 points (and in their lone win, they had to score 99). It's fairly official now: Defense is not their strong suit.

And the third quarter was just an abomination. The Mavericks hit 13-17 shots and weren't challenged by the Rockets on defense (to boot, the damage was done against the Rockets starters). A 7-point deficit turned into a rout, which meant unless your name is Jermaine Taylor, you pretty much stopped paying attention at this point.
Luis Scola scored 15 points in just 21 minutes. Kevin Martin scored 10 of his 17 points in the first quarter, but shot just 1-9 in the final three periods. Shane Battier, after a strong showing against the Thunder, slipped back into invisible mode.
Concerned? Yes. I still believe firmly that the team must get Yao Ming and Aaron Brooks back in the fold and then (and only then) draw firm conclusions about the size of changes to be made, but changes do need to be made. We are 17 games in and the Rockets have already lost to 8 different teams in their conference alone. When the name of the game is "playoffs," that has to concern you.
On Deck
5-12 and it's not getting any easier. December greets the Rockets with a home matchup against the 13-4 Los Angeles Lakers tomorrow, then they hit the road for a back-to-back against Memphis and Chicago (both teams have winning records at home).
There has been no firm timetable given on Yao and Brooks, but Rockets play-by-play man Bill Worrell sounded pretty sure during the broadcast that they are still "three weeks away." If that's true, the Rockets will have to find a way to get in gear (at a minimum, stay afloat) before they get that returning help.
>> Comments
Rockets are throwing an awesome House Party, but how long will it last?
Danuel House has all the love from Houston right now, but will he stay here beyond this season?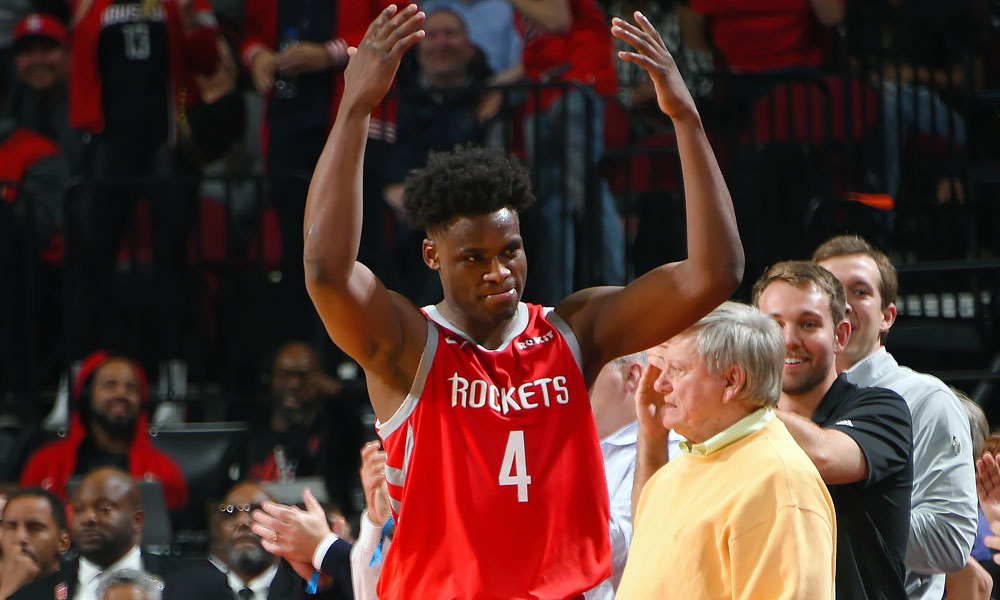 Danuel House Jr. made his return to the starting lineup for the Houston Rockets on Friday night and the results were everything he and the team could have hoped for.
The versatile forward played just over 35 minutes in the win over Phoenix, tying his career high with 18 points while going 6 for 11 from the floor 4 for 8 from three while throwing in 4 rebounds with an assist and a steal. He also had what ultimately proved to be a decisive play in the final minutes, preventing Josh Jackson from scoring after stealing the ball from James Harden.
Kelly Oubre pokes it away from Harden but Danuel House saves the day pic.twitter.com/Nux8EG3p3g

— Chris Montano (@gswchris) March 16, 2019
The Rocket announcers and fans all instantly reacted to the foul, believing it to be clean. While I myself was prepared to call it an awful foul call, House shared with Dave Hardisty after the game that he believed he made a little contact with Jackson on the follow-through and doesn't blame the refs at all for making that call. Block or no block, the play proved huge for the Rockets as Jackson would miss both free throws and essentially end the game.
Clutch and the media caught up with House following the game:
Danuel House Jr. (@DanuelHouseJr) after scoring 18 points in his return to the #Rockets. pic.twitter.com/0MJWCpuddo

— ClutchFans (@clutchfans) March 16, 2019
After the impressive performance, fans are once again abuzz about what House means for this year's team. Is he a starter? Will he come off the bench? Will he steal minutes from the thus-far-underperforming Iman Shumpert?
The Rockets will get answers to those questions over the final leg of the season as they head for the playoffs, but it seems pretty clear that House will play an important role in the Rockets title chase this season. His skill in shooting the three, combined with his ability to put the ball on the floor when his defender closes on him, is something sorely missing from this team. He demonstrated the combo repeatedly Friday night, attacking the rim and showing off his athleticism as Suns defenders tried to close him out on the three-point line.
Will they lose the House this summer?
Despite the excitement, you can't help but let your mind wander to the offseason. Regardless of what happens to end this year, the Rockets are going to be in an interesting spot financially. After winning his stare down with Rockets management, House was converted to a standard NBA contract for the remainder of this season that will allow him to become a Restricted Free Agent heading into the 2019-20 NBA season. Gauging the market for House is extremely difficult right now and could fluctuate with his performance from here on out, but this much is clear; keeping House for next season will be complicated.
By virtue of his restricted free agency, the Rockets will have the right to match offers for House this offseason, but it comes with a catch. With the Rockets set to be over the salary cap, they can only match contract offers up to the mid-level exception. As a likely tax payer team next season (more on that in the offseason) that number will further be reduced to the tax-payer version of the MLE. Any contract for House above his qualifying offer ($1.88M) or Non-Bird rights (just north of $2M) would require the Rockets to pay him using those MLE dollars.
David Weiner (a must follow for any Rockets fan!) does a great job of breaking these options down on twitter. Basically, the Rockets could offer House up to 4 years and around $8.65 million in total dollars without using the MLE. That gives the Rockets three options to retain House next season:

he plays on his qualifying offer ($1.88 million)

he signs for a Non-Bird contract ($2+ million)

he signs for all or a portion of the tax payer MLE ($5.6 million)

Assuming House plays well between now and the season's end (hopefully sometime in June) the first two options seem unlikely.
Complicating matters for the Rockets is that beyond House, they will likely need that tax payer MLE to have a shot at keeping Austin Rivers and Kenneth Faried, both significant additions following buyouts this season. If one or both would accept their one year Non-Bird offer for a modest salary increase next year, it would certainly makes things easier, but even then the MLE would be the only avenue the team would have for adding talent in free agency this offseason (aside from the minimum).
Despite a perceived snub picked up on by Bill Worrell and Clyde Drexler, House has said he hopes to remain with the Rockets and went so far as to say "I trust Daryl" in an interview with Jonathan Feigen. House's agent, Raymond Brothers, said that their priority was for House to remain with the Rockets in that same interview.
By converting House now instead of waiting until the end of the G-League season, the Rockets did ensure House earns $200k+ more than he would have otherwise, so perhaps that will create some goodwill heading into offseason negotiations. Still, with House and his agent so steadfast in their desire to hit RFA this season, you have to wonder if they have reason to feel confident that there is an offer out there already from another team.
It's not impossible to imagine plausible scenarios where everything works out for the Rockets, both during this season and in the offseason. Could one of House or Rivers take their Non-Bird right contracts with the other taking the MLE? Absolutely. No matter what happens between now and the end of this Rockets season, keeping Danuel House for the 2019-20 NBA season will be an interesting challenge. Rockets fans can only hope that the decision has to be made following a strong showing from House throughout a deep playoff run.
There's no question that the Rockets have title hopes once again this year and Danuel House, a player who went unclaimed on waivers twice this season, has managed to make himself an integral part of those hopes.