Why Dwight Howard to Houston makes so much sense
Dwight Howard can trade in his Laker attire and make this scene a reality next month When it comes to star pursuits, Rockets fans have grown accustomed to disappointment the past several years.
When it comes to star pursuits, Rockets fans have grown accustomed to disappointment the past several years.
There was the Chris Bosh IPad delivery, the bronze medal finish for Carmelo Anthony, Dwightmares I and II and the Chris Paul trade… without getting Chris Paul. And let's just agree not to talk about Nene, which would be like trying to justify the fashion sense you showed in 6th grade.
But James Harden changed everything. The Rockets are no longer the pimple-faced dweeb desperately asking any mildly popular female out for a date — they now are the hot chick. They can afford to be picky.
'You need a star to get a star' and nothing illustrates this better than seeing how the attitude of one Dwight Howard has changed about Houston in less than a year. Last June, David Aldridge reported that there was "not a chance" Dwight would re-sign with Houston if traded here. Today, numerous reports suggest the Laker free agent is strongly considering coming here of his own free will.
And justifiably so. This could be a very good marriage as it looks like a perfect fit for both the Rockets and the 27-year old center.

Why it makes perfect sense for the Rockets

Defense wins championships. This can't be stressed enough. The NBA's "Final Four" this year were ranked 1st, 2nd, 3rd and 9th in defensive ranking. Oklahoma City, which probably would have been there without a key injury, was ranked 4th. We can talk stretch fours and three-point efficiency all day, but if the Rockets are to make a true leap forward, they have to do it defensively. There's no better defensive anchor than Dwight Howard.
Instant Contenders. Forget all this "youngest team in the league" talk. If the Rockets sign Dwight Howard, they catapult from young upstarts to expected contender, being discussed with the likes of Miami, Indiana, San Antonio and Oklahoma City.
Asik flexibility. The Rockets were pretty good defensively in the halfcourt when Omer Asik was in the game. When he was out, they dropped like a rock. Howard and Asik would assure the Rockets of 48 minutes of top-flight paint patrol, OR, if they can fill the backup center spot in other ways and instead eye an improvement at the four, they now have a prized trade asset in Asik. Simple example to illustrate it: Omer Asik for Kevin Garnett — who says no? I doubt KG or the Celtics would.
The pick-and-roll. The Rockets have a pick-and roll lead ace in Harden and another pretty good one in Jeremy Lin. Howard was one of the best pick-and-roll finishers in the league last year, and the best in 2011-12, his final year in Orlando. Howard sets strong screens, has good hands and goes hard to the basket. He can finish in traffic or on the lob. A Harden-Howard pick-and-roll would be lethal — you'll see a lot of buckets and trips to the line between those two.
A dagger in the heart. Howard signing with Houston would do serious damage to two key rivals — the Lakers and the Dallas Mavericks. It would be a lost 2013-14 season in Los Angeles, and their future draft pick situation is a mess from past trades for Steve Nash and Howard. Their hopes would hang on a LeBron James signing in 2014 or an Andrew Wiggins miracle, and the same might be said about the Mavs, who had kept the Rockets a distant third in the Texas Triangle for years. They were the Texas team that had the most interest from free agents. Not anymore.
Poetic justice. With the Rockets' run as a title hopeful ending with Yao Ming's injury in 2009, the Lakers picked up Houston free agent Ron Artest and won a championship the following year. Now the roles have reversed. Kobe Bryant's injury (and age) puts Los Angeles in limbo and the Rockets are on the upswing to contention.
Why it makes perfect sense for Dwight Howard

Winning. It's that simple. The Rockets provide the best chance at the ring, this season and beyond. They have a not-yet 24 year old guard who scores and passes like a star, a blossoming wing player in Chandler Parsons and a general manager in Daryl Morey who has proven to be masterful at filling the roster with capable role players. The Lakers have a 35-year old grumpy star trying to recover from a serious Achilles tear (and, oh by the way, he doesn't like you) and a point guard old enough to have played with George Mikan. Not a tough call from a winning standpoint.
Money. While the parroted line is that the Lakers can offer "$30 million more" to Howard than any other team, that's primarily because they are the only team that can offer a fifth year on the contract, a year that Howard would likely opt out of to become a free agent. Tony Nitti of Forbes did a terrific job breaking down how state taxes in California make it so the Rockets' offer is actually more lucrative for Howard than the Lakers' package over the first four years. After weighing in state taxes, the Lakers deal is worth around $79 million over the first four years compared to $86 million from the Rockets. Throw in the fact that the Collective Bargaining Agreement between players and owners expires in 2017 and Howard may want to opt out after three years, signing a new deal before the new CBA comes into play. When you consider that Howard will likely want to cash in on one more major deal while in his prime (in three or four years), it's Houston — not Los Angeles — that offers the better deal.
Coach McHale. You want a coach who knows and understands the role of the big man? That's Kevin McHale. McHale, a 6-foot-10 power forward, was a 7-time All-Star and 3-time NBA Champion. In Houston under McHale, the strengths of Howard's game won't be ignored.
Strong, stable ownership. Rockets' owner Les Alexander has owned the team for 20 years and has multiple championships. Alexander was ahead of the curve in hiring Morey and utilizing basketball analytics to aid in making decisions. He has proven to be an owner willing to spend to contend and, more importantly, spends wisely and efficiently. The players needed to complement Harden and Howard will be there.
Connection in China. Dwight Howard is a superstar, but blowing up in China could further establish his global brand. Since drafting Yao Ming in 2002, the Rockets have built lasting business relationships in China. Current Rocket Jeremy Lin is largely responsible for the NBA's growth in China and Taiwan the last two years.
Chemistry. This isn't the Lakers — there's no internal bickering as these guys genuinely like each other. Houston fans would welcome and adore Howard.
Howard's Twitter bio says one simple thing: "After the ring!"
The Lakers and Mavericks will try to sell him on what they can eventually add in 2014 and beyond to help him in that pursuit. The Rockets are way ahead of them, locked and loaded right now and for years to come. If winning is truly Howard's goal in free agency — to set himself up right now for legitimate shots at the ring — there is only one logical choice.
That's Houston.
Three predictions for an important Rockets offseason
The 2023 offseason is critical for the Houston Rockets and here's what we think will happen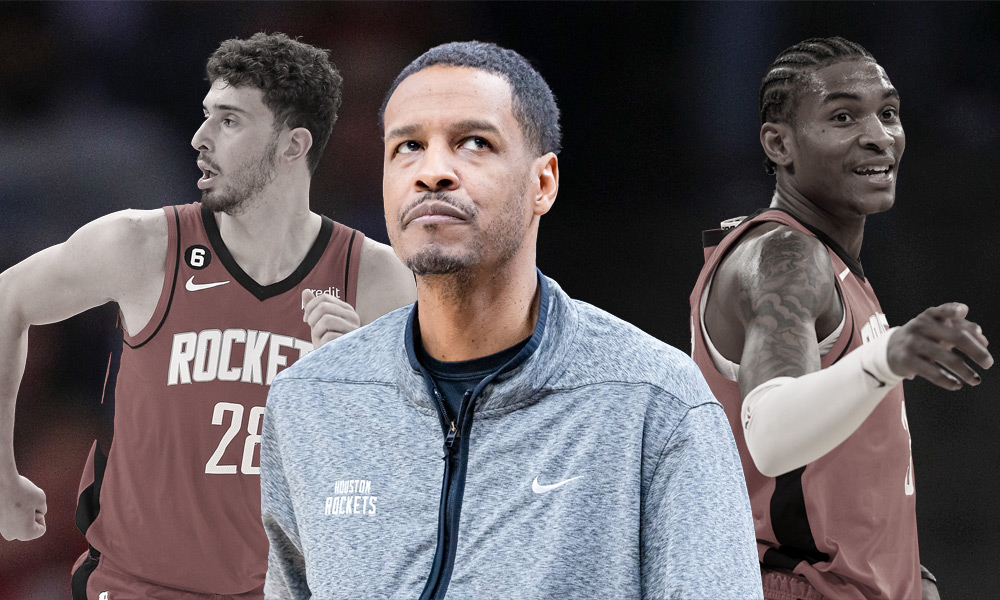 We have almost arrived to the oasis.
For over two years, the "2023 Offseason" has been circled on the calendar as the turning point, the time when the Houston Rockets will switch gears and make winning a priority. With potentially $60 million in cap room and a top draft pick coming, this is the moment of truth that Rafael Stone and the Rockets front office pitched to the Fertittas when the rebuild began.
Does that mean the Rockets are going to magically start winning next season? Not necessarily. But it does mean we won't see Daishen Nix run the point for 36 minutes in the name of player development. They want to win.
It's very tough to know what will happen this offseason, given the unknown variables. The Rockets could land a top-two pick, which would bring them Victor Wembanyama or Scoot Henderson, radically boosting their future. James Harden could opt to return, which also significantly boosts their near-term prospects.
But regardless of whether or not luck presents a "lifeboat" (Harden, Wemby, Scoot), here are some things I believe will happen.
Also, if you have been joining us in RocketsWatch all season, first of all, thank you! We greatly appreciate all the fan support this season. But if you've stuck around through a tough season, you know that none of this will come as a surprise. I have been talking about these predictions since January.
1. Rockets, Stephen Silas Will Part Ways
Stephen Silas is going to be let go this offseason.
The original plan was for Silas to coach this season and start the next, getting a shot once the Rockets were making winning their top priority. But the bar was low this season and he still fell short. There were several times where the team needed a stronger hand and it wasn't there. The roster wasn't built to win, but there is no argument to be made that coaching did anything to enhance the situation.
It's important to point out that Silas got a raw deal, coming to Houston under different circumstances expecting to coach a veteran team. But this is the hand that was dealt and the Rockets have to play it. Silas may be a fine coach, but he's not the right coach for this team and that's all that matters at this stage.
Ownership was ready to move on by midseason, but a variety of factors have led to him finishing the year. But this is going to be it. They sorely need fresh eyes and a different voice.
Confidence Level: 100%
2. The Kevin Porter Jr. Starting Point Guard Experiment Will End
The Rockets got Kevin Porter Jr. for free from the Cleveland Cavaliers in 2021, but he's been anything but since.
Houston paid nearly $100 million to John Wall to stay at home so they could groom KPJ as their future point guard. They also signed Porter Jr to a team-friendly four-year deal despite the fact that a much more team-friendly restricted free agency was on deck.
Porter Jr. has gotten better and more comfortable at the lead guard spot in two-plus seasons, which could bode well for his future here, but it's not near enough. He lacks ability to make advanced reads, which is one of the reasons the Rockets are dead last in corner three-point attempts. His tendency is to isolate, which is his strength, and that can create a lot of selfish basketball. In essence, the Rockets have been starting a pair of shooting guards.
The Rockets love them some KPJ, particularly Stone, so I'm not saying he's done here. He could thrive in an alternate role, if he embraces it. But the Rockets want to make a leap next season, the first year they are on the hook to Oklahoma City for their first-round pick from the costly Russell Westbrook trade. You're probably not going to make a bigger jump than by improving the on-court leader spot.
Confidence Level: 80%
3. Alperen Şengün Will Be Shopped
You either believe Alperen Sengun is the next Nikola Jokic or he's a defensive liability that is too much trouble to build around. There doesn't seem to be much in between.
Sengun is incredibly gifted offensively and is only 20 years old, so it's very early. This is also the biggest offseason of his young career, where he won't be preparing for EuroBasket and can specifically train for the NBA.
There is no evidence at all they are looking to trade him. I'm very much going rogue with this prediction. But consider:
1. Internally he has been viewed as possibly the worst pick-and-roll defensive big in the league.
2. They started Bruno Fernando over him to open the season.
3. They rarely run the offense through him ("ŞenHub").
4. The Rockets are not well-positioned with future draft picks to trade and likely need to move a good young player if they're looking at any significant deals.
5. They believe bringing in a center is a high priority (though that could be as a backup to Sengun).
To be clear, I'm not predicting Sengun will be dumped but rather we will hear his name floated in rumors. A lot could change — a new coach could see Alpi as key to the future, for example — but right now, given all the factors listed above, I would be surprised if Sengun is the centerpiece of this rebuild. I think he's more likely the trade piece.
https://twitter.com/RocketsWatch/status/1627944952498950147?s=20
Confidence Level: 60%