Houston Rockets Salary Cap Update: "Total Rebuild" Edition
After closing the book on an all-too-brief 2011-12 NBA season and opening up the 2012 offseason with a flurry of activity, let's take a look at the Houston Rockets' current salary cap situation.
After closing the book on an all-too-brief 2011-12 NBA season and opening up the 2012 offseason with a flurry of activity, let's take a look at the Houston Rockets' current salary cap situation.
The Rockets' Latest Moves
Since my last update, the Rockets have made the following roster moves:
Prior to the end of the season, the Rockets signed Courtney Fortson and Diamon Simpson each to two-year deals for the league minimum, with team options on the second year with a non-guaranteed salary (the options were subsequently picked up).
On June 26, the team traded Chase Budinger and the draft rights to Lior Eliyahu to the Minnesota Timberwolves in exchange for the #18 pick in the 2012 NBA Draft.
On June 27, the Rockets traded the #14 pick in the 2012 NBA Draft, Samuel Dalembert, their 2014 second round pick and cash considerations to the Milwaukee Bucks in exchange for the #12 pick in the 2012 NBA Draft, Shaun Livingston, Jon Brockman and Jon Leuer.
The Rockets selected Jeremy Lamb (#12), Royce White (#16) and Terrence Jones (#18) in the 2012 NBA Draft. 
The team purchased the draft rights to Turkish power forward Furkan Aldemir (the #53 pick in the 2012 NBA Draft) in a four-team trade involving the Los Angeles Clippers, the Dallas Mavericks and the Utah Jazz.
During the July Moratorium, the team signed Donatas Motiejunas to his first round rookie scale contract at the maximum permitted 120% of his scale salary.
On July 11, the Rockets traded Kyle Lowry to the Toronto Raptors in exchange for Gary Forbes and a future first rounder that is a likely lottery pick.
Also on July 11, the team signed and traded Marcus Camby to the New York Knicks in exchange for Toney Douglas, the non-guaraneed contracts of Josh Harrellson and Jerome Jordan, and the Knicks' second round picks in 2014 and 2015.
On July 13, the Rockets waived Luis Scola via the amnesty provision, clearing his salary off of the team's salary cap.  (Scola was subsequently claimed off waivers by the Phoenix Suns with a partial claim bid; and the Suns will pay Scola approximately $4.5 million per season for each of the next three years, with the Rockets paying the rest of the $31 million remaining on Scola's contract.  Major credit to Rockets owner Leslie Alexander for his willingness to pay $17.5 million for one of his best players to NOT play for him, all in the name of salary cap flexibility to pursue the opportunities necessary to return the team to championship contention.)
The Rockets signed Jeremy Lin to a three-year, $25.1 million offer sheet on July 14, which was not matched by the New York Knicks.
On July 18, the team waived Leuer and Jordan.  (Leuer was subsequently claimed off of waivers by the Cleveland Cavaliers.)
On July 20, the Rockets signed and traded Courtney Lee to the Boston Celtics in exchange for JuJuan Johnson, the non-guaranteed contracts of Sean Williams and E'Twaun Moore, the draft rights to Jon Diebler, and the Charlotte Bobcats' 2013 second round pick previously acquired by Boston.  (Moore was subsequently waived.)
The team signed Omer Asik to a three-year, $25.1 million offer sheet on July 21, which was not matched by the Chicago Bulls.

Explaining the Lin and Asik Deals
As noted above, Lin and Asik each signed (presumably) identical three-year, $25.1 million offer sheets with the Rockets.  Because both players fall within the unique category of high-quality restricted free agents with only one or two years in the league (both are two-year veterans), Lin and Asik were subject to what has become commonly known as the "Gilbert Arenas" provision of the CBA, or the Arenas Rule.  (More on the "Gilbert Arenas" provision can be found here).
The Arenas Rule prohibits any team from offering these types of players a starting salary greater than the Non-Taxpayer Mid-Level Exception ($5 million for 2012-13) and only a 4.5% raise in Year 2 of the contract (in this case, $5.225 million).  Starting in Year 3, the salary can balloon to up to the applicable maximum player salary.  Like with other restricted free agents, the player's former team has the right to match any offer for the player.
The rationale for these salary limits is that the player's former team must be allowed at least some avenue by which to potentially match any offer sheet, either via Early Bird rights (which allows a team to pay up to the average player salary for a player coming off a two-year contract or having spend two years with the team) or the Non-Taxpayer Mid-Level Exception (for Non-Bird free agents with only one year with the team).  The reason for the ballooning of the salary in Year 3 is that the player's former team would have obtained full Bird rights on such player by that time and would then be allowed to offer such player a maximum salary.
From a salary cap standpoint, if the team extending the offer sheet wishes to give such a player a raise greater than 4.5% in Year 3 of the offer sheet, it must have at least enough cap room available to cover the average annual salary; and the player will count against the offering team's salary cap (and for luxury tax purposes) at that average figure in each year of the offer sheet.  However, unless the player's former team has a similar amount of available cap room, it must have the player's actual salary from year to year count against its salary cap and luxury tax calculations.
For lack of a better term, Rockets GM Daryl Morey and the Houston front office "artfully exploited" the Arenas Rule.
By limiting the Lin and Asik offer sheets to only three years (as opposed to four-year deals), the Rockets were able to concentrate the balloon payment into Year 3, rather than having some of that ballooning salary spread over multiple seasons.  The offer sheets will pay Lin and Asik the maximum player salary for five-year veterans (approximately $14.898 million), making it extraordinarily painful for either New York or Chicago (both tax-paying teams) to match.  The cap hit for Houston on each player is $8.37 million in each season; but the cap hit to their former teams would be $5 million in 2012-13, $5.225 million in 2013-14 and $14.898 million in 2014-15 (which is the actual payment schedule, even for Houston).
Making matters worse for the Knicks and Bulls, the year in which the massive cap hit for their now-former players would occur (the 2014-15 season) is also the first year in which the league's most punitive luxury tax — the "repeater tax" — will impact teams that are taxpayers in each of the three prior seasons.  Is it any coincidence that both New York and Chicago project as taxpayers in each of those season?  I think not.
For those wondering what the salary cap impact would be if the Rockets later decide to trade either Lin or Asik, the receiving team would get the player at the same $8.37 million per year cap hit at which Houston has them.  While it is still not completely clear how the actual salary payments would be treated, those would presumably be covered by the receiving team in full.  In other words, if the Rockets traded Asik to another team in the summer of 2014, Asik would only count $8.37 million for salary-matching purposes, but his entire $14.898 million salary for 2014-15 would presumably need to be covered by his new team (the Rockets would likely be unable to contribute more than the maximum $3.3 million cash allotment permitted).
Salary Commitments and Potential Cap Room
(DISCLAIMER:  Further roster moves will likely be made.  The figures below probably do not represent the Rockets' true cap situation once such additional moves are made; they are solely intended to give you a picture of the Rockets' current cap situation.)
Barring any further roster moves, the Houston Rockets now have approximately $53.50 million in team salary for the 2012-13 season: Kevin Martin ($12.44 million), Lin ($8.37 million), Asik ($8.37 million), Livingston ($3.5 million, only $1 million of which is guaranteed), Patrick Patterson ($2.10 million), Douglas ($2.07 million), Marcus Morris ($1.91 million), Forbes ($1.5 million), Motiejunas ($1.36 million), Johnson ($1.09 million), Brockman ($1 million), Williams ($915,852, non-guaranteed if waived by August 1), Chandler Parsons ($888,250), Greg Smith ($762,195, of which 50% is guaranteed), Fortson ($762,195, non-guaranteed), Simpson ($762,195, non-guaranteed), Harrellson ($762,195, non-guaranteed if waived by August 15), the rookie scale cap holds for Lamb ($1.68 million), White ($1.37 million) and Jones ($1.24 million), and the cap hit from the Derek Fisher buyout ($644,005; more on that here).
Based on this season's maximum salary cap of $58.044 million, in order for the Rockets to maintain rights to all of their current players, they will have approximately $4.55 million in salary cap room.  If the Rockets simply waive their fully non-guaranteed contracts (Williams, Fortson, Simpson and Harrellson), though, that number jumps to approximately $7.75 million in cap room.  In the event that the Rockets decide to waive (and eat the partial guarantees on) Livingston and Smith, that figure could conceivably reach as high as $10.63 million.  However, those figures could be reduced slightly (by up to $858,440) if one or more of the 2012 first round picks end up signing contracts with the Rockets for up to the maximum permitted 120% of their rookie scale salaries.
Contrary to the popular belief of the national media, the Rockets still have PLENTY of cap flexibility to pursue free agents and trades — namely, for a certain Orlando Magic center — even after signing both Lin and Asik to lucrative deals.
Potential Superstar Acquisition
Much has been made of the Rockets' pursuit of Dwight Howard.  Houston is currently (and finally!) being recognized by most of the mainstream media as the frontrunners to either land Howard or possibly acquire another piece (like Lakers center Andrew Bynum) as part of a three-team trade with Orlando.  The Rockets possess the unique combination of (1) enticingly high draft picks (most notably, the Toronto pick acquired in the Lowry trade), (2) high-ceiling young players (in particular, Lamb, Motiejunas and Parsons) and (3) the cap flexibility — via cap room and/or expiring or non-guaranteed contracts — to take on some additional salary from Orlando in order to clear the Magic's books for a fresh start post-Howard.
Because the Rockets possess the potential for either/both (A) significant cap room (if they waive all of their non-guaranteed contracts) to absorb incoming Orlando players and/or (B) salary-matching trades financially beneficial to Orlando (if the Rockets instead use expiring or non-guaranteed contracts for salary-matching purposes), there are countless scenarios in which a Howard-to-Houston trade can be accomplished.  It is virtually impossible to predict which players, picks and other assets will be included in whatever trade might end up happening.  However, in order to illustrate the Rockets' cap flexibility, I will walk through one hypothetical variation of such a trade.
Let's say the Rockets trade Martin, Patterson, Lamb, Jones, the Toronto first round pick, the Dallas first round pick and the Charlotte second round pick to Orlando in exchange for Howard ($19.54 million), Jason Richardson ($5.8 million in 2012-13, $6.2 million in 2013-14 and a $6.6 million player option in 2014-15) and Chris Duhon ($3.25 million in 2012-13 and $3.5 million in 2013-14, only $1.5 million of which is guaranteed if waived on or prior to June 30, 2013).
(NOTE: This does not in any way reflect what I think will or should happen and yes, I know that's a lot to give up for that Orlando package.  All the more reason to use this as the hypothetical.)
By waiving all of their non-guaranteed contracts, the Rockets can create sufficient cap room to absorb the salaries for Richardson and Duhon, while sending Orlando back only draft picks and the draft rights to Lamb and Jones.  Then, with the Rockets largely capped out by that first component trade, they could then ship Martin and Patterson to Orlando for Howard.  (FYI, the Martin-Patterson combination comes out to virtually the absolute least salary an over-the-cap team could trade to get back Howard's contract.)
Different variations of a Howard trade (including the hypothetical above) will likely generate various trade exceptions to Houston and/or Orlando; and some scenarios could be conceived to potentially create a very large trade exception.  Do not be surprised if a final Howard trade configuration has the result of generating a huge trade exception for Orlando.  Magic GM Rob Hennigan is creative enough to structure it that way.
Other Trade Options
The pursuit of a mega-trade for a star player is not the only use to which the Rockets can put their cap room.  By being under the salary cap, so long as the Rockets do not exceed the maximum salary cap by more than $100,000 upon completion of a particular trade, the team would not be subject to either salary matching rules or the 60-day waiting period to aggregate salaries of players acquired in prior trades.  In other words, if the Rockets are $10 million below the cap, (1) they can trade a $2 million player in exchange for another team's player making up to $12.1 million or (2) they can aggregate the salaries of Douglas ($2.07 million, recently acquired from New York), Johnson ($1.09 million, recently acquired from Boston) and Brockman ($1 million, recently acquired from Milwaukee) in exchange for another team's player making up to $14.2 million. 
If the Rockets cannot find another player — either via free agency or trade — who is worth pursuing or is willing to sign with/come to Houston, then having available cap room can benefit the team in other ways.  For instance, the Rockets can help facilitate trades between two or more other teams that might not otherwise be able to complete their trade without use of the Rockets' cap room.  In exchange for facilitating a trade, the Rockets would receive some consideration, be it cash, picks or players.
Also, they could just sit on their cap room and wait for a team to get desperate enough to trade them something for the privilege of using that room.  Oklahoma City used this strategy a few years ago with Utah (then fearful of paying the luxury tax), which coughed up talented young point guard Eric Maynor in exchange for the Thunder taking on the remaining few months of Matt Harpring's contract (which itself was largely covered by insurance).
Believe it or not, the Rockets actually have assets other than cap room that they can use in trades this summer.  Patterson, Morris, Parsons, Motiejunas, Lamb, White and Jones all have some decent trade value as young prospects.  The Toronto pick is extraordinarly valuable.  The future Dallas first rounder is another nice asset, as is the Charlotte second rounder.  The Rockets hold the draft rights to at least two players — All-Euroleague point guard Sergio Llull and the aforementioned Aldemir — who may interest teams now or in the future.
Martin will have a $12.44 million expiring contract while still being a very productive offensive player.  Those anxious to "dump" Martin at the first chance, please note that Martin's expiring contract may be more valuable in trades than $12.44 million in additional cap space.  The Rockets can take back up to $17-18 million in incoming salary in exchange for Martin's outgoing salary.
Conclusion
I know there is a great feeling of disappointment by many fans after the Rockets ended the 2012 NBA Draft without a superstar or a top-5 pick.  Fortunately, the stellar play of the team's rookies in the NBA Summer League in Las Vegas last week, together with all the rumored Howard trade talk, has seemingly caused such disappointment to dissipate.
Meanwhile, the Rockets have set themselves up nicely to make a run at a major acquisition in the coming months, either via free agency or trade, by positioning themselves as one of few NBA teams with both cap room and a slew of tradeable assets.  They have compiled so many assets in the past 2-3 years that they can afford to "overpay" for a talent upgrade if necessary.  Or they can make some moves for the future while still preserving salary cap flexibility for 2013 (when the Rockets, with their current roster, could conceivably have as much as $27 to 32 million in cap room!) and beyond, adding even more flexibility to trade other parts going forward in their pursuit of a star acquisition.
It's only fitting that Morey is on his way to the Summer Games in London.  He, with significant help from Mr. Alexander and the rest of the Houston front office, has given the Rockets the flexibility of an Olympic gymnast.
>> Comments
Jabari Smith steals show in Rockets preseason opener
The Rockets rookie is legit as we take a look at what else stood out in Houston's preseason rout of the Spurs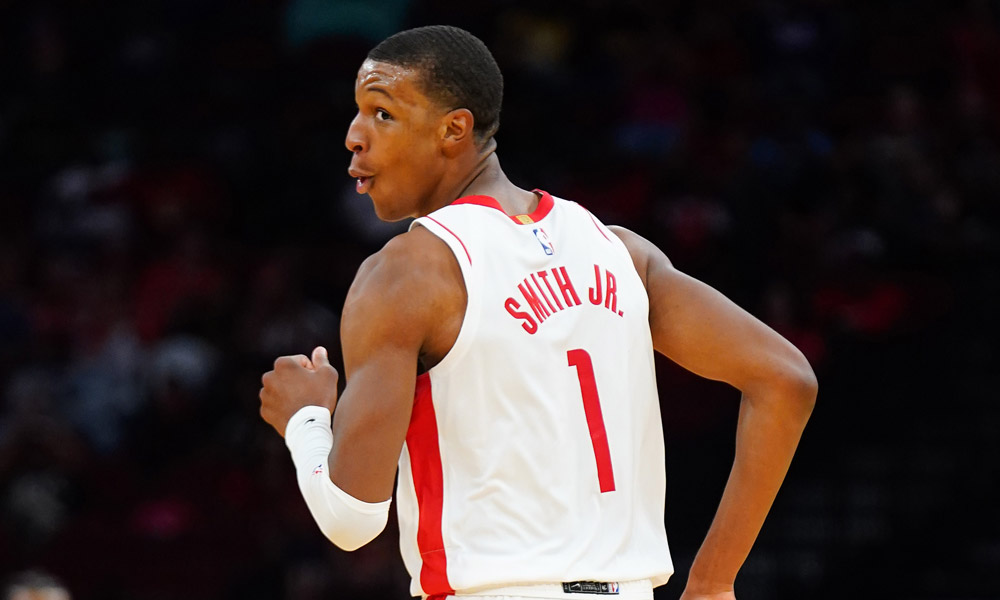 Finally, Rocketball is back — the Rockets destroyed the San Antonio Spurs 134-96 in the preseason opener Sunday night.
Granted, the Spurs look flat out terrible (the top contender for Wembanyama?) and may finish dead last (and it showed), but there were a number of things that played out in this game that should get Houston fans excited.
But before I get into that, I want to give a huge shout out to everyone who supported RocketsWatch Sunday night. We are watching and discussing Rockets games in realtime this season and the debut was overwhelming. There were over 700+ fans watching the game with Roosh Williams and I in what might be the largest online watch party ever for a Rockets game. The live reactions from the fans were priceless!
Let's talk about what stood out in this game:
Jabari is the real deal
Going into Sunday night's preseason opener for the Rockets, the biggest question on the minds of fans was simple — how will #3 overall pick Jabari Smith Jr. look in his first NBA action?
The answer is good. Really good.
Jabari threw down a dunk out of the gate and then locked in on high-energy defense on the other end and right away you knew — the Christian Wood Era was over. Jabari's impact was immediate on both ends of the floor. Smith finished with 21 points on 8-15 shooting, including a blistering 5-8 from deep, to go with eight rebounds in 24 minutes.
Jabari described himself as "a lot more loose" than he was at Summer League, when he struggled to knock down his shots.
"It was easy," said Jabari. "My teammates made it easy for me, finding me when I was open. The rest just came from knocking down shots, running the floor, trusting the offense and trusting my teammates."
What most impressed me was how quick of a trigger Jabari had on the catch-and-shoot. He would receive a pass out of the post or a cross-court pass in the corner and would instantly let it fly, shooting easily over his defender's reach. This trait stood out and was very Klay Thompson-esque. In the second half, Jabari hit a pull-up triple in transition (his fourth) that was very enticing, then absolutely slayed those of us in the RocketsWatch room when he took two long strides back from the free throw line to drain another triple.
At that point, it was official — the rookie was clowning the Spurs. I can't tell you how thrilled I am that the Rockets drafted Jabari. This man is going to fit like a glove and will be a ridiculous two-way weapon for the Rockets long term.
Jabari Smith Jr. Went OFF in his preseason debut 😈 @jabarismithjr
– 21 points
– 8 rebounds
– 5-8 3PT pic.twitter.com/GS70scinn5

— B/R Hoops (@brhoops) October 3, 2022
Defense. They're actually playing it. It's true.
I don't need to repeat that the Rockets were dead last in defense last year, but… the Rockets were dead last in defense last year. Although, maybe I need to turn that frown upside down.
https://twitter.com/FraudeauxNBA/status/1576358215406989312?s=20&t=X5YfCfDU5HwynBnvqoicSQ
Sunday, however, was a different animal and you could tell immediately. The Rockets were hustling, moving quickly on rotations and closeouts.
"It's the defense, obviously, that we've been concentrating on," said Stephen Silas. "Our help was good tonight. Our multiple efforts were really good… I'm super encouraged by our intensity on the defensive end."
Jabari was a big part of that. He made some clear mistakes, sure — I'm not going to say he was perfect — but he seemed to set the tone. Still, it's not just Jabari — it's clear to me the mindset of this team is in stark contrast to what we've seen the past two seasons. Maybe it's the Jabari Effect or maybe Lionel Hollins is making his presence felt, but this does not look like the 2021-22 Rockets on this side of the ball.
Tari Eason is pretty much plug-and-play
I had my doubts that Tari Eason would get a ton of run in this game, but Silas played him early (note: Jae'Sean Tate sat this game out). Without having any clear plays run for him, Tari fought and scrapped for 21 points and 10 rebounds (six offensive!) in just 21 minutes. He hit 9-13 from the floor.
"My mentality never changes," said Eason. "I'm always going to be in the right spot, get after it defensively and be one of the hardest playing dudes on the court. I think that translates at any level and I'm just going to continue to do that."
He plays like his hair is on fire and has tremendous potential as a two-way demon. Throw him out there when things get stagnant and he's going to make things happen.
I've felt that the Rockets will likely bring Tari along slowly until they figure out what the long-term solution is for guys like KJ Martin, but Operation Patience isn't going to work if he keeps putting up lines like this. You can't keep him to the bench or send him to the G-League.
Is Bruno Fernando the backup center?
It sure seems that way. After news broke that the Rockets had signed Fernando to a four-year, nearly $11 million deal, Bruno was the first big off the bench, subbing in for Alperen Sengun.
I'll be honest — this really surprised me. I expected that Usman Garuba would have the clear inside track to the spot. Fernando also seemed like a good bet to be on a two-way contract, but now with this new deal, Fernando is going to be on the 15-man roster and barring a trade, someone has to be cut (Boban? Favors?) that isn't expected to be.
But Fernando, who sources say has been terrific in camp, showed why he got that contract, finishing 3-3 from the field and was a +18 in just 11 minutes. He was very effective on rolls, capping a pair of alleyoop passes from Kevin Porter Jr. I would be lying if I said I saw this coming, but it's a welcome development.
Rotation Notes
It's only one preseason game, but we still can draw a lot from how Silas sees the rotation.
Bruno looking like a good bet for the backup center role was not the only surprise. KJ Martin and Daishen Nix, along with Bruno, were the first subs of the night. That indicates what we expected, that Nix is in the lead for the backup PG spot over TyTy Washington, who I would guess will run the show with the RGV Vipers early on. I like TyTy as the better bet for this spot long term, but right now the job appears to be Nix's to lose.
But KJ is a little surprising, given he reportedly wanted out this past offseason with the Rockets slated to bring in a couple bigger prospects (Jabari and Tari) at his position.
Garrison Mathews played only five minutes. The prediction many have made that Silas would play him 15+ minutes this year is not looking so hot.