Houston Rockets Salary Cap Update: 2012-13 Training Camp Edition
With the Houston Rockets opening training camp in advance of the 2012-13 NBA season, let's take a look at the team's current salary cap situation.
With the Houston Rockets opening training camp in advance of the 2012-13 NBA season, let's take a look at the team's current salary cap situation.
The Rockets' Latest Moves
Since my last update, the Rockets have made the following roster moves:
The Rockets signed Carlos Delfino in mid-August to a two-year deal paying him $3 million next season with a non-guaranteed $3 million salary for the 2013-14 season.
The Rockets waived Josh Harrellson (on August 15) and Sean Williams (on August 29), whose salaries would have become fully guaranteed had they not been waived at those times.
On September 7, the team signed Scott Machado to a three-year deal for the league minimum salary, with the first year 50% guaranteed.
The Rockets waived Diamon Simpson.
On September 25, the team waived Courtney Fortson and signed guards Demetri McCamey and Kyle Fogg (presumably to non-guaranteed league minimum contracts).
The Trade That Wasn't
Conspicuous by its absence from the list above is a major trade for You Know Who.  For some reason, the ownership and top management of the Orlando Magic felt that Arron Afflalo was a future multiple-time All-Star and that Maurice Harkless (a player the Magic scouted heavily before the draft) was a top-10 talent from this year's draft class. In their attempt to push the league's best center out of the Eastern Conference (something that could have just as easily been accomplished by trading him to the Rockets), the Magic instead ushered the league's second-best center into the Eastern Conference, allowing Andrew Bynum to go to the Sixers in the four-team monstrosity that most pundits claim benefited every team involved except the Magic.
Instead of the lottery-level draft picks, young talent and cap flexibility that the Rockets' trade offer(s) could have provided the Magic, Orlando instead is left with some comparable young talent but also some bloated contracts (Afflalo and Al Harrington) and a plethora of future picks almost guaranteed to be at the back-end of the first round.
As a result of that trade, the Lakers are back to "top title contender" status and the Rockets are back to the drawing board.
Salary Commitments and Potential Cap Room
(DISCLAIMER:  With 20 players currently on the roster, one can be assured that further roster moves will be made, since the regular season roster must contain no more than 15 players.  The figures below do not represent the Rockets' true cap situation once such additional moves are made; they are solely intended to give you a picture of the Rockets' current cap situation.  All salaries courtesy of ShamSports.com.)
Barring any further roster moves, the Houston Rockets now have approximately $55.58 million in team salary for the 2012-13 season: Kevin Martin ($12.44 million), Jeremy Lin ($8.37 million), Omer Asik ($8.37 million), Shaun Livingston ($3.5 million, only $1 million of which is guaranteed), Delfino ($3 million), Patrick Patterson ($2.10 million), Toney Douglas ($2.07 million), Jeremy Lamb ($2.02 million), Marcus Morris ($1.91 million), Royce White ($1.65 million), Gary Forbes ($1.5 million), Terrence Jones ($1.49 million), Donatas Motiejunas ($1.36 million), JuJuan Johnson ($1.09 million), Jon Brockman ($1 million), Chandler Parsons ($888,250), Greg Smith ($762,195, of which 50% is guaranteed), Machado ($473,604, of which 50% is guaranteed), McCamey ($473,604, non-guaranteed), Fogg ($473,604, non-guaranteed), and the cap hit from the Derek Fisher buyout ($644,005; more on that here).
[ShamSports.com shows that the Rockets also owe E'Twaun Moore $381,098 (50% of his 2012-13 salary), supposedly the product of a renegotiation of his contract with Boston prior to the Courtney Lee sign-and-trade deal in which the Rockets acquired him.  However, according to a source familiar with the Rockets' salary cap situation, the Rockets are not paying Moore; hence, I am disregarding this salary for purposes of my own cap calculations.  Even if ShamSports.com is correct about Moore, though, the acquisition of the Charlotte Bobcats' 2013 second round pick from Boston was well worth the small incremental loss of cap space.]
Based on this season's maximum salary cap of $58.044 million, unless the Rockets make another trade or sign another free agent, they will have at least approximately $2.47 million in salary cap room entering the season (or about $2.09 million if they do, in fact, take a cap hit on Moore). This assumes that only players whose salaries are fully guaranteed are waived.  That is a rather unsafe assumption, however.
[NOTE: Rather than make assumptions on what the Rockets' cap situation will look like based on the numerous combinations of how the final roster will look, I will reserve any discussion on the Rockets' available cap room for my next Salary Cap Update once the final regular season roster is set.]
Decisions, Decisions – Part 1: Who To Keep?
Of the 20 players under contract with the Rockets, 18 of them are owed at least some guaranteed money that would count against the cap if they were waived.  Of those, 15 players have fully guaranteed contracts.
For a moment, let's make the rather safe assumption that the Rockets will not be cutting any of their (or at least my) projected starting five (Lin, Martin, Parsons, Patterson and Asik), Delfino and their own 2011 and 2012 first round draft picks (Morris, Motiejunas, Lamb, White and Jones).  That leaves nine players fighting for four regular season roster spots.
Of those nine remaining players, Douglas has the most guaranteed money owed and also plays some point guard, a position at which the Rockets are low on experience. Douglas also possesses two skills that the Rockets can really use:  perimeter defense and (at least prior to his abysmal 2011-12 season) three-point shooting.  Therefore, I think Douglas may be safe and could become a decent bench option as a combo guard and defensive upgrade over Lin and Martin (neither of whom should be getting any votes for the NBA All-Defense Team any time soon).
Forbes, Johnson and Brockman are all young forwards who have at least shown flashes of being able to play in the NBA (with Johnson being a 2011 first round pick by Boston).  Each is owed at least $1 million guaranteed.  While their games are all different (Forbes is a SF with a bit of range; Johnson is a PF/C with length; and Brockman is an undersized bruiser PF), it is unlikely that all three of them make the regular season roster.
Smith is an intriguing prospect, a 6-10 manchild with the girth and wingspan to play center.  He's guaranteed half of his 2012-13 salary, but that amount ($381,098) is a lot less than what would be owed to any of the above-referenced forwards if they were waived. Still, Smith's ability to play center (he's more of a "true 5" than Johnson or Brockman) may help him make the team.  It also helps that Smith was successful last season playing with the Rio Grand Valley Vipers, the Rockets' NBA D-League affiliate, as he would likely be spending more time there next season if he remains a Rocket.
Machado appears to have a fairly decent shot at the third string point guard spot after the recent waiving of Fortson.  While McCamey is actually a pretty decent prospect in his own right, Machado may be coming off a more successful season, having led college basketball in assists last season as a senior at Iona.  One major advantage that Machado has over McCamey is his contract.  Machado is guaranteed about $236,802 (50% of his 2012-13 salary) and is locked up for two additional years at the league minimum salary, none of which is guaranteed.  Look for Machado to get the nod over McCamey unless McCamey clearly separates himself during training camp and in the preseason.
Fogg–an undersized SG–has little chance of making the team but could at least bring himself some attention if he plays solid defense during the preseason.
Shaun Livingston: A Case Study in Cap Management
Perhaps the most interesting player on the bubble–at least from a cap management standpoint–is Livingston. A veteran 6-7 point guard capable of defending multiple positions, Livingston certainly brings something to the table to help the Rockets next season.  However, his contract makes him either (a) expendable as a training camp cut or (b) a valuable in-season trade asset, depending on how the Rockets look at it.
If Livingston were waived prior to the start of the regular season, the Rockets would open up an additional $2.5 million in available cap room.  On the other hand, if there is nothing imminently available for which that cap room would be needed, it could make more sense for the Rockets to hang onto Livingston and his contract.
First off, Livingston is probably one of the 15 most useful current Rockets players, so his inclusion on the regular season roster could at least contribute somewhat to some on-court success and/or the development of some of the younger guards.  But perhaps just as importantly to this Rockets franchise in transition, Livingston's contract–which contains no guarantee date–can be used during the season as a trade asset until it finally becomes guaranteed on January 10.  Rather than opening up $2.5 million in extra cap room for trades by waiving him, the Rockets could instead take on as much as $4.35 million in additional guaranteed salary by trading Livingston.
Let's say the Rockets make another move or two using their remaining cap room and perhaps even use the $2.5 million "Room" Exception to add a veteran free agent.  They could later use Livingston's contract to acquire a player making $5.35 million (or more, if the Rockets included other salaries in the deal), with the other team then able to waive Livingston and only pay him $1 million.
With all that said, the Rockets' current cap situation may dictate that it's simply not worth it to keep Livingston on the roster.
Unless the other team is gaining significant savings with a trade involving Livingston, it is likely that the Rockets would need to throw in at least $1 million in cash (or perhaps a future second round pick) in order to offset Livingston's partial guarantee.  My guess is that Rockets GM Daryl Morey would prefer to hang onto as much of his $3.1 million "Maximum Annual Cash Limit" (the maximum that teams can include in all trades combined during the 2012-13 season) for either a blockbuster trade for a star player or a draft day trade.
For all the potential benefits of keeping him around, the additional cap room–plus the additional young player who could be kept on the roster–may simply be more valuable to the Rockets than holding onto Livingston the Trade Asset.
Decisions, Decisions – Part 2: Exercise of Rookie Scale Contract Options
Which 15 players make the final regular season roster is not the only decision that Rockets brass will need to make during the month of October.  They will also need to make longer-terms decisions on the futures of Patterson, Morris and Johnson, each of whom is a former first round pick who is at least one year in to his rookie scale contract. Patterson's fourth-year team option (for just under $3.11 million) and Morris's ($1.99 million) and Johnson's ($1.14 million) third-year team options must be exercised by October 31.
The decision on Patterson seems like an easy one.  Despite a lackluster second year, Patterson shows promise as a young big who can defend both down low and on the pick-and-roll.  And based on reports out of offseason workouts, he is developing his post-up game, which was one of the key skills he possessed coming out of Kentucky in 2010 that caused the Rockets to rank him so high on their draft board.  The team expects bigger things from Patterson this season, and they are likely willing to bet on him being worth his 2013-14 salary even before seeing whether he achieves any of their goals for him.
Morris has a lot to prove during training camp.  Lauded by management a year ago as a poor man's Carmelo Anthony (a "big 3" who can create his own shot and take advantage of either bigger or smaller defenders with his diverse set of offensive skills), Morris was a disappointment last season.  While an ankle injury derailed a nice run he was having with the RGV Vipers, he also seemed to sulk at times over his lack of playing time and his being sent to the D-League during the season.  In fairness to Morris, however, the lockout-shortened season and the Rockets' salary cap balancing act provided little training camp or practice time for him to work on his transition from power forward to small forward, something that few young players can easily accomplish.  Given where he was drafted and the relatively small price tag, it would be somewhat surprising if the Rockets did not pick up Morris's option.
Perhaps one of the more interesting decisions to be made is with Johnson.  A defensive stalwart out of Purdue in 2011, Johnson spent a year glued to the bench in Boston, learning his craft from one of the all-time greats at his position (Kevin Garnett).  Most reports out of Boston were that the Celtics really didn't want to part with Johnson but were forced to in order to acquire Lee from Houston.  Unfortunately for Johnson, he joins a roster replete with power forwards.  Even if he can manage to make the final cut for this season, he will need to truly impress the Rockets in training camp–and show that he is capable of playing multiple positions–in order for the team to commit to a guy who might not be more than the sixth big man on the 2013-14 roster.
Conclusion
With the utter disappointment of failing to acquire a superstar this offseason giving way (for many) to cautious optimism about the long-term potential for this young Rockets team (if not outright relief that The Dwightmare is over), Rockets fans can once again move forward.  And despite being spurned yet again in their pursuit of a star player, the Rockets are still well-positioned to make a move if/when another star "shakes loose" (as Morey would say).
With a roster deep (if not top-heavy) in talent, there will be some interesting training camp battles this year.  The Rockets are hopeful that such competition will only further improve their plethora of young players.
Bonus Footage
Here is my kid.  He is smart.  (Sorry, couldn't resist.)
>> Comments
Heavy investment in Kevin Porter Jr raises serious questions about Rockets front office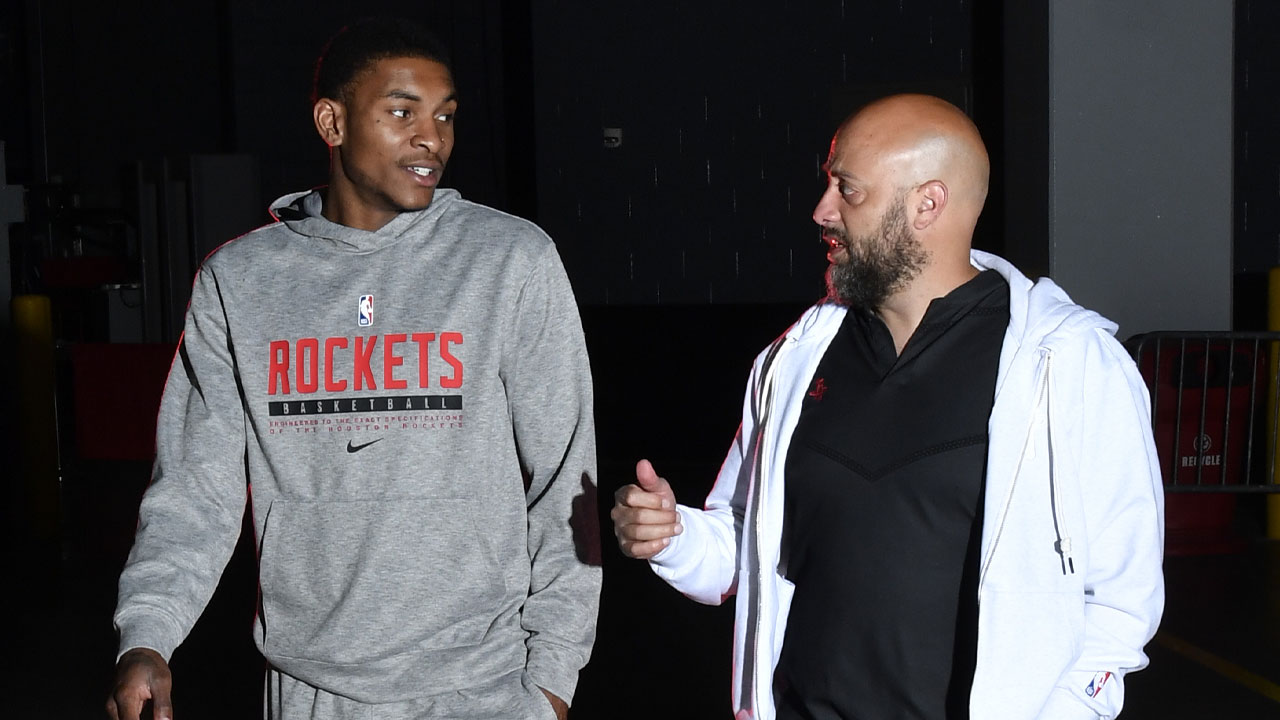 Soon-to-be-ex Rockets guard Kevin Porter Jr was arrested last week for allegedly assaulting his girlfriend, resulting in a fractured neck vertebra and a deep gash above her right eye after an attack at a hotel in New York. He allegedly woke her up by punching her repeatedly, strangled her and did not stop hitting her until she ran out of the hotel room screaming for help and covered in blood.
"This is a serious domestic violence case," said assistant Manhattan district attorney Mirah Curzer.
First and foremost, I wish the victim healing. I don't know what to say about the nightmare she went through. She and her family will forever be impacted. As for KPJ, if this is true, he doesn't belong on the Rockets or in the NBA at all. He belongs in jail.
Secondly, this can't be overlooked and just swept under the rug: Why did the Houston Rockets bank on and invest so heavily in this guy?
Kevin Porter Jr. being accused of crimes of this severity should not be shocking – at all. Before he even came to the Rockets, he had a long list of serious problems. He was suspended multiple times in high school. In 2019, he had a "conduct issue" significant enough that USC suspended the 5-star recruit indefinitely. He fell to the end of the first round of the 2019 NBA Draft because of his behavior liability. He was accused of punching a woman in the face in Cleveland. He also had a gun and marijuana charge later dismissed after getting into a car crash. He went into a tirade and got into a nasty confrontation with both the Cleveland coach and GM, resulting in the Cavs severing ties immediately and dumping him to the Rockets for nothing.
You could make the argument that initially giving Porter Jr. a second chance in Houston was praiseworthy, but the Rockets experienced KPJ's anger management and immaturity issues firsthand on several occasions.
Former Rocket Austin Rivers said this week that this isn't the first, second or even seventh issue with Porter Jr. and that Rockets "higher-ups" confided in him that they had no idea how to handle him.
"I remember talking to guys in the Houston Rockets organization, higher-ups, [and] they were having issues then," said Rivers. "They were like, 'We don't know what to do with him.' And that's when he just got there from Cleveland!"
Porter Jr. was routinely a nightmare for Rockets coaches to deal with. On several occasions, he confronted and cussed out members of the coaching staff, saying they didn't have the "credentials", per source, a reference to the fact that him playing heavy minutes at point guard was a decision they did not control.
Once at a night out, Porter Jr. had a disagreement with a DJ over music choice and he snapped, smashing the DJ's laptop to the floor. He needed to be restrained and removed. Rockets personnel and several of Porter's teammates witnessed the incident.
Curzer also dropped a bombshell at the arraignment in saying that Porter Jr. has a history of abusing his girlfriend, who he had only been dating since early last year, his second season with the Rockets. Curzer specifically cited an incident in which KPJ allegedly rammed his car into hers.
There were dozens of maturity issues visible on the court to anyone paying attention. He refused to check out of games. He got into an argument on the bench with assistant Lionel Hollins. On numerous occasions, he would visibly shut down when he wasn't passed the ball. I invite you to watch this video from a game against Memphis on March 20, 2022. Just listen to the Grizzlies broadcasters, particularly starting at the 1:40 mark, talk about what they are witnessing here:


Privately, people around the league would say they were baffled by the Rockets continued fascination with Porter Jr. Nobody could understand it.
That fascination starts with Rockets general manager Rafael Stone, who by every account over the last two years was the driving force behind the investment in Porter Jr. It has been no secret. Trading for him in January 2021 was seen by some with the team as his "Harden acquisition", code for a signature move that makes an executive's career, much in the way landing James Harden did for Daryl Morey in 2012.
For example, former Rockets head coach Stephen Silas never considered Porter Jr. to be a point guard, per sources — playing him there was a Stone mandate because the GM believed that is where his future lied.
John Wall also told us as much publicly when he explained the phone call he got from Silas about coming off the bench. He said Silas told him "This is what the GM wants," adding again that Silas said, "Man, you don't deserve that. You should be the starter. This is just what they want to do." Wall was upset because he believed KPJ should have to earn the spot.
"I have a hard time finding anybody outside of the Rockets front office that believes that Kevin Porter Jr. is a starting point guard in the NBA," said ESPN reporter Tim MacMahon in December.
There were plenty of warning signs about KPJ to the public too.
After Porter Jr. got into a heated argument in which KPJ "physically shoved" Rockets assistant coach John Lucas and quit on the team in the middle of a game against Denver in January of 2022, leaving the arena at halftime, Sports Illustrated's Chris Mannix famously wrote that the Rockets should "Cut Porter Jr. Waive him. Release him. Whatever. Eat what's left of the $1.8 million he's owed this season and the $3.2 million he's got next and move on." It became a source of mockery for Porter Jr's fans, a line they would bring up after each game he hit a few threes or handed out some assists.
In February of this year, ESPN's Jonathan Givony, one of the most connected reporters in the league, flat out warned us that he was hearing awful things about the Rockets culture and locker room. He was blunt in what the Rockets needed to do — waive Kevin Porter Jr. outright and bring in a new coach and GM.
"Just cut him. That's it," said Givony of Porter Jr. "And you're sending a signal to the league that we're going to do things differently from here on out."
"When you talk to people around the NBA about Houston, you just don't hear good things about their culture, about that locker room. You talk to people that are on that team, and they are like, 'We are a mess'," said Givony. "Do people want to work with this organization? But you can change that fairly quickly if you come in, get rid of the bad apples and you change the coaching staff, and all of a sudden, you're Houston. It's the third-biggest city in America. There's a history here of you actually being good."
Porter came to the Rockets for "free" (in exchange for a top-55 protected second-round pick, which was designed not to convey), but he proved far from it as the Rockets continued to pour investment into him. Over the last 2-3 seasons, no Rockets player got more developmental capital than Porter Jr. – not Jalen Green, not Alperen Sengun, not Jabari Smith Jr. The Fertittas paid John Wall $85+ million over two years to sit at home so the team could groom Porter Jr. to be their future point guard.
Then they doubled down. With restricted free agency on the horizon and a seemingly non-existent market for KPJ's services, the Rockets gave Porter Jr. an extension a year sooner – a contract that was presented as a four-year, $82.5 million deal. The deal was more team-friendly than that, putting team options in it after years 1 and 3. Going from the potential disaster that was initially reported to a deal they could escape after one season felt like a "win", but the biggest question was why they wanted him long-term at all. The unprecedented nature of a contract that size with that kind of club control clearly showed the Rockets knew there was unique and significant risk here.
After KPJ signed the extension, The Athletic's Kelly Iko summarized the Rockets view of Porter Jr. – "As has been [their] stance for months, the Rockets have maintained the notion that Porter is a priority and is considered a huge part of their core, along with Green and Jabari Smith Jr."
The Rockets actions to kick off the 2022-23 season showed exactly that – that he was a priority. They benched Sengun to start the season, in large part to give KPJ a "lob threat" and defender in the starting lineup. They gave him the superstar "Harden Locker". They introduced him last in the starting lineups. They treated him as the star and empowered him to be the self-proclaimed "Head Honcho" of Clutch City.
But the extension proved unwise and foolish. Porter Jr. never even made it to the first year of it. With over $80 million on the line, he snapped again. The Rockets signed him to one of the team-friendliest deals ever and still managed to both overcommit and overpay as Stone now scrambles to attach real assets to it to get another team to take it off his books.
Is it fair to question the judgment of the Rockets front office? Absolutely and without question. Whether you look at their ability to value character, evaluate risk, scout basketball, build culture, manage assets or allocate development resources, they failed at every level here. Why didn't they act sooner? Why did they double down? Why didn't they hold him accountable? Why did everybody in the league see it but them?
"We value the player and the person that [Kevin Porter Jr.] is becoming and are eager to invest in him and his journey," said Stone after rewarding him with the extension less than a year ago.
The question you have to ask yourself now is, with all they knew and witnessed about Porter Jr. both on and off the court — why were they eager at all?