Panic avoided! Rockets get first win
Put away the gas masks: the 2010-11 Houston Rockets have won an NBA game. The Minnesota Timberwolves, the perfect tonic for a winless squad, came to town and the Rockets wasted no time getting that first 'W', rolling to a 120-94 rout Sunday night.
Put away the gas masks: the 2010-11 Houston Rockets have won an NBA game.
The Minnesota Timberwolves, the perfect tonic for a winless squad, came to town and the Rockets wasted no time getting that first 'W', rolling to a 120-94 rout Sunday night.
The win is the 12th straight for the Rockets over the Timberwolves, which is the second-longest winning streak against any single opponent in Houston franchise history (longest: 13 straight against the Oklahoma City Thunder from January 3, 2007 to December 19, 2009).
"Obviously I'm just really pleased with the way we came out and played after last night," said Rockets coach Rick Adelman. "From the very start of the game we were aggressive, we were active. We played a solid game all the way through."


This Rockets team was different than the one that started the night before in San Antonio. Aaron Brooks, as expected, was sidelined and will be for several weeks while Kyle Lowry is also still on the mend, so rookie Ish Smith got his first NBA start. Yao Ming also was back tonight.
The Rockets controlled this game throughout — they led 60-37 at half and never even glanced at the rear-view — and that was in large part because they had a true quarterback in Smith. They took care of the basketball (23 assists to just 5 turnovers), played better defense (Timberwolves shot 37.4%) and seemed to get others involved (Shane Battier, who averaged less than 4 attempts per in the first 4 games, had 8 shots in the first half alone). Much like the squad that finished the game in San Antonio, this bunch looked like a team rather than five chickens with their heads cut off.
Now, before I gush too much over Ish, keep in mind that Brooks had to face Derek Fisher, Stephen Curry, Chauncey Billups, Chris Paul and Tony Parker while Smith got … Luke Ridnour and Sebastian Telfair. That's not apples to apples. Also, the Timberwolves came into this game dead last in the league in shooting (38.9% from the field) so it's hard to credit the Rockets defense too much.
But he played well. In 41 minutes he looked more like an experienced vet than an undrafted rookie and was a +22 on the floor. Yes, I'd rather be waterboarded than watch Ish Smith in shooting drills. He has little touch on his shot, particularly his runners (3-11 from the field), but he had 6 dimes to just 1 cough-up and made some gorgeous passes (See: Video: Ish Smith no-look pass to Hayes).
This isn't Tracy McGrady's Rockets where Houston primarily needed scoring/shooting at the one to complement their two-guard's halfcourt playmaking skills. With Brooks-Martin, the Rockets have a pair of potent scorers but they're weaker in the playmaking and floor leadership department. That's usually provided by Lowry, but he's not been able to attend the party yet, so Ish brings something that's been lacking.
Yao was strong as well. He had 13 points in just 17 minutes, hitting 3-5 from the floor and all 7 of his shots at the line. The Rockets did a better job in this one of making him a focal point (specifically they were very effective in the post-repost of Yao) but they have still have more progress to make here.
Yao wasn't the only Rocket big that played well — Luis Scola led all scorers with 24 to go with 8 boards while Jordan Hill was again solid, putting up 14, 6 boards and 2 blocks in just 23 minutes. Whether it's as a long-term contributor or as a trade piece come February, Hill's progress is very important to this team.
Kevin Martin gave it a go with his ankle and it did appear to bother him some, but he had another typical game: 21 points in 24 minutes on an efficient 9-13 from the field. He and AB make a terrible defensive pairing, but Martin is putting up some terrific offensive numbers. Through 6 games he's at 23.0 points on nearly 49% shooting, over 42% from downtown and almost 90% from the stripe.
One way the Rockets can improve right away is for Chase Budinger to hit a three. Any three. I don't believe this will continue as a dreaded sophomore slump, but Budinger has missed 18 of his 20 long-range bomb attempts this season. A bust out is overdue.
On Deck
The monkey is off their back and that's all that matters. It was indeed a softball toss to get the Timberpups at the Toyota Center, but after the five Randy Johnson fastballs they got to start the year, the Rockets needed a win no matter how it came.
Ish's starting debut was nice, but it will be a different animal to go up against John Wall (19.4 ppg, 9.6 asst, 2.6 steals) Wednesday night in Washington. Through five games, the Wizards are the worst team in the league in defensive field goal percentage so look for the Rockets to get more open looks.
Rockets are throwing an awesome House Party, but how long will it last?
Danuel House has all the love from Houston right now, but will he stay here beyond this season?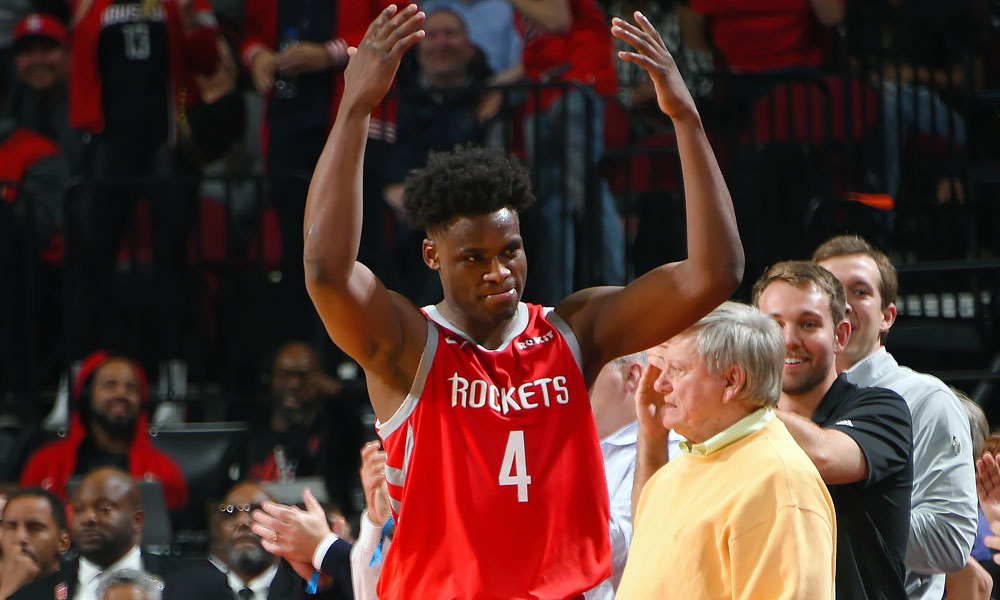 Danuel House Jr. made his return to the starting lineup for the Houston Rockets on Friday night and the results were everything he and the team could have hoped for.
The versatile forward played just over 35 minutes in the win over Phoenix, tying his career high with 18 points while going 6 for 11 from the floor 4 for 8 from three while throwing in 4 rebounds with an assist and a steal. He also had what ultimately proved to be a decisive play in the final minutes, preventing Josh Jackson from scoring after stealing the ball from James Harden.
Kelly Oubre pokes it away from Harden but Danuel House saves the day pic.twitter.com/Nux8EG3p3g

— Chris Montano (@gswchris) March 16, 2019
The Rocket announcers and fans all instantly reacted to the foul, believing it to be clean. While I myself was prepared to call it an awful foul call, House shared with Dave Hardisty after the game that he believed he made a little contact with Jackson on the follow-through and doesn't blame the refs at all for making that call. Block or no block, the play proved huge for the Rockets as Jackson would miss both free throws and essentially end the game.
Clutch and the media caught up with House following the game:
Danuel House Jr. (@DanuelHouseJr) after scoring 18 points in his return to the #Rockets. pic.twitter.com/0MJWCpuddo

— ClutchFans (@clutchfans) March 16, 2019
After the impressive performance, fans are once again abuzz about what House means for this year's team. Is he a starter? Will he come off the bench? Will he steal minutes from the thus-far-underperforming Iman Shumpert?
The Rockets will get answers to those questions over the final leg of the season as they head for the playoffs, but it seems pretty clear that House will play an important role in the Rockets title chase this season. His skill in shooting the three, combined with his ability to put the ball on the floor when his defender closes on him, is something sorely missing from this team. He demonstrated the combo repeatedly Friday night, attacking the rim and showing off his athleticism as Suns defenders tried to close him out on the three-point line.
Will they lose the House this summer?
Despite the excitement, you can't help but let your mind wander to the offseason. Regardless of what happens to end this year, the Rockets are going to be in an interesting spot financially. After winning his stare down with Rockets management, House was converted to a standard NBA contract for the remainder of this season that will allow him to become a Restricted Free Agent heading into the 2019-20 NBA season. Gauging the market for House is extremely difficult right now and could fluctuate with his performance from here on out, but this much is clear; keeping House for next season will be complicated.
By virtue of his restricted free agency, the Rockets will have the right to match offers for House this offseason, but it comes with a catch. With the Rockets set to be over the salary cap, they can only match contract offers up to the mid-level exception. As a likely tax payer team next season (more on that in the offseason) that number will further be reduced to the tax-payer version of the MLE. Any contract for House above his qualifying offer ($1.88M) or Non-Bird rights (just north of $2M) would require the Rockets to pay him using those MLE dollars.
David Weiner (a must follow for any Rockets fan!) does a great job of breaking these options down on twitter. Basically, the Rockets could offer House up to 4 years and around $8.65 million in total dollars without using the MLE. That gives the Rockets three options to retain House next season:

he plays on his qualifying offer ($1.88 million)

he signs for a Non-Bird contract ($2+ million)

he signs for all or a portion of the tax payer MLE ($5.6 million)

Assuming House plays well between now and the season's end (hopefully sometime in June) the first two options seem unlikely.
Complicating matters for the Rockets is that beyond House, they will likely need that tax payer MLE to have a shot at keeping Austin Rivers and Kenneth Faried, both significant additions following buyouts this season. If one or both would accept their one year Non-Bird offer for a modest salary increase next year, it would certainly makes things easier, but even then the MLE would be the only avenue the team would have for adding talent in free agency this offseason (aside from the minimum).
Despite a perceived snub picked up on by Bill Worrell and Clyde Drexler, House has said he hopes to remain with the Rockets and went so far as to say "I trust Daryl" in an interview with Jonathan Feigen. House's agent, Raymond Brothers, said that their priority was for House to remain with the Rockets in that same interview.
By converting House now instead of waiting until the end of the G-League season, the Rockets did ensure House earns $200k+ more than he would have otherwise, so perhaps that will create some goodwill heading into offseason negotiations. Still, with House and his agent so steadfast in their desire to hit RFA this season, you have to wonder if they have reason to feel confident that there is an offer out there already from another team.
It's not impossible to imagine plausible scenarios where everything works out for the Rockets, both during this season and in the offseason. Could one of House or Rivers take their Non-Bird right contracts with the other taking the MLE? Absolutely. No matter what happens between now and the end of this Rockets season, keeping Danuel House for the 2019-20 NBA season will be an interesting challenge. Rockets fans can only hope that the decision has to be made following a strong showing from House throughout a deep playoff run.
There's no question that the Rockets have title hopes once again this year and Danuel House, a player who went unclaimed on waivers twice this season, has managed to make himself an integral part of those hopes.